Best invisible hearing aids
Compare cost, design, and fit



Written by

Edited by
Starkey Hearing Aids, Embrace Hearing and Eargo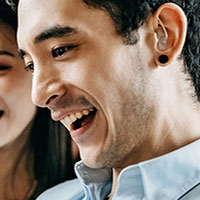 Hearing loss is a natural development in some children and most adults. Hearing aids often help, but bulky, over-the-ear styles might not be the right choice for everyone. If traditional hearing aids don't fit your style, invisible hearing aids let you get the assistance you need without changing your look.
Invisible hearing aids let people with hearing loss receive a discreet and comfortable solution with almost all of the technology available in behind-the-ear and receiver-in-canal hearing aids.
Our favorite invisible hearing aids models
We compiled a list of 20 well-known hearing aid brands and considered features, design and cost to choose our favorite invisible hearing aids. Each of these models comes with tinnitus solutions, adjustable channels for different environment settings and wireless compatibility.
What are invisible hearing aids?
Invisible hearing aids are small devices that go completely inside your ear canal and amplify important sounds. Of all the in-the-ear hearing aid models, invisible-in-canal hearing aids are the most compact and least visible. There are other types of less noticeable hearing aids, including in-the-canal, completely-in-canal and customizable shell models.
As hearing aid technology advances, companies are adding features and customization options to these tiny devices. The best models offer tinnitus solutions, environment channels and wireless compatibility.
How much do invisible hearing aids cost?
Invisible hearing aids typically cost between $1,000 and $3,000 for both ears, though they may cost more if they have advanced features. Hearing aids with dozens of environment channels, Bluetooth capability and a long battery life may cost more than $3,000 for both ears.
You are typically required to visit an audiologist for a hearing test or a fitting when purchasing an invisible hearing aid. Unless it has rechargeable batteries, invisible hearing aids require frequent battery changes. Be sure to consider recurring costs, including office visits and new batteries, when looking at the price of your invisible hearing aid.
Our favorite invisible hearing aid design
Eargo Neo HiFi
Eargo's Neo HiFi is designed with Flexi TetraPalms that are made to fit securely and comfortably in your ear canal. The snug fit is designed to block background noise while the device enhances vocal sounds. The Eargo Neo HiFi recharges in its case and can be customized through the Eargo mobile app. This device comes with a two-year warranty and a 45-day return policy. You don't need to have a hearing test to purchase the Eargo Neo HiFi.
Logo
PRODUCT DETAILS

Fit: Two size options available
Color: Black
Cost: $2,950


READ REVIEWS
Our favorite budget invisible hearing aid
Embrace C-660
Embrace's C-660 is priced at $949 for one hearing aid, making it a great low-cost option for consumers. It sits completely inside the ear canal and comes with color-coded devices so you can easily see which device goes in which ear. The Embrace C-660 comes with a three-year warranty and up to 32 programmable channels, each of which can be customized with Embrace's app. Customers can purchase a standard remote and an overnight drying unit to go with their invisible hearing aids.
Logo
PRODUCT DETAILS

Fit: Multiple size options
Color: Blue for left, red for right
Cost: $949 for one, $1,898 for two


READ REVIEWS
Our favorite custom-fit invisible hearing aid
Starkey Picasso IIC
Starkey's Picasso IIC comes in two invisible-in-canal models: the 2400 and the i2400. Both require custom fitting by a local audiologist. The Picasso IIC comes in five colors and has a typical battery life of four to seven days. Starkey offers a 30-day trial and manufacturer's warranty with all Picasso products. The Picasso is available as a CROS System, which provides an advanced solution for people with single-sided hearing loss.
Logo
PRODUCT DETAILS

Fit: Custom sizing
Color: Black, dark brown, medium brown, light brown and pink
Cost: Starting at $2,180


READ REVIEWS
Pros and cons of invisible hearing aids
Invisible hearing aids have a lot of great benefits, but they also have some drawbacks.
Pros
Discreet design
Multiple size options for a comfortable fit
Allows for active movements and exercise
Cons
Short battery life
Not available for profound hearing loss
More cleaning required than behind-the-ear and receiver-in-canal models
Label
Authorized Partner
Company name
Logo
Contact
Summary
Learn More
Bottom line: Are invisible hearing aids suitable for everyone?
Invisible hearing aids are best for people with mild to moderate hearing loss who want a subtle design. Most brands include tinnitus solutions, and you can choose from a variety of models with rechargeable batteries and customizable programming. However, those with profound hearing loss or uncommon technology requirements often have trouble finding an invisible hearing aid that suits their needs.
Did you find this article helpful?
|
You're signed up
We'll start sending you the news you need delivered straight to you. We value your privacy. Unsubscribe easily.