Pay for delete: Does it really improve your credit score?
It's worth a try in some scenarios, but other credit-boosting tactics are a better bet



Written by

Edited by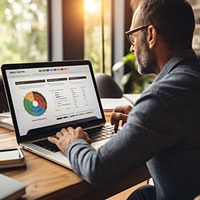 Negative information like unpaid bills and collection activity stays on your credit reports for seven years in most cases, during which it drags down your credit score and makes it harder to get approved for other types of loans.
A process known as "pay for delete" attempts to coerce collection agencies and creditors into removing this negative information from your credit reports, but only if you're willing to satisfy or pay down an existing debt.
---
Key insights
Pay for delete is when collection agencies or creditors remove negative credit reporting in exchange for you paying down the account.
While pay for delete may not be illegal, it goes against Fair Credit Reporting Act standards for companies to report information that is "accurate and complete." However, some debt collection agencies may still entertain the idea.
Other, easier ways to improve your credit include credit-building loans, secured credit cards and paying off your debts.
What is a pay for delete agreement?
There are a few reasons why you may have never heard of pay for delete. According to Adem Selita of The Debt Relief Company, this strategy has a relatively low success rate. Not only that, but legislators and government agencies definitely frown upon it.
"It is not something that creditors typically offer since it does technically walk a gray legal line," he said.
In fact, pay for delete violates the Fair Credit Reporting Act (FCRA), which requires creditors to report truthful and accurate information.
However, in rare instances, a pay for delete agreement can get a creditor or collection agency to do something they shouldn't do — remove truthful information from your credit reports. You would need to pay back all or at least most of the debt in question to get them to do this, and it won't work most of the time.
Selita says he has seen a pay for delete negotiation work in some cases, typically only for small balance accounts. But many creditors will not even entertain the idea since it technically is not "fair" and "accurate" credit reporting.
So, how do you know if a creditor or collection agency will offer this type of agreement? Selita says you should approach this type of negotiation with a phone call since creditors and collection agencies are unlikely to advertise their willingness to entertain the idea.
Either way, Selita says you need to make sure the debt isn't past the statute of limitations for collections, meaning the creditor is still legally allowed to collect on the debt in the first place.
» MORE: How to handle bill collectors
How to write a pay for delete letter
While you may start the pay for delete negotiation with a creditor or a debt collector over the phone, you do have to put your offer in writing.
There are numerous pay for delete letter templates online. Information needed in these letters includes:
Your full name and address
Account numbers for debts in question
Debt amounts owed
Amounts you're willing to pay
Expiration date for your offer
Specific request to have the debt removed from credit reports
Selita says it's crucial to be sure the company you are sending a letter to is the one showing up on your credit report. You can confirm this by checking your credit reports with all three credit bureaus for free at AnnualCreditReport.com.
Make sure you keep a copy of the letter for your records and you also keep copies of any correspondence you receive from the creditor or collection agency. Also, consider sending your pay for delete letter by registered mail since this lets you verify the company received it.
Should you try to pay for delete?
While creditors in particular may not even listen to your offer, Selita says there are definitely some collection companies happy to skirt that legal line.
"If this is your main objective, giving it a try really can't hurt," he said.
But you should also understand that the original lateness with the original creditor is likely to still be valid on older credit reports and will stay there for seven years even if you get a debt collection agency to play along.
This means your credit score may not improve significantly after pay for delete, which would be unfortunate if you used your financial resources to pay off the original debt you owed. When you add in late fees and interest charged on unpaid debts, negotiating a pay for delete agreement could even have you paying more than the original amount you owed.
"Unless a pay for delete is with the original creditor, the entire point of it is moot," said Selita.
» MORE: What affects your credit score?
Other ways to fix credit
Most of the time, it makes more sense to wait for negative information to fall off credit reports rather than trying to get the information removed through questionable means.
There are steps you can take to improve your credit during this time.
Credit-builder loans: Credit-builder loans let you make a monthly payment to a savings account or certificate of deposit (CD) in your name, yet the monthly payments are reported to the credit bureaus along the way. At the end of the loan term, you get the money you paid in minus a nominal amount of interest and fees.
Get credit for all your bills: You can use an app like Experian Boost to get credit for bills you're paying anyway, including subscription services, utility bills and even rent. Experian Boost is free to use, although it only helps with your Experian credit report and scores.
Paying off debt: Selita points out that paying off debt, even debt in collections, can help your credit score the most. He says it's possible that just paying off the debt instead of negotiating pay for delete can help your credit score more.
Secured credit cards: Secured credit cards require a refundable cash deposit as collateral to build credit. These cards are easy to get approved for with imperfect credit, and they report payments to the credit bureaus to help you improve your score over time.
FAQ
Will paying collections help my credit?

Paying off debt in collections can help improve your credit score, potentially even more than getting a collection agency to remove negative information from your reports in exchange for payment.
What is a pay for delete letter?

A pay for delete letter is an official, written request for a creditor or credit reporting agency to remove negative information from credit reports in exchange for payment of a debt.
Is pay for delete legal?

Pay for delete isn't technically illegal, but there is some gray area to be aware of. For example, removing negative information from credit reports that is actually truthful goes against standards set by FCRA.
Bottom line
Pay for delete is a shady practice, which is why you're unlikely to get creditors to work with you on an agreement. Some debt collection agencies may be more willing, but there are no guarantees this type of negotiation will work.
For the best results, you may want to try a different strategy altogether. Selita says that the best steps to improve your credit are getting a secured credit card, focusing on lowering your utilization rate and paying off accounts in default.
"These are typically the top three things that are most impactful to improving a consumer's credit," he said.
---
Article sources

ConsumerAffairs writers primarily rely on government data, industry experts and original research from other reputable publications to inform their work. Specific sources for this article include:
Did you find this article helpful?
|
You're signed up
We'll start sending you the news you need delivered straight to you. We value your privacy. Unsubscribe easily.