What is medical debt relief?
Debt settlement, negotiation and consolidation are a few options that can relieve medical debt



Written by

Edited by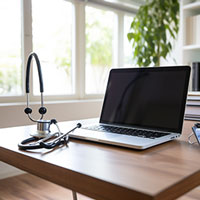 The American medical system is confusing and expensive and often leaves people both with and without insurance in medical debt. In fact, data from KFF (formerly known as the Kaiser Family Foundation) shows that 41% of adults reported having debt due to medical or dental bills in 2022, with a disproportionate share being made up of Black and Hispanic adults, families with children, women and low-income individuals.
The thing is, not all of that debt is held with medical providers themselves. KFF polling shows many people carry medical debt across various loan types, credit cards and promises to pay back family members and friends. In any of these scenarios, or even when medical debt is still owed to a hospital or clinic, medical debt relief can help you create a plan to pay back money owed — or to never pay it back but to minimize the consequences of nonpayment.
---
Key insights
Data from KFF shows that more than 4 in 10 adults have debt resulting from medical or dental bills.
Several strategies can help you get rid of medical debt, including medical debt relief programs, debt negotiation and debt settlement.
Bankruptcy is a last resort for escaping crushing medical debt, with long-term consequences to consider.
How to get rid of medical debt
The term "medical debt relief" encompasses several different strategies. For example, you can negotiate your debt with a medical provider, and there are also options to help you pay less than you owe or erase medical debt completely.
Charity care

According to the Consumer Financial Protection Bureau (CFPB), the Affordable Care Act (ACA) requires all hospitals with 501(c)(3) nonprofit status to provide free or charity care to at least some customers in need. This benefit can come in the form of reduced medical bills or total forgiveness of debt, although hospital processes and budgets vary widely. Some states even have charity care laws that mandate a certain level of free care for people who meet income requirements.

Ask your medical provider or hospital if it offers charity care and how to apply. You can do this by asking for a hospital's Financial Assistance Policy (FAP) upfront, and by filling out an application and following up regularly to see if you qualify.
Negotiations with medical providers

You can reach out to hospitals and other medical providers to see if they'll settle for less than you owe, or to get on a payment plan. First, though, the CFPB recommends making sure the bill is correct, assigned to the right person and in the right amount. Look for common billing errors like being charged for the same treatment twice. If there are errors, reach out to the medical center's billing office to get them fixed.

If you want to negotiate medical bills, you can request a meeting or call with a medical billing office and see where it goes. You may be able to settle for less than you owe if you're willing to make a one-time cash payment. Interest-free payment plans may also be available if you ask.
Outside help

There are many resources you can turn to both within and outside the medical system:

Medical billing advocates can help you navigate the health care system and settle billing disputes if you're on a government health care program. The Centers for Medicare & Medicaid Services (CMS) offers a resource page on where to find an advocate.
Many states have consumer assistance programs. CMS offers a state map to help you locate help. State agencies, including your state attorney general and state insurance department or insurance commissioner, may also be able to assist.
Your hospital or health insurance provider may have a caseworker who can help you figure out where you stand with medical bills, which ones you owe and how to get back on track.
Nonprofit credit counseling agencies can give you advice and offer help figuring out how to pay for medical bills and other unpaid debts.

Also, make sure you're aware of the No Surprises Act, which became law in January 2022 and protects against unexpected charges for those who have a group health plan or individual health insurance coverage.

This law can help you fight off surprise bills for emergency services from an out-of-network provider. Knowing how it works can help you figure out which medical bills you may not be liable for.
Debt settlement

Debt settlement

is a process offered through third-party companies that promise to help you get out of debt for less than you owe. While fees do apply, these companies often help consumers out of debt in 24 to 48 months.

That said, debt settlement has risks since these companies ask you to stop paying all bills and instead send payments to a savings account in your name that will be used to settle debt later on. This often results in damage to your credit score due to nonpayment.

» COMPARE: Best debt settlement companies
Bankruptcy

Bankruptcy

is an unfortunate but common type of medical debt relief. You can opt for Chapter 7 or Chapter 13 bankruptcy, although the right type to pursue depends on your financial situation, income and assets.

For example, Chapter 7 bankruptcy can help people with medical debt get almost all of their debts wiped away, whereas Chapter 13 protects some assets of value (like a home) while getting you on a payment plan to repay most of your debts over three to five years.

Note that bankruptcy can stay on your credit reports for up to 10 years, which can make it difficult to qualify for more credit during that time.

» MORE: How to get out of debt
How to consolidate medical debt
According to personal financial consultant Michael Sullivan of Take Charge America, debt consolidation for medical debt could make sense in certain situations. Specifically, he says he would consider it if all grace periods expire on repayment and debts are well over $500.
That said, Sullivan says it's important to understand that medical debt consolidation benefits you only if you get a lower interest rate. Many medical debts already have interest rates lower than credit card rates and sometimes less than personal loan rates. Some hospitals and medical providers also let you pay off medical debt with zero interest, so it wouldn't make sense to consolidate this debt with a separate loan or balance transfer credit card.
"There is no advantage to the consumer to transfer or consolidate low-interest and interest-free medical debt," he said.
Even so, you might opt to consolidate all your debts (including medical debts, personal loans and credit card debt) into a new personal loan with competitive rates and terms. This step can help you go from paying multiple bills each month to just one, and to get a lower average interest rate than you were paying across all your debts before.
» COMPARE: Best debt consolidation loan companies
How long does medical debt stay on a credit report?
Unpaid medical debt stays on your credit report for seven years from the last transaction. This means that, even in the worst-case scenario, potential damage from unpaid medical bills and other unpaid debts will stop being reported to the credit bureaus after this timeline is up.
However, the credit reporting agencies (Experian, Equifax and TransUnion) no longer report unpaid medical bills under $500, nor do they report collections resulting from medical debt that are less than a year old. (Note that this change doesn't cover medical bills paid for with credit cards or loans.) You have a year to dispute, negotiate or pay off medical bills before they make it onto your credit reports.
It's important to know your rights when it comes to collections. While debt collectors can contact you about unpaid medical bills, they cannot harass you or make abusive calls. You also have the right to tell debt collectors to stop contacting you in writing.
What is the Medical Debt Relief Act?
The Medical Debt Relief Act is a bill that was originally designed to help families avoid damage to their credit as a result of unpaid medical debt. This bill has yet to be signed into law, and it would first need to pass both houses of Congress to reach that point.
However, the credit bureaus have mostly taken on the provisions in this bill on their own. For example, this bill would require the credit bureaus to "remove paid off or settled medical debt from a patient's credit report and institute a year-long waiting period before new medical debt can be reported," which the credit bureaus are voluntarily doing already.
» MORE: How to handle bill collectors
FAQ
How many Americans have medical debt?

According to KFF, more than 23 million Americans have medical debt. KFF also notes that 3 million of those people have more than $10,000 in unpaid medical bills.
What happens if you don't pay medical debt?

Unpaid medical bills can stay on your credit report for seven years. During that time, however, hospitals and other providers can move the debt to a collection agency. You may be called by debt collectors at this point, and you can even be sued for amounts you owe.
What happens to medical debt when you die?

Unpaid medical debts are typically paid for out of a person's estate. When someone doesn't have any assets left to pay off medical debts and other bills after their death, most debts go unpaid.
Bottom line
Quite a few medical debt relief options are out there, although the right one for you really depends on how much debt you have and your financial situation.
For example, you may be able to negotiate how much you owe with a medical provider, but there are also situations where you have so much medical debt you couldn't pay it off if you tried. Bankruptcy is another medical debt relief option to consider in those kinds of circumstances, but only as a last resort.
---
Article sources

ConsumerAffairs writers primarily rely on government data, industry experts and original research from other reputable publications to inform their work. Specific sources for this article include:
Did you find this article helpful?
|
You're signed up
We'll start sending you the news you need delivered straight to you. We value your privacy. Unsubscribe easily.