What is debt settlement?
You can negotiate with creditors to reduce what you owe, but it can be a risky approach



Written by

Edited by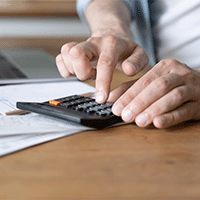 Debt settlement, also known as debt relief or debt resolution, involves reducing the amount of debt you owe to creditors.
"Debt settlement is akin to reaching a financial truce with your creditors," explained Sumeet Kumar, a certified financial education instructor at the National Financial Educators Council. "You're essentially brokering a deal to pay a reduced lump sum, which, while less than what you owe, is accepted as full payment."
It's not an easy process, especially if you go the DIY route and negotiate on your own. However, there are also debt settlement companies that negotiate on your behalf — for a price, of course.
---
Key insights
Debt settlement companies provide relief for individuals with overwhelming debt by negotiating with creditors to lower the amount owed.
While benefits include debt reduction and avoiding bankruptcy, debt settlement also has drawbacks, such as a negative hit to your credit score and potential tax implications.
Alternatives to debt settlement are often better options and include solutions such as debt consolidation loans and debt management plans
FAQ
What percentage should I offer to settle debt?

The percentage you should offer to settle debt varies depending on the lender you're working with. There's no real average, but lenders often agree to 30% to 50% of the outstanding debt.
Does debt settlement hurt your credit?

Yes, debt settlement can, and often does, hurt your credit. When you settle a debt for less than the full amount owed, it typically results in a negative entry on your credit report. However, the impact on your credit can be less severe than a bankruptcy, and as you work to rebuild your finances, your credit score can gradually improve over time.
How long does debt settlement stay on your credit report?

Debt settlement entries can stay on your credit report for up to seven years from the date of the settlement. This can negatively impact your credit score during that time.
How long does it take to rebuild credit after debt settlement?

Rebuilding credit after debt settlement can vary from person to person. In general, it may take several years of responsible financial management, including timely payments, to significantly improve your credit score. However, you can start seeing some small improvements within a year or two if you consistently practice good credit habits.
How long after debt settlement can I buy a house?

The specific time frame for buying a house after debt settlement varies depending on other factors like your credit score, financial stability and lender requirements. In general, it may take at least a couple of years of responsible financial management and credit rebuilding after debt settlement to qualify for a mortgage — or at least a mortgage worth getting.
Did you find this article helpful?
|
You're signed up
We'll start sending you the news you need delivered straight to you. We value your privacy. Unsubscribe easily.