What happens when you stop making credit card payments?
Unpaid credit card bills can result in serious financial, credit score and legal penalties



Written by

Edited by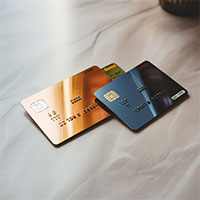 Major credit scoring models like FICO and VantageScore consider your payment history the most important factor in determining creditworthiness. Consequently, missed payments can result in harsh and nearly immediate damage to your credit score. You're also likely to get hit with late fees and higher penalty interest rates on your revolving debt.
That said, there's a standard series of events that takes place between your first missed credit card payment and your debt being sent to collections. There are also steps to consider when you can't pay your bill that might lessen the impact or make it easier to get back on track.
---
Key insights
While missing a credit card bill by even a single day makes it technically late, credit card issuers don't report late payments to the credit bureaus until at least 30 days have passed since the payment due date.
Late credit card payments result in a negative effect on your credit score, late fees and higher interest rates.
Creditors will eventually write off unpaid credit card bills as a loss, but this won't make the problem of unpaid debt disappear.
The life cycle of a missed credit card payment
First, you should know that only the minimum payment on your credit card is due by your due date — this date can fall on any date of the month, depending on your card issuer and when you originally applied.
Separately, there's also a reporting date. This is when the card issuer reports your payments to at least one of the three credit bureaus each billing cycle.
If you're late on your credit card bill by even a day or two, you can get hit with a late fee on your account (usually around $30). Additionally, your remaining credit card balance can be moved to a penalty interest rate higher than your card's regular annual percentage rate (APR). Penalty rates vary by card.
According to John Ulzheimer, president of The Ulzheimer Group and formerly of Equifax and FICO, the life cycle of a missed credit card payment can be broken down in the following way:
You're 30 days late

Credit reporting standards don't allow card issuers to report a late payment to the credit bureaus until at least 30 days have passed without a payment since your due date.

"So, while you are certainly late even if you're one day past the due date, you'll have to go a full 30 days before the record of the late payment ends up on your credit reports," Ulzheimer said.

Ulzheimer added that you can make a payment at this point, in which case you'll go back to being "current." From there, the record of the late payment will begin to age and become a historical late payment rather than a current late payment.
You're 60 days late

Once you're at least 60 days late on your credit card payment, the card issuers can report these payments immediately once they get to their regular reporting date within a billing cycle. The same is true when you're 90 days late on your credit card bill, 120 days late, 150 days late and 180 days late.

Note that the card issuers can charge you a late fee for each credit card bill you miss, and these fees keep adding to your balance along with the interest that accrues.
You're 180 days late

Ulzheimer said that once your credit card bill is more than 180 days late, credit card issuers will stop reporting late payments on your account. "At this point, it's likely the card issuer has closed the account to new charges and perhaps has even written off the account as a loss," he said.

Since you can no longer get back "on track" with payments and your debt has almost certainly moved into the hands of a collection agency , you'll be left to deal with debt collectors, or you can pay off or settle the account.

You do have the right to ask debt collectors to stop calling you, along with other rights afforded by the Fair Debt Collection Practices Act (FDCPA) . However, these rights don't prevent debt collectors from suing you for unpaid debt amounts or reporting the collection activity to the credit bureaus.
While even a single missed or late credit card payment can impact your credit score, the consequences to your credit become more severe as 30 to 60 days and 90 to 180 days pass since your bill was originally due.
For example, a simulation on the FICO website shows that a consumer with a starting score of 793 could see it drop by 63 to 83 points after missing a payment by 30 days. There could also be a drop of 113 to 133 points from the starting score after a 90-day missed payment period.
After seven years from the original late payment date, unpaid credit card bills will be removed from your credit reports in most cases. If the unpaid debt ultimately leads you toward bankruptcy, the bankruptcy itself can stay on your credit report for up to 10 years.
» COMPARE: Best credit report sites
What to do if you can't pay your credit card bill
Ulzheimer said consumers who can't make the minimum payment on their credit card bills have some choices, but "none of them are great."
Here are a few steps to consider if you find yourself in this situation:
» MORE: Should you get a personal loan to pay off credit card debt?
FAQ
When is a credit card payment late?

A credit card payment is considered late when you're even one day past your due date. However, card issuers can't report late payments to the credit bureaus until at least 30 days have passed since the payment due date.
What is a delinquent account?

Credit card account delinquency occurs when you're at least 30 days late making a payment.
How long does a missed credit card payment stay on record?

Late credit card payments and other negative information stay on your credit reports for seven years. After that, the information can still be in your credit file even if it's no longer actively listed on your reports.
What is the statute of limitations on debt?

Some states set a statute of limitations on debt collection, or how long collection agencies and other creditors can legally pursue an unpaid debt. These limitations are usually between three and six years, but they can be longer or vary based on the type of debt or the state law in your credit agreement.
Bottom line
It's always smart to pay your credit card on time, but sometimes life happens and keeping up with bills becomes a challenge. In that scenario, you should know that your credit score will see damage that will only escalate, and the late fees and interest that accrue will make your debt grow over time.
That said, you have rights under the FDCPA, including telling debt collectors to stop contacting you. These protections can prove helpful while you figure out your next steps, whether they include a do-it-yourself financial fix, help from a credit counseling agency or bankruptcy.
---
Article sources

ConsumerAffairs writers primarily rely on government data, industry experts and original research from other reputable publications to inform their work. Specific sources for this article include:
Did you find this article helpful?
|
You're signed up
We'll start sending you the news you need delivered straight to you. We value your privacy. Unsubscribe easily.