How to write an offer letter to win a bidding war
A well-crafted letter could help you score your dream home



Written by

Edited by
Find Mortgage Lenders near you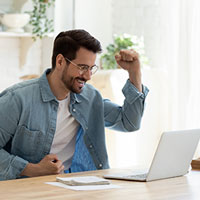 If you want to make your offer on a home stand out when there are multiple competing offers, one tactic you can use is to craft a well-written offer letter. But there are some legal considerations to know about before submitting an offer letter, as you could inadvertently violate the Fair Housing Act.
We'll explain how offer letters work, what legal considerations you need to know and how to craft a letter to help your homebuying chances.
---
Key insights
Offer letters are personal letters written by prospective homebuyers to the seller.
If you're not careful with your offer letter, it could cause the seller to inadvertently violate the Fair Housing Act.
Offer letters are typically delivered by your real estate agent to the seller's agent as part of the formal offer package.
What is an offer letter in real estate?
An offer letter — also known as a homebuyer love letter — is a letter written by a prospective homebuyer to the seller in hopes of having their offer accepted. These letters are especially important when there are multiple offers on a home and the buyer wants to have their offer considered above the others.
This letter is typically personal in nature, praising what you love about the home, and may include sharing personal tidbits about yourself and your family. (Warning: Some personal tidbits could lead to legal issues, as we'll explain below.)
Offer letters are submitted to the seller's real estate agent and passed on to the homeowner along with the purchase offer.
» MORE: Homebuying checklist
Offer letters and fair housing laws
Homebuyer offer letters have been around for ages and have been used to help prospective buyers gain an edge when vying for a home. But they may also conflict with the Fair Housing Act and cause the seller to discriminate, even if that's not the intention of the letter.
While offer letters are not illegal, they might come with legal consequences for the seller.
The Fair Housing Act has a provision called "equal-opportunity housing," which states that no seller can discriminate against potential buyers on the basis of race, color, religion, sex (including gender identity and sexual orientation), disability, familial status or national origin. And buyer offer letters may inadvertently lead to this type of discrimination, as letters typically reveal personal information of the prospective buyer.
The National Association of Realtors actually advises against offer letters for this very reason.
Ben Gold, a real estate agent and the founder of Recommended Home Buyers, a real estate investment firm in Philadelphia, gave some guidelines on complying with the Fair Housing Act in your offer letter:
Focus on the property: Keep the letter focused on the property itself, not on the personal characteristics of the buyer or seller.
Avoid discriminatory language: Refrain from mentioning race, religion, national origin, gender, familial status or disability in the letter.
Consult an expert: Seek guidance from a real estate professional or attorney to ensure your letter complies with fair housing regulations.
Buyers who still want to proceed with an offer letter should be very aware of the Fair Housing Act and be intentional with the personal information revealed in their offer letter. And always consult with your realtor before sending over an offer letter as part of the homebuying process.
What to put in an offer letter
If you are ready to make an offer and want to craft the perfect offer letter, here's what to include (and what to avoid):
Start with compliments

When crafting an offer letter, first highlight what you love about the home. The homeowner may be very attached to the home, and when you compliment the details and explain what you are looking forward to, it can help connect you with the seller on a personal level. Plus, no one hates it when you compliment their design work or home style choices.

Highlight your offer strength

After complimenting the home (and owner), share the details of your offer and why you believe it to be a very strong offer that the seller should consider. Include details of your loan preapproval or proof of funds for a cash offer.

The goal is to quickly let the seller know that you're serious and have the financial strength to purchase the home.

Share about yourself (within guidelines)

While offer letters should focus on your offer and the home's qualities, you can share about yourself and why you think the seller should consider your offer.

To stay in compliance with the Fair Housing Act, do not reveal personal information that can be discriminated against. While this limits what you can share, it's important that the seller knows you are someone who wants to enjoy living there, rather than an investor or house flipper with no personal connection to the home.

Keep it brief

Sellers who get multiple offers will need to read and consider each one, so keep the offer letter short and concise. A simple greeting, a few paragraphs about your offer and then a conclusion is all that is needed.

Avoid long stories and drawn-out descriptions. Instead, keep the letter focused on why the seller should pick you over any other offer.

Avoid protected personal information

While it can be helpful to share some basic personal details about your life with the seller, avoid anything that would put the seller in a position to potentially discriminate.

Do not include information that would reveal your race, color, religion, sex (including gender identity and sexual orientation), disability, familial status or national origin. This will help the seller avoid any liability issues and will keep your offer based on its objective merits.
Sample offer letter template
Here is a sample homebuyer offer letter that you can use as a template when writing yours:
Dear [NAME OF SELLER],
Your [STYLE OF HOME] is beautiful and perfectly captures what we've been looking for in a place to call our home. The [DETAIL YOU LIKE ABOUT THE HOME] helps me envision spending time with my family in this home and enjoying [DETAIL YOU ENJOY ABOUT THE HOME].
We are grateful that you'd consider our offer of [DETAILS OF OFFER]. We are prepared to sign a contract upon acceptance of our offer and close on a timeline of your choosing.
This home is the perfect place for [DETAILS ABOUT YOURSELF (this might include how you came to find this home and other objective information about yourself and the home)]. My family and I love this home because [MORE OBJECTIVE PERSONAL INFORMATION].
Thank you for your consideration.
[YOUR NAME]
How to submit your offer letter to a seller
Once your offer letter is crafted, submit it to your real estate agent. They will share it with the seller's agent along with the formal offer. You may need to attach supporting documents for your offer, including a preapproval letter (if financing) or proof of funds (if a cash offer).
The seller's agent may also provide specific instructions on what is to be included with the formal offer, so make sure to comply with any requirements requested. If the seller does not have an agent, your agent will send it directly to the homeowner.
» MORE: Best mortgage lenders
FAQ
Are offer letters in real estate illegal?

No, offer letters are not illegal. Oregon banned homebuyer offer letters for a short time in 2021, but the ruling was overturned in 2022.
How binding is an offer letter on a house?

The offer letter itself is a simple personal letter written by a prospective homebuyer to a seller and has no legal binding. The formal offer (which typically accompanies the offer letter) is a binding agreement that, if accepted and signed by the seller, becomes a legally binding contract to purchase the home. There are typically built-in contingencies that offer buyers a "way out" on an accepted offer, but you would need to consult with legal counsel for details on your specific offer.
Can a seller change their mind after accepting an offer?

If a homeowner accepts and signs a formal offer on their home, they are bound to the legal purchase agreement. But if the seller built in contingencies to the agreement, they may have legal precedent to back out of a home sale. It's important to consult with legal counsel regarding a home purchase agreement if you want to back out of a home sale as either the buyer or the seller.
Is an offer letter the same as a purchase agreement?

No, an offer letter is a stated offer to purchase a home, while a purchase agreement is a legally binding contract between the homebuyer and seller.
Bottom line
Offer letters have long been a tool of homebuyers to help persuade sellers to consider their offer above others. But while offer letters can help your chances of buying a home, it is only one fact among many for sellers to consider. And with possible legal compliance issues and the potential to violate the Fair Housing Act, buyers should carefully craft their letters to avoid any legal issues.
A short, concise letter that offers objective information and compliments the homeowner could help your offer be considered, but it's important to also have a strong financial offer on the table.
---
Article sources

ConsumerAffairs writers primarily rely on government data, industry experts and original research from other reputable publications to inform their work. Specific sources for this article include:
Did you find this article helpful?
|
You're signed up
We'll start sending you the news you need delivered straight to you. We value your privacy. Unsubscribe easily.