How to find a real estate agent
Start searching within your network, then expand to other referral sources



Written by

Edited by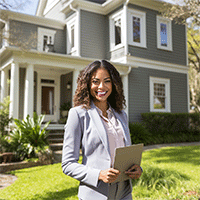 Using a real estate agent is a smart move for both homebuyers and homeowners. Whether you are buying or selling a home, real estate agents can help you find the right property, negotiate the right price and handle all the details of the homebuying (or selling) process. In fact, 86% of homebuyers and 86% of sellers use a real estate agent, according to the National Association of Realtors' 2022 Profile of Home Buyers and Sellers.
There are several ways to find a well-regarded real estate agent who has your best interests at heart. Whether you're asking a friend or searching online, this guide will show you how to compare real estate agents, what real estate agents actually do, what types of questions to ask when interviewing an agent and how to ensure your agent is asking a fair price for their services.
---
Key insights
Finding the right real estate agent can help make the homebuying or selling process much smoother.
Real estate agents handle everything from finding homes to scheduling viewings and negotiating.
Real estate agents are paid on commission and usually charge 5% to 6% of the total home price, split between the buyer's agent and listing agent.
Types of real estate agents
There are different types of real estate agents who serve both buyers and sellers.
Buyer's agent: A buyer's agent represents the homebuyer in a real estate transaction. A buyer's agent will help clients find their new home, write up offers, review comparison homes ("comps"), negotiate with the seller and complete the home purchase process.
Listing agent: A listing agent, or seller's agent, helps you list your home for sale, suggests improvements or repairs to get it "sale ready," prepares marketing for the listing, helps you negotiate with buyers and walks you through the sales process.
Dual agent: A dual agent is a real estate agent who represents both the buyer and seller. This presents a conflict of interest, but it can save money on closing costs and speed up the process.
Luxury real estate agent: Luxury real estate agents focus exclusively on high-end homes that are typically worth millions of dollars. These agents have experience working with high-net-worth individuals.
Commercial real estate agent: Commercial real estate agents help businesses and investors find commercial properties to buy or help owners sell their commercial property.
Transaction coordinator: While technically not real estate agents, transaction coordinators perform important administrative tasks related to real estate transactions and serve as the liaisons between all parties, including buyers, sellers, real estate agents and the escrow company. Their job is to make sure all paperwork is completed and submitted on time.
Realtor vs. real estate agent
Both real estate agents and Realtors help people buy and sell properties. The main difference is that a Realtor is registered as a member of the National Association of Realtors (NAR).
To join NAR, you need to be a licensed real estate agent and belong to a local real estate association. Membership requirements vary by state.
Real estate agent vs. broker
A real estate agent may be affiliated with a larger real estate company. A real estate broker is a real estate agent who is independent and does not work directly with any specific company, except perhaps their own. Brokers are like small business owners and may employ real estate agents.
What do real estate agents do?
"Real estate agents wear many hats," said Brett Johnson, a licensed real estate agent and the owner of Cash For House Pro, a real estate investment company in Denver. "They are a negotiator, marketer, researcher and problem solver. Real estate agents can help find the perfect property, set the right price and navigate complex contracts."
What real estate agents can do for buyers

Here's a breakdown of a few of the services that real estate agents provide for buyers.

Finding a home: Your agent should help you find the perfect home, taking into account the area you want to live in, the type of home you want and your price range. They should send a list of homes to consider on a regular basis.
Scheduling home showings: This may mean finding an open house or scheduling a private appointment.
Advising about potential homes: Your agent should know the market well and give you insight into homes you are interested in. They should be able to tell you about the area, spot potential issues and help you understand if the list price is fair.
Submitting offers: Once you choose a home to buy, your agent should help you complete an offer.
Negotiating the deal: Your agent can advise on which points to negotiate aggressively on and which to avoid worrying about.
Helping complete the purchase: Once your offer is accepted, your agent should help you complete the required paperwork and walk you through the steps to close on the home .
What real estate agents can do for sellers

For listing agents, the tasks are a bit different.

Advising on updates: Listing agents should tell you which updates or repairs are needed to make your home marketable. They might have local contacts who can perform the services recommended.
Helping set the right price: Listing agents should know the market well and help list your home at a price to sell quickly and for close to the amount you want.
Marketing the home: Listing agents help stage the home, take pictures and list your home on a multiple listing service. They should also help draft the description of your property in its listing.
Scheduling showings and open houses: Your listing agent should be in charge of scheduling any showing of your home. They will also host open houses.
Negotiating with buyers: Listing agents can help you negotiate the sale of your home. This may include advice about the home's price and any contingencies .
Helping close the deal: Your listing agent should help you complete the sale and any closing documentation.
When to get a real estate agent
"Clients should definitely consider getting a real estate agent when they're entering the property market, whether it's buying or selling," said Johnson.
"For buyers, real estate agents bring market insights, access to listings and negotiation skills to help them find the best match. Sellers benefit from real estate agents' expertise in pricing, marketing strategies and showcasing their property's best features."
If you are buying a home, an agent can give you insight into what you can realistically afford, what areas to look in and the types of homes that fit your wants and needs.
If you are selling your home, a listing agent can tell you what steps to take before you list and can help present your home to buyers in the best possible light. This can net you more money in the long run.
"The real estate landscape can be tricky, and having a knowledgeable agent from the start can save time, money and headaches," said Johnson.
Finding a real estate agent
Your first move when looking for a real estate agent should be to get referrals from trusted friends or family members. If you know someone who has bought or sold a home and had a great experience, ask them for a recommendation.
If you don't know anyone who has bought or sold recently, try a few respected online sources.
NAR's website: NAR holds its members to specific standards. You can search NAR's member directory to find Realtors in your city.
Real estate websites: You can find an agent via real estate websites. These sites can give you a list of agents in your area to interview.
Lastly, you can always google "real estate agent near me" to find some options (preferably with unbiased online reviews). You'll probably need to call a few agents to find one who works.
Questions to ask a real estate agent
Once you've found a few good real estate agent candidates, you'll want to interview them to make sure they fit your needs.
Here are some questions you should ask a potential real estate agent before hiring them.
How long have you been a full-time agent? It's important to understand your agent's level of experience and how much support they can offer you.
How many homes have you helped clients buy and sell over the last 12 months? If your agent hasn't been active recently, they may not have a current feel for the market and might not get you the best deal.
How many clients do you have? If they have too many clients, you might not get as much one-on-one attention. But if they have very few clients, this could be a red flag.
How long does it typically take you to buy/sell a home? This helps you gauge how efficient your agent is. If they take too long, you could miss out on a deal. And if they don't have an answer for you, this can be cause for concern.
How do you get paid? Ask for a very clear explanation of how your agent is compensated. Make sure they are fair with their commission rate and don't have any hidden fees.
How do you help clients get the best deal? You want a detailed answer that builds your confidence in the agent's process.
Real estate agent fees
Real estate agents work on commission. This commission varies by agent, but on average, you'll pay 5% to 6% of the total home price in commission to agents. The commission is typically paid for by the seller, and the buyer's agent and seller's agent split it. So your agent will get roughly half of the commission, or around 2.5% to 3% total.
For example, if you're buying a $400,000 home, the seller might pay 6% of the total home price to the agents, with your agent getting 3%, or $12,000.
You can save money by working with a lower-cost agent (but you might get subpar service), or you could not hire an agent and avoid paying the commission altogether. But unless you're experienced at buying or selling real estate, you might overpay for a home when buying or not get what it's worth when selling if you don't work with an agent.
Another way to avoid real estate agent fees when selling your home is to use an iBuyer service (selling your home to a company). But keep in mind that an iBuyer's offer might be low relative to what you can get from an individual buyer on the open market.
» MORE: What are seller concessions?
FAQ
Do I need a real estate agent?

If you are not a seasoned real estate investor, you might want to work with an agent to help you avoid potentially expensive mistakes in the homebuying or selling process. They can help you find the right home at the right price and negotiate the best terms possible. Real estate agents can be expensive, but they're typically worth the cost.
Who pays a real estate agent?

Sellers typically pay real estate agents as part of the closing costs. The agent commission is usually split equally between the buyer's and seller's agents.
What is the commission for a real estate agent?

Real estate agent commissions typically range from 5% to 6% of a home's sale price. An agent may modify their usual percentage depending on market conditions and a home's estimated value.
Bottom line
Real estate agents can help make buying or selling a home a much less stressful process. Your real estate agent can help you find the right home, get the price you want, and manage the back-and-forth between the buyer, seller and even your mortgage broker.
Yes, you can buy or sell a home without an agent and save money, but most people will benefit from having a professional on their team for the largest purchase of their lives.
---
Article sources

ConsumerAffairs writers primarily rely on government data, industry experts and original research from other reputable publications to inform their work. Specific sources for this article include:
Did you find this article helpful?
|
You're signed up
We'll start sending you the news you need delivered straight to you. We value your privacy. Unsubscribe easily.