How to buy land
Purchasing vacant land may seem ideal, but it's more complicated than many anticipate



Written by

Edited by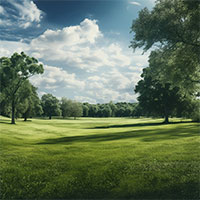 Are you considering buying land to build your dream home? Or maybe you want to buy land in a great location and earn big returns?
Buying land can open up opportunities, but the process is a bit more complicated than a standard real estate purchase. In addition to finding a parcel of land and making an offer, there are dozens of other things to consider, from zoning restrictions to land-specific financing.
---
Key insights
Buying land requires much more research than purchasing a home, including learning about the local market, topography, zoning and environmental considerations.
You can find land for sale on real estate and government websites, as well as through real estate agents.
There are several ways to finance a land purchase, including traditional bank loans, USDA loans and SBA loans.
Process of buying land
The process of buying land is similar to the process of buying a home, but the steps for evaluating land and some of the considerations are very different.
First, review your budget to make sure you have the funds available to invest. Then, research the type of land you want to buy and make sure you understand how to assess a parcel of land, so you can determine whether it's a good investment.
Know your budget for buying land

Before you look through online land listings or drive by empty lots in your area, take a look at your finances. Review how much you have to invest in land or, if you're looking to

build a home

, how much you can allocate toward the land before building.

Buying land can be much less expensive than buying a home, but expenses can quickly add up if you're building. With the costs of adding utilities, grading or clearing the land and maintenance, you could end up spending a lot more than anticipated.

It's also important to be realistic about how much cash you'll need to put down if you're financing the purchase.

"Down payment requirements for land purchases typically differ from those for homes," said Seth Jacobs, a mortgage broker at Maine USDA Home Loan.

"While traditional home mortgages may require down payments of around 5% to 20%, land loans might require higher down payments, often ranging from 20% to 50%. These percentages can vary based on factors such as the lender, your credit history and the land's intended use."
What to look for when buying land

When considering a land purchase, it's important to understand what you're getting into.

Location: From an investment perspective, buying in the right location can have a significant impact on your property's value. Plus, you'll want to consider how you'll use the land and purchase in a location suitable for that use.
Topography: The geographical features of the land may have an impact on your total costs, especially if you're building a home. Get a topography assessment from a professional before making a land purchase.
Access: If there are no government-maintained access roads, you'll be responsible for creating (and maintaining) your own access.
Zoning: Government zoning restrictions can shut down your homebuilding project if you buy land that doesn't allow development. Research the legal zoning details.
Property boundaries: A professional survey can help clarify exactly where your property's borders are located and what you'll own when you purchase it.
Utilities: If you plan on building a home or adding a structure and there are no existing utilities, you'll be on the hook for adding them, which can get very expensive.
Environmental hazards: Does the land you're interested in have any potential environmental concerns? Is it prone to flooding, or is it susceptible to other natural disasters?

It's important to be thorough in your research so you don't purchase land that will end up costing you more money than you anticipated. Do a deep dive into anything that could potentially hurt your return on investment before moving forward with a land purchase.
Questions to ask when buying land

There are a number of questions you should consider before buying a piece of land. But the first thing you should ask yourself is why you are looking to buy land to begin with.

"Determine your purpose for acquiring the land," said Jacobs. "Are you planning to build a home, invest or use it for recreational purposes?"

Once you have given that some thought, here are some more questions to ask the property owner, your lender and government associations:

What financing options are available for this purchase?
Can I build on the lot?
What are the zoning restrictions on the land?
What utilities (if any) are available to connect to?
Are the boundaries clearly marked? Has there been a recent survey of the land?
Are there any liens on the property title? ( title search recommended)
Does this land flood? Is it in a designated flood zone?
What was the land used for in the past?
How much are property taxes ?
What insurance coverage is recommended?

Talk to several parties, including your agent, the seller and even neighbors, to get as much information as possible before making an offer.
How to find land for sale

There are several ways to find land for sale, including online listings, a real estate agent or even just driving around.

Online listings: You can find land for sale on many real estate websites . But there are also land-specific websites such as land.com, landwatch.com, landandfarm.com and landsearch.com.
Government listings: Government-owned land can also be found on websites like disposal.gsa.gov/s/ and realestatesales.gov. The land sold on these sites is auctioned off, so be prepared to bid if using one of these websites.
In-person research: You might be able to find land for sale just by driving around areas where you are interested in purchasing. Look for sale signs on empty lots and get the contact information.
Real estate agents: You can work with a local real estate agent to find land for sale. It's best to work with someone who specializes in land sales or has had experience finding land for sale for other clients.
Classifieds: You might be able to find land for sale in the classifieds section of a local newspaper or magazine.
How to finance land

Getting your financing options in place before making an offer will increase the chances of your offer being accepted. There are several ways to finance a land purchase.

Traditional loan: You can get a regular bank or credit union loan for land, but make sure the financial institution specializes in agricultural or land purchases to get the best terms.
USDA loan: The U.S. Department of Agriculture (USDA) offers loans for purchasing property in rural areas. USDA loans can cover the cost of land as well as the cost of building a home, with low interest rates and flexible down payment requirements.
SBA loan: The Small Business Administration (SBA) offers loans to businesses looking to purchase land for business use. You'll need to apply for an SBA 504 loan and meet the requirements to qualify.
Owner financing: With owner financing , the seller finances the deal. You would make monthly payments to the seller until you refinance or pay off the seller's loan. Getting legal counsel to write up the contract terms for an owner-financed deal is important.
Private loan: If you are an investor, you might be able to work with a private "hard money" lender for the land purchase. This can help you make a quick offer, and then you can hopefully refinance the property to subsequently pay off your private loan.
Home equity loan: You can tap into your home equity with a home equity loan to finance the land purchase. Just know that you are risking your home if, for some reason, you cannot make payments on the loan in the future.
How much does land cost?
"The cost of land varies widely based on factors such as location, size, zoning, topography, accessibility and development potential," said Jacobs. "Land in urban or desirable areas tends to be more expensive due to its potential for future development or immediate utility."
Here's a sample of the average prices for land in various locations around the U.S. as of publication.
| | Price per acre* | Average parcel size* |
| --- | --- | --- |
| U.S. | $17,000 | 19 acres |
| Michigan | $12,875 | 13 acres |
| Ohio | $19,115 | 17 acres |
| Texas | $18,277 | 25 acres |
| Hawaii | $72,156 | 11 acres |
| Montana | $7,173 | 104 acres |
* based on data from LandSearch
As you can see, the cost of land can vary dramatically depending on where you buy. You can get land for around $7,000 per acre in Montana; in the small state of Hawaii, land is nearly 10 times as expensive.
Research land prices in the area where you want to purchase so you can make an informed offer.
Should I buy land?
Buying land can be a great investment, but it can also be stressful and unprofitable. Here are a few important considerations if you're thinking about making a land purchase:
Timeline: Buying land might be a lengthy process, so consider your timeline for the purchase. If you need to buy land and start building right away, discuss this with your agent and put your timeline in the offer.
Expected returns: If you're buying land as an investment, run the numbers first. If you find that additional costs will substantially eat into your returns, it might not be worth it.
Maintenance: Even if you don't plan on developing your land purchase, you'll need to budget money and time for maintaining it. Mowing grass, cutting back overgrowth and chopping up downed trees are just a few of the tasks associated with owning vacant land.
Development costs: If you're planning on developing the land, you need to work with a contractor to get accurate development costs. This can easily make or break your land investment returns.
Your personal budget: Buying land can be a great way to build your dream home or invest in real estate. But if you don't have the income or savings to handle the costs, it can hurt your net worth in a big way. Review your financial situation carefully before purchasing land.
» MORE: Buy, build or fix: What's best for first-time homebuyers?
FAQ
Is buying land a good investment?

Buying land can be a great investment as long as you do your research and have plans to earn a return. Finding the right location is key, as is understanding how to turn a profit by improving and selling (or leasing) your land. But as with any real estate investment, returns are not guaranteed, and you could lose a lot of money if it doesn't work out.
What's the down payment on land?

Lenders typically have different down payment requirements for land purchases than for home purchases. Expect a down payment for land to range from 20% to 50%, compared with down payment requirements as low as 3% for some conventional mortgages.
Is it cheaper to buy land and build a house?

Buying land and building a house can be a good move to realize your dream home, but it may not be cheaper than buying an existing house.

"Buying land and building a house can offer cost advantages in certain scenarios," said Jacobs. "By purchasing land separately, you have more control over the location and can design a home that suits your preferences. However, it's important to account for additional costs such as architectural plans, permits, construction and potential delays."
Bottom line
Buying land is not as straightforward as finding a parcel you like and making an offer. There are a lot of things to consider, such as the reason for the purchase, any potential restrictions on the land and the hidden costs associated with developing it.
Land can be a great investment. But it's important to do your research and work with professionals who can help you make the right purchase at the right price for your needs.
---
Article sources

ConsumerAffairs writers primarily rely on government data, industry experts and original research from other reputable publications to inform their work. Specific sources for this article include:

U.S. General Services Administration, " GSA Real Property Disposition ." Accessed Sept. 1, 2023.
U.S. General Services Administration, " GSA Auctions ." Accessed Sept. 1, 2023.
LandSearch, " Price of land per acre ." Accessed Sept. 1, 2023.
Did you find this article helpful?
|
You're signed up
We'll start sending you the news you need delivered straight to you. We value your privacy. Unsubscribe easily.