How to avoid debt relief scams
Keeping an eye out for common red flags can prevent you from losing money to crooks



Written by

Edited by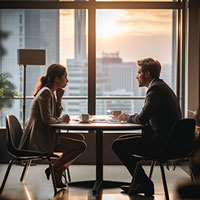 Offers of debt relief can seem like a light at the end of the tunnel if you're facing unbearable debt. And while there are legitimate ways to consolidate, negotiate or even eliminate your debt, not all of those debt settlement and relief companies are out to help you.
Unfortunately, debt relief scams are rampant. Scammers exploit debtors' vulnerability by offering false promises of quick and easy solutions, such as debt consolidation loans with unrealistically low interest rates or debt settlement programs with "guaranteed" results.
---
Key insights
Red flags of debt relief scams include unsolicited offers, upfront fees and promises of guaranteed results.
Always check for reviews and verify the legitimacy of debt relief companies before engaging their services.
Report all scams to the Federal Trade Commission or the Consumer Financial Protection Bureau.
FAQ
Are debt scams common?

Debt scams are extremely common, with many people preying on vulnerable debtors. The FTC has news releases about various scams, and the list is a long one.
How do I stop scam calls?

Your first step to stop scam calls is to register on the National Do Not Call Registry. This helps you avoid telemarketer calls. You can also download a call-blocking app that filters out spam.
Why do people fall for scams?

Believe it or not, everyone can fall for a scam. People fall for scams due to emotional manipulation, the convincing appearance of legitimacy and lack of awareness about common scams. We're particularly susceptible in times of financial hardship or personal distress.
What are some scams you should avoid when looking for a credit counselor?

Scam credit counselors have the same red flags as other scams, including charging upfront fees, promising fast and quick guaranteed debt relief, and a lack of transparency. Avoid credit counseling agencies that demand significant upfront payments, as legitimate ones typically offer free initial consultations.
Did you find this article helpful?
|
You're signed up
We'll start sending you the news you need delivered straight to you. We value your privacy. Unsubscribe easily.