How much do mortgage brokers make?
Brokers earn a commission on your home loan



Written by

Edited by
Find Mortgage Lenders near you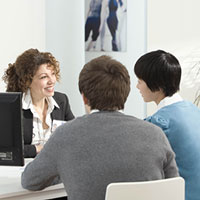 Mortgage brokers help homebuyers find the best mortgage for their situation and work with them through the entire loan process. They serve as an intermediary between the borrower and the lender to facilitate a smooth process between both parties.
In exchange for this service, mortgage brokers are paid a commission. This commission can be paid by either the borrower or the lender. Before deciding to use a mortgage broker, ask how their fee is paid so you understand any potential costs to you.
---
Key insights
Mortgage brokers earn a commission in return for helping borrowers and lenders work through the mortgage process.
On average, in 2023, mortgage brokers in the U.S. earned annual salaries ranging from about $65,000 to $100,000.
Individuals who are licensed as mortgage brokers typically need to complete at least 20 hours of training, take an exam, pass a background and credit check, meet their state's licensing requirements and be registered with the NMLS.
How mortgage brokers make money
"While some companies offer a base salary, mortgage brokers commonly work commission-only," said Anthony Ferrando, president of Mortgage Austin. This means the money they earn is based on the loans they sell.
In exchange for their commission, mortgage brokers serve as a go-between for the borrower and mortgage lenders to help facilitate the transaction, says Dennis Shirshikov, head of growth for the real estate company Awning.
These commissions are often in the form of "origination fees from the lender and sometimes from fees paid by the borrower," Shirshikov explained.
Fees of 1% to 2% of the loan amount are common. So, if a broker closes a $300,000 mortgage, and the origination fee is 1%, the broker might earn a $3,000 commission.
Under the Dodd-Frank Act, mortgage brokers cannot be paid based on the transaction's terms. For example, it wouldn't be acceptable for the broker to receive compensation based on the loan's interest rate. Plus, they can't be paid a commission for directing the customer to buy such things as title insurance from one of their affiliates.
» MORE: Mortgage broker vs. lender
Average mortgage broker salaries
A review of data from ZipRecruiter in 2023 says average mortgage broker salaries range from a low of about $65,000 a year to a high of almost $100,000 a year. Some of the highest salaries are in Minnesota, Nevada and Massachusetts. In contrast, some of the lowest salaries are in Florida, Alabama and West Virginia.
"While a new mortgage broker can expect to make $40 to $60 (thousand) in their first year, the reality is that many will earn $100 (thousand) while the rest will earn substantially below the average," said Ferrando, the president of Mortgage Austin.
Mortgage brokers who perform well "understand that client service is the key to running a successful practice," explained Ferrando. "The brokers who understand this have no trouble obtaining repeat and referral business."
Mortgage broker training and licensing
A mortgage broker's license is recorded in the Nationwide Multistate Licensing System (NLMS), the nationwide system of record. They must also meet the licensing requirements of their state or jurisdiction.
Brokers need to complete about 20 hours of coursework and pass an examination, says Jay Dacey, president of the Jay Dacey Mortgage Team. Plus, "there is ongoing annual continuing education to maintain an active license at the federal level and many states have additional requirements."
Besides completing the coursework and licensing test, Ferrando said they "must have a clean background and credit history."
» MORE: Should I use a mortgage broker?
FAQ
Is a mortgage broker the same as a loan officer?

No. A mortgage broker helps borrowers find the most suitable loan by evaluating options from many different financial institutions or lenders. The broker serves as a go-between and helps facilitate the lending process.
Do I have to work with a mortgage broker?

No, you do not have to work with a mortgage broker. You can work directly with a lender if you choose to do so. If you want one-on-one assistance as you shop around for a mortgage and through the entire lending process, using a mortgage broker can be helpful.
Where can I find a mortgage broker?

To find a mortgage broker, you can ask real estate experts in your area, friends or neighbors for local recommendations. Plus, you can conduct an online search and read reviews from other customers to find mortgage brokers with good reputations in your area.
Bottom line
Mortgage brokers help facilitate mortgages by serving as a go-between for borrowers and lenders. A mortgage broker can be a helpful resource for individuals needing one-on-one assistance through the entire loan process, including shopping for the best rate and mortgage type.
In exchange, mortgage brokers earn a commission. This fee can be paid by either the borrower or the lender. Before using a mortgage broker, inquire about how they're paid so you understand what it will cost you (if anything) to use their services.
---
Sources

ConsumerAffairs writers primarily rely on government data, industry experts and original research from other reputable publications to inform their work. Specific sources for this article include:
Did you find this article helpful?
|
You're signed up
We'll start sending you the news you need delivered straight to you. We value your privacy. Unsubscribe easily.