Homeschooling pros and cons
Explore the benefits and disadvantages of home education



Written by

Edited by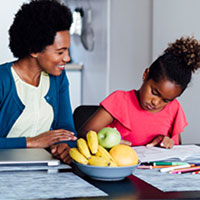 More families are deciding to homeschool their kids than ever. Home education is a huge decision that affects the lifestyle of your entire family. While it's an excellent decision for many, it's less of a perfect fit for others.
Pros
Flexible curriculum
Effective learning
Educational freedom
Less bullying
More family time
Cons
Lifestyle change
Homeschooling costs
Heavy workload
Anxiety and stress
Fewer social and athletic opportunities
Homeschooling benefits
The most obvious benefits of homeschooling are flexibility and independence. Your child-student can learn at their own pace, and you can emphasize certain subjects. The increased communication will inevitably lead to more family time, and students can learn in a safe environment without bullying concerns.
Flexible curriculum
For most parents, a flexible curriculum is the most significant advantage. Homeschoolers never have to be in a particular room at any specific time for class. You have the freedom to adjust schedules to your family's needs and rearrange the day as needed — no more rushed mornings and tardy sign-ins.
Homeschooling shows your kids a different way of approaching the world. If you want them to see beyond the traditional nine-to-five lifestyle early on, homeschooling probably makes sense for you.
Effective learning
When your kids are focused on their coursework, you can be confident what they are learning is on their level. If your child-student needs extra help to understand a particular lesson, you have the flexibility to spend the necessary time to ensure they really understand.
You also don't have to spend time giving them busy work. Instead, you can spend extra time on lessons they're genuinely passionate about.
According to the National Home Education Research Institute (NHERI), homeschooled students score 15 to 30 percentile points higher than public school students on standard academic achievement tests. The NHERI also states that homeschoolers "score above average on achievement tests regardless of their parents' level of formal education or their family's household income."
Curriculum flexibility can encourage a nontraditional learner to pursue their interests and learn at their own pace. For instance, it's common for homeschooled teens to take advantage of early college programs.
Another plus, homeschoolers tend to be more proficient at life skills like cooking, cleaning and home maintenance.
Educational freedom
For the most part, public school students all get similar curricula. If you homeschool, you have an opportunity to adjust the day-to-day lesson plans based on what interests your child most.
Homeschool education can be incredibly personalized. Pedagogy theories range from classical to Unschooling, Montessori to the Charlotte Mason method. For example, the Bible is a central focus of any Christian homeschooling curriculum, and some programs focus on other religions.
Visit the Coalition for Responsible Home Education (CRHE) for information about child-centered education and evidence-based practices.
Remember, you aren't ever stuck with a specific curriculum. Even if you choose a program, you can change it.
Less bullying and distractions from other students
Homeschooled students don't have to worry quite so much about impressing everybody all the time. When you take social pressure off of children and teenagers, they have a chance to explore how they do their best work. Learning the curriculum is crucial, but this is also a time for your child to learn about who they truly are.
For many families, the home is a safe place. There's less chance of social ridicule from other students or teachers. For some parents, being able to control their child's physical interactions with other students counts as another benefit.
More family time
If you have more than one child, they will likely bond more with each other as well. You can even use vacations and other activities as part of your homeschool curriculum.
Many parent-educators treasure the closer family bonds that form over even just a year of homeschooling. This often leads to greater stability during difficult times.
Homeschooling disadvantages
Even advocates of homeschooling admit it has its downsides. Committing to home education affects your finances, social life and free time. If you're a parent and teacher, homeschooling will likely take up most of your time and energy. There are also fewer athletic opportunities, and some homeschoolers (parents and kids) experience anxiety.
Lifestyle change
The process of adjusting to a new homeschool routine can be stressful for the whole family. Your child-student may have less access to technological resources than students attending a traditional school.
Remember, homeschoolers must learn self-discipline to be successful. It's important to set healthy boundaries and realistic expectations early. The sooner you find a manageable homeschooling routine, the faster it will feel like it's working. Structure is key.
Homeschooling costs
According to the Home School Legal Defense Association (HSLDA), the average parent spends between $300 and $600 each year per child on a homeschooling curriculum.
In addition to the cost for courses and materials, homeschooling often means a loss of income or reduced time working for at least one parent. Even if you are confident that homeschooling would be practical for your child, there's a chance that it's not financially feasible. However, some online homeschooling programs offer scholarships or grants.
Heavy workload
Homeschooling can be a lot of work for you and your kids. Homeschooling parents must be comfortable teaching a broad range of subjects, and they often spend hours planning curriculum each week. You could spend even longer if you have multiple students, especially if one or more of them requires special attention. And then you still have to grade their work and keep records.
Don't forget that you might have other household responsibilities in addition to curriculum planning, teaching lessons and field trips. Some families struggle to share responsibilities, which can be a pressure point.
Anxiety and stress
Some parent-teachers feel lonely or stressed, especially during the adjustment period. It's easy to feel isolated from other parents who don't homeschool. Even if your friends support your decision to homeschool, your day-to-day routines will be very different.
Some homeschool parents report feeling anxious about whether they are teaching their child the "right" curriculum or "enough" lessons. Even when following strict unit modules or curriculum lessons, there's a fear of letting a child fall behind.
It will take time to make the new routine work. There will be days that don't make sense. Some homeschool parents suggest thinking of the first year as an adjustment period. The primary homeschooling educator will have less time for themselves. Put simply, there's no more dropping the kids off each morning and having the day to yourself.
Fewer social and athletic opportunities
It's true that reduced bullying and peer distraction are an advantage, but the other side of less social interaction is having fewer opportunities to engage in social or athletic programs. Some adults who were homeschooled as kids recall having a smaller circle of friends and less daily interactions with kids.
Unfortunately, school districts don't let homeschoolers participate in public school sports teams. You can still participate in recreational and amateur sports leagues, but if you are shooting for a scholarship, you should enroll in a program that is accredited by the NCAA. Homeschool programs accredited by the NCAA can get pricey.
In addition to athletic opportunities, you might have fewer social opportunities, such as pep rallies, award ceremonies and dances. Still, some homeschool communities host a version of traditional prom.
Homeschooling questions
What is homeschooling?

Much like it sounds, homeschooling is when a student is educated in their home. A parent, tutor or online teacher usually conducts education lessons and keeps track of grades.

Why do people homeschool?

People homeschool their kids for multiple reasons. Most commonly, parents choose to homeschool because they believe they can give their child a better education than the local school district. Others homeschool because of safety concerns or because their child has a special need. Some parents prefer home education because of a religious or moral position.

How long has homeschooling been around?

Home-based education is ancient, but the modern idea of "homeschooling" has been around since the 1970s.

What do you need to homeschool your child?

Essential items to homeschool your child include:

Homeschool planner
File folders
Paper
Pens and pencils
Books
Computer with internet access
Printer
Curriculum or unit studies

You might also want to get a dry erase board and an electric pencil sharpener. Some states also require parent qualification credentials.

Is homeschooling effective?

Homeschooling is effective for some students. However, what works for other families might not be perfect for your specific situations.

Do colleges care if you're homeschooled?

Colleges generally don't care if students are homeschooled as long as they have a diploma (or high school equivalency degree). College admissions departments typically care much more about applicants' SAT or ACT scores than whether they were homeschooled.
Bottom line: Is homeschooling right for me?
Whether homeschooling is right for you depends on a range of factors. If you want more flexibility and independence for your child's education, then it is worth exploring. However, if social experiences are most important, you might have better luck with a traditional learning environment. For more information, be sure to look into how to find the best online homeschools.
Did you find this article helpful?
|
You're signed up
We'll start sending you the news you need delivered straight to you. We value your privacy. Unsubscribe easily.