Dodge and Chrysler News & Recalls
The vehicle's tire placard contains incorrect information
10/13/2017
|
ConsumerAffairs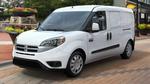 Chrysler (FCA US LLC) is recalling 1,291 model year 2015-2017 RAM ProMaster City vehicles.
These vehicle's tire placard has incorrect information including vehicle capacity weight, total number of occupants, tire pressure and/or "None" designation for the spare tire size when a full size spare tire is present.
As such, these vehicles fail to comply with the requirements of Federal Motor Vehicle Safety Standard (FMVSS) number 110, "Tire Selection and Rims."
The incorrect in...
More
The recall is to verify that earlier repairs were performed properly
10/03/2017
|
ConsumerAffairs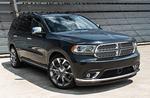 Chrysler (FCA US LLC) is recalling 646,394 model year 2011-2014 Dodge Durangos and Jeep Grand Cherokees.
The recalled vehicles had brake booster shields installed under a previous campaign to prevent water from entering the brake booster and limiting braking ability.
This recall is to verify that the brake booster shield installation was performed properly.
If the brake booster shield was not installed properly, the vehicle's braking ability may be reduced, increasing the ...
More
Sort By