Consumer Complaints and Reviews

Would never hire Stanley Steemer again. 2200 Sq foot home charged me 280 dollars to clean 7 areas and stairs. Was done in a half hour and only difference when they left was carpets were wet. Waste of money! Still covered in cat hair from previous owners.

Very disappointed. Not a very good job cleaning my carpet. The covers they have on their shoes are not water proof, so I should have charge for cleaning my stairs and floor. Please people don't ever call Stanley Steemer! They wouldn't move my Bed, Tv, just little stand. I had to move my furniture. Never, ever again. They don't respond to you at all. Not good company!!!

When I used the website to get a quote to clean 3 rooms of carpet and 2 rooms of tiles I got an estimate of $159. I called to make sure I'm not missing any hidden fees and was told by a representative the quote is accurate as long as the rooms are not bigger than 300 sq ft. My rooms are about 250 sq ft each! I was given a time window of 8am-1pm so I took the day off from work just to realize that this was all a big scam. The actual quote was $550. I was told that the quote of $159 is ONLY if the hose of the truck can reach the rooms (what a joke) so if you live in an apartment building or you have a big private house and the rooms are all the way in the back or the second floor and the hose from the truck can't reach the carpet, they will have to use a portable machine and in that case the MINIMUM quote is $200.
Regarding the tile cleaning: the quote is ACTUALLY $1.5 per sq ft so the two small rooms (kitchen and dining area) cost about $250 plus fees for using a portable machine all came out to $500. I think they give you a quote on their website and on the phone by their representatives which is completely a joke to make you invest the time waiting for them and push you to accept their offer. I have lost a day of work waiting for them just to realize this was just a big scam. The company has numerous bad reviews regarding this subject.

I had Stanley Steemer come to my residence in Wisconsin in November of 2016. I signed up for the estimate via their website and was quoted $3**.00. They came to my house to clean and protect my carpeting and I ended up signing up for the tile and grout cleaning as well in two bathrooms. They quoted me under $100.00 for the additional service. My final bill ended up being nearly $550.00. I couldn't tell a noticeable difference in the cleanliness of my tile or carpet when they were finished. Highly dissatisfied. Would not recommend. Spend the money on scotchguard and your own shampooer. Do it yourself.

We called Stanley Steemer to clean our Grout/Tile. They arrived, tried to upgrade us and then finally attempted to clean. Where the grout already looked good it was improved a little, where it needed cleaning the most it did help a little. End result is it looks about the same as before the cleaning! I bought a 29.00 hand steamer and cleaned it to where it's even and very clean! They might do a good job on carpet but 180.00 of my money was absolutely wasted on their attempt to clean my grout!
How do I know I can trust these reviews about Stanley Steemer?
720,415 reviews on ConsumerAffairs are verified.
We require contact information to ensure our reviewers are real.
We use intelligent software that helps us maintain the integrity of reviews.
Our moderators read all reviews to verify quality and helpfulness.
For more information about reviews on ConsumerAffairs.com please visit our FAQ.

What a scam. They did a real good job the first visit. Talked me into a year plan. 3 more visits for an additional 221.00 and so 4 months later I had them come back. What a ** job and the third visit they won't honor it. What a bunch of crap. Not happy at all.

First time I had ever used Stanley Steemer. While they were just about finishing up I watched the one young boy drag the carpet cleaning suction attachment across my hardwood floor and leave a 4-inch scratch right by my front door on my hardwood floor because he was too lazy to get a rag and wipe my floor dry. Then after they left I noticed all around the edges of my rug, the floor next to it was still soaking wet so I had to get a rag and wipe that up myself after paying them $130. Then I also noticed on my Hearth pad underneath my wood stove there was A3 foot wide puddle underneath my stove that I also had to clean up. Then to top it off I noticed a little spot on my rug so I started to scratch it with my fingernail and a bunch of dirt came to the surface and left an even bigger mark.
It was a high traffic area near my front door that he did not clean well at all and the edges were still very dirty after the carpet dried also in two different spots. Such a shame because I own a business and was going to use them to clean my entire showroom but after that experience I will never ever call them back. They did offer to send another crew out to clean up the dirty spots but if they could not do the job right the first time why am I going to take another day off of work to give them a chance to maybe get the job done right the second time? Not the way you run business at all.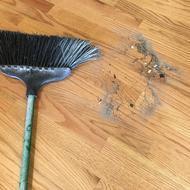 I watched the Stanley Steemer video on the wonderful service they offer for cleaning the hardwood floors and tile. I made a appointment to clean two bathrooms on the website. I was quoted 99.00 dollars. They price per area not by sq ft or the size of the bathroom. When the young gentleman came to the house they said that the one large bathroom floors in the master bathroom needs to count as two bathrooms. My bathtub is a step up and then my ssid that is a separate area and it's going to be another $40.00. (Maybe 20 sq feet of tile around that.) Then if I wanted my tile counters done it was $75.00 (whao that's expensive). Then they said it a additional $40.00 for the second bathroom in the hallway. Ok. I said that was fine. I wanted the house to look nice before I listed it. Then they offered to wash the hardwood floors in the house. They gave me a price of $315.00 dollars.
They washed the house floors. My house is 1800 sq feet. My house is 15 years old and I had the floors refinished 3 years ago. When they were done they gave me a bill that was way higher than when we talked. They charged me an extra 100.00 dollars for the hardwood floors. I said "you can't do that. You can't raise the price after you gave a price especially without talking to me about it." The floor was wet when they left they said there were some spots that they can't remove or there are scratches. I mentioned that I was aware of the scratches. So the young man dropped the 100.00 dollars off the hardwood floor price. I paid on a iPad and tried to read the list of services. I paid and when I got my email receipt I noticed they charged me 75.00 to clean around my jacuzzi tub tile area not 40.00. So now to clean the floor in my bathroom it cost 175.00 dollars. What a rip off!
My total Speat was 551.00 dollars to wash the floors. You can hire a housekeeping service to hand scrub the floors for that much and the counter and shower. My house is totally empty because we are getting ready to list. So they had obstacles in the way. I got down on my hands and knees to clean the spots they said they could not clean. Dry juice and spills that showed up after the floors where dry. I was able to clean them up with a small rag and cleaner. Then I noticed all the dirt left behind from not vacuuming the floors properly. I got a nice pile of dirt. Don't call this company for anything. I have never had such dishonest people in my house. After I agreed to the super high price I expected a super clean floor you can eat off of. But it was not left clean. Crooks.

I decided to use Stanley Steemer for the first time. Initially, my experience with the phone rep was positive. I described the number of rooms, hallways, and stairs I needed cleaned. She gave me a quote and set up the appointment the next day. When the two gentlemen showed up the next day, they told me that the master room, the hallway, and the family room counted as two rooms and then muttered under his breath how he was unwilling to clean beneath the kids' toys in their rooms. He was very condescending and rude to me. He talked at me and over me. After the job was completed, my house was left with an awful odor and the carpets looked worse. I would never ever ever use or recommend Stanley Steemer to anyone, not even my worst enemy.

They were friendly and did a great job. The price was reasonable and they set up a time/day to come that was workable for me and I didn't have to wait long to get them over to work. I got the phone, set up a date and time that work for me within the next week. I didn't have to hassle with going to my calendar defined day and the time that they were available. The inspection today didn't take long either. It was quick and easy. We set it up. They came in. They did a thorough job and didn't take long at all. I would recommend them because they did such a great job at such a great price. It looked as if it did before.

From the moment I called them they put my mind at ease. They handled everything, made me feel comfortable, answered all my questions and were there for me and my family through the entire process. They came out the same. I called to go over the damage and give an estimate. They were able to start cleanup the very next day. We were very pleased. When they arrived they were completely professional and I was touched by their lack of compassion. Even though some things were completely ruined they handled everything with care and respect. They are true professionals. Price was lower than I had expected. I only had to pay a small deductible because our insurance covered most of it. But it still mattered to me that we were not overcharged.

It was awesome. At first I needed help with the item I ordered. Once I called them up they told me everything I needed to know and they were also super friendly to me! It can take some time at first to get in contact but after you do it's easy to get your problem fixed. I mean they're not the best at coming at the right time, sometimes they could come towards work hours. I got it rescheduled for my day off and they came and the installation was easy! The inspection of the house was easy, they didn't need anything from me, they just came around and looked! It was like I couldn't even notice them, but they told me my house was fine for installation and I'm glad I got this company. Bit pricey but is it worth it than other products? I guess, it was definitely one of the cheaper items but in the end it was worth it. Nothing wrong with this product at all, I love it and the price was definitely right for what it does for me!

Customer service was amazing! They were sympathetic to my situation. They were kind and understanding. They handled everything with such care. They were fast and cleaned up everything. The scheduling for my situation was immediate. Customer service was willing to work around my time constraints. They showed up on time consistently and stayed until work was done. Upon inspection after they were done I was amazed. Other than the things that were lost it looked fantastic like nothing had happened. My apt smelled fresh and clean and looked brand new. I felt the value was great. You can't put a price on coming home again to a clean fresh living space that was once ruined. I would highly recommend them to anyone who has had a tragedy.

When I called they were attentive and very helpful and I am glad I decided to use them. They met my needs right away and they were quick and thorough when it came to the job I needed done in my basement and garage after the flood. My scheduling experience was very easy and went well. I was able to set an appointment according to my schedule and they were great about it. The inspection process was great from the beginning. The guy that came out was nice and professional and he did a great and thorough job in my opinion. I feel like I received a very good value for the amount I paid. I did some price comparisons and they provided the best service for the best price.

It was treated with care and has an excellent outcome. It was a professional work done with utmost satisfaction. Great customer service as I was treated as family. I got my question answered on timely manner without having a frustrating experience. They were polite, had patience and understanding. They have a method of replacing damaged inventory and minimizing stock outages. They resolved any customer complaints in a timely manner. It was a good customer service where it was focused to ascertain need and supply in a courteous manner. They listen to the need of the customer to better create positive personal business relationship.

When I called them to come out to clean up some flood damage we got in our home, I was emotional and lost. The sales rep on the phone was so helpful and treated me like I was family that I had no doubt they would treat me good. I had called them in the AM for their services and figured it would be a 3-5 day wait for someone to come out to our home and clean up the flood damage. I was so surprised when the gal on the phone told me she had something later that day available. The guy that came to inspect the house was so nice and helpful. He was very easy going and did an excellent job looking everything over and telling us what he was going to do as well as what we may need to do on our end. The service was amazing. You would never be able to tell we ever had any water damage to the basement in our home. They did a great job even cleaning up after themselves when they were done.

I would recommend Stanley Steemer because they have great customer service and take care of their clients and locations responsibly and with integrity. They work around the schedules of busy people because they know that life goes on even if you are trying to fix a problem. The inspection process with Stanley Steemer is helpful and they are kind and courteous and caring during a stressful time in your life. They are respectful. They have a great value to their service without compromising anything for giving a reasonable price. The experience is great.

They responded quickly and was on the phone with them for a short time. They talked to me about their rates and what to expect from them. All of my questions were answered in a timely manner. From the day I called it was very soon after that it was arranged for them to come to my home. They had decent availability and were able to make my schedule work with little problem. They spent a lot of time inspecting the damage in my home. They arrived on time and were very thorough with their inspection. I felt like I could trust that they were looking out for my best interest rather than just rushing. They have good prices for their services. I was expecting a heftier price and was willing to pay a little more than I was charged. They didn't seem to be trying to rip me off but offered a competitive rate.

Have great customer service and always helpful. When I need to contact, they never any bad comments from them. Always nice and happy to me. Would call them anytime. Great scheduling from them. Were on time and got things done on time and did what they said. They are great to work with. No probs with them at all. Great inspection and did it fast and on time. Never missed anything. They were great. They found every prob there was and took care of it right away. Great value for the service. Did what they said on time and were great and helpful without any probs. Great workers and always on time. The best that there are.

I called and they came out the very next day. They took their time and cleaned up everything. Made the place look like nothing ever happened. I would definitely use them again. They explained what they had to do then went right to work and did a fine job. They came out, looked it over, gave a estimate that was very reasonable. I was very pleased at what they said and they came back the very next day. I would greatly tell everyone about them. I never thought that they could do the job that good.

I had Stanley Steemer come to clean three of our rooms. The crew was very professional and managed every very well. They were also very friendly to talk to. Scheduling was easy and simple. I didn't have any issues with trying to get an appointment set for cleaning the two rooms. The lady that answered the phone was very courteous and explained everything perfectly. During the inspection process, the crew that came to my house was very friendly and professional. Once they inspected the three rooms; they explained what would needed to be done and approximately how long it would take. The service was wonderful and well worth my money. I was very satisfied with the outcome and the experience overall. The company really exceeded all my expectations.

I have worked for Stanley Steemer in the late 80's-early 90's. I trust that I would get quality service from them. They cleaned the carpets in my home in the past. However, on 4-11-11, I called to schedule an appointment to have my carpet and tile cleaned at my home. I informed Mrs. ** that I had worked for her a long time ago and she informed me that it was their policy not to do business with former employees. Since they own the franchise rights in Pasco County, I can not have my carpets or tiles cleaned by Stanley Steemer because Mrs. ** refused service to my home. Now, I have to try to find someone who has a lesser brand and am not sure who I can trust.

On Friday, February 13, 2009 I had a flood in my home. I hired Stanley Steemer to extract the water from the carpet which is located in the basement. They were to remove the damaged padding and pull back the carpet so it was able to dry properly. They were to come back in 3 to 4 days to reinstall the same padding and reinstall the carpet as it was previously installed before the damaged occurred. Needless to say this did not occur and things did not go as planned. A worker by the name of Jason ** arrived at my home by himself with no helpers to do the job on Friday the 13th. He arrived at my home at around 12:00 PM. He extracted the water from the carpet and then began to pull back the carpet and remove the damaged padding. When Jason went to cut the carpet, instead of cutting the carpet on the seam he cut the rug crooked. He damaged the rug beyond repair.
I did not know of this damage until he returned on Tuesday the 18th to reinstall the padding and reinstall the carpet. First and foremost the padding he brought to my home was the incorrect padding and when he went to lay the carpet back down since he screwed up the cut the carpet did not meet at the seam. The carpet is now damaged and unrepairable. The new padding was much too thick and the rug is destroyed because of his negligence. He did admit to my husband and myself as well as a fellow co-worker that he did screw up and it is his responsibility.
I called the owner of the company. His name is Anthony **. He wanted nothing to do with it. He told me straight out that it was my problem and he was not going to make good on it. I need so course of action to be done and I am turning to you. The carpet is 1 1/2 years old and cost me $3600.00 to install. I need him to fess up to his mistakes. His employee, Jason was negligence and they should be held responsible for their actions. They left my home without completing the job and left my carpet unattached in several areas. I paid them in full $867.00 for work that was not properly done.

On 9/26/08 I had the carpeting cleaned in my den, two bedrooms, a hallway, and a flight of stairs. I was very happy with the results but my den carpeting was saturated. I had just painted the den and decided to get the carpet cleaned. At the time, it was free of any stains but needed to be cleaned. Two days after it was cleaned I noticed that the rug was turning brown in color. It is a white burbur. I called Stanley Steemer and they said that was common with lighter color burburs because they could not get the water out and they agreed to come back the next day and clean it again. On 9/29 they came again and cleaned the den and got the brown out but left the carpet saturated with water again. In two days the stain was back. I called again and requested that a manager come and look at the rug.
On 10/1 a manager came and cleaned the rug again and sprayed a browning agent on the rug and raked it throughout. He explained that this may take a couple of applications to remove the stain but not to worry he would get it out. This treatment left a very unpleasant odor in the rug and had little results on the browning. The next day after the rug had dried I noticed that it was sticky, almost like a syrup was poured onto it and I was tracking it throughout my home. I called once again and complained, and they sent Jim ** on 10/2. Jim proceeded to clean the browning agent out of the rug to remove the sticky residue and told me that the previous manager had put an excessive amount of the browning agent on the rug, leaving the unpleasant odor and the sticky residue. He was on his hands and knees trying to take all the water out of the rug before he left.
He was here for nearly two hours and left me with a blower to aid in the drying process, but unfortunately the browning came back once again and I was still left with an unpleasant odor. I called to complain and Jim came back again on 10/4, he cleaned the carpeting again and stayed for hours to remove the water. This time he left me with two blowers but still the browning came back, however it was improved but not back to its original color. Jim came back on 10/6 to pick up the blowers and inspect the carpet. He said he was not sure what else he could do and offered me "a couple hundred dollars in cash". I did not ask how much as I was not interested in cash. I wanted my carpet back. I explained to him that I wanted another manager to assess this situation and he agreed to send someone, but insisted that he apply a deodorizer to get rid of the unpleasant odor.
I was very specific about him not applying any more of that browning agent on the rug as it kept making it sticky. He assured me that he was only applying a deodorizer so I agreed to let him do it. He applied the spray and brushed it in just as the manager before him, which I thought was odd and questioned him but again he said it was only a deodorizer, and we set up an appointment with another manager for 10/7 or 10/8. In the meantime when the carpeting was dried it was so sticky that my socks were sticking to the rug. The bottom two feet of the walls that were painted only two weeks before, were so sticky that you could stick paper towels to the walls. I called again furious and demanded a manager come immediately. Keith came this time and proceeded to try to clean the carpet yet again and explained to me that Jim ** had mixed the browning agent and a deodorizer together after I told him not to.
End result is this. My rug is still stained brown and so sticky that I can no longer walk on it as I am tracking it throughout my home and onto my other rugs and hardwood flooring. Keith was rude and simply offered me a full refund of what I had paid i/a/o $259.00 and said that was all he could do. I explained to him that I did not want money. I wanted my carpet returned to the condition it was in before they ruined it, and also stated that if they could not do that they should be replacing it. He just said that was the best he could do to "take it or leave it" and left. I called and requested to speak to the owner of the company but was told he was on vacation for the following week but they left a message for him to call me back. I was told he was to be back on Tuesday 10/21.
I never received a callback. I believe that in a court of law the least I would be entitled to would be to have the carpeting replaced, the walls repainted or cleaned, and for me to be compensated for the time I lost from work to be there for the 8 trips they made to my home. However, I am not asking for any more than to have my carpeting replaced. If I do not receive any satisfaction I will sue for all of the above.

ConsumerAffairs Research Team
The ConsumerAffairs Research Team believes everyone deserves to make smart decisions. We aim to provide readers with the most up-to-date information available about today's consumer products and services.
This experienced restoration and cleaning company, with services since 1947, has offices in 48 states. Though known more for their steam-cleaning equipment, they also handle residential and commercial water restoration services.
On call 24/7: No matter when disaster strikes, you can contact a water removal and restoration specialist on their emergency hotline for advice over the phone of what to do before the crew arrives.
Allergy certified: The company has endorsements from the Asthma and Allergy Foundation of America, citing a 94-percent allergen-removal success rate.
15-minute response: The company promises that water removal and restoration experts will contact you with 15 minute of your call.
Insurance assistance: One big help in getting life back to normal is that they can work directly with your insurance agent to speed up claim processing.
Vehicle specialists: No other company is better equipped to handle damage or cleaning for the unique surfaces in cars, trucks, boats and RVs.
Best for Although they do not cover fire-damage recovery, this company is an effective business partner for rapid water-damage recovery and cleaning.
Compare Fire and Water Damage Restoration
Stanley Steemer Company Profile
Company Name:

Stanley Steemer

Year Founded:

1947

Address:

5800 Innovation Drive

City:

Dublin

State/Province:

OH

Postal Code:

43016

Country:

United States

Website:

https://www.stanleysteemer.com/