Lowering a rear window may inadvertently cause a rear door to unlatch
02/03/2017
|
ConsumerAffairs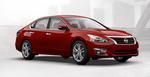 Nissan North America is recalling 341,005 model year 2015-2017 Altimas.
The vehicle's rear door latch/lock cable may have been improperly routed. As a result, lowering a rear window may inadvertently cause that door to unlatch and open.
If the rear passenger doors inadvertently open while the vehicle is in motion, it may increase the risk of injury to the rear passengers.
Nissan will notify owners, and dealers will correct the rear door latch/lock cable routing, free of ch...
More
The front passenger seat air bag may deploy incorrectly
01/03/2017
|
ConsumerAffairs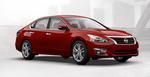 Nissan North America is recalling 757 model year 2013-2015 Altimas manufactured January 3, 2013, to July 29, 2013; 2015-2016 Rogues manufactured October 14, 2014, to August 12, 2016; and 2016 Maximas manufactured June 4, 2015, to August 19, 2015.
An incorrect Occupant Classification System (OCS) Electronic Control Unit (ECU) may have been installed in the front passenger seat. The incorrect ECU and seat combination may misclassify the front passenger seat occupant.
If the...
More
Sort By