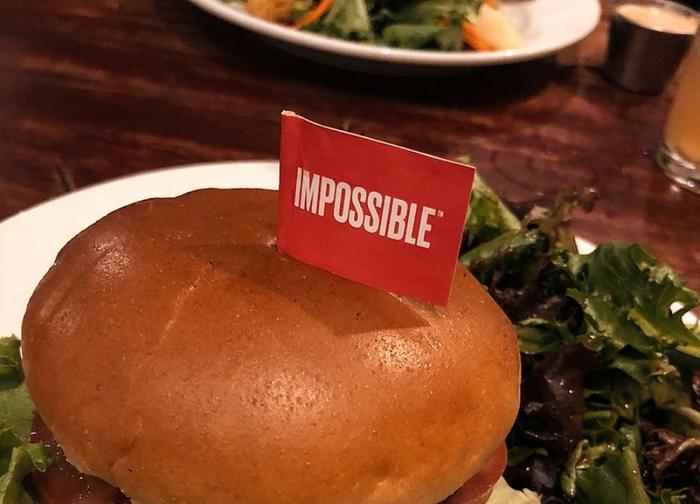 The Food and Drug Administration (FDA) has approved direct-to-consumer sales of the Impossible Burger. Starting September 4, Impossible Foods' meatless patties will be permitted to be sold in grocery stores. 
The plant-based burger, which was previously only available at restaurants, obtained FDA approval to be sold in grocery stores in response to a petition submitted by Impossible Foods. The company's petition asked that the FDA change its rules to classify its use of soy leghemoglobin (or "heme") as a color additive in imitation beef. 
Impossible Foods has described "heme" as the "magic ingredient" that makes the Impossible Burger taste like actual meat. However, the FDA previously decided that the substance had not been adequately tested for safety.
"Red in hue, it hadn't previously been formally approved as a safe color additive, meaning retailers couldn't let individual consumers purchase the uncooked product the way they can buy and bring home raw Beyond Meat patties," Bloomberg wrote.
The agency later decided that the ingredient was safe for consumption, but it only allowed Impossible Burgers to be sold at restaurant chains like Red Robin and White Castle. 
Direct-to-consumer restriction lifted
Now, the agency has lifted its previous ban on direct-to-consumer sales of the product. 
"Should no objections be raised, the direct-to-consumer sale of uncooked, red-colored ground beef analogue products containing soy leghemoglobin will be allowed," the FDA said in a statement.
"We are in the midst of a revolution in food technology that in the next 10 years will likely lead to more innovations in food and ingredient production than there have been in the past half century," said Dennis Keefe, director of the Office of Food Additive Safety in the FDA's Center for Food Safety and Applied Nutrition. "As these new products and ingredient sources come to the market, the FDA has a responsibility to provide the appropriate regulatory oversight to protect public health by ensuring that these new foods and food ingredients are safe."
Impossible Foods says consumers will start seeing Impossible Burgers on grocery store shelves sometime this fall. 
Starting August 8, Burger King will add the "Impossible Whopper" -- a vegetarian version of its Whopper made with a quarter-pound Impossible patty -- to menus at more than 7,000 of its U.S. locations.