Consumer Reviews and Complaints

Genie garage door openers - Anybody going to buy a GENIE product you need to call their tech support and see what you will have to go thru if you have a problem. I will never buy another GENIE product as every time I have called them it has been a hour and half to 2-hour wait. Hope this helps somebody.

To summarize: If I could do less than a one-star rating I would. Less than 3 years old. Professionally installed by Home Depot subcontractor (did a great job). Installed in a condo in an elderly community where my 79 year old parents reside. Stopped working June 5, 2017. Contacted customer service on June 6, 2017 (my 79 year old father). Subjected him to an hour of "technical support and troubleshooting". That is what Genie calls it. I would call it something else but it is not appropriate in a review.
Sent a new circuit board. Circuit board replacement did not fix it. My father called back. (30 minutes with support) Sent him a decoder. Did not fix it. All this is over a month. (This is still under warranty for parts... They don't cover labor.) They expect a 79 year old man to do it. I call Genie today. I start at level one support (after waiting 25 minutes but as their relentless on-hold message says, "your call is very important to us".) Have to give them the entire sequence despite giving them an incident number and a source phone number.
Shifted to level two support after 20 minutes with level one support. (Wait 5 more minutes to get a human in level two support.) I then have to go through the sequence of events again. Level two tells me they will NOT send someone to fix it. I must pay for that. They want to continue to "troubleshoot" it. I blow a gasket saying "how much abuse is a customer to face?" I asked for a voucher to get a new product and I will install it myself. I am told no and that we must continue to "troubleshoot" Blew a gasket. Hung up. Went to Home Depot. Bought a Chamberlain. The opener and install was $295. Will do all I can to make sure no one buys a Genie. If anyone needs a good doorstop I have a Genie Garage Door Opener you can have. Side note Genie. If you happen to see this and care. The incident number is **. Feel free to review and listen to my last call. If you are a rational human being you would also have blown a gasket.

Replaced motor - My experience was similar as the others. Long wait time (45 - 60 minute wait on phone). I also had disagreeable and combative reps for my initial contact. However, I persevered with my complaint of a failed motor to additional reps and finally reached 2 who sympathized with my ordeal. They were so great. They even called me back when we got disconnected and sent me a free motor including shipping to make up for the terrible service I received from the others. So my advice to you is don't give up because not all reps are created equal some are spectacular and will make up for the lousy ones but you have to keep calling back till you get a good one.

After troubleshooting my Genie 2024 I determined I needed replacement parts on a 4-year-old unit. I did a quick Google search on Genie parts and came across the hundreds of bad reviews of the Genie openers on this website site and immediately had a bad feeling that I was soon going to be SOL on my busted opener. I called the 1-800 number for them and got an American who was from a call center in Texas. He walked thru the troubleshooting with me and found the circuit board needed to be replaced.
Once we found that out he took all my mailing info and said a new one was on its way. 10 days later the thing arrives. I haven't put it in yet to see if that's the solve but he never once even asked the age of the unit or any type info to verify the purchase or did he give me any hassle at all. It was definitely not what I was expecting after reading all the bad reviews on here about the brutal customer service or them not standing behind their lifetime warranty so maybe they've made some major changes or have been listening to customers or maybe I just lucked out but there is hope if you're standing in front of a bummed unit wondering who's going to help you now.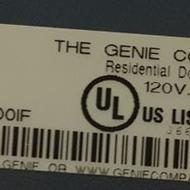 PowerMax 1200 shaft driven unit stopped working in 18 months of use. I purchased this unit as it was advertising lifetime warranty on the motor and 5 years on other parts. I was not aware that it takes long time to get a hold off customer service as it is only reachable over the phone. Each department places you on hold for about the same time as previous one. It takes multiple departments to process the claim. Fine print somewhere in the warranty description (I was told) claims that after first year you will be charged shipping fees on replacement parts and warranty applies only to the original owner of the unit. You should expect to be argued with, they will not value your time and try to be cheap as possible when assisting you.
How do I know I can trust these reviews about Genie?
885,230 reviews on ConsumerAffairs are verified.
We require contact information to ensure our reviewers are real.
We use intelligent software that helps us maintain the integrity of reviews.
Our moderators read all reviews to verify quality and helpfulness.
For more information about reviews on ConsumerAffairs.com please visit our FAQ.

Genie SilentMax 1000 - My garage door opener died after less than 2-3 years of light use. The motor crapped out and stopped working. I had the installation records and even the original box, and they still wouldn't honor the warranty on the motor because we bought the home in 2013 and were the second owners of the house which was built in 2011. The warranty does not pass on to the residence owners. Essentially, they do not intend to support their products and say the motor has a so-called lifetime warranty when the reality is that you will be given BS excuses. Worst experience I've had in a long time when something relatively new has legitimately failed early.

This morning I could not get the opener to work (only 2 years old). Saw the red flashing indicator ("component failure"). Called Genie. Waited over half hour before talking with support. I first explained what is happening and all the steps I already took. He went through this long process repeating the same steps over and over. When I questioned him he said "We need to follow procedures." At each step I repeated the gear on the opener is slamming. Finally after another half hour he said "the circuit board needs to be replaced". Guess what? Not under warranty, I have to pay. When I asked him why he was not addressing the gear box on the unit slamming he simply repeated "it's the circuit board." He then explained the circuit board told the motor to start and stop. I added but "not to slam." He would not address.
Since I had a second identical unit that worked, I then asked what if I remove the functioning circuit board and place it in the non-working unit and it still did not work? What would be his diagnosis then. He said that would not change his finding. I asked him So what then. He said he would still have me purchase a new board. (Even though it still did not work with a function board!!!) I then asked to speak to a supervisor. He said one would call in a couple of days. I asked him so there are no supervisors all day today or tomorrow. He only repeated "none available now." Clearly Genie support is working on a script no matter what happens. THEIR ONLY SOLUTION IS NEVER REPLACE FOR FREE! BTW 30 years ago I purchased two Sears openers. They both worked until we tore the garage down.

Please do yourself a favor and do not buy any screw drive product from Genie. I bought 2 for my brand new home that I personally build. After about a month, I was having issues with the openers with the travel limits and then the unit has to be reprogrammed and is a real pain. The door will bounce back open and can be a real security problem for my family. Plus, when the weather gets colder, the problem is even worse. The product design is very poorly engineered with plastic clips holding in the screw and quickly wear out. Big difference from the past Genie products I knew and used. Immensely dissatisfied with this product and Genie is not standing behind it for a solution. I'm left with two expensive door openers that don't work. Completely unacceptable!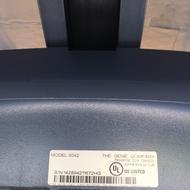 Genie Garage Door Opener 1000 silent max - Stopped working two years after installation... not bad compared to other reviews which stopped after 2 months!! It moves about two inches and stops and not being able to limit programming. Called customer service two times but on hold for over 30 min. Scraped the opener.

3 weeks ago while driving out of the garage I pushed the remote to close the door and the trunk was hit by the door. Instead of the door going back up, it continued down the back of the car and bent the heck out of the garage door. My understanding is that when the door hits resistance, it should go back up! Car was only scratched but the door is a total loss. We were told a 'rep' had to look at the door. So 2 weeks later a rep showed up, at 10:30 for a 1:00 appointment. We were just driving up when he was ready to leave. His statement was that obviously the door had been hit from the outside while it was down. Not true. We had to send in pictures, and the sheet he filled out and proof of the Genie purchase, which was then told to us by a rude sales rep that it couldn't be read and we had to do a better job. And that this could also take a few more months.
In the meantime, rats and mice have easy access to our garage. Winter is around the corner, and our van and other equipment are locked in the garage because the door is so bent we can't get it to go up. I am convinced after reading all these bad reviews that it is time to replace the door and get a new non-Genie opener. Will have to check Consumers Reports this time for a good one.

The opening unit itself has worked quite well for me for the last 3 years. The garage was built in late 1995, so the opening unit would have been purchased after building the garage and installed. However, when I bought the house, the previous folks only had one opener. They had purchased replacements but those never worked. I tried them, they did not work. Recently having lost my opener, I went to the Genie website and found the remote opener which looks exactly like mine -- ordered it -- and then haven't been able to find the dip switches on the hanging unit in the garage so I can set it to work. Called the company and they said look where the antennae protrudes as that's where the dip switches should be.
Emailed them today -- as I climbed a ladder and short of dismantling the housing from the unit, I could not find any dip switches. I was told promptly (within 15 minutes of sending the email) that they could not provide advice or parts for any unit made before 1993 due to changes in state laws!!! REALLY??? Then why did they sell me a remote??? I will NOT be buying any other Genie products -- I don't care what they're for or how well they are or aren't made. There are NO state laws in Michigan which prevent providing replacement remotes or advice for this unit.

I just bought a Belt Drive 750 model. Reading the instruction got a question that any outsider can erase all programming pin code and put new one from outside keypad. I called customer service to verify that info. I been on hold for 45 minutes and finally I hanged up. Is a keypad unsafe and anyone can reset from outside???

I have replaced 4 Genie Garage Door lifters in less than 1 year. They are junk. I replaced the Genies with a LiftMaster and it works great. Stay away from Genie garage door lifters. They are not worth the trouble. Go with a LiftMaster. They are great.

Silent max 1000 - I have more calls to Genie than all other products I own combined. If you read the reviews you will notice a common thread from support. It's your door causing the problem not their hunk of ** opener. The remotes have very poor range. The response time is so slow you end up pushing the button multiple times. If you text a lot this may be a good feature. Push the button, send a few text then look at the door to see if it is moving. I will never buy another Genie product!!!

I have had at least a dozen garage door openers, mostly Chamberlain's but one very old Electro lift, all were superior to the current Genie Powermax 1500 I have now!!! I have had to replace the control board twice once when new and again when it stopped working and I called the company for assistance and was told "we will not help you until you replace the control board which is under a recall." So I had to wait until the parts arrived and repaired it myself, worst customer support and a terrible product, it will on occasions forget all of the settings and then it won't open, close or do anything until you go through the setup process again. Don't buy a Genie - find anything else!!!

The opener unit has always had trouble communicating with the outside keypad. Today the entire system failed including the inside opener. We followed the instructions for resetting and testing the opener, nothing worked. Buy a Chamberlain instead.

Just got off the phone with Genie Garage Doors openers for the second time. Both times a 20 minute wait, just to talk to an aggressive obnoxious rep. They insisted that my door was causing the problem. They had a rep come by and tested the door. Said it was fine, then demanded $94 for stopping by. Meanwhile, they had to give me a new control board and sensor on warranty. People, find a better brand than Genie. I won't use them again.

I purchased a Genie Garage door opener in March 2016 from Lowe's and after installation it worked about a month and then the belt broke. When I called Genie customer service they told me that it was under warranty and I just needed to answer a few questions before they could send me my part. Sounds easy enough? Not so. After being on hold forever, I get this technician who basically tries to tell me that my garage door is the problem because their belt wouldn't just break. Well that's funny because I'm sure reading a lot about belt problems on this site. And the old garage door opener had been on the house for over 20 years with no problems so it's not the door. Genie should stand behind their products and follow-up with the warranty. I paid $250 for this opener which can't even be used. Poor customer service, poor quality, poor company.

I bought a Genie 1000 garage door opener and installed it 6 months ago and I have had the belt to break 3 times. And this morning as I was going to work I opened the door and it broke again. I have tried to contact them and can't get any attention. This is a very bad product and I would not advise anyone to buy it. I wish this company would stand behind their product and send someone out to fix my problem but I highly doubt it will happen. I will not be buying any more of their products ever again, unless they resolve mine. This is a headache to deal with because when you buy something like this you expect more than 6 months of service out of it. Just my thoughts!!!

I normally don't write bad reviews to hurt people's business if I find it's not necessary. But I will be doing this for the sake of people who want to buy Genie's Garage Opener. I purchased Genie's opener without searching for reviews about this company and within less than 6 weeks the unit stopped working. I spent hours back and forth to get a final chance to talk a Rep, who told me that I should find and pay a technician to fix my door because she is not able to help me to troubleshoot. She said she normally spends 5' with CS to troubleshoot but it's been 25' already and we could not fix it so I'd better find someone to help me.
I can't imagine what type of a business like that with such a rude and irresponsible service. I think Genie would not stay long in the market with this type of poor behavior. In fact, Consumer Reports or Consumer Affairs should check the company out to better protect consumers after so many bad reviews about this company. I would be happy to replace my opener than to ever deal with this company again. Apparently, Lowes will hurt its business by carrying Genie's products. Bottom line: Don't buy Genie's products. It's not worth your money, your time, and your trust.

We built a home in 1999. Had a GENIE screwdrive Intellicode installed. NEVER had an issue with it... until now... May 2016. We did the research, started trouble shooting, contacted CS and that started the revelation of Genie's horrid customer service. We discovered the motor is failing after EVERY trouble shooting scenario and even a coupler (that we ordered & didn't need)... The hours my husband was on the phone, sending numerous sized photos that CS insisted they were 'too large'.They insisted every # we sent them (in photos) was not the 'number' they needed. We even sent a copy of the county recorder's info of ownership-- because they said they couldn't send our replacement (as per Lifetime warranty) unless they had valid home ownership.
Must have spent 10 hours going back & forth, a few days on and off trying to get answers. It was so ridiculous. We are totally happy to PURCHASE the motor, yet they still refused to assist... Giving us line after line "it's policy, we can't do that", "we don't make those any more''. Then we got a tech to speak with my husband and go through all the motions- disconnecting the unit, running the motor, taking more pictures. The tech says, "That's not our motor"!!! Well it has red & white GENIE plastic cowl w/ Genie intellicode on it... And all the docs that came w/ it say 'Genie'... Are they NOW trying to say it's a knock off? Is Home Depot involved in this?? OMG! As of this writing, my husband is still on the phone with the tech(?)... UN freakin believable! If they stand by their Company name, one would think they would 'right' the situation and send us a replacement motor that is intended for our model & be done. Good deed, happy customer. How hard is that?

I bought this opener from Lowe's about one year ago. Yesterday I junked it for a Sommer made in Germany opener. I am not the type to call the MFG and complain about a $250 dollar opener when I know what the problem is and it cannot be fixed to last any longer than it did already. This opener is not engineered correctly, made with cheap plastic parts that wear out fast, and cheap clips that break easy.
Now to explain what went wrong. The opener just quit working and I noticed the screw drive rod had come apart and was hanging over my truck. I checked and the clip that hold them together had broke in two pieces. The plastic clips that hold the rod in place were wearing and had allowed the rod to drop out putting pressure on the clip. In order to install new rod holders the unit would have to be removed and the unit taken apart in order to install new clips that would just wear out again. My choice was to just junk the item and go with a direct drive unit with no screw drive rod. My advice to anyone wanting to have a garage door opener that last is do not buy the Genie powermax 1200.

I purchased a Genie Silentmax 1000 garage door opener from Home Depot on 12/05/2014. Just slightly over one year later (12/15/2015) the unit stopped working, the door would move about one inch up or down then it would stop. I called technical support and worked with them to try to resolve the problem. Nothing worked so they sent me a new part for the unit. I was frustrated because I had paid to purchase this unit, I paid to have it professionally installed and now just 12 months later was expected either repair this defective Genie unit myself or pay a professional to repair it.
When I called technical support for further assistance after receiving the new part they told me that there was nothing more that they could do because it was no longer under warranty. I posted a review on the Genie website and noticed that the only reviews posted were those praising their products. My review is nowhere to be found on the site. Needless to say after have spent my hard earned money on a Genie Garage door opener I am in the position of having to stop my car, get out to open the garage door by hand, get back into the car to pull into the garage then stand on a chair to close the garage door again. It is frustrating to do this as I look up at my relatively new, completely useless Genie product hanging from the ceiling.

I bought a garage door opener from Walmart in May of 2015. The garage door opener was from the Genie brand and was $157. The garage door opener was working fine till December of 2015. The garage door opener stopped working as the door would not open or close. When I called for assistance in January of 2016 the customer service representative asked me to troubleshoot. I did this by reprogramming the garage door opener and unhooking and hooking cables as they had instructed me to do. The garage door opener still did not work and they told me that it needs a new motherboard. I got the part in the mail and installed it, but the garage door opener still did not work.
When I called customer assistance again in February of 2016 they asked me to troubleshoot again. I requested a new garage door opener or a refund and stated I could bring the garage door opener back to the store. At that time the customer service representative said there was nothing he could do anymore even though the garage door opener is still under warranty.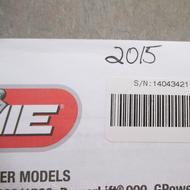 Our garage door opener broke after only 1 year of use. The opener would not retain programming the up or down travel limits. Because I felt it was a safety issue (going down on a car or going up when I was not home) I took it down and purchased a new one (different brand). The old Genie opener is on the garage floor. I called Genie company. The customer service rep didn't listen carefully as he kept telling me to get on the ladder to trouble-shoot, etc. Bottom line? The old unit has to be reassembled and then I have to call back for trouble shooting. "Allow an hour or more", he said. He was provocative and argumentative with comments like, "Do you want help or not?" and "Maybe your garage door itself is out of alignment. Who installed this? Was it installed correctly? How can we be sure? Where did you buy this? We can't help you if we don't know the issues." Blah, blah, blah.
To be sure I understood him, I said, "I actually have to reassemble it for warranty coverage?" He replies, "Well, not on the ceiling, ma'am, I mean what do you want? If you want help then you have to reassemble, otherwise I don't know what you want." The Genie customer service was DISCOURTEOUS and unprofessional to say the least. Not looking forward to the return call IF I decide to reassemble this. I will never again purchase another Genie item. (Note: Paid $228.00 on 01/02/2015 and broke on 01/04/2016).

Recently I drove off before my garage door had completely closed. It reversed on a broom handle and left my garage door open and the entrance to my house exposed. I found out that the Genie Company makes a closed confirm remote. I purchased it for my Genie Trilog 1500 garage door opener. It works with the Network Adapter that I plugged into the back of the motor. Now, after I push the button on my remote, and I back my car out, the remote beeps and a light flashes, confirming that my door has closed all the way.
As a side note... I've had no problems with my Genie Trilog opener since it was installed 5 years ago. My previous opener, a Genie Belt Drive Stealth, worked great for 15 years and never broke. I upgraded to the Genie Trilog because I wanted one that opened my door fast. I never have to wait to pull in my garage anymore. As a precaution, I installed a computer battery backup above the motor. These motors have circuit boards like a computer and I don't want to take any chances on lightning or power surges burning something out. Also, my wireless keypad quit working. I went online and found instructions to reset it and now it works great again.

I just wanted to post another review to second the motion of all the others that I have read. I am actually in a situation that the Genie 2026 was installed through a home warranty plan (Old Republic) and the motherboard has already gone out after just a few years. Which is shocking to me because I have been in my home for 11 years and my other garage opener still runs perfectly (and I'm suspecting it was originally installed when the home was built so add another 14 years to that). Of course the home warranty company only wants to replace the motherboard and since it has been such a short time period since it was installed, I'm going to chalk it up as a loss and install a completely different opener.
Reading these reviews made me realize that it doesn't matter which brand of Genie you purchased, the underlying theme is the circuit board will go out sooner rather than later. The technician actually stated that their company no longer installs any brand of Genie because of the motherboard issue. I'm staying clear of them and from all these reviews. I would suggest you do the same.

After experiencing a electrical problem with our fairly new garage door opener (garage unit sparked & smoked), was asked by service rep to fiddle with the unit to troubleshoot. The Genie Company has had fire hazard issues & recalls. Not a safe situation to put a consumer in. I will never buy a Genie company product again.

I purchased a Genie Opener SilentMax1000. It broke two months after installation. Broke again last week and customer service is giving me run around about honoring the warranty. This business is a joke. I should of went with a Chamberlain! I asked to speak with a supervisor - they have not called back yet. I called today again to speak with one and got another excuse. They have horrible customer service and products. Word of mouth goes a long way and I will make sure everyone I knows, hears about this until I get this resolved from the company. Looking at other reviews, I see this isn't a freak incident. This co needs to honor their warranty.

My husband and I bought the Genie SilentMax 1000 garage door opener 14 months ago to replace our quickly dying 15-year old dinosaur opener. At first we were impressed. The install was fairly easy to do on our own and we did it rather quickly. Once the opener was hung we were impressed with how quiet the opener was as it opened and closed the door. After about 6 months of use the opener became louder and louder and after 14 months of use the opener quit working. Each time the button was pushed it would raise to the point that the arm was jamming itself into the motor housing and then stopping 2 feet from the ground when lowered.
After several attempts of reprogramming the opener we called a garage door repairman and Genie. We were told by Genie that the motherboard in the opener went out, and because we did not pay someone to hang it they would not honor the warranty. They offered to send a new motherboard for the cost of shipping, however to have the part installed was almost the same cost of another opener. When the garage door repairman came a few days later he told us that any brand other than Genie would have been a better use of our money. For what we paid I would have expected much more than 14 months of use. We are very disappointed.
Genie Garage Doors Company Profile
Company Name:

Genie

Website:

http://www.geniecompany.com/