Do home warranties cover mold?
Most home warranties do not cover mold damage



Written by

Edited by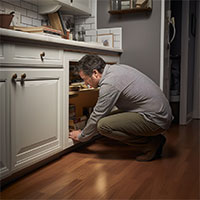 Most home warranties do not cover mold damage, though they may cover the replacement or repair of appliances or systems that caused the mold. This is because mold and mold damage are generally considered a maintenance issue and not a problem directly related to the wear and tear of an appliance or other home system.
Take a look at some more insights into what a home warranty covers and how it relates to mold damage.
---
Key insights
Mold growth can occur in homes where there is excess water or moisture.
Addressing mold issues immediately is the best way to ensure they don't cause damage.
Since most home warranties don't cover mold, it's crucial that homeowners know how to prevent it and clean it up so it doesn't spread.
FAQ
How much does a home warranty cost?

The average cost of a home warranty is between $450 and $600, which usually covers a 12-month term for both appliances and home systems. Service calls cost between $75 to $150. This fee is almost always non-refundable, but if the appliance is covered under your policy, then repair or replacement with a comparable model will be free.
Does a home warranty cover plumbing?

Plumbing is one of the major home systems covered under a standard home warranty, though it's worth looking at your specific policy to see what your coverage is. This typically includes addressing stoppages, pipe leaks and toilet blockages. It also covers fixing faucets, hot water heaters, showers and tubs, valves and the water line to the edge of your home's foundation.

Like all covered appliances and services under a home warranty, only components that are damaged by normal wear and tear will be repaired or replaced.

» COMPARE: Best home warranty for plumbing
What else isn't covered by a home warranty?

Home warranties don't cover everything in your home. Outside of standard coverage, you'll have to pay extra to include the following: well pumps, sump pumps, septic systems, pool and spa equipment, lawn irrigation and guest units.

There's also damage that almost no warranty will cover, such as preexisting conditions before your warranty went into effect, systems or appliances that fail due to misuse or lack of maintenance, cosmetic issues or anything that's not specifically listed in your warranty.
Did you find this article helpful?
|
You're signed up
We'll start sending you the news you need delivered straight to you. We value your privacy. Unsubscribe easily.