Cost to replace a built-in microwave
Expect to pay just a few hundred dollars for a simple replacement



Written by

Edited by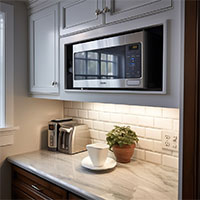 The microwave may be one of the least expensive appliances you have in your kitchen. However, there are still some cost considerations to make if you are considering replacing it soon. Most microwaves today cost between $275 and $2,800.
The main factors influencing the cost of a new microwave are type (built-in, countertop, drawer or over-the-range), brand and additional features. In addition, installation costs vary depending on which type of microwave you buy. This distinction was noted after we spoke to several appliance installers about costs, which ranged from $129 to nearly $5,000. Ultimately, remodeling costs to accommodate a new built-in microwave (along with choosing a high-end model) can significantly drive up the price.
---
Key insights
Built-in microwave costs range from $275 to $2,800, on average.
Before you purchase a new microwave, consider any changes you may need to make to accommodate a new model (like updating electrical wiring or cabinetry).
You can expect to pay between $108 and $190 on labor to install a new microwave.
Cost to replace a microwave by type
There are typically four styles of microwaves to choose from: built-in, countertop, drawer and over-the-range. Each type differs based on the microwave unit's location (e.g., above the oven or inside a kitchen cabinet).
| Microwave type | Average cost |
| --- | --- |
| Built-in | $275-$2,800 |
| Countertop | $55-$1,000 |
| Drawer / Under-cabinet | $880-$2,000 |
| Over-the-range | $120-$1,000 |
Built-in
Built-in microwaves are installed into the kitchen cabinets, usually above a built-in oven. It frees up kitchen counter space, a plus for smaller kitchens with limited space to prepare food.
A drawback is that the kitchen cabinets must be configured for this type of microwave. If you don't already have this setup, you may need to purchase new cabinets and reconfigure your kitchen area. Another drawback is that built-in microwaves are more difficult to repair. You may need to replace the entire unit if one component stops working. Built-in microwaves are also expensive, with prices ranging from $275 to $2,800.
Countertop
A countertop microwave is portable and can be placed on almost any counter space you have available in the kitchen. It's typically smaller and uses less electricity than other types of microwaves. In addition, countertop microwaves are relatively cheap, with various choices available for under $100.
Though small, it still takes up much-needed counter space. You'll also need additional clearance space for warm air to circulate out of the microwave's top and sides, which means it can't be pressed against a wall to save space. It's recommended to leave at least three inches on the top and sides and one inch in the rear for air clearance.
Drawer or under-cabinet
Drawer and built-in microwaves are good choices if you cook a lot and prefer to have a stronger range hood ventilation system.
Instead of an appliance that sits at or above eye level, a drawer microwave is usually installed below the countertop within the cabinets. A benefit is that it can be hidden from view and give your kitchen a streamlined look. Also, it's easier to access for individuals with mobility issues.
However, there aren't as many models of drawer microwaves available to choose from as there are other types of microwaves. Some appliance stores may not even sell this particular type of microwave. In addition, you'll pay a high price for this type of microwave. Most models start at around $880.
Over-the-range
An over-the-range microwave is mounted above the stovetop or oven unit. It features a ventilation fan underneath that can be used to circulate air when cooking on the stovetop. You can choose from several sizes and styles of over-the-range microwaves, with many models costing between $120 and $1,200.
Keep in mind that you need at least 12 to 13 inches of clearance space between the microwave and the range below. Since the microwave is fixed to a cabinet above, this can limit the size of the microwave you are able to purchase in order to account for that clearance space. Also, it may be more difficult to access the back burners of your stovetop with an over-the-range microwave directly above.
Additional microwave installation costs
The cost of the microwave itself will make up the bulk of your costs, but if you need it professionally installed, you'll need to budget some extra funds. Take a look at a few other costs that might need to be addressed.
Electrical work
You may need to update your electrical outlet to accommodate a new microwave model, especially if you live in an older home. Hiring an electrician to change an outlet could cost between $65 and $150. Installing a new outlet will cost you more, between $150 and $350, on average.
Your electrician may even recommend an electrical panel upgrade, ranging from $800 to $2,000.
Venting
Some over-the-range microwaves are connected to ductwork that pushes air from the microwave to the outside. Installing new ductwork can get expensive, so expect to pay between $150 and $600.
Cabinet renovations
You may need to modify your kitchen cabinets if you choose a built-in or drawer microwave, especially if it's a different type of microwave than what you had previously. It's cheaper to change the cabinets you already have to fit a new microwave (costs range from $400 to $500) rather than adding new ones. Brand-new cabinets can cost upward of $500 or more per linear square foot.
Mounting kit
Mounting kits include brackets you can secure to a wall and mount an over-the-range microwave. You may not need to purchase a mounting kit separately, as most new microwave purchases include brackets. Mounting kits are relatively inexpensive, usually about $30 or less.
For deeper kitchen cabinets (with 14-, 15- or 16-inch depth), you'll also need a bump-out kit, which allows the microwave to sit even with the edge of the cabinets. Bump-out kits are cheap, too, usually costing $25 or so.
Labor
You could pay a professional, like an appliance technician, between $108 and $190 to install a new microwave. Some appliance stores charge a flat fee for delivery and installation, which may cost $80 or more. Other stores may include the installation for free on appliances above a certain price point, so be sure to ask about any additional perks offered.
» GET FINANCING: What is a personal loan?
Microwave cost by brand
Some of the top-selling appliance brands today include GE, Whirlpool, Maytag, ZLINE, Frigidaire and LG. GE and ZLINE have a wide range of microwaves available at various price points. Pricier models include high-tech features like sensor cooking and LCD displays. Also, ZLINE offers microwaves with stainless steel interiors, which are easier to clean and promote more even cooking.
Whirlpool, Maytag, Frigidaire and LG offer more budget-friendly models. Typical features may include an interior turntable, a fingerprint-resistant exterior finish and multiple cooking power levels.
When deciding between different microwave models, first consider how you plan to use yours each day and what features you need. Ron Shimek, president of Mr. Appliance, an appliance repair company, offered this advice: "Think about what you want to cook. If you are going to be heating leftovers, the cavity has to be big enough to fit a dinner plate and still be able to let the turntable spin."
Also, think about where the microwave will be placed in the kitchen to determine any other features you may need. In regard to an over-the-range microwave specifically, Shimek emphasized to "make sure it has enough CFMs (cubic feet per minute) to handle your venting needs." If you do a lot of stovetop cooking especially, you'll need to ensure proper ventilation to keep food smells from filling up in your home.
| Microwave brand | Average cost | Type of microwaves |
| --- | --- | --- |
| GE | $400-$1,800 | Built-in, over-the-range, countertop |
| Whirlpool | $100-$630 | Built-in, over-the-range, countertop |
| Maytag | $250-$550 | Over-the-range, countertop |
| ZLINE | $500-$2,000 | Drawer, over-the-range |
| Frigidaire | $300-$670 | Built-in, over-the-range |
| LG | $180-$670 | Over-the-range, countertop |
Microwave installation: DIY vs. pro
It's possible to install a microwave yourself, especially if it's a similar type of microwave to what you had before. For instance, replacing one over-the-range microwave with another of a similar size may be easier.
Shimek, the president of Mr. Appliance, offered some tips for a safe installation. "Tips include carefully following the manufacturer's instructions, ensuring proper ventilation, and having the necessary tools and materials on hand," he said.
In some cases, though, it may be best to hire a professional to install it for you. For example, if the electrical wiring needs to be changed or the cabinets need to be modified, leave those tasks to the experts. It also makes sense if you're switching to a new type, like going from a countertop to an over-the-range microwave. You'll likely have to make modifications to the kitchen design, so it's best to leave it to a professional.
FAQ
How long does a microwave last?

The average life span of a microwave oven is about nine years, according to a study by the National Association of Home Builders. One way to prolong your microwave's useful life is to promptly clean up food spills and splatters. Also, give the interior a good wipe-down at least once a week to keep the microwave working properly.
How long does it take to install a microwave?

If you hire a professional (like a licensed handyman or general contractor), installing your new microwave can take one to three hours. A do-it-yourself install may take longer and will depend on your expertise. Some microwaves, like countertop ones, are easy to set up and plug in. With built-in, over-the-range or drawer microwaves, installation may be more difficult because you'll need to position the unit properly before plugging it in.
Do over-the-range microwaves always need venting?

Yes, each over-the-range microwave has some type of venting system. Fans help regulate the microwave's temperature and protect the electrical units from getting too hot in the cooking area. Some microwaves are connected to an exhaust fan and ductwork above the unit that removes the warm air and pushes it outside. Others use a vent fan and filter to cool down and recirculate the air.
Can any microwave go over the range?

No, not any microwave should be mounted above the range. Each microwave is constructed with different types of venting systems, depending on where the microwave will be located. Over-the-range microwaves are specially designed with exhaust fans and/or vents on the bottom to help remove steam or smoke from the air when cooking on the stovetop directly below.
Do home warranties cover microwaves?

Built-in microwaves are usually covered by a home warranty, but look at your individual plan for specific details. This may include replacements or repairs for all parts of the microwave unit, including the control panel and exhaust fan. 

Countertop microwaves aren't covered by home warranties, so if yours breaks, you can see if it still falls under a manufacturer's warranty. The company may offer a full one-year warranty (which covers a replacement, parts and/or labor) and a limited seven-year warranty (which only covers parts).

It's important to carefully read your contract. Reviewer Sijan from Virginia told us: "Called to put in a claim for [a] microwave. The rep said my warranty only covers the microwave if it is attached to a wall. My question - What difference does it make if the microwave is attached to the wall or not?" By understanding what's covered, you can save money and frustration when making claims.
Bottom line
Built-in and drawer microwaves tend to cost more than over-the-range and countertop microwaves. They may also be more difficult and expensive to install, especially if electrical wiring needs to be updated.
It is a good idea to research the electrical and venting requirements for any new microwave you're looking to purchase. This can help you determine the overall costs for both a new unit and for installation.
---
Article sources

ConsumerAffairs writers primarily rely on government data, industry experts and original research from other reputable publications to inform their work. Specific sources for this article include:
Did you find this article helpful?
|
You're signed up
We'll start sending you the news you need delivered straight to you. We value your privacy. Unsubscribe easily.