What is a charge-off?
It's a derogatory credit report entry for a long-delinquent debt



Written by

Edited by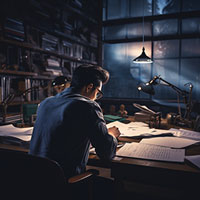 When debts go unpaid for a long enough time, creditors usually give up and "charge off" the remaining balance. This means they are willing to take the unpaid debt as a loss and move on with the debt likely being sold to a collection agency.
While charging off a debt may be a good move for creditors that want to get losses off their books, charge-offs are bad news for consumers who care about their credit and want to avoid being hounded by a debt collection agency. For that reason, charge-offs are best avoided if at all possible.
---
Key insights
A charge-off is when a creditor gives up on getting paid back and writes off a debt as a loss.
A charged-off debt doesn't disappear for the consumer. Charged-off debts are typically sold to debt buyers and debt collection agencies.
There are few ways to get a charge-off removed from your credit reports, but there are steps you can take to reduce their impact.
FAQ
What does a charge-off mean on your credit report?

A charge-off listed on a credit report represents an unpaid debt that a creditor has given up on. This usually happens after a debt goes unpaid for at least 120 to 180 days, although timelines vary.
How can I get a charge-off removed without paying?

You cannot get a charge-off removed from your credit reports in most cases — especially if you're unwilling to pay back all or part of what you owe.
When does a charge-off go away?

Negative information like late payments and charge-offs stay on credit reports for seven years.
Did you find this article helpful?
|
You're signed up
We'll start sending you the news you need delivered straight to you. We value your privacy. Unsubscribe easily.