How to deal with delinquent credit cards
There are many ways out of delinquency, and the sooner you take action, the better



Written by

Edited by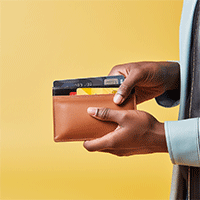 Credit card delinquency can have serious consequences, and these extend far beyond late fees and penalty interest rates. Not paying a credit card bill on time can cause considerable damage to your credit score, which can then take years to fix.
If you can avoid credit card delinquency by making at least the minimum payment on your bills while you "catch up" financially, that's the best-case scenario. That said, you need to know what happens if you do become delinquent. It's also important to know the difference between delinquency and default, as well as the steps you can take to fix your situation when you can't pay your bill by your card's due date.
---
Key insights
Credit card delinquency is when you're late on your credit card bill (usually 60 days or more) but not yet in default.
If you're delinquent but not in default, you may still have time to make enough payments to get your account back in good standing.
In most cases, it's not possible to get delinquency removed from your credit reports when the information is accurate.
A "pay for delete" letter may get negative information removed from your credit reports, but that's only if you get the creditor to agree and you pay it all or most of the debt you owe.
What is credit card delinquency?
Credit card delinquency is the "initial stage of missing payments," said Natalia Brown, chief client operations officer at National Debt Relief. This stage includes consequences like late fees and penalty interest rates. Specifically, the Federal Reserve Bank of St. Louis says delinquency occurs when someone is at least 60 days past due on their bills.
Delinquency occurs when you're at least 60 days overdue on your bills.
How much your credit score can drop after a late payment depends on where your score started, how late you are on your bills and other factors.
For example, FICO says that someone with a score of 793 could see their score drop by up to 83 points after being 30 days late on a credit card bill or by up to 133 points after being 90 days late.
Meanwhile, someone with a lower starting credit score of 607 may only see their score drop by 37 points after being 30 days late or by 47 points after being 90 days late.
Credit card delinquency rates
The Federal Reserve Bank of St. Louis reports that even though credit card delinquency rates dropped during the pandemic, they have been on their way back up since the end of 2021. Specifically, credit card delinquency occurred for 2.77% of all consumers in the second quarter of 2023 after hitting a 30-year low of 1.55% in the third quarter of 2021.
Data also shows that, among all age groups, individuals ages 20 to 39 had the highest levels of credit card delinquency as of June 2023, at a little less than 3% of accounts, compared with a little over 2% of consumers ages 40 to 59 and less than 1% of consumers ages 60 to 79.
» COMPARE: Best credit report sites
Delinquency vs. default
While credit card delinquency is the initial stage of missing payments, Brown says credit card default represents a more critical phase. This is when the borrower has neglected payments over an extended period, and the creditor has charged off the debt and sold it to a collection agency.
When a credit card default occurs, the impact can be catastrophic for your credit score and finances. Defaulting on a credit card can leave you fighting off debt collectors or even land you in court.
However, there are state-based statutes of limitations that cap how long debt collectors can pursue you for debt repayment. There are also protections that can help you limit debt collector contact, thanks to the Fair Debt Collection Practices Act (FDCPA).
Accounts in delinquency and default stay on your credit reports for up to seven years, making it more difficult to get approved for other credit cards and loans.
» MORE: How to handle bill collectors
What to do if you're delinquent
Letting an account become delinquent is never fun, and it may not even be your fault. But the steps you take now determine the consequences you'll see from a late payment down the line, so you'll want to act quickly if you can.
Make a payment to get your account "current"

Even if you're late on a credit card payment, you may still have time to become "current" on your card's debt before it is considered in default.

In fact, credit expert John Ulzheimer says you can make the required payments to get your account current in most cases as long as the credit card issuer is still holding the debt. However, your late payment(s) will still be on your credit reports for seven years.

Of course, getting your account current requires you to have money to do so. You may need to assess your financial situation and figure out a plan.

"Create a budget to understand income, expenses and outstanding debts," said Brown. "This will help you determine how much you can allot toward paying your credit card debt."
Call your card issuer to work out an agreement

The Federal Trade Commission (FTC) recommends

reaching out to your card issuer

when you're struggling to keep up with credit card bills. You may be able to work out a modified payment program or

deferred payment

agreement with the issuer.

To contact your card issuer, reach out using the number listed on the back of your credit card or printed on your credit card statement. The FTC advises you to be "persistent and polite" for the best chance at negotiating new terms.
Seek professional help

If you can't strike a deal for a repayment plan with your card issuer and can't free up the cash to cover the debt, you may need to find a professional to help. For example, you can reach out to a

credit counseling agency

that can help you create a budget and get back on track, or you can look into

debt management plans

(DMPs) or

debt settlement

.

You can also consider debt consolidation with a new loan, although you're unlikely to be approved for a personal loan on your own when you have late credit card payments listed on your credit reports.

As a last resort, if you have an overwhelming amount of debt you can't seem to manage, bankruptcy may also be an option.
How to remove delinquency from a credit report
Unfortunately, in most cases, you can't have negative information like late payments removed from your credit reports if the information is accurate.
The only exception comes into play when you request a "pay for delete" agreement with a creditor or collection agency. This kind of agreement says you'll pay all or part of the debt due in exchange for a creditor deleting the negative information from your reports.
When paying for deletion, you'll typically write a pay for delete letter to a creditor or collection agency, which can accept or deny your request. Just remember that pay for delete letters are never guaranteed to work and that you typically need to make a strong offer to repay most or all of your debt for the best results.
» MORE: Should you get a personal loan to pay off credit card debt?
FAQ
When is a credit card payment late?

Credit card payments made even one day past the due date are considered "late." However, credit card issuers typically won't report late payments until they haven't been paid for at least 30 days past the due date.
If a credit card is closed due to delinquency, can I reopen it?

Creditors that close accounts due to delinquency usually won't reopen them. However, you can take steps to rebuild your credit over time and potentially qualify for new credit card accounts in the future.
Can a creditor continue to report delinquency to a charged-off account?

Credit card companies may "charge off" debts that go unpaid, but this doesn't mean you no longer owe the debt or that it will no longer be reported to the credit bureaus. Negative information stays on your credit report for up to seven years, including late payments and charge-offs.
How long does a delinquency stay on your credit report?

Negative information like credit card delinquency stays on your credit reports for up to seven years.
Bottom line
Credit card delinquency is the first step on the path to default, but you may still have some time to turn the situation around. For example, making enough payments on a delinquent account to get it current with the card issuer can help you avoid racking up more late fees or having your debt sent to a collection agency.
But you may need to seek out professional help if you can't seem to get back on track with your bills. In this scenario, consider contacting a credit counseling agency or a company offering debt settlement services.
---
Article sources

ConsumerAffairs writers primarily rely on government data, industry experts and original research from other reputable publications to inform their work. Specific sources for this article include:
Did you find this article helpful?
|
You're signed up
We'll start sending you the news you need delivered straight to you. We value your privacy. Unsubscribe easily.