Mitsubishi maintenance: cost, plans and service schedule



Written by

Edited by
Find Extended Auto Warranties near you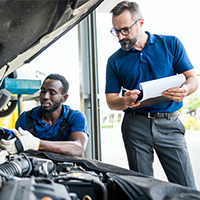 The measure of a car isn't just based on its performance, appearance or how long the brand has been around (though longevity often means there's more data to help inform your decision). When you're making an investment as big as a car purchase, you need to know what you can expect from the vehicle long term: How reliable is it? How much will it cost to maintain and repair?
If you're interested in buying a Mitsubishi, keep reading to see how much you can expect to spend on upkeep and what you can do to save money down the road.
---
Key insights
Mitsubishi vehicles have below-average maintenance and repair costs, according to data from RepairPal.
However, Lancers are more expensive to maintain than Mitsubishi's other models and rank lower for reliability.
Mitsubishi's factory powertrain warranty lasts up to ten years or 100,000 miles, but its more comprehensive bumper-to-bumper warranty only lasts five years or 60,000 miles.
You might also consider an extended warranty or prepaid maintenance plan to save money as your vehicle ages, but shop carefully.
Are Mitsubishi vehicles expensive to maintain?
Generally speaking, Mitsubishi provides relatively economical and dependable vehicles. According to RepairPal, a site that estimates automotive repair costs, the annual cost of repairing and maintaining a Mitsubishi is $535. Compare that with the $652-per-year average across all vehicles.
How Mitsubishi compares with other automakers
RepairPal placed Mitsubishi sixth out of the 32 car brands in its reliability rankings, and it also reports that Mitsubishi owners can expect to visit the repair shop half as often as other drivers, with an average probability of "severe" fixes. We'd venture to guess this is why its data shows Mitsubishi upkeep as significantly more affordable than what you'll experience with many other brands.
| Make | Average maintenance and repair costs* |
| --- | --- |
| Mitsubishi | $535 per year |
| Honda | $428 per year |
| Toyota | $441 per year |
| Ford | $775 per year |
| BMW | $968 per year |
*According to RepairPal
These numbers offer a shorthand comparison for different brands, but each brand has models in its lineup that may cost more or less than its average. With that in mind, we'll break down how some of Mitsubishi's upkeep costs vary from model to model.
Mitsubishi maintenance and repair costs by model
While most Mitsubishi models receive positive or middling reviews, there are a few outliers. The Galant has excellent (low) ownership costs and ranks second out of 24 midsize cars for reliability in RepairPal's ranking, whereas the Lancer falls lower on the list due to an increased probability of needing extreme repairs. The Outlander, meanwhile, ranks fairly well in the site's ranking of compact SUVs, earning the eighth spot out of 26 models.
| Model | Average maintenance and repair costs* |
| --- | --- |
| Galant | $448 per year |
| Outlander | $519 per year |
| Lancer | $646 per year |
*According to RepairPal
If you're looking to budget for vehicle upkeep, it's also worth pointing out that RepairPal combines maintenance and repairs in these kinds of estimates. That matters because these are really different categories of service. While maintenance costs are easy to see coming and account for, repair costs tend to come about unexpectedly and demand more of your bank account. We'll dive deeper into each of these categories to help you understand what (and how) Mitsubishi ownership might cost you.
Mitsubishi maintenance schedule
Following your manufacturer's suggested maintenance schedule is vital to prolonging the life of your Mitsubishi and keeping it on the road for as long as possible. We've provided some general maintenance guidelines we got from a Mitsubishi dealership below, but be aware that each model has different service recommended service intervals. (Some of the services in the table below won't even apply to every Mitsubishi vehicle.)
We recommend you refer to your manual to find the exact maintenance schedule for your vehicle.
| Interval | Service |
| --- | --- |
| Every 3,750 miles or three months | Rotate tires |
| Every 3,750 miles or three months | Change engine oil |
| Every 3,750 miles or three months | Replace engine oil filter |
| Every 3,750 miles or three months | Inspect cabin air filter |
| Every 7,500 miles or six months | Inspect disc brake pads and rotors |
| Every 7,500 miles or six months | Inspect suspension system |
| Every 7,500 miles or six months | Replace cabin air filter |
| Every 15,000 miles or 12 months | Replace engine air cleaner filter |
| Every 15,000 miles or 12 months | Replace spark plugs |
| Every 15,000 miles or 12 months | Check automatic transaxle/transmission |
| Every 15,000 miles or 12 months | Inspect brake pads and rotors |
| Every 15,000 miles or 12 months | Inspect rear drum brake linings and wheel cylinders |
| Every 15,000 miles or 12 months | Check brake system hoses |
| Every 15,000 miles or 12 months | Inspect drive shaft boots |
*According to Fort Worth Mitsubishi
Mitsubishi maintenance costs
Mitsubishi does not offer free maintenance for new cars like some other automakers do, but you may be able to get discounted services if you buy from your local Mitsubishi dealership.
Regardless, maintenance costs are relatively simple to set a budget for. Just look up what your local mechanics charge for the services in your manual and chart out those costs over the recommended intervals. (It's difficult for us to give you a specific number because multiple factors can influence what you pay, including your location, model and mileage.)
Example: 2017 Mitsubishi Outlander maintenance costs
On the other hand, if you're fine ballparking your expected maintenance costs based on estimates for another vehicle, then check out the chart below.
| Service | Cost* |
| --- | --- |
| Tire rotation | $69-$88 |
| Oil change | $161-$185 |
| Brake pad replacement | $239-$641 |
| Spark plug replacement | $169-$980 |
*According to RepairPal for a 2017 Mitsubishi Outlander in the 78705 ZIP code
Mitsubishi repair costs
While Mitsubishi vehicles are generally considered dependable, they have some issues.
"Performance is on an upswing when it comes to more recent Mitsubishis," said Steve Sunkel, a career mechanic with experience working on a wide variety of brands. "Unfortunately, the company has a history of quite a few recalls, which tells me their vehicles don't go through quite as much testing. Several Japanese companies make great cars, but Mitsubishi isn't at the top of my list."
Repair costs are harder to predict than maintenance costs because you usually don't get much advance notice about what's going to break on your vehicle. There are some trends you can spot if you look at Mitsubishi owners' comments, though.
A handful of Lancer owners on RepairPal have reported dealing with sticky HVAC knobs, which Mitsubishi has issued a repair protocol for. (Unfortunately, it's not as simple as just replacing the knob.) Likewise, the sunroof may become stuck shut on some Eclipses, and a few owners have noted the issue is recurring even after receiving repairs.
While some of these concerns may be covered under warranty, others are not.
Mitsubishi offers a 10-year/100,000-mile powertrain warranty that covers manufacturing errors in your vehicle's engine, transmission and drivetrain as well as a five-year/60,000-mile New Vehicle Limited Warranty that covers your entire vehicle (except for issues related to the battery, tires, light bulbs and entertainment system).
Eventually, this coverage will run out, though, and once it does, you should have a plan for what you'd do if something went seriously wrong with your vehicle.
» LEARN: What is a manufacturer's warranty?
How can an extended warranty or maintenance plan help?
You can't predict the future, but with an extended warranty, you may not need to lose sleep worrying over a potential breakdown. Like your factory warranty, these plans pay to fix your car when something goes wrong due to a manufacturing defect. However, unlike your factory warranty, you'll have to pay for an extended warranty, so you need to get a good deal if you want to spend less on your warranty than you would on repairs.
» MORE: Pros and cons of extended auto warranties
If you're looking to save on scheduled maintenance, a prepaid maintenance plan may be the better choice. These plans can help you save money on preventive services since dealerships often give discounts when you prepay, but even if they don't, locking in your rate now can help you avoid rising prices and inflation.
» LEARN: Car warranty vs. car insurance
Mitsubishi offers both extended warranties and prepaid maintenance plans called Diamond Care Protection Plans.
Cindy, a ConsumerAffairs reviewer from Minnesota, told us: "Having this extended warranty saved me so much money! Right at the end of the regular warranty my drum brakes had to be replaced & the labor on that was crazy high! After getting the quote, I remembered I had the extended & called, they said good thing I called-Or else it wouldn't had been covered (one of those small print items). Mine was & I was very happy!"
However, we had trouble actually finding a Mitsubishi dealer that would sell us a Diamond Care Protection Plan extended warranty when we investigated the program. (We checked with 12 dealers in 10 states — no luck.) As a result, you may be limited to offerings from third-party warranty companies, which isn't necessarily a bad thing.
---
Article sources

ConsumerAffairs writers primarily rely on government data, industry experts and original research from other reputable publications to inform their work. Specific sources for this article include:
Did you find this article helpful?
|
You're signed up
We'll start sending you the news you need delivered straight to you. We value your privacy. Unsubscribe easily.