Insurance Institute for Highway Safety Tests and Awards
Two all-electric cars fall short of earning an IIHS safety award
02/01/2017
|
ConsumerAffairs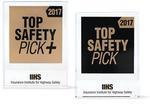 A pair of all-electric vehicles -- the 2017 Tesla Model S and the BMW i3 -- just missed meeting the Insurance Institute for Highway Safety's (IIHS) awards criteria.
"There's no reason the most efficient vehicles can't also be among the safest," said David Zuby, IIHS executive vice president and chief research officer. "We hope Tesla and BMW will continue to refine the designs of their electric models to maximize driver protection and -- especially in the case of Tesla --...
More
The vehicle's front crash prevention system earned a superior rating
01/11/2017
|
ConsumerAffairs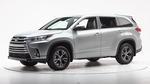 A superior-rated front crash prevention system and acceptable-rated headlights have earned the 2017 Toyota Highlander the Insurance Institute for Highway Safety's (IIHS) top award.
Unlike most TOP SAFETY PICK+ winners, which only meet the front crash prevention and headlight criteria when they are equipped with optional features, the Highlander qualifies for the award with standard equipment.
In IIHS track tests of the 2017 system, the midsize SUV avoided a collision in t...
More
Sort By