Cost to replace air conditioner
Expect to pay at least $3,500 for a central air conditioner



Written by

Edited by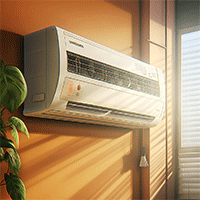 Broken or malfunctioning air conditioners can cause severe discomfort, especially in the heat of the summer. And some repairs may not be feasible or even possible on older air conditioning units.
Fortunately, if you need to replace your outdated system, there's a wide range of air conditioners available to choose from. The most common are portable, window, central and ductless split units. Typical costs for central air conditioners in particular range from $3,500 to $8,000 as of publishing.
---
Key insights
Newer air conditioner models have longer life spans and are more energy efficient than older models.
There may be rebates available on new units to help cut replacement costs.
It may not be necessary to repair or replace ductwork, but it could help your new unit run more efficiently.
What affects the cost of replacing an air conditioner?
Before you think about installation costs, you'll need to figure out which air conditioner makes sense for your home. One of the biggest factors to consider is size — the larger your home, the bigger the system you'll need to adequately cool down the house. The brand and energy efficiency of the unit also matter, along with actual labor costs.
Size of the unit
The square footage of your home affects how large a unit you'll need to adequately cool the air. British thermal units (Btu) are used to measure the amount of energy it takes an air conditioner to remove heat from the air and cool down the room.
The total Btu required for the square footage is often expressed in tons. One ton equals 12,000 Btu of power and can cool up to about 500 square feet of space. Air conditioning units are sold in half-ton increments, like 1, 1.5 and so on.
| Home size (sq. ft.) | AC size (tons) | Btu |
| --- | --- | --- |
| 600-1,000 sq. ft. | 1.5 | 18,000 |
| 1,000-1,500 sq. ft. | 2 | 24,000 |
| 1,500-2,000 sq. ft. | 3 | 36,000 |
| 2,000-2,500 sq. ft. | 4 | 48,000 |
Brand
There are several popular brands of AC units on the market today, according to Dan Mingle, vice president of Sanders & Johnson Heating and Cooling in Denver. Each comes with its own set of benefits and costs.
Typical price ranges for these brands:
Lennox: $3,000 to $10,000
Carrier: $3,200 to $15,000
York: $4,500 to $9,000
Trane: $3,000 to $15,500
American Standard: $3,500 to $11,000
LG (for wall-mounted units): $300 to $600
Ruud: $3,000 to $6,000
Amana: $3,500 to $11,000
Goodman: $1,500 to $10,000
Rheem: $3,000 to $7,000
Energy efficiency
SEER, or Seasonal Energy Efficiency Ratio, measures how well the unit uses energy to produce cool air. Today, this rating has been updated to SEER2 to reflect additional blower testing.
Essentially, the higher the rating, the more energy-efficient the system is, which results in cost savings on your power bill. However, units with higher SEER2 ratings generally cost more upfront.
Labor
Labor costs are typically assessed at an hourly rate, ranging from $75 to $250 an hour. Total labor costs range from $500 to $2,500 for most air conditioning unit installations.
The size of the home and the complexity of the system can affect those installation costs. For example, a simple window unit will take less time to install than a three-ton unit, making installation costs cheaper. Central air conditioning units can take anywhere from six to 10 hours or more to install, depending on the system.
Also, the accessibility of the HVAC system can play a role in labor costs. For example, an older home with a cramped attic space might make installation more difficult and time-consuming, so expect labor costs to increase.
Additional cost factors
Once you've picked out a unit, there are a few other costs you may have to contend with. For central air conditioning, you may need to repair or replace ductwork. If you're in an older house, the electrical panel and insulation may need work done. Lastly, permits are often required but should be taken care of by the HVAC contractor.
Ductwork
The extra money you spend initially on ductwork is worth it to ensure your new system works properly and efficiently.
New ductwork can add $500 to $2,000 to the cost of your new HVAC system. Ask your HVAC technician to inspect your current ductwork to see if it needs to be replaced or repaired.
Mingle, the vice president of Sanders & Johnson Heating and Cooling, told us: "The need for new ductwork when installing a new AC unit depends on factors like the condition, size, compatibility and design of existing ducts. Consumers should inspect their ducts for damage, assess compatibility with the new unit, and consider factors like sizing and air quality."
He also added that the additional expenses involved may be "essential for optimal cooling performance, energy efficiency and indoor comfort."
Electrical
Electrical requirements will depend on the type of unit you install. Window units and portable air conditioning units plug into most standard outlets, but check with an electrician before use. Central air conditioning units, on the other hand, will need more power to run and have higher electrical requirements.
If your home was built before 1960 (prior to amp system increases), you may need an electrical system upgrade to accommodate the extra amps from the new unit. You can hire a licensed electrician to replace the electrical panel for anywhere from $500 to $2,100.
» LEARN: Electrical tips to add value to your home
Insulation
Adequate insulation can greatly reduce your energy costs and help ensure your home stays at a comfortable temperature. In fact, proper insulation could save you an average of 11% on energy costs, according to the Environmental Protection Agency.
While it's not technically necessary to add or replace insulation with a new air conditioner, you may want to get your home checked out by a general contractor or an insulation company to see if it may be worthwhile. This can be an especially good idea if you live in an older home that lacks proper insulation. Insulation costs can range from $1,400 to $6,300.
Permits
Check with your town or county on any required permits, but it's likely you'll need to obtain one before replacing an air conditioning unit. The HVAC company can obtain the permit on your behalf and schedule any necessary inspections once the job is complete. Permits may cost from $250 to $400 and are usually incorporated into the installation costs.
Air conditioner cost by type
Portable and window air conditioners are affordable and easy for homeowners to install. They also make the most sense for people in smaller homes. However, if you want energy-efficient systems to cool a large house, you may want to invest in central air conditioning or ductless split systems.
Portable air conditioner
A portable air conditioner draws in warm or moist air from the space around it. It then uses a motor to cool the air before circulating it throughout the room. The unit is equipped with a hose attachment that directs humid air to flow outside the nearest window. Costs typically range from $100 to $500, although you can get portable air conditioners with additional features (like a heat pump) for a higher price.
Window air conditioner
A window air conditioning unit is easy to install in almost any outside window in your home. As with portable air conditioners, one of these units may cost from $150 to over $1,000, depending on its features. Some window units come equipped with Wi-Fi connectivity and voice control.
Central air conditioner
Central air conditioning uses an outside unit to cool the air and circulate it throughout the house via ducts and registers. While central air conditioning may be a more complicated system, it's much more efficient at cooling larger spaces than portable or window air conditioners.
Replacement costs vary greatly depending on the unit size, but most range between $3,500 to $8,000, including installation.
Ductless split air conditioner
A ductless split air conditioner uses a system of indoor units (usually wall-mounted) to cool air in one certain space. The indoor units are connected to a single outdoor unit that has a compressor, fan and condenser coil. Ductless systems can range from $2,000 to $14,500.
Signs it's time to replace an air conditioning system
Air conditioning systems eventually break down, and, at a certain point, replacement makes more sense than repair. There are a few signs to look for to know if it's more cost-effective just to replace your air conditioner.
Age
Not all air conditioning units have the same life span. Some last years longer than others, depending on how well they're maintained over the years. Mingle explained: "Modern air conditioners can typically last between 15 to 20 years, while older units tend to have a life span of around 10 to 12 years. If you have diligently maintained your air conditioner throughout its lifetime, you can generally expect to need a replacement in about 10 to 15 years."
If you aren't sure how old your unit is, you can check for the manufacture date, which is usually printed on a label affixed to the back of the unit.
High energy bills
You may notice a sizable increase in your power bill, especially during summer, if your air conditioner isn't working properly. Ask your power company for a report that shows what portion of your energy costs are attributed to your heating and cooling system and how much more energy you may be using year over year. If costs increase significantly, it may be time to consider replacing your unit.
Newer, more energy-efficient models can use 20% to 40% less energy than older models, according to the U.S. Department of Energy.
Costly repairs
Some repairs may only cost a few hundred to get your system back up and running, while others may creep into the thousands. If that's the case, weigh the costs of repairs against the overall cost of replacing your system. Don't forget that a new system can save you money each year on your energy bill.
You may also need to consider a replacement if your unit uses a refrigerant known as Freon R-22. According to Mingle, air conditioners more than a decade old likely use Freon. As of Jan. 1, 2020, the production of Freon has been discontinued in the United States.
FAQ
How long does it take to replace an air conditioner?

Most central air conditioner units can be installed by a licensed HVAC technician in about six to 10 hours (within the same day), as long as there aren't any complications. Consider taking time off work to be home during this process in case the technician runs into any issues they need to make you aware of.
Can I DIY air conditioner installation?

You can do the installation yourself if you get a window unit or portable air conditioner. Most only require proper positioning (mounting to a window, for example) and plugging into an outlet.

However, it's recommended to leave more complicated installations, like for central air conditioning, to the experts. They know what they're doing, and they can often complete the task in much less time.
How can I save money on an air conditioner installation?

Consider replacing your system during the off-season (early spring and late fall), when air conditioning companies may be less busy with service calls. You may also find discounts from manufacturers or rebates from power companies to help offset costs.

Also gather written quotes from a mix of multiple companies and licensed HVAC contractors. You can use that information to negotiate lower installation costs with competitors. Some companies may drop the price if you pay in cash, so ask about payment discounts upfront. Be sure to get at least three to five quotes for comparison.
Do home warranties cover air conditioners?

Most home warranties cover the replacement or repair of air conditioning units. Maria of California, a reviewer on our site, was able to quickly get a technician to replace her air conditioner during a heatwave: "[The technician] came out the same day, checked it out, and they gave the report by Monday. By Tuesday, American Home Shield approved the replacement."

Just make sure to check your specific plan details. There may be some exclusions to coverage, like damage due to weather or improper maintenance. Keep in mind that your plan probably has a maximum coverage limit, so you may still need to pay some costs out of pocket.

» COMPARE: Best home warranty companies for HVAC
Bottom line
Before opting to replace your air conditioner, get a few repair estimates from reputable licensed HVAC contractors and review the historical trends on your power bill. Replacing it with a new energy-efficient system could pay for itself in a few years thanks to the long-term cost savings.
If replacement is inevitable, research the rebates available with system upgrades. Keep in mind that a new system should also come with a manufacturer's warranty, which will help you save on repair costs if there are any defects. Also, consider purchasing and installing the new unit in the off-season to possibly save even more money.
---
Article sources

ConsumerAffairs writers primarily rely on government data, industry experts and original research from other reputable publications to inform their work. Specific sources for this article include:
Did you find this article helpful?
|
You're signed up
We'll start sending you the news you need delivered straight to you. We value your privacy. Unsubscribe easily.