How are home warranties regulated?
States regulate these companies and help protect consumers



Written by

Edited by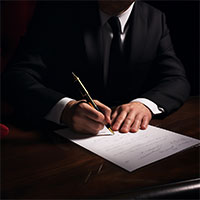 Home warranties are service contracts that help you cover the cost of repairs and the replacement of faulty systems and appliances in your home. You'll pay a monthly or annual premium for coverage, along with a deductible when it's time to make a claim.
Since a home warranty can cost hundreds of dollars a year, you'll want to know that these companies are properly regulated and not violating the terms of the contract. Home warranties are regulated at the state level, but other entities help ensure these companies are following state and federal regulations. Here's what you need to know.
---
Key insights
Each state has its own laws that regulate home warranty companies.
The Federal Trade Commission also mandates how a home warranty company can operate.
Industry associations help keep home warranty companies operating at higher standards and inform consumers of best practices.
Who regulates home warranty companies?
Home warranty companies are regulated on a state-by-state basis. That means it's usually the state's insurance commissioner or department of insurance for each state that has oversight.
The insurance department isn't the only agency that may regulate home warranty companies — other state agencies might get involved. The Federal Trade Commission and industry associations can also help regulate home warranty companies.
National regulations
The Federal Trade Commission (FTC) plays a crucial role in making sure businesses, including home warranty companies, are adhering to regulations. The FTC enforces the following:
Companies must be transparent about their offerings and mandate that contracts spell out everything in terms you can understand — like what exactly is covered, how claims are handled, and what your obligations are as a homeowner. If companies fail to disclose this information properly, they could find themselves facing penalties and fines.
Companies must market themselves fairly. If a home warranty company makes any misleading claims in its advertising or uses bait-and-switch tactics, that's a red flag for the FTC. The FTC has the authority to step in, which often means fines for the company and sometimes even refunds for consumers.
Companies must compete fairly. If a warranty company is using aggressive tactics to squash its competition, the FTC can intervene.
State regulations
There isn't consistency among all 50 states when it comes to home warranties, so you'll need to do some digging on your state's government website for specifics.
"Regulation of our programs varies by state, but generally speaking, our programs are considered service contracts that are regulated by states' Departments of Insurance," says Phil Edens, vice president of operations for Oncourse Home Solutions, a home warranty company. "For example, in Illinois, we maintain a service contract license that is renewed on an annual basis, and we are required to comply with all aspects of Illinois's Service Contract Act."
California also regulates home warranty's through the state's Department of Insurance. This department regulates everything, from the contracts these companies can offer to how claims get handled. Itt even require the company's names to be approved before they can operate.
On the other hand, Texas regulates home warranty companies through its Department of Licensing and Regulation. Companies need to have a license and maintain minimum financial requirements, and they are subject to audits and inspections.
Industry self-regulations
Two nongovernment organizations also help regulate home warranty companies.
The Service Contract Industry Council (SCIC) is a national trade association that represents companies in the service contract industry. The SCIC works closely with lawmakers to develop fair, uniform standards across states. The association aims to protect consumers while also making sure the industry remains competitive.
The National Home Service Contract Association (NHSCA) sets ethical and quality standards for its home warranty company members. If a company is a member of the NHSCA, it's a good sign that they're committed to providing quality service.
» COMPARE: The best home warranty companies
How do home warranty regulations protect homeowners?
Regulations on home warranty companies ensure that homeowners receive good service with few surprises. Here are some benefits:
Financial security. Regulations ensure that home warranty companies have the financial stability to honor their contracts. This means you're not throwing your money away — you'll actually get the services you paid for.
Transparency. Regulations often require full disclosure of contract terms and conditions. This means no hidden fees or surprise clauses. Keep in mind that you still have to read the fine print to find out all the terms and conditions.
Quality assurance. Being part of reputable organizations like the SCIC and NHSCA means the home warranty companies are held to high standards. This translates to better service and more reliable contractors.
Consumer protection. Regulations aim to protect you from scams and fraudulent practices. If a company doesn't meet the set standards, it can't operate.
Legal recourse. If a company tries to scam consumers, regulations provide a framework for legal action. You're not left in the lurch trying to figure out how to get your money back or fix a botched repair job.
Standardized practices. Regulations help standardize the services offered, making it easier for you to compare different plans and choose the one that fits your needs.
Ethical business practices. Membership in organizations like NHSCA requires adherence to a strict code of ethics, ensuring companies are committed to ethical business practices.
Distinguished from insurance. Regulations help clarify that home warranties are not insurance policies, helping you understand the different kinds of financial protection available.
How to file a complaint
You should first try to solve the issue with your provider. If that doesn't work, you still have options. Here's how you can file a formal complaint.
Always keep records and invoices every time an appliance or system is repaired or receives a maintenance tuneup.
Step 1: Gather your documents
First, get all your paperwork in order. This includes your contract, any correspondence with the company and records of the issue you're facing. Any records of inspections or repairs on your home's systems or appliances can be helpful to prove there were no preexisting conditions and your items were properly maintained. The more evidence you have, the stronger your case will be.
Step 2: Know where to go
Your next move depends on where you live. Most states let you file a complaint with the Attorney General's office. But some states have a specific department that handles these kinds of issues, like a Department of Insurance or Consumer Affairs. Do a quick search to find out what applies to you.
Step 3: File the complaint
Once you know where to go, file your complaint. This usually involves filling out a form and attaching all your supporting documents. Make sure to be as detailed as possible.
Step 4: Follow up
After you've filed, keep tabs on your complaint. You'll likely get a case number, which you can use to check the status.
Step 5: Consider legal action
If all else fails and you're still not getting anywhere, consider taking legal action through a small claims court. Consider consulting with an attorney to see if this is a good route for you.
FAQ
Is a home warranty regulated similarly to homeowners insurance?

Home warranties aren't considered insurance, so the two are typically governed by different departments. Insurance companies are more stringently regulated, but both have regulations for keeping contracts clear and ensuring that companies can meet their financial obligations.
What should I know before getting a home warranty?

"A good home warranty contract will always cover a great extent of the systems and appliances of your home, no matter the model, manufacturer or age," says David Tully, a real estate expert in Reno, Nevada.

When considering a home warranty contract, ensure it covers appliances and systems without regard to their age or make and model. An effective warranty should pay for repairs and replace covered items if they're beyond repair. Also, look for caps on coverage and any exclusions.

» LEARN: What does a home warranty cover?
Are home warranties worth it?

Home warranties can be a real money saver for some people, but they're not a one-size-fits-all deal. If you own an older home with appliances that are past their prime, a home warranty can save you big bucks on unexpected repairs. Warranties are also a great fit for people who aren't handy or don't have a go-to contractor for home repairs.

On the flip side, if you purchased a home with new appliances that are still under the manufacturer's warranty, you might not get your money's worth. The same goes for DIY pros who can handle minor repairs themselves.
What should I do if my claim is denied?

Your best bet is to contact the company and file an appeal. Consider filing with your local small claims court if your claim is still rejected.

» LEARN: How to file a home warranty claim
Can I cancel my policy early?

Most allow you to cancel within the first 30 days with no penalty. Beyond that, there might be a cancellation fee. Different regulations can vary how much you pay from state to state. Always check the contract to find out the specific terms.
Bottom line
The regulation of home warranty companies is a multi-layered process that involves both state and federal oversight. While state agencies like the Department of Insurance office often take the lead, the Federal Trade Commission also plays a crucial role in ensuring transparency and fair business practices on a national scale.
Industry organizations like the SCIC and NHSCA also contribute to consumer protection by setting ethical and quality standards for these companies.
For homeowners, these regulations offer multiple layers of protection, from financial security to transparent contract terms. If you ever find yourself in a bind with your home warranty provider, you can file a formal complaint, making it easier for you to assert your rights and get the service you paid for.
---
Article sources

ConsumerAffairs writers primarily rely on government data, industry experts and original research from other reputable publications to inform their work. Specific sources for this article include:

National Home Service Contract Association, " Understanding Home Service Contract Terminology ." Accessed September 8, 2023.
Texas Department of Licencing and Regulations, " Service Contract Providers ." Accessed September 8, 2023.
California Department of Insurance, " Home Protection Contracts ." Accessed September 8, 2023.
Did you find this article helpful?
|
You're signed up
We'll start sending you the news you need delivered straight to you. We value your privacy. Unsubscribe easily.