The products may be contaminated by Listeria monocytogenes
02/22/2017
|
ConsumerAffairs


MDS Foods is expanding its earlier recall of cheese products.
Deutsch Kase Haus of Middlebury, Ind., supplied MDS Foods with cheeses that have been found to be contaminated with the pathogenic organism Listeria monocytogenes.
No illnesses have been reported to date.
The following items are being recalled due to supplier contamination:
The following items, packaged on the same production lines as those listed above, are being recalled:
Customers who purchased the recalled pro...
More
Officials say the goods may be contaminated with listeria
02/17/2017
|
ConsumerAffairs

By Christopher Maynard
Christopher Maynard is a New York-based writer and editor who ... Read Full Bio→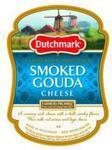 Saputo Inc. has initiated a recall of certain Gouda cheese products over concerns of a potential listeria contamination. Supplier Deutsch Kase Haus LLC notified the company of the danger after finding that its products may have been compromised
Listeria monocytogenes is an organism that can be potentialy fatal to young children, the elderly, or consumers with frail or compromised immune systems. However, even healthy consumers can experience symptoms such as high fever, ...
More
Sort By