The products may be contaminated with hard silica and glass fragments
11/29/2017
|
ConsumerAffairs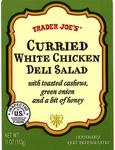 Green Cuisine of San Fernando, Calif., is recalling approximately 65,621 pounds of Trader Joe's chicken and turkey salads.
The products may be contaminated with extraneous materials -- specifically hard silica and glass fragments.
There are no reports of injury or illness from consumption of these products.
The the following ready-to-eat items, produced from November 4 - 15, 2017, are being recalled:
The recalled products, bearing establishment number "P-40299" inside the U...
More
The product may be contaminated with E. Coli O157:H7
11/09/2017
|
ConsumerAffairs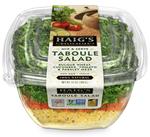 Haig's Delicacies of Hayward, Calif., is recalling 342 cases of Taboule Salad that may be contaminated with Escherichia coli O157:H7 bacteria (E. Coli O157:H7).
No illnesses have been reported to date.
The recalled product is packaged in a 10-oz. plastic tub with UPC 7-08756-77055-9, as well as a 3-unit multi pack with UPC 7-08756-37055-1 and a 6-lb. bulk foodservice bag with UPC 7-08756-77077-1.
The affected lot is 17298 with an expiration date of 11/16/17, and was sold i...
More
Sort By