What is a wholesale mortgage lender?
A wholesale lender provides financing; your broker facilitates the mortgage process



Written by

Edited by
Find Mortgage Lenders near you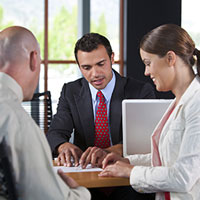 Whether you're a first-time homebuyer or refinancing your forever home, you may not realize the different parties that play a role in the mortgage process. You may end up using a retail-facing lender, such as one through a bank or credit union. Or, you may use a mortgage broker, which is someone who shops around for mortgage products on your behalf.
But no matter whether you're using an institution or mortgage broker, it's likely getting the loan products from an additional party — a wholesale mortgage lender.
As a borrower, you don't have direct access to wholesale mortgage lenders, but that doesn't mean you can't benefit from the products and services they provide to retailers and brokers.
---
Key insights
Wholesale mortgage lenders fund mortgages.
A wholesale lender typically relies on a third party to facilitate the loan.
Working with a mortgage broker that has access to multiple wholesale lenders could help you qualify for the best mortgage for your financial situation.
Understanding wholesale mortgage lending
Wholesale lenders underwrite mortgage loans for retail lenders, lock in the loan's interest rate and secure the funding. They don't deal directly with the buyer. Instead, they offer their mortgage products to lending institutions (such as banks and credit unions), independent mortgage companies or mortgage brokers — in other words, to any third party that doesn't have its own funding for loans.
A wholesale mortgage lender relies on this third party to act as the go-between for the borrower and the wholesale mortgage. The wholesale lender offers multiple loan options to the retail lending institution or mortgage broker, who, in turn, matches them to the correct loan product for the borrower.
» MORE: Mortgage broker vs. lender
How wholesale mortgage lending works
Since the wholesale lender doesn't deal directly with the buyer, it's up to the third party to facilitate the application and loan origination process. The retail lender or mortgage broker is the one who works with underwriting and communicates the underwriting needs to the buyer, while the wholesale lender is the one providing the loan product.
"Mortgage brokers work on behalf of the consumers to find the most suitable loan options from various wholesale lenders. They assess the consumer's financial situation, gather necessary documents and submit loan applications to wholesale lenders. The broker's role is to connect consumers with the appropriate wholesale lenders that offer favorable loan terms," explained Max Slyusarchuk, CEO of A&D Mortgage, a direct lender based in Hollywood, Florida.
Once the mortgage broker or retailer facilitates the loan, the wholesale lender provides the funds.
Pros and cons of wholesale lending
There are advantages and disadvantages of the wholesale lending model, and a borrower should carefully consider these as they're exploring their lending options.
Pros
You can compare multiple wholesale lending options to find the best rates and terms.
Wholesale lenders can work through a variety of third parties, including banks, credit unions and mortgage brokers.
Wholesale lenders have access to multiple loan products, including ones for those who struggle with certain loan criteria.
Cons
Wholesale lenders do not facilitate the loan, so you must work with a retail lender or mortgage broker.
Communication may not happen as quickly since you're working with multiple parties.
You're not dealing directly with the party providing the funding.
Other types of mortgage lending
Borrowers may not realize the range of choices they have for mortgage lending. Each type of lender has a different business model and offers different mortgage products. In addition to wholesale mortgage lenders, there are also:
Retail lenders

Retail lenders may originate loans themselves with their own money or may act as an agent for an external lender. In addition to home loans, retail lenders sell other financial products directly to consumers, such as lines of credit, home equity loans and personal loans. The most common examples of retail lenders are banks and credit unions.

Some borrowers might prefer retail lenders over other types simply because they already have a relationship with them through other products.

Direct lenders

A direct lender sells its own mortgage product. Unlike a retail lender, it typically offers one product only. Because direct lenders sell their own lending products, they issue the loans and set up all the terms and conditions, which often makes the borrowing requirements even more strict.

Portfolio lenders

Portfolio lenders are similar to direct lenders, since they also originate the loans they sell. However, unlike direct lenders, they keep the loan instead of selling it on the secondary loan market (to Fannie Mae or Freddie Mac, for example), which is why it's referred to as a portfolio loan.

This type of lender may offer an advantage, as they can often qualify a borrower who might have challenges getting approval elsewhere. However, this may occur more often with business-to-business loans.

Correspondent lenders

Correspondent lenders work similarly to wholesale lenders by originating, underwriting and funding the mortgage. The key difference between correspondent lenders is they might sell your mortgage on the secondary market but continue servicing your loan.

Correspondent lenders have access to a variety of loan products, so you might have more options with a correspondent lender than with a conventional one.

Hard money lenders

Hard money (or bridge loan) lenders offer loans for buyers who might not get approved by other lenders or who need a loan quickly, such as a real estate investor. Hard money lenders use their own money reserves to lend the funds. While it's a quick option, these loans are often much costlier, with higher origination fees and interest rates.
What to consider when choosing a mortgage lender
Choosing a mortgage lender is as essential to the homebuying or refinancing process as choosing the property itself. Your selection not only connects you to the best mortgage for your financial situation but can save thousands of dollars over the long term by securing you better interest rates and repayment terms.
Some of the most important factors to consider when shopping around for a lender include:
Fees: Lenders charge multiple fees, including loan origination fees and closing costs, and they're legally obligated to disclose these fees to you.
Interest rate and APR: The interest rate is the cost to borrow money from the lender. The annual percentage rate (APR) is the total cost of borrowing, including all the fees associated with the loan.
Repayment term: The repayment term is the length of the mortgage loan. While most borrowers are familiar with the 30-year option, other loan terms are available.
Lender reputation: Read online reviews or talk to friends and family who have worked with a lender recently.
Customer service: How responsive is the lender to your questions and concerns? Also, compare how transparent it is in its paperwork and transactions.
On-time closings: It's critical the lender you select is timely with the closing, especially in cases where deadlines are tight.
Licensing and accreditation: Every state or region has licensing requirements. Make sure the lender you choose is licensed for your state so you know it meets the regulatory requirements.
» MORE: How to choose a mortgage lender
FAQ
Can I approach a wholesale mortgage lender directly?

Wholesale mortgage lenders typically work with retail lenders, such as banks and credit unions, or mortgage brokers. They do not typically work directly with the consumer.
Do wholesale lenders have better rates and fees?

Wholesale lenders have access to a wide range of loan products, which often means more competitive rates and fees. A mortgage broker can negotiate with a wholesale lender on behalf of a borrower and potentially obtain a better rate or fee.
Can I negotiate my loan terms with a wholesale mortgage lender?

You can work with a mortgage broker or retail lender to negotiate with a wholesale mortgage lender for you. Shop around and compare a few lenders before negotiating so you know you're getting the best rate and most competitive loan options.
Bottom line
A wholesale mortgage lender is one of numerous lending options available to borrowers. Although these lenders work through third parties, such as financial institutions and mortgage brokers, they can get you a better rate and terms on your mortgage.
Wholesale lenders fund mortgages and don't typically deal directly with borrowers, but they may offer a wider variety of loan products than a traditional lending institution that relies on its own funding.
Did you find this article helpful?
|
You're signed up
We'll start sending you the news you need delivered straight to you. We value your privacy. Unsubscribe easily.