Making ends meet
50% of Americans struggle to pay their bills on time (Survey)



Written by

Edited by

The past two years have thrown massive changes our way in terms of public and financial health, which has us wondering: What will life look like by the end of 2022? With the job market adapting to the eventual post-pandemic lifestyle and work-life balances becoming more dynamic, we're learning how to make ends meet in new ways — but often it's not easy.
To learn more about the current financial health of Americans, we surveyed 1,165 people about their ability to keep up with bills and the tactics they use to make this happen. We dove deeper into the effects rising inflation rates have had on people's wallets, as well as other factors that complicate our ability to pay our bills on time.
Key takeaways
Respondents needed an additional $2,016 per month, on average, to make ends meet.
One in 6 respondents had sold cryptocurrency assets to help make ends meet.
By generation, baby boomers were the most likely to pay their bills on time, and Gen Zers were the most inconsistent.
Can you cover your costs?
Of our surveyees, only half said they were able to keep up with their bills each month. Although the average personal debt (excluding mortgages) in the U.S. has declined over the past few years, it still sat at $23,325 in 2021 — it can be hard to keep up with monthly payments when you have thousands in debt hanging over your head.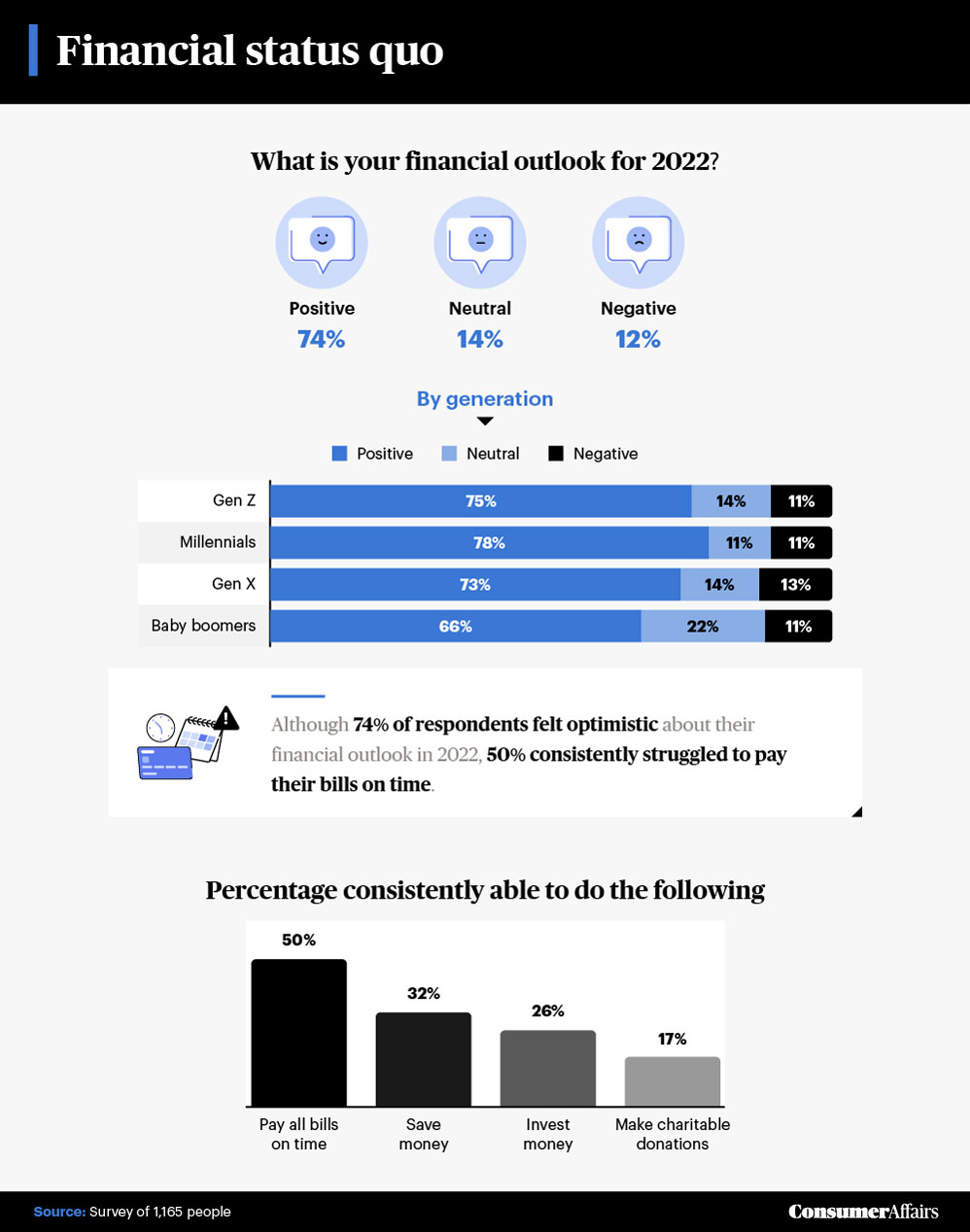 Some are doing better, though, with 17% saying they were able to comfortably make charitable donations. Just under a third of respondents said they were able to save money, and 26% had the ability to invest. Where do you fit in?
Some sacrifices
To pay their bills, people need to strategize how to maximize their costs. Let's see what kind of changes they're making to do just that.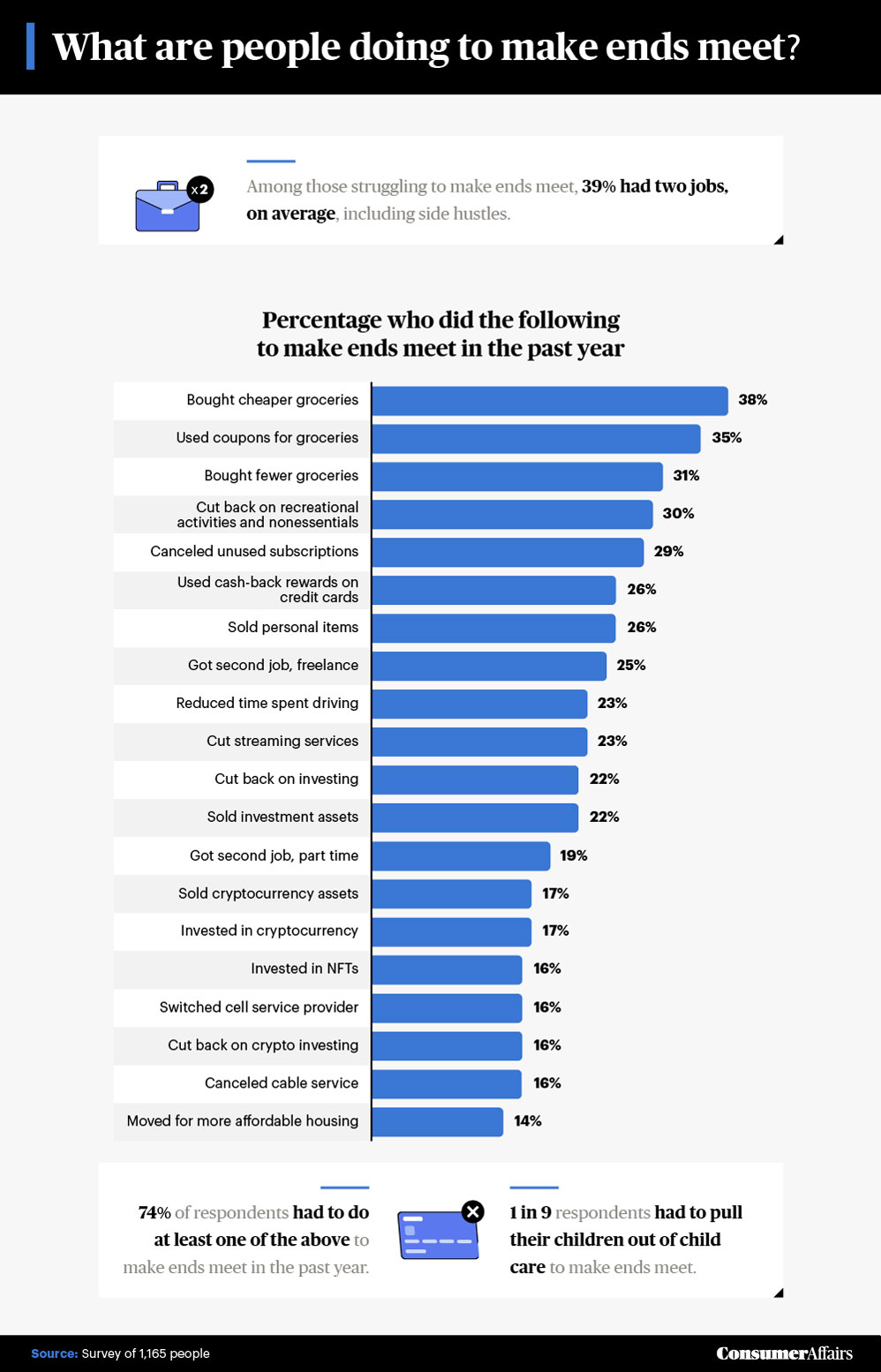 In an attempt to stay on track with their various bills, 39% of our respondents had to work two jobs, on average. Other noted saving strategies included buying cheaper or fewer groceries and using coupons. In 2020, U.S. households spent, on average, $7,316 on food alone. Feeding yourself and your family isn't cheap — being able to save on a necessity like groceries is crucial for many.
Others surveyed had to forgo recreational activities and other nonessentials to make ends meet. Canceling unused subscriptions, using cash-back rewards on credit cards and selling personal items were also typical methods. The list goes on, though, because some respondents need to save in any and every way they can.
Repercussions of rising inflation rates
Inflation is soaring — and it's one of the biggest hurdles for people trying to make ends meet. How many has it affected?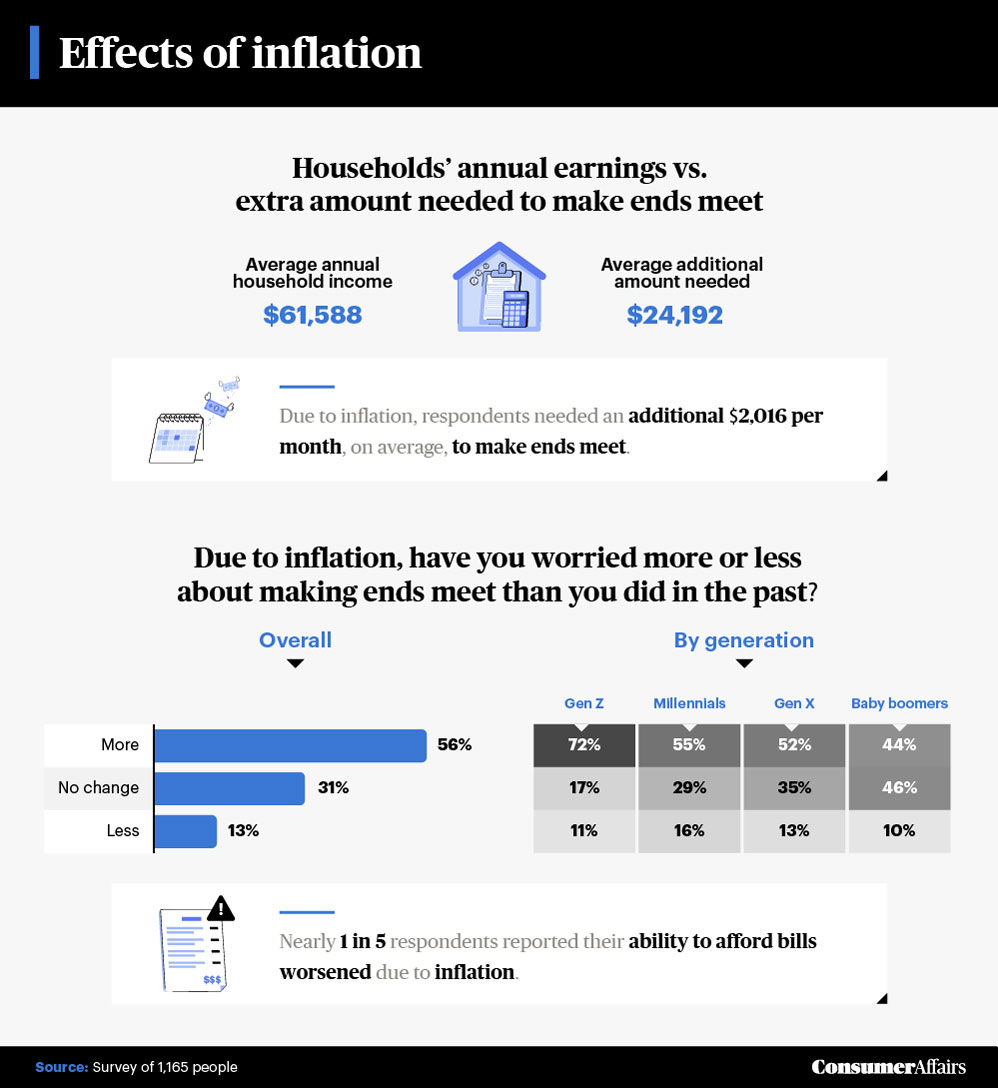 From the data we've gathered, we learned that respondents' average annual household income was $61,588, but they needed an additional $24,192, on average (nearly 40% of their actual income), just to make ends meet due to inflation. On top of this, respondents said they needed an additional $26,005, on average, in savings to feel financially secure. The inflation rate in the U.S. is projected to rise further in 2022, but it should slowly decline between 2023 and 2026.
For the time being, though, 56% of respondents have worried more about making ends meet than ever before. Of them, it was Gen Zers who were most concerned with the state of their financial outlook. Interestingly, across all generations, just under a third said inflation hadn't affected them at all, and 13% actually felt less stressed about making ends meet.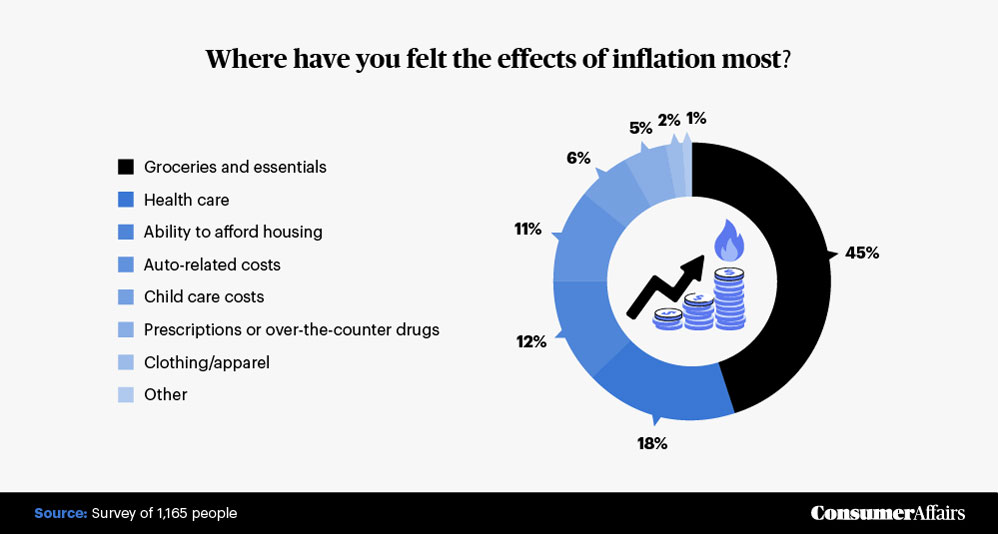 The majority of respondents have felt the effects of inflation the most in buying groceries and other essentials. We know how steep food expenditure can be for American households, and rising prices have worsened that blow for many.
The next biggest thorn in people's sides was health care costs. In 2019, U.S. health care spending hit nearly $3.8 trillion, or $11,582 per person — by 2028, costs are expected to hit $6.2 trillion, or about $18,000 per person. Finding affordable housing and making car-related payments has also become increasingly daunting for many.
The blame game
Even if many are feeling optimistic, our survey results show that many of our respondents aren't in an ideal financial situation. So who — or what's — to blame?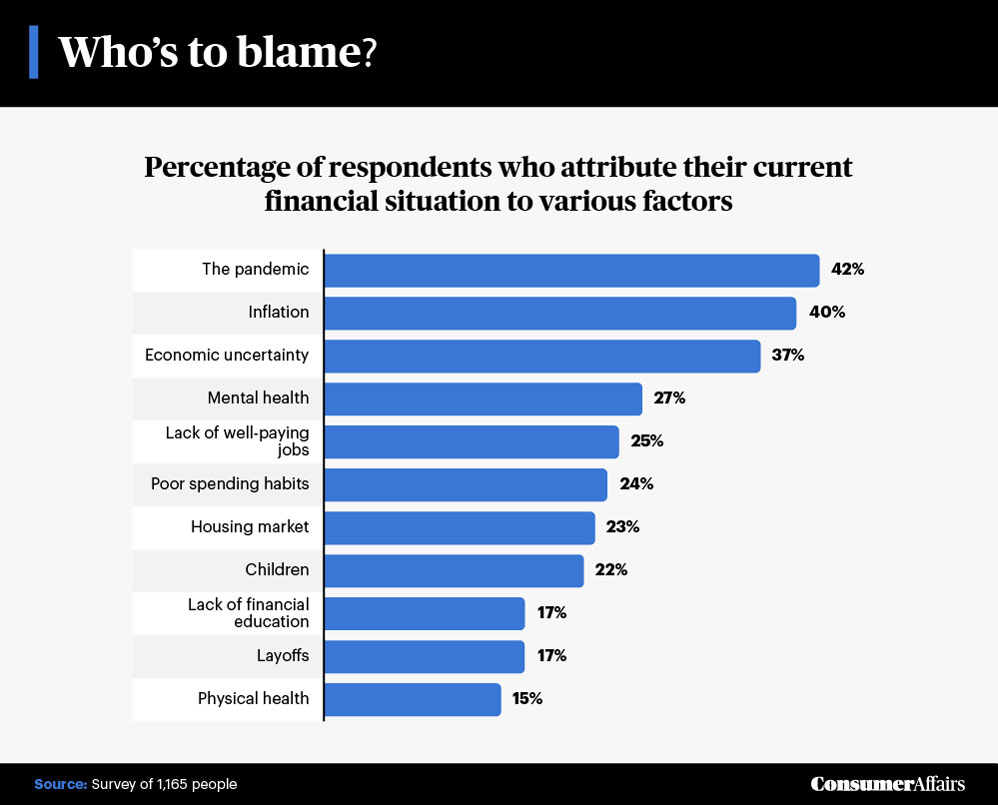 The pandemic, inflation and general economic uncertainty were the top three factors to which people attributed their financial difficulties. It's a turbulent time for all, and the job market has undergone some massive changes. The adjustment period has been a challenge for many — it's not easy to recalibrate yourself and adapt to new working styles and realities.
By generation, it was baby boomers who struggled the most with the pandemic and inflation rates. Millennials and Gen Xers were most thrown off by economic uncertainty, though. The pandemic has also taken a massive toll on mental health; younger generations reported suffering more than the older ones. Lack of well-paying jobs, poor spending habits and the housing market were the three factors Gen Zers thought most affected their financial situations.
Ends: Met?
It's been an interesting couple of years, to say the least — as we continue to pick up the pieces of pre-2020 life, many are still finding their way back to financial stability. Cutting down on expenses wherever you can is a common tactic, but external factors like inflation and general economic uncertainty are harder to overcome. Still, the job market continues to get healthier, paving the way for people to get back on track financially.
Methodology and limitations
We surveyed 1,165 individuals about the struggles they go through to make ends meet. Among them, 54% were men, 45% were women and 1% identified as nonbinary. For generational breakdowns, the sample sizes were as follows:
Gen Z: 219
Millennials: 484
Gen X: 250
Baby boomers: 196
Other: 16
For short, open-ended questions, outliers were removed.
To help ensure that all respondents took our survey seriously, they were required to identify and correctly answer an attention-check question.
Survey data have certain limitations related to self-reporting. These limitations include telescoping, exaggeration and selective memory. We didn't weight our data or statistically test our hypothesis.
Margin of error: Plus or minus 3% with a 95% confidence interval.
Fair use statement
Regardless of financial outlook, everyone can learn a thing or two about what it takes to make ends meet for Americans across the country. If you know someone who might be interested in our findings, feel free to send this article their way. We just ask that you do so for noncommercial purposes only and include a link back to the original page so contributors get credit for their work.
Did you find this article helpful?
|
You're signed up
We'll start sending you the news you need delivered straight to you. We value your privacy. Unsubscribe easily.