Long-term care statistics
Who needs long-term care and what it costs



Written by

Edited by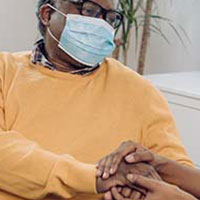 There are about 65,600 regulated long-term care facilities in the United States, according to a 2019 study from the National Center for Health Statistics. Together, these institutions serve over 8.3 million residents, including:
286,300 people in day-based caregiving
811,500 people in assisted living facilities
1,347,600 people in nursing homes
Over the next 10 years, the number of residents in each of these facilities is expected to grow sharply. If trends hold up, the number of nursing home residents could double by 2030.
This has the potential to not only put a strain on the existing network of long-term care facilities but also contribute to the ballooning cost of health care for individuals over 65.
Why is demand for long-term care increasing?
There are three main factors causing an increase in demand for long-term care: population shifts, increasing life expectancies, and the increased risk of injuries and disabilities that these create.
Population shifts
Baby boomers, whose births sparked massive population shifts between 1946 and 1964, began turning 65 in 2011, and they currently make up about 20% of the population. Twenty years ago, when the silent generation was in a similar age range (56 to 73), they only made up about 15% of the population.
The last boomers will turn 65 in 2029, and because they represent a larger percentage of the population than previous aging generations, the long-term care industry will face new challenges and growth over the next decade.
Increasing life expectancies
Baby boomers also have higher life expectancies than previous generations. For 65-year-olds, life expectancies went from 11.9 years between 1900 and 1902 to 19.1 years in 2010, according to a U.S. Census Bureau report.
A greater number of caregiving facilities may be necessary to accommodate the growing number of people who are living longer.
Increased risk
As people age, they are also at greater risk of injuries and disabilities that may make care necessary. Disabilities affect 2 in 5 adults over the age of 65, according to the Centers for Disease Control and Prevention (CDC).
Between 2015 and 2065, the National Center for Health Statistics expects the number of older people with physical or cognitive disabilities to grow by almost 150%, from 6.3 million to 15.7 million.
The cost of long-term care
A 2015 study from the Department of Health and Human Services found that seniors who require long-term care will need $138,000 worth of long-term support services, on average. While insurance and public programs will cover about half of these costs, the study also estimated that about 17% of seniors will pay over $100,000 out of pocket on long-term care expenses.
Currently, the median national monthly cost for nursing home care is $7,756 for a semiprivate room and $8,821 for private care, and costs may go up significantly in the coming decades.
Median nationwide cost of nursing home care
| Year | Semiprivate room* | Private room* |
| --- | --- | --- |
| 2020 | $7,756 per month | $8,821 per month |
| 2030 (estimate) | $10,423 per month | $11,855 per month |
| 2040 (estimate) | $14,008 per month | $15,932 per month |
*Data based on Genworth's 2020 Cost of Care Survey
Nursing home costs do vary by state, though. According to Genworth's 2020 Cost of Care Survey, the least expensive state for nursing home care in a semiprivate room is currently Texas at $5,019, and Missouri has the cheapest average for a private room at $5,749. On the other hand, Alaska's nursing home costs are an outlier at $37,413 per month for a semiprivate room and $36,378 for a private room.
Women spend 2.5 years in long-term care on average, while men spend an average of 1.5 years in long-term care.
Alaska's exorbitant costs are related to population distribution. More rural areas may face staffing shortages. Heat and electricity can also be expensive in certain regions. Additionally, only about 11% of Alaska's population is over 65, one of the lowest ratios in the country. This means the amount of care available is low because there hasn't been great demand historically. However, Alaska is also one of the fastest aging populations in the country, and its limited nursing home availability could make costs skyrocket even higher in the next decades.
Other expensive areas for nursing home care include Washington D.C. and Connecticut, while Oklahoma and Louisiana offer some of the lowest monthly costs.
According to Genworth, other long-term care options are generally more affordable, but they may not suit residents with more extensive care needs.
Home health aides currently cost $4,576 per month on average. Genworth estimates this rate may increase to $6,150 per month by 2030.
Adult day care currently costs $1,603 per month on average. Genworth estimates this rate may increase to $2,154 per month by 2030.
Assisted living currently costs $4,300 per month on average. Genworth estimates this rate may increase to $5,779 per month by 2030.
Genworth's survey also found that COVID-19 amplified the supply and demand gap for long-term home-based care. 92% of surveyed home care providers saw demand increasing, and 54% said their rates were increasing due to the shortage of skilled labor.
According to the COVID Tracking Project, deaths in long-term care residences contributed to over one-third of all U.S. COVID-19 deaths. The effects of COVID-19 on long-term care facilities may further promote aging in place with in-home help among seniors, a trend that was already popular. An AARP study found 90% of individuals over 65 want to stay in their homes as long as possible, with 80% anticipating they will spend the rest of their lives in their homes.
However, the cost of long-term care really depends on how much care a person needs. According to the Department of Health and Human Services, nearly half of adults over 65 won't require long-term services or support, but that means that more than half of Americans over the age of 65 will require long-term care.
Of the people that will need long-term care, about 27% are expected to require less than two years of care, 12% need two to five years, and 14% require five or more years of care.
Long-term care insurance statistics
Currently, Medicare does not cover nursing home stays longer than 100 days, but most nursing homes will accept Medicaid payment if the resident qualifies. If an older person doesn't qualify for Medicaid, they'll likely have to arrange for another source of funding, like long-term care insurance.
Long-term care insurance helps a large number of people, according to the 2019 Milliman Long Term Care Insurance Survey. In 2017, long-term care insurance paid out more than $3 billion total in claims to over 100,000 individuals.
The average benefit covers $65,756 in long-term care costs, but averages vary at different types of long-term care facilities.
For nursing homes, the average individual claim size is $63,751.
For assisted living facilities, the average individual claim size is $93,635.
For home-based care, the average individual claim is $43,467.
As people get older, they're more likely to put long-term care insurance to use. According to AARP, individuals over the age of 70 file 95% of long-term care insurance claims, and nearly 70% of total claims are filed by people older than 81.
However, the chance of being turned away by insurance companies can also increase with age. Only 22% of applicants ages 50 to 59 are denied long-term care coverage, while 44% of individuals ages 70 to 79 are rejected, according to the American Association for Long-Term Care Insurance.
Nursing home statistics
According to a 2010 study, mental disorders represent about 48% of all nursing home admissions, while physical (somatic) disorders comprise 43% and social/emotional problems make up the remaining 8%.
Among somatic disorders in nursing homes, the most common are circulatory system diseases (like strokes or heart failure), nervous system diseases (like Parkinson's disease) and musculoskeletal diseases (like osteoarthritis). Complications from diabetes, including cardiovascular disease, nerve damage and kidney damage, are also contributing to a growing number of nursing home admissions.
Memory care statistics
As mentioned above, nearly half of nursing home residents have cognitive impairments like dementia, and according to a report from the Alzheimer's Association, 59% of patients who stay over 100 days in a nursing home have memory diseases.
Cognitive patients in nursing homes may have more advanced diseases than those in memory care and other treatment facilities. While memory-targeted assisted living residences may offer therapies and activities meant to stimulate cognitive activity, nursing home care is typically targeted to patients who need greater medical attention or are nearing the end of their lives.
However, memory-focused care can also be found in other long-term care facilities.
Home health care: 32% of home health care recipients are Alzheimer's patients.
Adult day care: 31% of patients receiving adult day services have dementia, and 10% of adult day care centers specialize in memory care.
Assisted living: 42% of assisted living residents have memory impairments. In most assisted living facilities (58%), patients with cognitive impairments are often treated in specific memory care wings. These sections offer increased attention versus traditional assisted living facilities.
With the growing number of people over 65, the percentage of people with cognitive impairments is expected to grow. Currently, over 6 million seniors have Alzheimer's disease. By 2050, this number is expected to reach 12.7 million. When coupled with the rising cost of long-term care, this could increase the burden on unpaid caregivers to take care of loved ones who otherwise may not be able to afford care.
Currently, over 11 million people provide unpaid care to Alzheimer's patients, spending over 15 billion hours helping in 2020. Most of these caregivers are family members or loved ones, spending an average of 26.3 hours per week taking care of the patient.
Hospice care statistics
Hospice care is a comfort-focused level of care for terminal patients. About 30% of hospice patients have a principal diagnosis of cancer, over 17% have circulatory or heart issues, and more than 15% have dementia. Respiratory issues, strokes and kidney diseases are also common ailments for hospice patients.
Hospice caregivers regularly visit patients at their residences. According to a report by the National Hospice and Palliative Care Organization (NHPCO), 55% of hospice care days in 2018 were spent at private residences, compared to 19.74% at assisted living residences and 17.27% at nursing homes.
If a physician has provided the patient a prognosis of under six months to live, Medicare will automatically cover hospice. In 2018, hospice served over 1.5 million Medicare beneficiaries, averaging 89 days of care per person. Alzheimer's/dementia patients receive the most care on average, about 105 days.
Article sources

ConsumerAffairs writers primarily rely on government data, industry experts and original research from other reputable publications to inform their work. Specific sources for this article include:
Did you find this article helpful?
|
You're signed up
We'll start sending you the news you need delivered straight to you. We value your privacy. Unsubscribe easily.