2023 identity theft statistics
See who's most at risk by age, state and metro area

Written by

Edited by

ID theft occurs when someone steals another person's sensitive personal information. It's slightly different from ID fraud, which involves the actual use of someone else's sensitive information in a fraudulent or deceptive way.
To get a thorough look at identity theft patterns over the last year, we analyzed recent relevant data from the Federal Trade Commission and other government agencies that deal with theft and fraud. We've outlined these insights in a more digestible format below.
---
Key insights
Recorded instances of identity theft have soared by 584% over the last 20 years. In the last decade, Louisiana, Delaware and Pennsylvania saw the largest increase in identity theft reports per 100,000 people.
Thirty-somethings reported identity theft more frequently than any other age group in 2022, accounting for almost 26% of all reported cases in 2022.
Georgia had the highest number of reported identity theft cases per capita in 2022.
There were 441,822 cases of credit card fraud reported over the past year, making it the most common type of ID theft in 2022.
ID theft by state
According to The Federal Trade Commission's "2022 Consumer Sentinel Network Data Book," Georgia saw the highest number of ID theft reports per capita in 2022. There were 574 reported cases per 100,000 residents in Georgia last year; Louisiana, second on the list, had 534 per 100,000 residents, and Florida, third, had 524 per 100,000 people.
Georgia
Louisiana
Florida
Delaware
Nevada
Texas
Pennsylvania
Alabama
South Carolina
Mississippi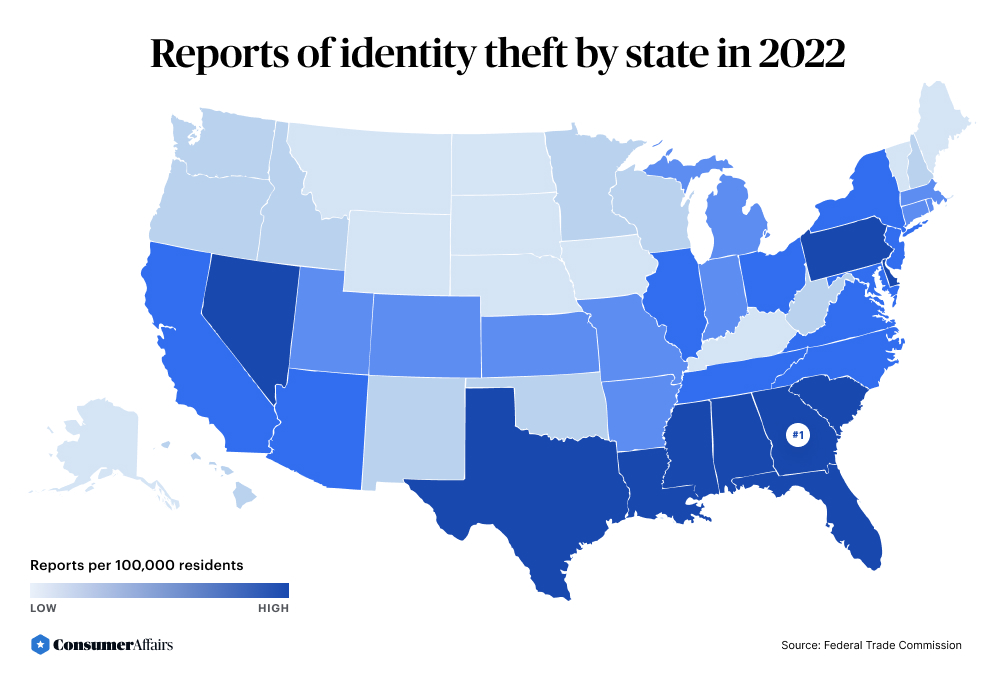 Which metro areas report the most ID theft cases?
In 2022, the Tuscaloosa, Alabama, metropolitan statistical area saw by far the most reported instances of ID theft per capita, with 1,123 cases per 100,000 residents. The Baton Rouge, Louisiana, metro area, with the second-highest rate, reported significantly fewer cases last year: 974 per 100,000 people.
Tuscaloosa, Alabama
Baton Rouge, Louisiana
Miami-Fort Lauderdale-Pompano Beach, Florida
Lafayette, Louisiana
Atlanta-Sandy Springs-Alpharetta, Georgia
Houston-The Woodlands-Sugar Land, Texas
Sumter, South Carolina
Savannah, Georgia
Orlando-Kissimmee-Sanford, Florida
Montgomery, Alabama
Who's most vulnerable to ID theft?
Of the 1,108,609 total identity theft reports in 2022, 30- to 39-year-olds made up 25.9% of victims in the U.S. This group reported more cases of every type of ID theft (with credit card theft topping the charts, followed by "other" ID theft and loan or lease fraud) than any other group.
It's worth noting, however, that 30- to 39-year-olds made up the largest percentage of Americans in 2021, with 30-somethings accounting for almost 13.7% of the U.S. population that year. Still, on a per-capita basis, 30- to 39-year-olds reported ID theft at a higher rate than any other age group (0.6%). Those in their 40s reported ID theft at the second-highest rate (0.5%).
One distinction to remember is the difference between ID theft and ID fraud. ID theft is stealing someone's sensitive information, and ID fraud is the act of using that information to steal money or commit other crimes. In 2022, 30- to 39-year-olds reported higher instances of both ID theft and fraud than any other age group. In terms of money stolen due to ID fraud, however, 40- to 49-year-olds experienced the biggest total dollar loss ($840 million).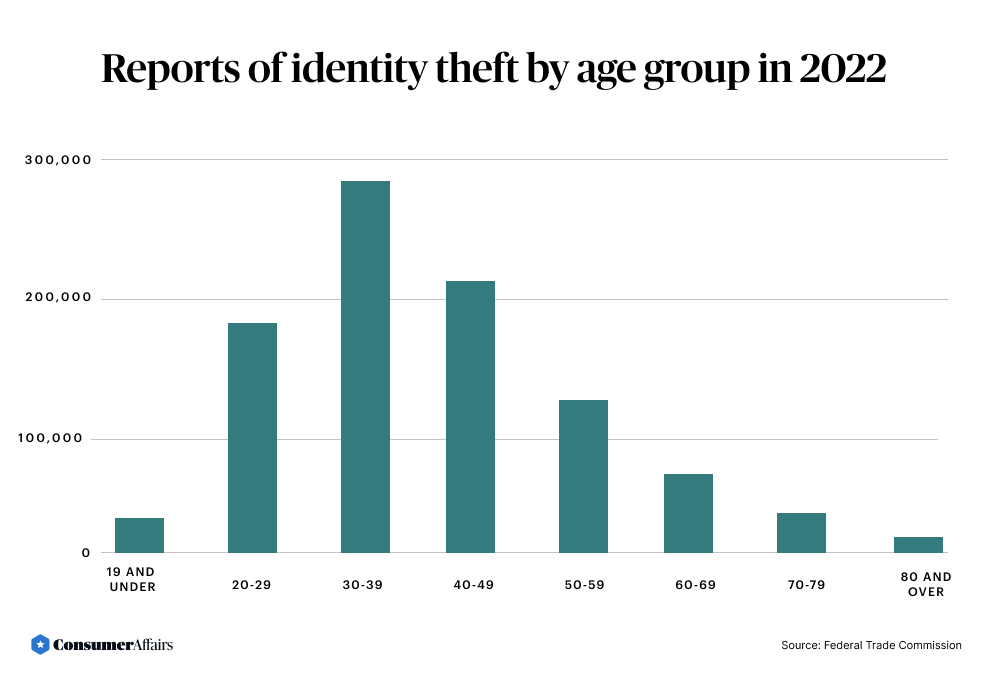 Most common types of ID theft in 2022
Credit card fraud was the most common type of ID theft in 2022, with 441,822 reported cases in 2022. This type of fraud, which accounted for about 40% of more than 1.1 million ID theft reports in 2022, involves thieves using your personal information to either steal from an existing credit card account or to open a new one in your name.
"Other" identity theft made up about 29% of all reports in 2022. This category includes fraud related to online shopping, payment accounts, emails and social media, medical services, insurance and more.
People in their 30s reported the most of each type of fraud. Americans 80 and over reported the fewest cases in almost all categories, though those 19 and younger reported the fewest instances of bank and credit card fraud.
There were also 14,501 credit card fraud reports from military consumers in 2022. Credit card fraud was the most common type of identity theft reported by military consumers, followed by bank fraud.
Types of ID fraud reported in 2022
| Identity theft type | Number of reports |
| --- | --- |
| Credit card | 441,822 |
| Other | 326,590 |
| Bank | 156,099 |
| Loan or lease | 153,547 |
| Employment or tax-related | 103,402 |
| Phone or utilities | 77,284 |
| Government documents or benefits | 57,877 |
Note: Figures may include reports of multiple types of ID theft. Source: Federal Trade Commission
How do identity thieves get our information?
Phishing and ransomware were among the most common categories of cyberattacks leading to data breaches in 2022, the Identity Theft Resource Center's annual report states. Cybercriminals in 2022 seemed to focus their energy on resetting passwords, modifying authentication processes and attacking identities rather than deactivating antivirus and firewall technologies and log-tampering efforts, according to CrowdStrike's 2023 Global Threat Report.
How to prevent ID theft
Most people operating in today's financial world are vulnerable to identity theft in some way, unfortunately. Once someone has hold of your Social Security number, for instance, they might have enough information to access your bank accounts.
FTC data suggests that ID thieves' preferred method of contact in 2022 was texting, followed by phone call and email.
Over the last year, among fraud reports with a contact method identified, text messaging was most common, accounting for 22% of total reports, the FTC report says. Fraud through phone calls (20%) and email (19%) was also common.
Whether you're texting, calling, emailing or just browsing the internet, make sure to be vigilant in protecting your privacy — and your identity. The FTC recommends employing two-factor authentication and unique passwords, especially for email and online bank accounts.
You can freeze your credit with Experian, Equifax and TransUnion so no one can use your credit to their advantage. There are also services that let you monitor your credit and alert you to any suspicious activity.
It's also important to keep track of your wallet and cards and to keep any PIN information to yourself. When you're online, use secure websites (these start with "https") and keep your private information off public servers and computers.
Are solutions coming?
In March 2023, the White House proposed spending $600 million on fraud and identity theft prevention measures and $400 million to help victims of identity theft. It also announced an executive order that will aid federal agencies in preventing identity theft, calling for $300 million toward improving identity verification systems.
The American Rescue Plan Act, which President Joe Biden signed into law in 2021, includes $1.6 billion in funds to help prevent fraud and identity fraud that will be available to states by June 2023.
Bottom line
We live in a hyperconnected world, bound not only to smartphones and computers but also more and more smart vehicles, smart homes and even smart cities. Hackers are always lurking, often finding weaknesses in our supposedly secure networks.
Though the jump in ID theft reports over the last two decades is significant, the 22.7% decrease in these reports from 2021 to 2022 provides some hope for the next few years.
If your identity is stolen, be sure to report it on the FTC's IdentityTheft.gov website and — if you're a victim of cybercrime — to the FBI's Internet Crime Complaint Center. Also, check out the nonprofit Identity Theft Resource Center for tips for prevention and other security best practices.
---
Article sources

ConsumerAffairs writers primarily rely on government data, industry experts and original research from other reputable publications to inform their work. To learn more about the content on our site, visit our FAQ page. Specific sources for this article include:
Did you find this article helpful?
|
You're signed up
We'll start sending you the news you need delivered straight to you. We value your privacy. Unsubscribe easily.