Cell phone statistics 2023



Written by

Edited by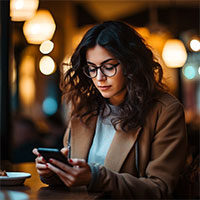 When Motorola introduced its first mobile phone in 1983, the company hoped for a frenzy. But even the best marketers couldn't have predicted the success of mobile phones. Today, mobile phones are an essential part of daily life, as more humans depend on them for everything from communication and work to social networking and online shopping.
---
Key Insights
About 92% of Americans own a smartphone.
The average American spends 4 hours and 25 minutes on their mobile phone each day and checks their phones 144 times per day.
Nearly 57% of Americans consider themselves "mobile phone addicts."
Almost all Americans (97%) own a mobile phone. This translates to about 325.4 million people.
Children, on average, get their first phones at 11.6 years old. By 15, almost all children have a cell phone.
About half (50.6%) of the world's internet traffic comes from mobile phones.
Phone ownership trends
Since 2015, cell phone ownership has increased 16%. About 97% of Americans owned a feature phone or smartphone in 2022, compared to 85% in 2015.
Today, 92% of all cell phone owners have a smartphone.
Smartphone shipments in 2023 are expected to reach 1.15 billion devices worldwide. While this is a staggering number of shipments, such orders would represent a 6% decline year-over-year.
Apple is the leading smartphone brand in the United States, representing more than half of the market share.
| Brand | Share of ownership |
| --- | --- |
| Apple | 57.79% |
| Samsung | 26.29% |
| Lenovo (Motorola) | 4.34% |
| Google | 2.11% |
| LG | 1.47% |
| Others | 5.99% |
Mobile phone ownership by age
Almost all Americans (97%) own a mobile phone. This translates to about 325.4 million people. Those aged 65 and over are the least likely to have a phone.
Children, on average, get their first phones at 11.6 years old. The sharpest increase in kids getting a phone happens between 10.7 and 12.5 years of age. By 15, almost all children have a cell phone.
Phones vs. other electronic devices
American households have, on average, nearly six internet-connected devices. Generation Z is more "connected" than their older counterparts, having 6.6 devices in the home on average.
Among smartphone owners in the US, 17% of people reside in "smartphone-only" households. Just 8% of households own four types of connected devices (a smartphone, laptop, tablet, and smartwatch)
Many (42%) of American households own two connected devices: a smartphone and either a  a laptop, tablet, or smartwatch/wearable.
Though 91% of Americans have access to the internet (via home broadband or a smartphone), the rising cost of broadband service is a concern for many. As a result, 15% of adult Americans are dependent on their smartphone for internet access.
A shocking number of people upgrade their phones every year (11.89%), and 4.28% purchase a new phone every six months.
Most cell phone users (55.47%) upgrade their phones every two to three years.
Mobile phone usage and habits
Caught in an endless cycle of notifications and pings, Americans are feeling tied to their phones now more than ever.
Cellphone users look at their phones 144 times a day on average.
Americans spend an average of 4 hours and 25 minutes on their phones per day, up 52% from 2022, when Americans used their phones for 2 hours and 54 minutes per day.
The most common phone activities are checking email, taking photos, and surfing the internet.
| Activity | Usage % |
| --- | --- |
| Email | 83% |
| Photography | 83% |
| Internet surfing | 76% |
| Navigation | 73% |
| Ecommerce/online shopping | 71% |
| Social media | 67% |
| Music/podcasts | 66% |
| Watching clips/short videos/messages | 65% |
| Banking | 60% |
| Video calls | 59% |
| Shooting videos | 58% |
| Reading the news | 58% |
| General purpose apps | 57% |
| App-based gaming | 52% |
| Streaming (TV/videos) | 44% |
| Online video gaming | 35% |
Self-professed smartphone addictions (fear of being without a mobile phone) are becoming increasingly common as more people rely on technology for relationships, work, learning, and entertainment.
Nearly 57% of Americans consider themselves "mobile phone addicts."
Three in four admit to feeling uncomfortable without their phones.
One in six sleep with their phones at night.
Almost half (47%) say they panic when their battery drops below 20%.
Mobile shopping
By 2025, mobile phone sales (known as m-commerce) are forecasted to double, amounting to approximately 710 billion dollars. By comparison, m-commerce sales topped 360 billion in 2021.
Roughly half, or 50.55%, of internet traffic comes from mobile phones.
Three in four Americans (76%) have bought something online using mobile phones. Those under age 50 are most likely to buy online (92%).
About one-third (32%) of the US population uses their phone to buy something online at least once a week.
FAQ
How many people use mobile phones in the US?

About 97% of the US population own a smartphone or feature phone. 85% of these owners own a smartphone, while 11% own a feature phone.
What is the difference between a smartphone and a feature phone?

A feature phone, also called a dumb phone or a brick phone, doesn't have many features and is usually used for calling and texting. A smartphone on the other hand has extended functionality for apps, social media, photography and videography, video streaming, and a lot more.
How old do people start using mobile phones?

About 25% of children have their first phones at 10.7 years old, while 75% have one by 12.6 years old, according to a study by Stanford Medicine.
---
Article sources

ConsumerAffairs writers primarily rely on government data, industry experts and original research from other reputable publications to inform their work. Specific sources for this article include:
Did you find this article helpful?
|
You're signed up
We'll start sending you the news you need delivered straight to you. We value your privacy. Unsubscribe easily.