What are the best states for renters?
South Dakota, Wyoming and Montana rank best in our study

Written by

Key takeaways
North Dakota ranked highest for low rent costs, with exceptionally cheap rent and renters insurance.
Vermont ranked highest for housing availability, with the largest number of people per capita looking for roommates.
The best metro-area prices on the internet are in Wichita, Kansas, St. Louis and Cincinnati.
As of April 2022, more than 5 million Americans were unemployed and looking for work. With so many out of work (and while listing prices skyrocket), renting may be the best housing option for most Americans until the market returns to normalcy.
If you do decide to rent in the near future, you'll want to consider availability, affordability and the area's average living expenses, including renters insurance and internet service.
In this study, we combined twelve metrics from ten reputable sources (including Redfin, FEMA and the U.S. Census Building Permits Survey) that reflect the cost, availability and security of renting across all 50 states. The result: a specialized ranking of renter-friendliness. Read on to see which states top our list.
Best states for renters, ranked
Before moving to a new city or state, it's important to find out whether or not your destination is the right fit for your budget. Rent prices might be the first thing you look at, but other factors to consider include rental availability, security and safety. Here are the states that ranked highest and lowest on these metrics combined:
Top 5:
1. South Dakota
2. Wyoming
3. Montana
4. North Dakota
5. Delaware
Bottom 5:
50. Connecticut
49. Georgia
48. Illinois
47. Ohio
46. Missouri
South Dakota, Wyoming and Montana take the lead in 2022 overall. These top three states are the top choices based on affordability and availability of rentals, while the fifth-place state, Delaware, ranks considerably higher in security (based on eviction rates, disaster frequency and laws that benefit tenants). Delaware even offers a rental and utility assistance program, which provides eligible renters with up to 18 months of financial help.
North Dakota ranked best for cost, with exceptionally affordable options for renters insurance.
Vermont ranked best for availability, with a significant number of housing vacancies and many people looking for roommates.
Hawaii ranked best for security, with low eviction rates and very few federally declared disasters in the state over the last five years.
Standout states in each category
Here's a breakdown of the states that ranked highest and lowest based on individual factors of availability, safety, eviction rates, rental prices and the cost of renters insurance and utilities:

At the end of 2021, analysts predicted 2022 would bring home price increases of 13% to 16%. More recent estimates from Fannie Mae place the upcoming increases at a slightly more conservative but still formidable 11% for 2022. As the housing market stays hot, many are trying to cut costs and find more frugal ways of living.
Fortunately, there are still some affordable places left to live. According to our analysis, the lowest metropolitan-area rent prices are in Montana, South Dakota and North Dakota. Rent in these states can be as low as $728 to $734 per month.
Those on a tight budget might want to know that the costliest monthly rents are currently in Hawaii ($2,391), California ($2,369) and Massachusetts ($1,845). Also, if you want lots of rental options to choose from, you'll want to stay away from Oregon, Washington and Connecticut. These three states suffer from the lowest housing vacancy rates in the nation. On the other hand, new housing may soon be cropping up in some Rocky Mountain states: Utah, Idaho and Colorado had the most authorized housing construction permits in 2021.
Delaware, Rhode Island and Hawaii were the three states with the fewest FEMA-declared disasters over the past five years. Some renters may feel more secure looking for homes in these locales.
Best cities for renters
Whether you're looking for the most affordable internet or rent, we've identified and compiled the best cities to live in based on rental costs, price-to-rent ratio and utility and internet costs.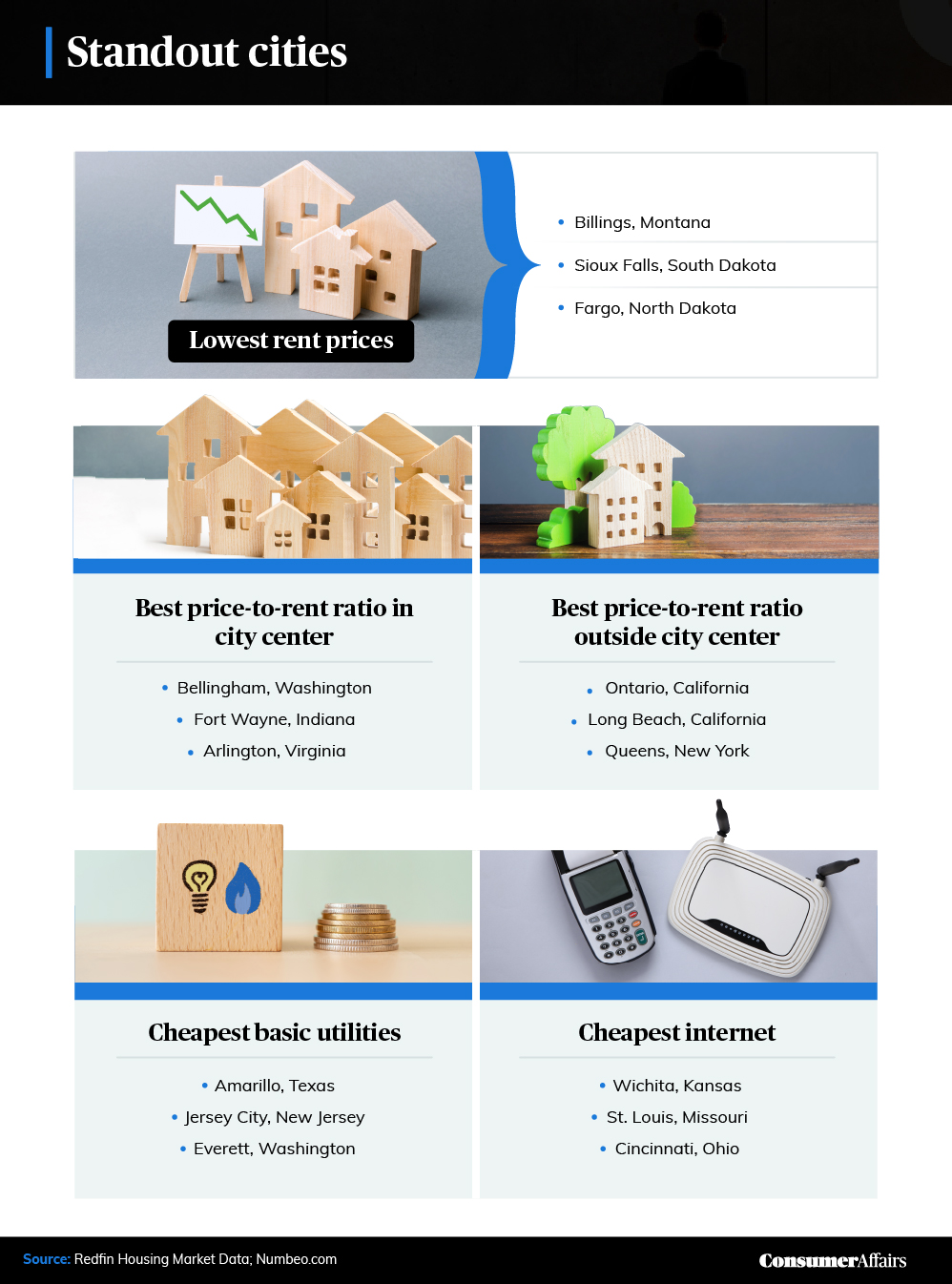 Renters who prioritize access to inexpensive internet service might want to look to the Great Plains states for the next home. Wichita, Kansas, is the metro area with the most affordable internet in the U.S. Other leaders in this category include St. Louis and Cincinnati.
Meanwhile, Ontario and Long Beach, California, and Queens, New York, are excellent choices for the best price-to-rent ratios outside their city centers. The housing atmosphere is much more favorable to renters than landowners in these areas.
Final thoughts for renters
Today, buying a house may not be an option for most people. Listing prices are sky-high, and many workers have been laid off due to the pandemic, making renting a more attractive option for many Americans. Fortunately, living somewhere cheap doesn't always mean you have to sacrifice safety or choice.
According to our ranking, the most renter-friendly states are South Dakota, Wyoming and Montana — and if security is more important to you, consider looking at the fifth-place state, Delaware. If price isn't an obstacle for you and you don't mind living the laidback island life, Hawaii is another safe option.
Methodology
This ranking synthesized 12 metrics from 10 data sources, which were then combined into three subscores: cost, availability and security.
Metrics and weights
Each of our three metrics (outlined below) was weighted individually to calculate the relevant subscore, then the subscores were averaged and normalized to calculate the total score.
Cost (one-third of total)
Price-to-rent ratio, city center (Numbeo): Full weight (~15%)
Price-to-rent ratio, outside city center (Numbeo): Full weight (~15%)
Price-to-income ratio (Numbeo): Full weight (~15%)
Rent prices (Redfin): Double weight (~31%)
Utility costs (Numbeo): Full weight (~15%)
Renters insurance prices (National Association of Insurance Commissioners): Half weight (~8%)
Availability (one-third of total)
Number of people searching for roommates per capita (Roomster.com): Full weight (~33%)
Housing vacancy rates (U.S. Census ACS): Full weight (~33%)
New housing construction authorized in 2021 per capita (U.S. Census Building Permits Survey): Full weight (~33%)
Security (one-third of total)
Eviction rates (Eviction Lab): Half weight (25%)
Disaster declarations (FEMA): Half weight (25%)
Favorable laws toward tenants (Truckfrat): Full weight (50%)
For some metrics, data wasn't available for all 50 states. In the case of missing metric data, the measure was excluded from the weighted average calculation for that state, meaning state scores didn't suffer due to missing measures.
About ConsumerAffairs
ConsumerAffairs makes it simple for readers to make smart and informed choices about life's most important purchases. We rank the best products and services on the market today and provide resources like comprehensive guides and how-to articles for buyers.
Fair use statement
Hopefully you've enjoyed reading about the best states for potential renters and have gathered something valuable from the data here. Feel free to share this piece for noncommercial use, ensuring that you link back to our original article so our contributors receive credit for their hard work.
Did you find this article helpful?
|
You're signed up
We'll start sending you the news you need delivered straight to you. We value your privacy. Unsubscribe easily.