What would happen to your family if you died?
Preparing for when you're not there: a survey



Written by

Edited by

Key findings
Sixty-five percent of respondents had both a will and a life insurance policy.
Fifty-two percent created a will to avoid a financial crisis for their family — the most common motivation for doing so.
Thirty-eight percent said they don't have life insurance because they can't afford it.
It's something nobody wants to think about: What would happen to your loved ones if you passed away? Would you be able to avoid leaving them in a difficult financial situation?
It's normal to struggle with — and even to avoid — these questions, but it's extremely important to face these realities and get your affairs in order for the sake of your loved ones.
We surveyed over 1,000 people to get a sense of their end-of-life financial preparations for themselves and those they care for. We asked respondents whether they have a life insurance policy and what the roadblocks are for those who don't.
Preparing for the unthinkable
The pandemic has put a lot into perspective for many people, often prompting them to take steps to prepare for the unthinkable. End-of-life planning can be overwhelming, but there are plenty of things you can do to ease the potential burden on your family after you pass away.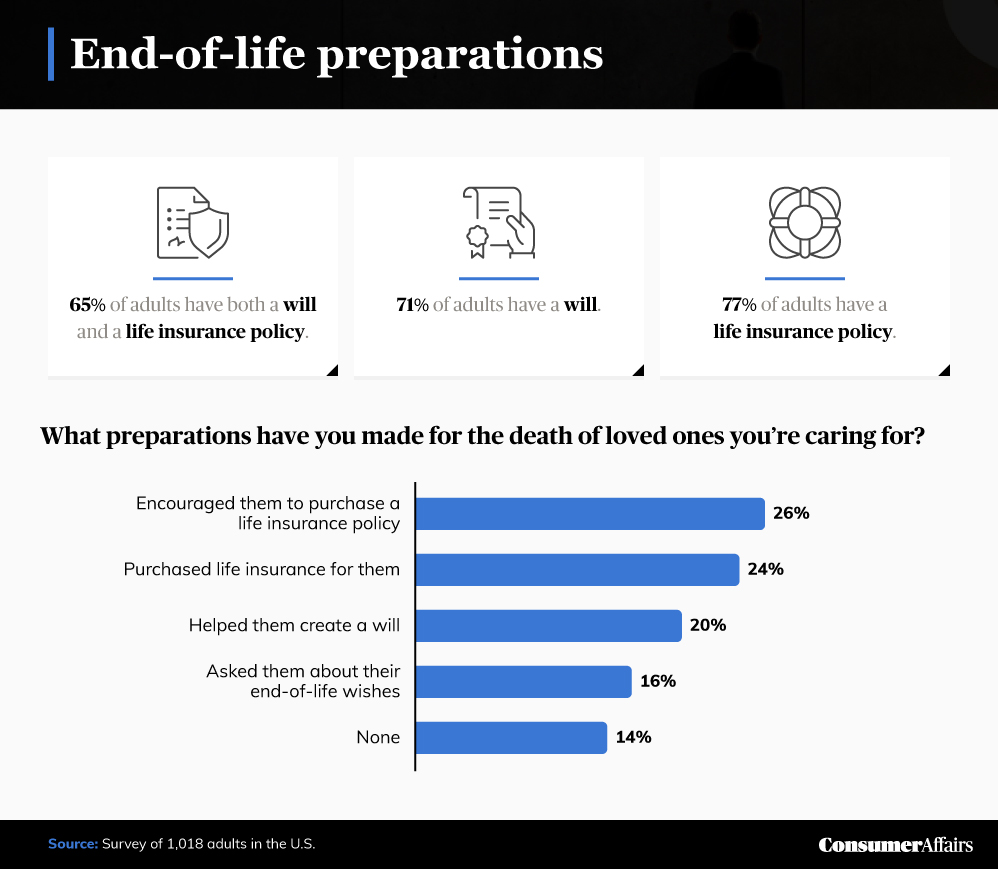 Making a will and purchasing a life insurance policy might be the most important steps you can take to make things easier on your loved ones after your passing, but how many Americans are financially prepared for their own death? As it turned out, 65% of survey respondents said they had both a will and a life insurance policy. Seventy-seven percent had a life insurance policy only, and 71% had just a will.
Twenty-six percent of respondents who were caring for a loved one nearing the end of their life said they had encouraged them to get a life insurance policy, while 24% actually purchased a policy for them. Twenty percent helped their loved ones create a will, and 16% said they had asked them about their end-of-life wishes.
Whether for yourself or someone you love, end-of-life preparations are difficult but necessary — by preparing, you can make sure your wishes are granted and help to alleviate any burden on your loved ones.
Reasons for planning
Creating a will is essential to ensuring your assets are dispersed according to your wishes and preventing any conflict within your circle after you pass away. Even if you don't think you have enough possessions to necessitate a will, you might have more assets than you realize.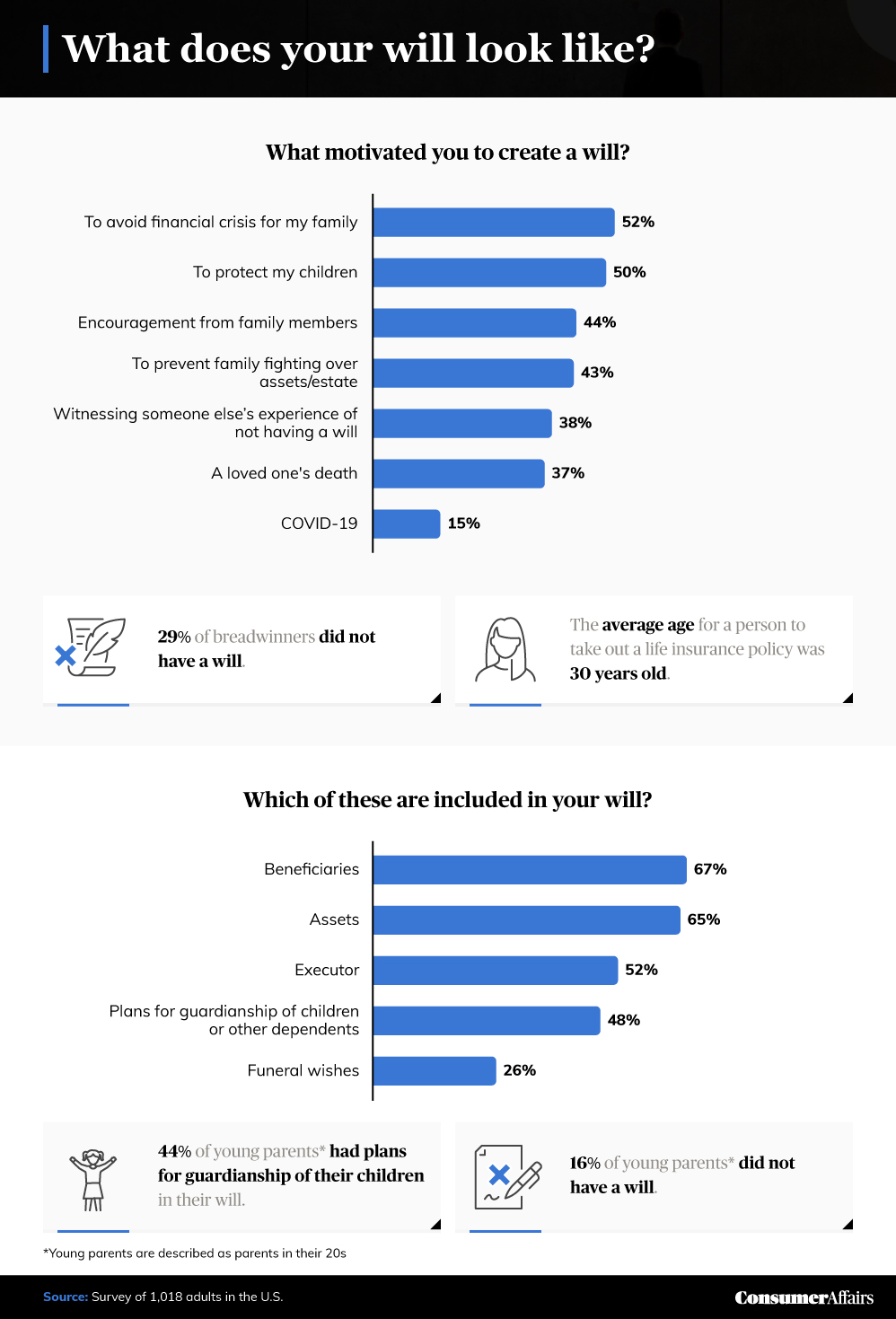 Motivation for creating a will varies from person to person, but it also depends on age and stage of life. An example of this from our study: Those in their twenties were more likely to have a will if they had children. However, only 44% of these young parents had plans for guardianship in their will.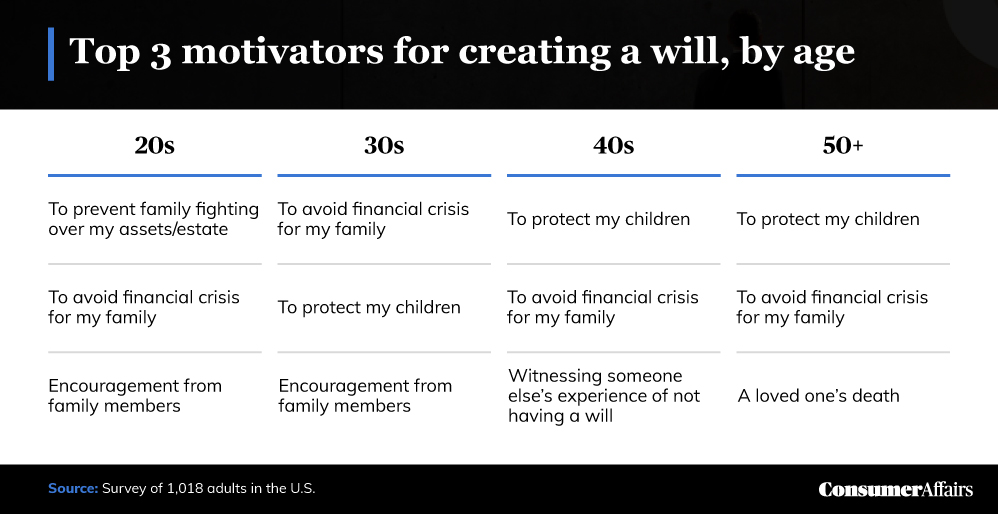 Notably, 29% of breadwinners said they don't currently have a will in place, but for respondents who did, their wills included beneficiaries (67%), assets (65%) and an executor (52%).
Looking out for family
Those with good enough financial standing may be able to set aside money for funeral expenses or even prepay for their funeral to take that burden off their family. Not everyone can afford this, but those who can may be able to soften their families' struggles after their passing.
Thankfully, 84% of respondents said that in the event of their death, their family would be able to afford a funeral for them — only 16% said their family wouldn't be able to pay or were unsure.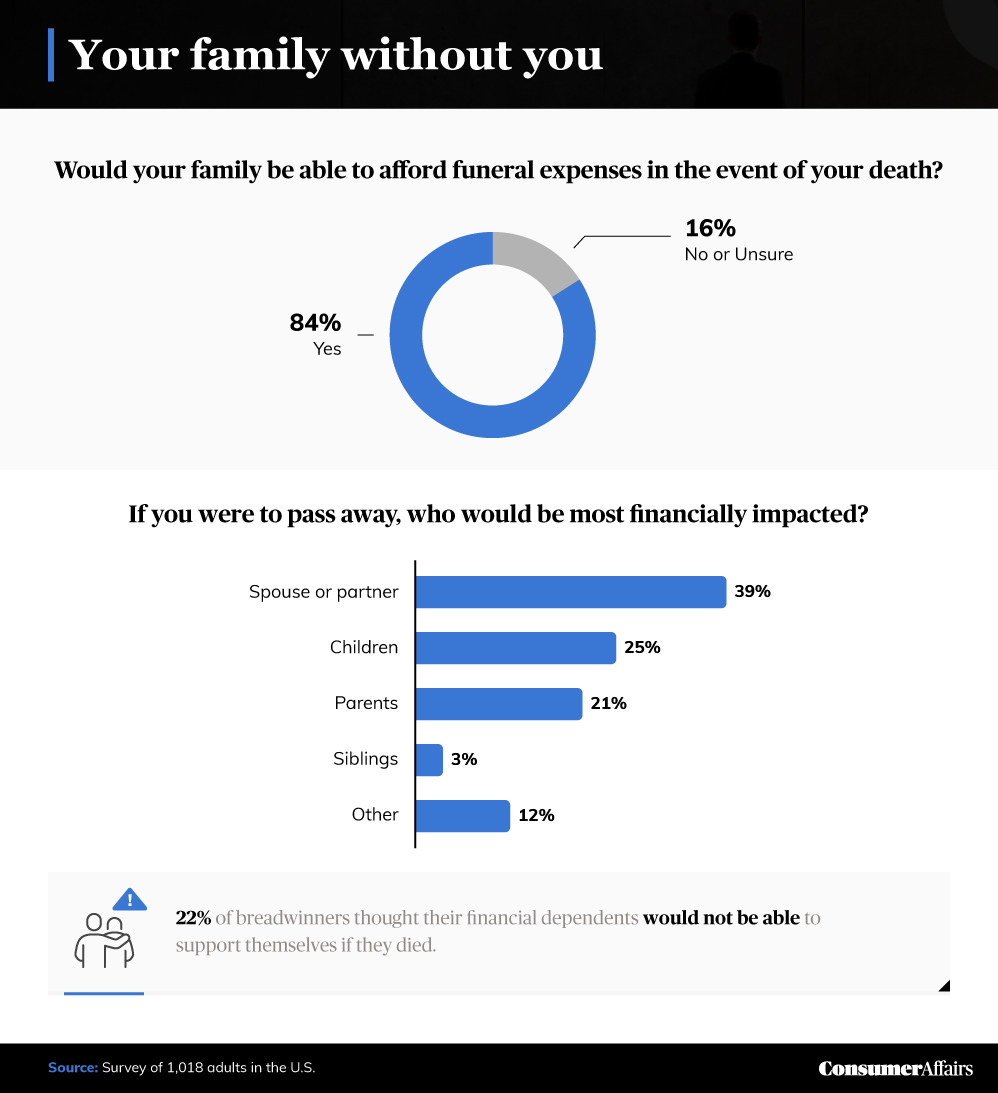 In terms of who'd be most impacted financially after their death, 39% of respondents said it would be their spouse or partner, followed by their children (25%), parents (21%) and siblings (3%).
Insuring your life
Depending on finances, having a life insurance policy may not be possible for everyone — but for those who can afford it, it's an incredibly smart and financially sound way of making sure your dependents and family members are taken care of when you die. A good life insurance policy can go a long way for your loved ones, though how much you should take out depends on what you can afford.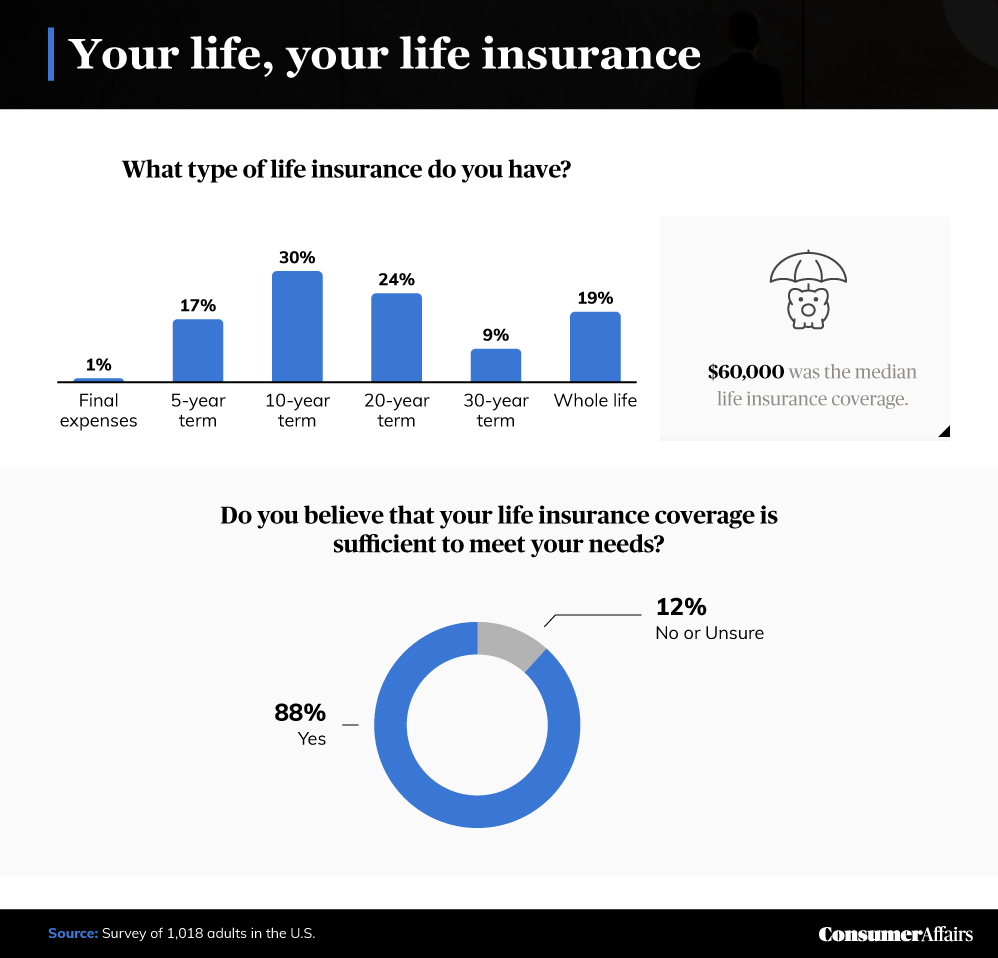 For respondents in our study, $60,000 was the average amount of coverage taken out for a life insurance policy.
Encouragingly, 88% of respondents said they felt their life insurance policy was sufficient to meet their needs, with 10 years (30%) being the most typical term among those surveyed.
Why some have not planned
Planning for the end of your life can take a serious burden off the shoulders of your loved ones, but it's ultimately a decision that comes down to your specific priorities.
It's important, regardless of your end-of-life goals and investments, to talk to someone about those plans — big or small. In our study, we asked respondents who they'd shared theirs with, as well as whether the pandemic had motivated them to be more upfront about these plans.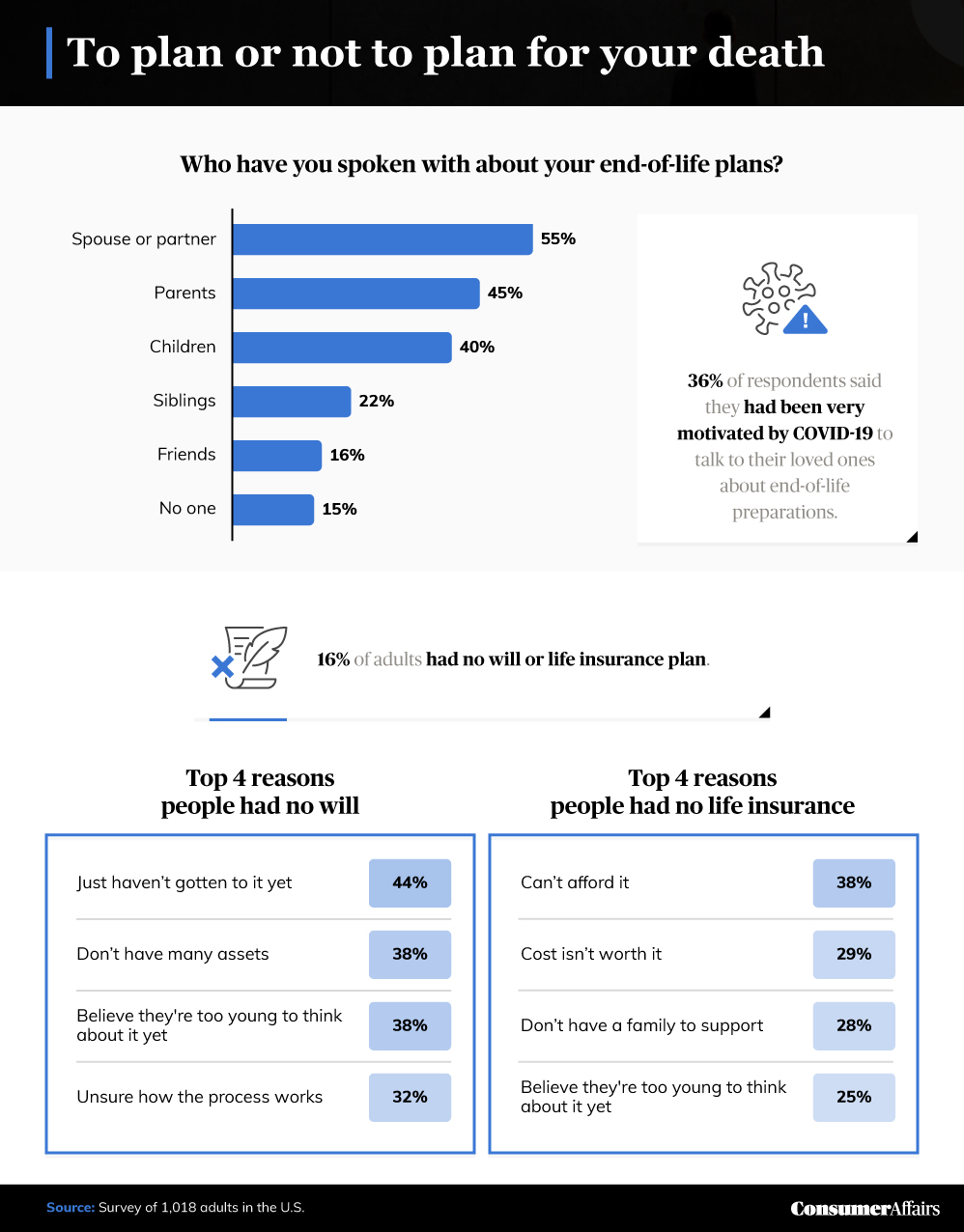 Overall, 55% of respondents said they'd spoken to their spouse or partner about their end-of-life plans, while 45% said they'd talked to their parents. Forty percent had spoken to their children, and 22% had confided in their siblings.
Additionally, 36% of respondents said the COVID-19 pandemic had motivated them to discuss their plans with loved ones, with 38% of those in their 30s or younger saying they were very motivated to do so and 29% of those 50 years or older saying the same.
Final thoughts
End-of-life planning isn't something most of us want to do, but death is inevitable, and many feel a responsibility to those they might leave behind. Whether you decide to go with a will, a life insurance policy or both, researching your options for the end of your life can make a huge difference to your loved ones — and can help ensure your assets go where you want after your death.
Methodology and limitations
We collected responses from 1,018 adults in the United States using Amazon Mechanical Turk. Of our participants, 62.6% identified as men, 37.3% identified as women and roughly 0.1% identified as nonbinary or nonconforming. Participants ranged in age from 20 to 75 years old, with a mean of 35. Young parents are categorized as parents in their 20s. Those who reported not contributing financially to their household or who failed an attention-check question were disqualified.
The data we present rely on self-reporting. Issues with self-reported data include but are not limited to the following: selective memory, telescoping, attribution and exaggeration.
Fair use statement
If you're thinking about a life insurance policy or navigating end-of-life preparations and found our study interesting, you're more than welcome to share it. We just ask that you link back to the study and that your purposes are noncommercial.
Did you find this article helpful?
|
You're signed up
We'll start sending you the news you need delivered straight to you. We value your privacy. Unsubscribe easily.