Do women have to work harder for a home?
And how much longer does it take them to save up?

Written by

Edited by

Key takeaways
Women have to save the longest to become a homeowner in Rhode Island, Kentucky and Hawaii.
Women have the shortest savings period to become a homeowner in Vermont, West Virginia and Montana.
Rhode Island, Kentucky and Oklahoma have the largest gender disparity in savings periods to become a homeowner.
Vermont, Connecticut and California have the smallest gender disparity in savings it takes to buy a home.
But, overall, considering the expectations and financial pressures women are faced with, how much longer might it take for them to save enough for a home than it takes for men? This study combines U.S. Census income data with state-by-state real estate data to determine how long it takes women to afford a home in each state.
Saving up for real estate
To determine how long it takes women to save enough money for a home, we first looked at the median pay for women in each state along with the median down payment in each state.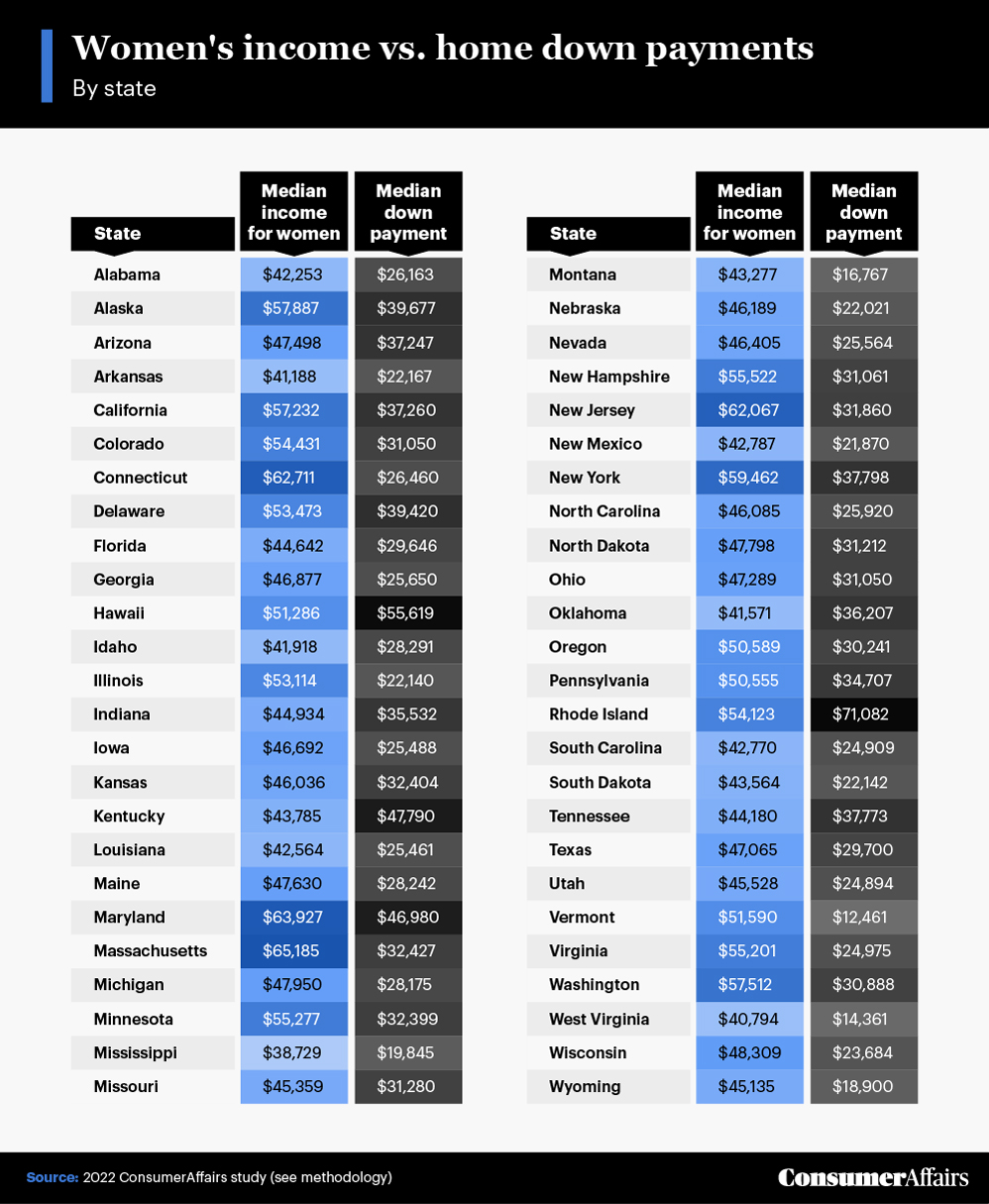 So, based on women's income and the amount they might need to save for a down payment, how long would it take to have enough money to buy a home? To find out, we coupled the data above with the Americans' average national savings percentages. The chart below shows how much time it might take for a woman to save for a home in each state.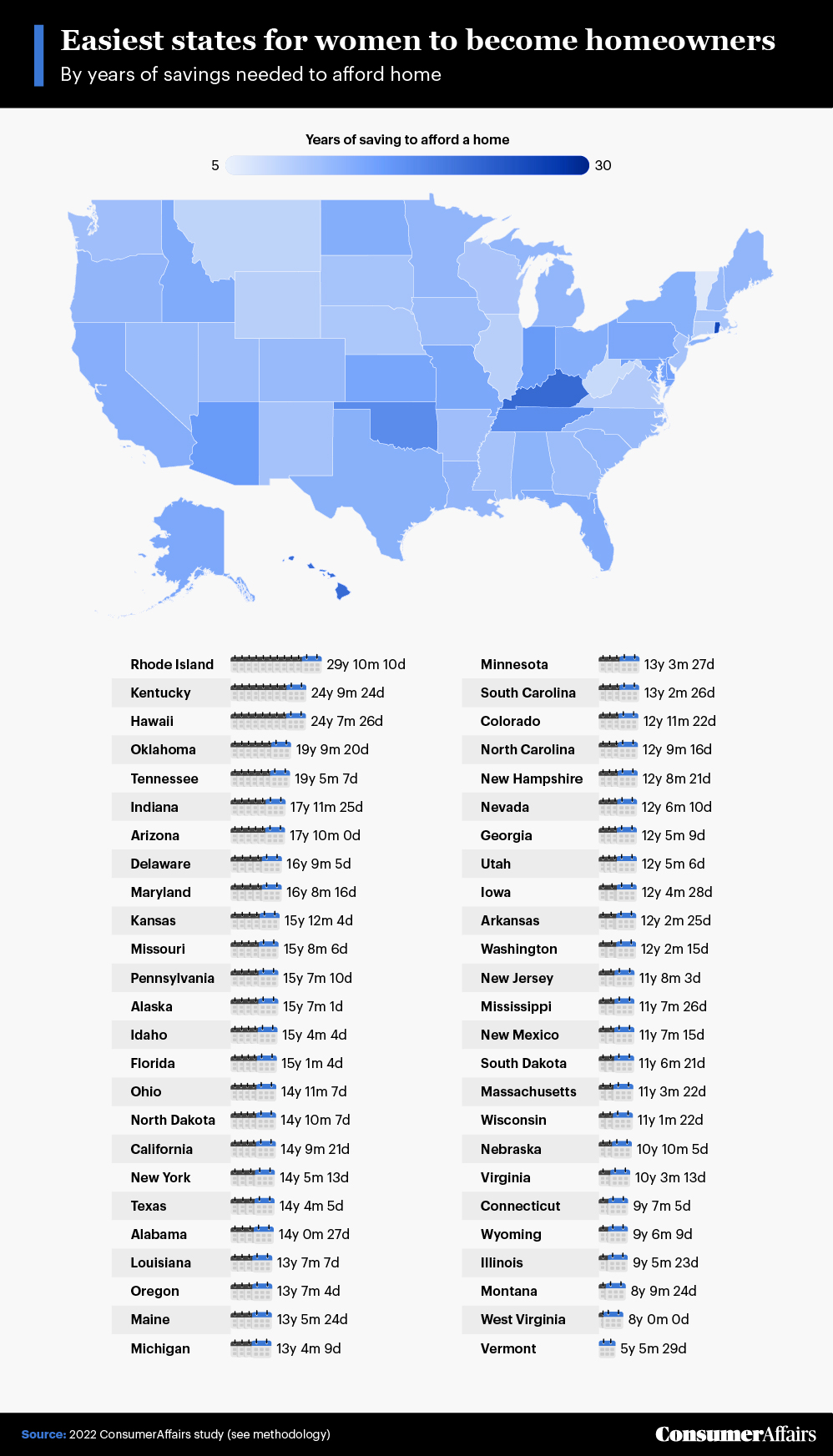 Vermont is the easiest place for a woman to afford buying a home, with the average woman needing to save for just five years, five months and 29 days for a down payment.
Women in Rhode Island likely have the hardest time: It could take them almost 30 years to buy a house. Although the median income of women in these two states is similar ($51,590 and $54,123, respectively), the median down payment for a house in Rhode Island is a whopping $58,621 higher than that in Vermont.
How much harder do women have it?
After determining how long it can take for women to afford homes, we compared their numbers to men's. The graph below shows how much longer than the average man a woman would need to save to afford a home in each state.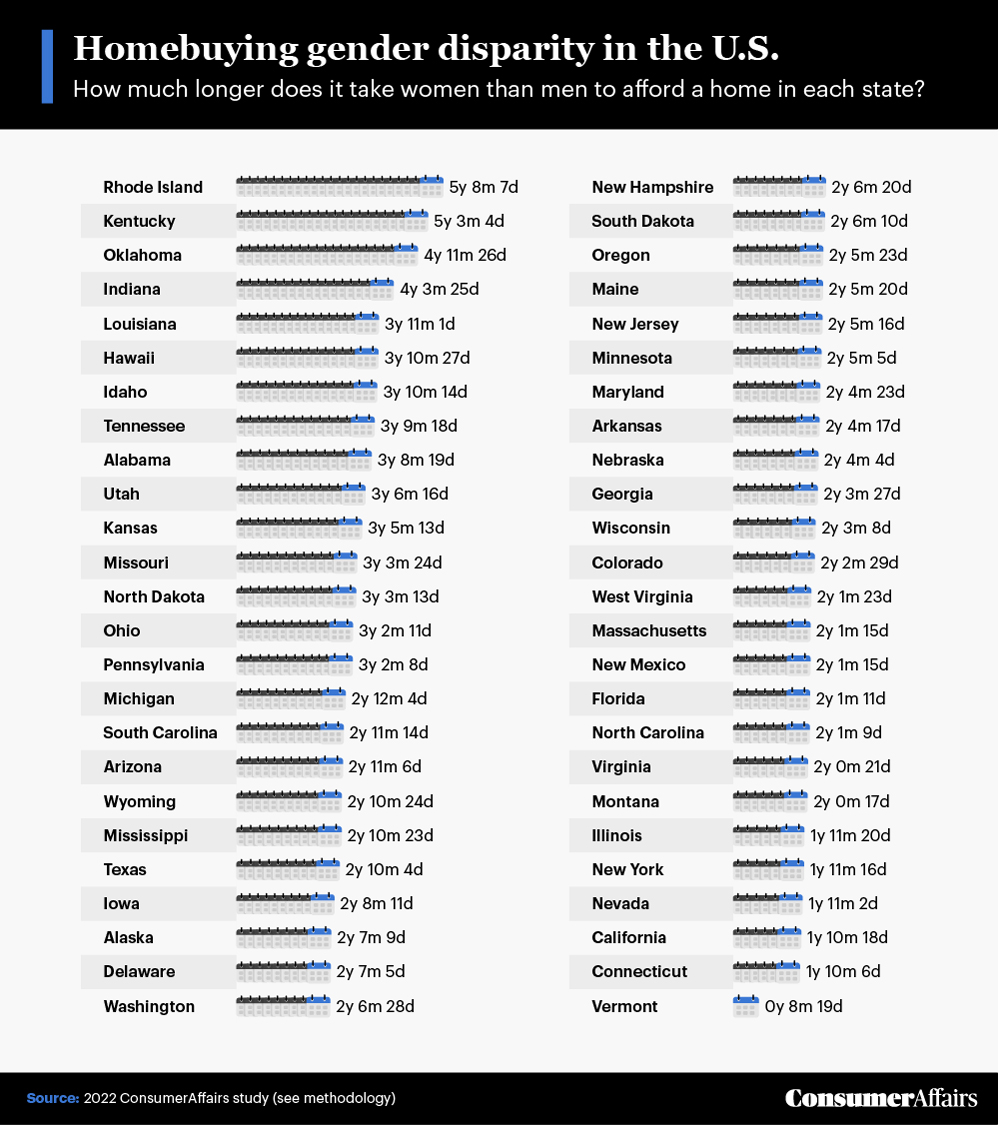 Along with being the most challenging state for women to save for a down payment, Rhode Island also has the most significant gender disparity regarding the time needed to save for a home. A woman would have to save for nearly six years longer than her male counterpart to buy a home in the state.
Kentucky and Oklahoma also have significant gender gaps in homebuying: It can take women four to five years longer than men to save for a home in these states.
On the other hand, Vermont has the smallest gender gap: It could take just under nine months longer for a woman to afford a home there than it would for a man. Connecticut and California also have relatively low gender disparity, with women needing to save for less than two years longer than men to afford a home. The gender disparity in Nevada, New York and Illinois was almost equally low.
Advice for women homebuyers
Buying a home is a considerable investment, but for many women, the goal of homeownership is especially tough to reach. Needing to save longer to afford a down payment means more work hours for women, who already earn less income than men (especially as they age). This gender disparity varies from state to state, but, according to this study, Vermont is the best state for women looking to buy a home, and Rhode Island is the worst.
Despite where you live, homeownership is still within your grasp. You might just need careful planning and expert help. Properly managing your money can reduce excess spending; using a financial advisor can accelerate your savings rate; and shopping for mortgage lenders can ensure you get the best rate and terms available. These tools can help you reach the goal of homeownership in a reasonable amount of time, no matter the odds.
Methodology
For this study, we leveraged the U.S. Census data to gather the median income of men and women at the state level. The data was recorded in 2020, so we adjusted it for inflation to reflect 2022 incomes. Additionally, we collected state-by-state median property values from Realtor.com to measure how much properties cost in each state.
We coupled this information with state-by-state median down payment data from Optimal Blue to calculate how much Americans would need to save to afford a home. Finally, we pulled the average American savings rate from the Bureau of Economic Analysis, which cited that the most recently measured average American savings rate was 4.4%.
No statistical testing was performed on this data, so the above claims are based on means alone.
About ConsumerAffairs
ConsumerAffairs conducts research, creates comprehensive buying guides and collects reviews to help consumers make smarter buying decisions.
Fair use statement
Did you find this article interesting? You're more than welcome to share these findings for noncommercial purposes, but please provide a link back to this page.
Did you find this article helpful?
|
You're signed up
We'll start sending you the news you need delivered straight to you. We value your privacy. Unsubscribe easily.