The solar effect
Solar doesn't only help the environment — it can also help your wallet

Written by

Edited by

Key Takeaways:
Homeowners were willing to spend an average of $2,600 over budget for solar panels.
Homeowners in St. Petersburg, FL, and Knoxville, TN, sold their green homes for 159% and 149% more than homeowners got for homes without a green feature.
Americans are saving an average of $1,500 annually after switching to solar.
70% of American homeowners who've gone solar reported an increase in home value after the installation of solar panels.
3 out of 4 homeowners said they wouldn't buy their next home without solar or some type of eco-friendly feature.
More and more people are pondering the question: "Should I go solar?" With this comes a host of other questions: "Will I save money? Will I save the earth? And how will it look?" (to name a few). In the latest study from the team at ConsumerAffairs, we try to better understand the impacts of going solar in your particular area depending on your particular values and preferences.
By collecting exhaustive Redfin data and responses from 1,000 American homeowners, the ins and outs of solar panels are becoming clearer. The value increases of green home sales are mapped by city and state, as are the top motivators and complaints of those who already went solar in the country. So, should you go solar? Keep reading to find out.
Motivators and detractors for going solar
The first piece of research turns to American homeowners for both qualitative and quantitative data. Those who installed solar panels explained their top reasons for doing so as well as how much they spent, while those who hadn't made the switch shared their top deterrents.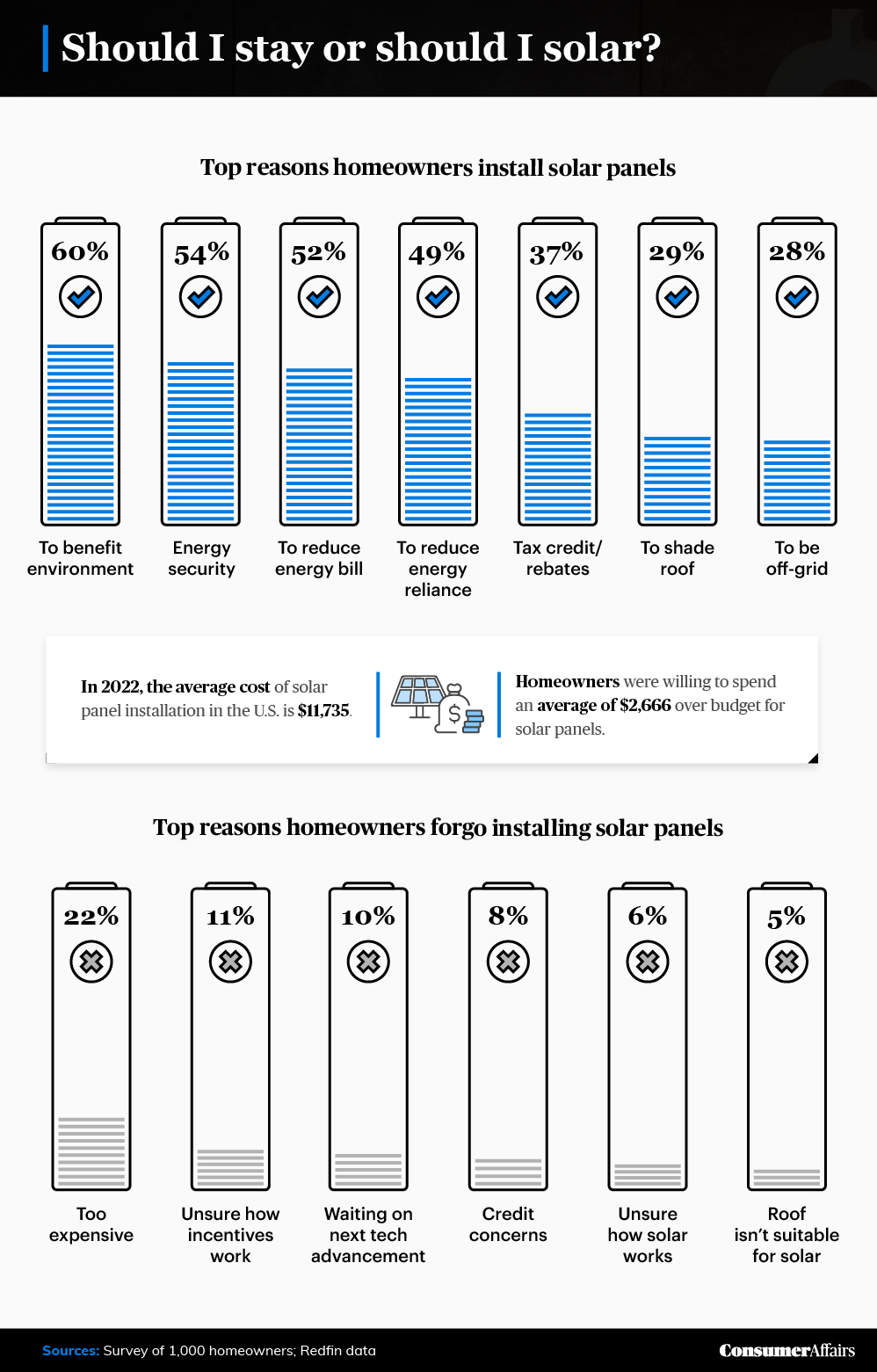 While the environment may have been the most common reason to go solar — a solar panel's carbon footprint is 20 times less than that of coal-powered electricity sources — it was far from the only benefit homeowners wanted and noticed once installed. This group commonly mentioned financial benefits such as reduced energy costs (49%) and tax breaks (37%). Many even described a new sense of self-sufficiency, like added security (54%) and even the ability to go off-grid (28%). In times of economic turmoil, these benefits can prove particularly valuable.
The initial investment of solar installation was not cheap, however: This segment of homeowners spent $11,735, on average, and waited seven years to see the return on investment. Those who opted out of solar panel installation were primarily turned off by the price (22%) and credit concerns (8%). Many were also uncertain how the financial incentives worked in the first place.
How homes with solar panels sell in the U.S.
Turning toward home sales data in the U.S., this next piece of research compares both state- and city-level data for sales of green homes against general home sales.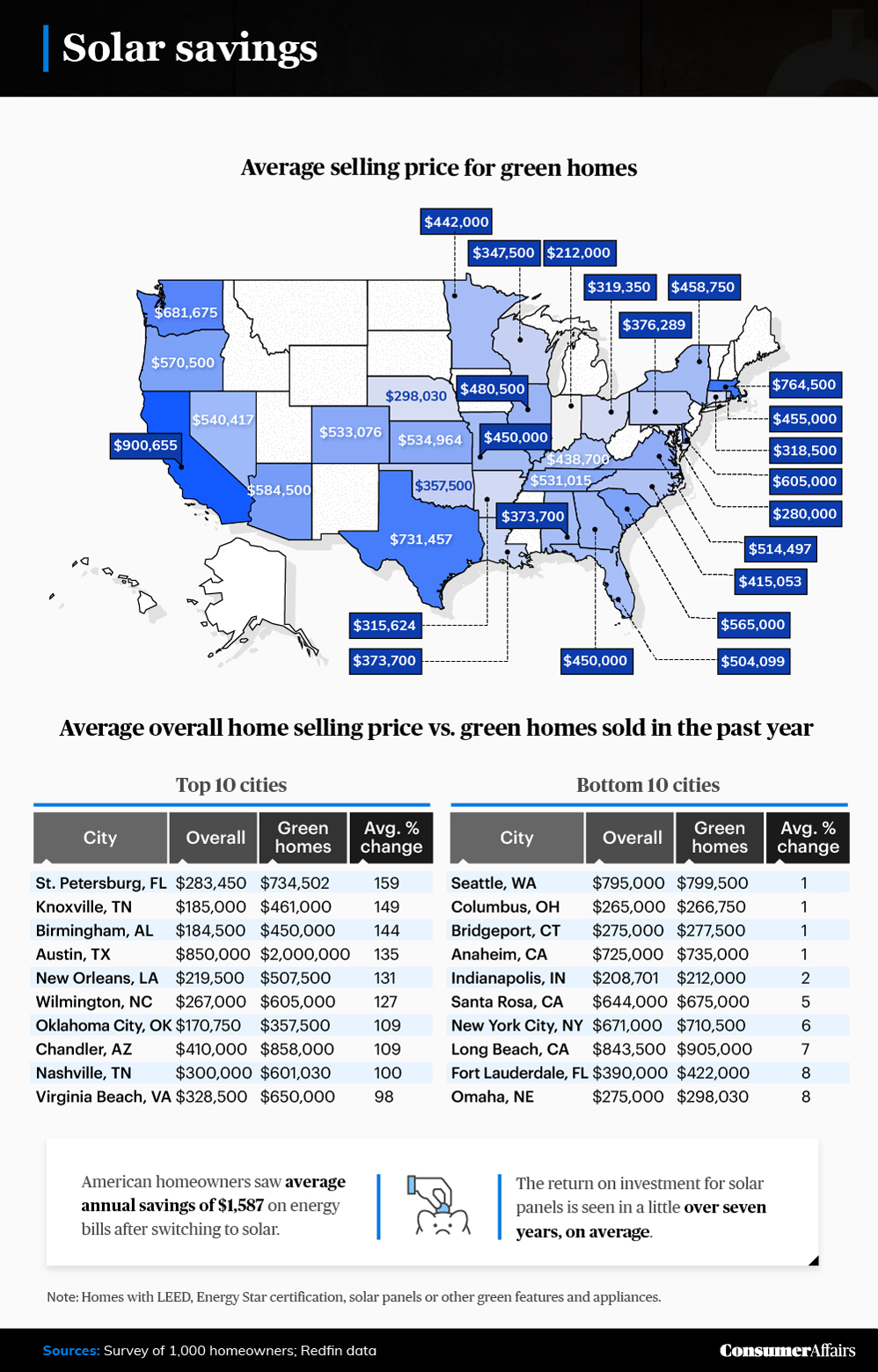 Two Southern cities — St. Petersburg, FL, and Knoxville, TN — saw the two largest percentage increases in home sale prices for going green. Green homeowners in these cities were able to sell for a staggering 159% and 149% more than others, respectively. California, which is regularly at the forefront of green initiatives and legislation (in spite of its highly polluted air) had 11 of the top 75 cities with the highest price increases in green home sales. New York, however, had the highest number of green homes listed for sale.
Even if you're not wanting to sell your green home, you can still make a significant amount of money from going green, especially after the initial cost of installation pays itself off. On average, American solar homes reported an average annual savings of $1,587 just from energy costs alone. And, clearly, they can expect to get more money for their homes upon selling.
Behavior of solar panel owners
This last piece of research looks at some of the logistics behind owning and installing solar panels. Even those that own them often consider them unsightly, so we asked about the ways in which they improved the aesthetics and how they would describe the purchase today.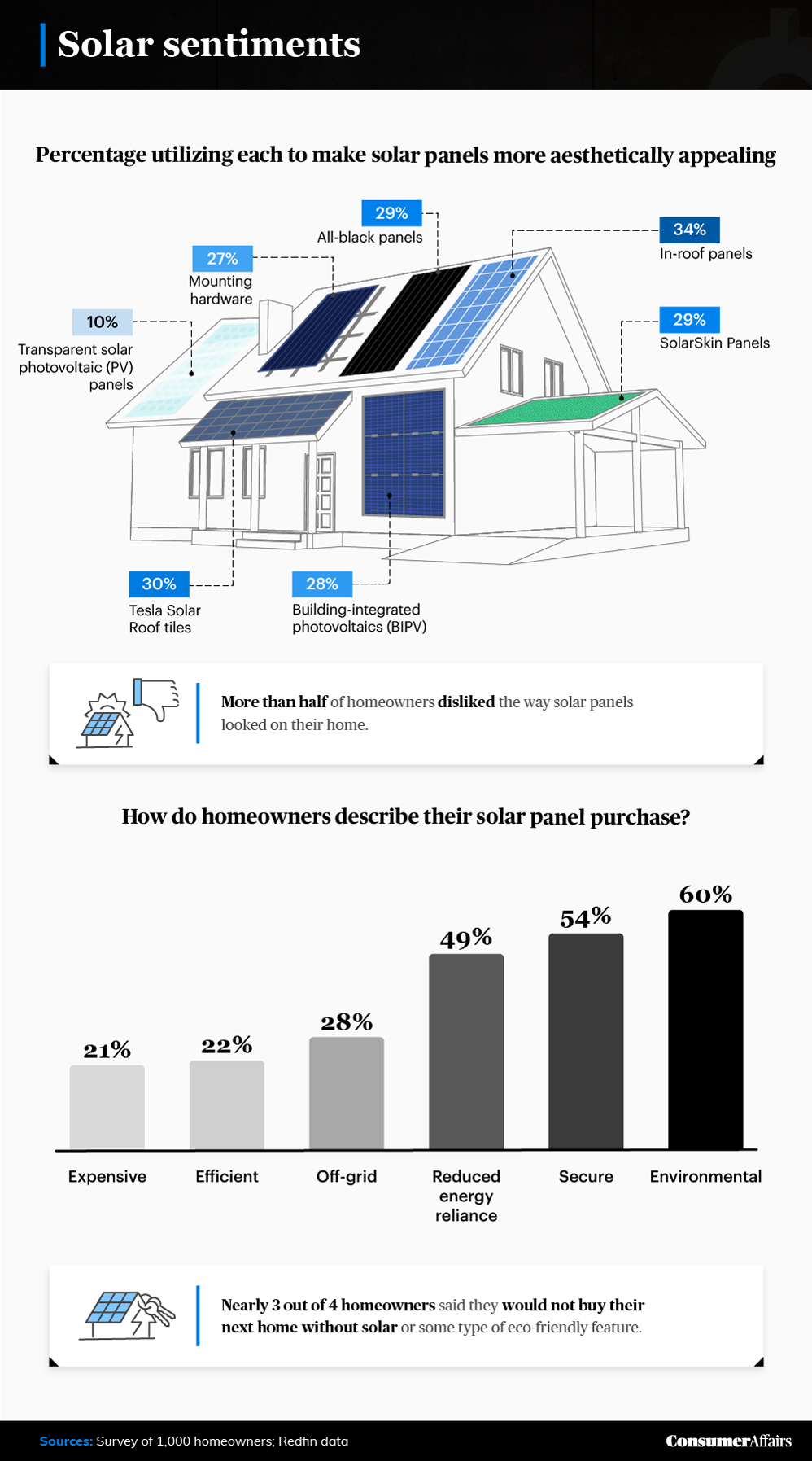 Yes, solar panels are generally considered an eyesore, even among those who love solar power: More than half of green homeowners shared that they disliked the way the solar panel looked on their roof. That said, there were some action steps they could and did take to better the situation. Installing in-roof solar panels was the No. 1 way homeowners were able to overcome the unsightly appearance, for instance. Another 30% opted for Tesla's Solar Roof tiles, which mimic the look of typical roof shingles.
In spite of the panels' less-than-ideal appearance, homeowners with solar panels still described them with positive words like "environmental" (60%) and "secure" (54%). They were also greatly appeased by the substantial increase in home value after installation: 70% said this happened for them.
Making your solar decision
The decision to go solar is becoming increasingly popular, although it's far from an easy one. Yes, homeowners who went green saw increased home value and felt ready to go off-grid at a moment's notice, but they also disliked the look and reported more than $11,000 in upfront costs.
Depending on where you are in the world, the decision may or may not make sense for you. Some of those in Southern areas, like Florida and Tennessee, are seeing massive home value spikes for installing solar, while places like Seattle and the Northeast weren't quite as lucrative. To determine your personal best scenario, consider research like this and then trust your instincts.
About ConsumerAffairs
ConsumerAffairs is founded on the desire to help those making large financial decisions as informed as possible. Whether you're interested in installing solar panels, seeking elder care for a loved one or looking to buy your next car, ConsumerAffairs is ready with the education and research to ensure you make the decision knowledgeably.
Methodology and limitations
We surveyed 1,000 homeowners to explore their sentiments and overall experience with solar panels. The mean age of respondents was 38 years old. Fifty-five percent were men, 44% were women, and 1% identified as nonbinary. We saw the following generational breakdown: 9% Generation Z, 64% millennials, 17% Generation X and 10% baby boomers.
To help ensure that all respondents took our survey seriously, they were required to identify and correctly answer an attention-check question. Survey data has certain limitations related to self-reporting. These limitations include telescoping, exaggeration and selective memory.
Fair use statement
If your readers are looking for ways to update the energy use in their homes, we encourage you to share the results of this study for any noncommercial purpose. When doing so, please include a link back to this page in your article so they'll have access to all our findings and methodology.
Did you find this article helpful?
|
You're signed up
We'll start sending you the news you need delivered straight to you. We value your privacy. Unsubscribe easily.