Home warranty statistics 2023



Written by

Edited by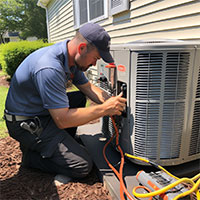 Replacing or repairing home systems and major appliances can cost homeowners thousands of dollars. Between 2019 and 2020, the average household home equipment expenditure rose from 3.3% to 3.8% of household budgets. Home warranties help to defray those costs.
---
Key home warranty statistics
Approximately 1.4 million (24.8%) out of the 5.64 million homes sold in 2020 had home warranty coverage.
On average, sellers offering a home warranty reduced their number of days on the market by 16.14% and increased their sale prices by 0.91%.
In 2022, homeowners spent an average of nearly $6,000 on home repairs and maintenance.
Home warranty regulation varies from state to state, and there is no high-level federal oversight of the industry.
The home warranty industry
As of 2022, the home warranty industry had a market size of $3.6 billion, up from $3.3 billion in 2020.
The market size of the home warranty industry in the US has grown 3.7% per year on average between 2017 and 2022, increasing faster than the US economy overall. The global home warranty service market is expected to reach a value of about $13.6 billion by 2030, up from about $7.3 billion in 2020, giving it a projected compound annual growth rate of 6.3% from 2021 to 2030.
An interest in protecting major appliances and a rise in awareness of warranty services are driving market growth. The impact of COVID-19 on the construction and manufacturing industries has restrained market growth, as have warranties' strict terms and conditions and hidden charges imposed by providers.
The most populous region of the U.S., the Southeast region, has the highest concentration of home warranty providers.
Types and level of coverage
There are three primary types of home warranties.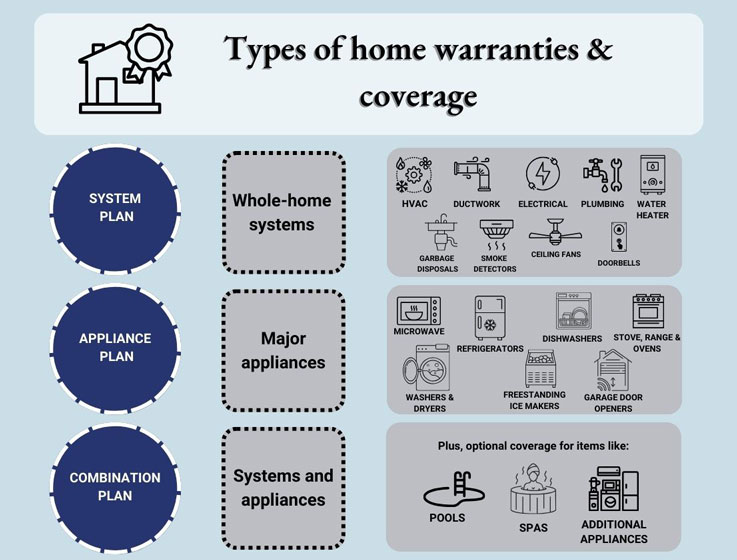 Many providers will offer optional add-on coverage at an additional cost. Common add-ons include:
Central vacuum
Guest unit
Pool and spa
Roof leak
Septic systems
Standalone freezer
Sump pump
Water softener
Rekeying
Annual heating, ventilation and air conditioning tune-ups
Limited pest control
Damage and defect coverage for consumer electronics
What is not covered by a home warranty?
Home warranty policies specify systems and appliances that are covered, but they also include exclusions — items that are not included in purchased coverage.
Some common exclusions are:
| Warranty exclusion | Description |
| --- | --- |
| Preexisting conditions | Appliances that failed or were defective before coverage was purchased |
| Cosmetic damage | Dents, scratches or other issues that affect an appliance's appearance but not its functionality |
| Improper installation | Failure because a system or appliance was not properly installed by a certified professional |
| Modifications | Use of third-party components in a system or appliance |
| Appliance misuse | Damages or problems that arise from the homeowner using the appliance for something other than its intended purpose |
| Maintenance neglect | Damages or problems that arise from the homeowner not keeping up with regular maintenance |
| Specific components of a covered item | For example, a garage door opener may be covered, but not its door or track assemblies. |
| Currently covered under another warranty | New appliances covered under a manufacturer's warranty or third-party warranty |
| Costs that exceed the coverage limit | For example, if a contract's coverage limit is $2,000 and the repair cost is $2,500, the homeowner would pay $500 out of pocket. |
The basics of home warranty regulations
Home warranty regulation is difficult to pinpoint. The federal government sets overall minimum regulations, but individual states and jurisdictions can set and enforce their own standards as long as they do not violate federal law. Regulation and home warranty oversight vary from state to state. In some states, home warranties are regulated by an office of insurance regulation or commissioner of insurance, while other states assign the task to a state real estate commission or department of financial services.
There is also a nonprofit organization, the National Home Service Contract Association (NHSCA), which regulates member home warranty providers that use its Code of Ethics. Consumers can look for a six-digit code that identifies a home warranty provider as a reputable, NHSCA-accredited company.
Home warranty costs and deductibles
A standard home warranty costs between $40 and $60 per month. Discounted annual costs are typically about $450 to $600.
Most home warranties require a deductible to be paid each time a service technician visits your home. Deductibles generally range from $75 to $150 per visit.
Typical repair and replacement costs
On average, homeowners pay between 1% and 4% of their home's purchase price for major repairs each year.
In 2022, homeowners spent an average of nearly $6,000 on home repairs and maintenance.
Spending across various home projects decreased by about 17% from 2021 to 2022.
On average, American homeowners in 2022 spent:

$2,467 on maintenance across 7.5 home projects
$1,953 on emergencies across 1.8 home projects
$8,484 on home improvements across 3.2 projects

Among the 78% of respondents in a Hippo Insurance Services survey who reported having regrets about purchasing their homes:

49% say homeownership is more expensive than they anticipated.
47% say that they have had too many unexpected issues with their home.
47% say there is too much maintenance and upkeep involved.
Home warranty coverage can help defray some common costs associated with homeownership, particularly if you have an older home or appliances.
Compare the average cost of warranty-covered repair — $75 to $150 — with the estimated cost of repair without a warranty:
| Appliance | Repair cost without home warranty |
| --- | --- |
| Washer | $50 - $450 |
| Dryer | $100 - $400 |
| Refrigerator | $40 - $350 |
| Oven | $100 - $430 |
| Dishwasher | $50 - $500 |
| Plumbing systems | $180 - $489 |
| Heating and air conditioning | $170 - $639 |
| Water heater | $222 - $979 |
| Electrical panel | $522 - $2,081 |
Average lifespan of appliances and systems typically covered by a home warranty
It is important to know the average life expectancy of systems and appliances to understand how long it will be before you will need to replace them. Here are the average lifespans of major home systems and appliances:
Average lifespan (years)

Air conditioner
11
Heat pump
12.5
Air ducts
80
Whirlpool tub
35
Toilets
100+
Ceiling fans
7.5
Water heater
9
Well pump
15
Sump pump
7
Plastic water lines
75
Refrigerator
11
Freezer
15
Dishwasher
9
Electric ranges
14
Microwave
9
Washing machine
10
Clothes dryer
13
Garbage disposal
12
Trash compactor
6
Central vacuum
20
Home warranty vs. home insurance
Home warranties and home insurance are not the same. Homeowners insurance provides coverage for property damage caused by an accident, unexpected event or natural disaster. It also covers liability in case someone is injured on your property. A home warranty pays to repair or replace specific major systems and appliances due to normal wear and tear or loss of functionality with normal use.
| | Home warranty | Homeowners insurance |
| --- | --- | --- |
| What is covered? | Major systems and appliances | Structural elements of the house, personal property and liability |
| When does it apply? | Damage or loss of functionality during normal use; normal wear and tear | Property damage from accidents, natural disasters, vandalism or theft |
| When is it required? | Always optional | Required with a mortgage |
| What is the average annual cost? | $450 - $600 | $300 - $4,000 |
| How are companies regulated? | State standards and enforcement with minimal federal regulation | Regulated by state insurance commissioners, the National Association of Insurance Commissioners and the Financial Stability Oversight Council |
FAQ
Is there a deductible with a home warranty?

Yes. A deductible (also called a service call fee) must be paid whenever the warranty company sends a service technician to your home. Deductibles range from $75 to $150 per technician visit.
What are the cons of a home warranty?

While home warranties can save you hundreds (or even thousands) of dollars on home repairs, there are other factors to take into consideration. Home warranties have limitations and exclusions for appliance and system coverage; policies may have claim caps; most companies do not allow you to choose your own contractor; and many home repairs are inexpensive and may cost less than the home warranty itself.
What does a home warranty cover?

Home warranties cover the repair or replacement of major home appliances and systems due to loss of functionality or damage as a result of normal wear and tear. Many home warranty companies also allow homeowners to purchase additional coverage for items such as central vacuums, pools and standalone freezers, or for services like rekeying and pest control.
---
Article sources

ConsumerAffairs writers primarily rely on government data, industry experts and original research from other reputable publications to inform their work. Specific sources for this article include:
Did you find this article helpful?
|
You're signed up
We'll start sending you the news you need delivered straight to you. We value your privacy. Unsubscribe easily.