Buying second homes first
81% of first-time homebuyers are planning to invest in a vacation rental before purchasing a home



Written by

Edited by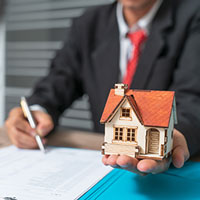 Key takeaways
79% of Gen Z plan to move to cheaper states to afford to buy a home.
92% of first-time homebuyers said they couldn't afford a mortgage in the current market.
More than 1 in 4 Americans are willing to give up crypto to own an investment property.
Americans would go $17,340 over budget to obtain their first home.
Why buy a second home first?
Buying a secondary property before a primary residence is an unorthodox approach, but it's increasingly catching on. With mortgage costs as high as they are, investing in a vacation home to rent out is becoming a viable option for many first-time buyers looking for ways to save for a down payment. We surveyed over 1,000 Americans to find out how common this is, who's most likely to go this route and what else they're willing to do to afford their first home.
Mortgage woes
For many, mortgaging a home is part of the American dream. But in many parts of the U.S., that's easier said than done. How many are looking to buy property in a more affordable area?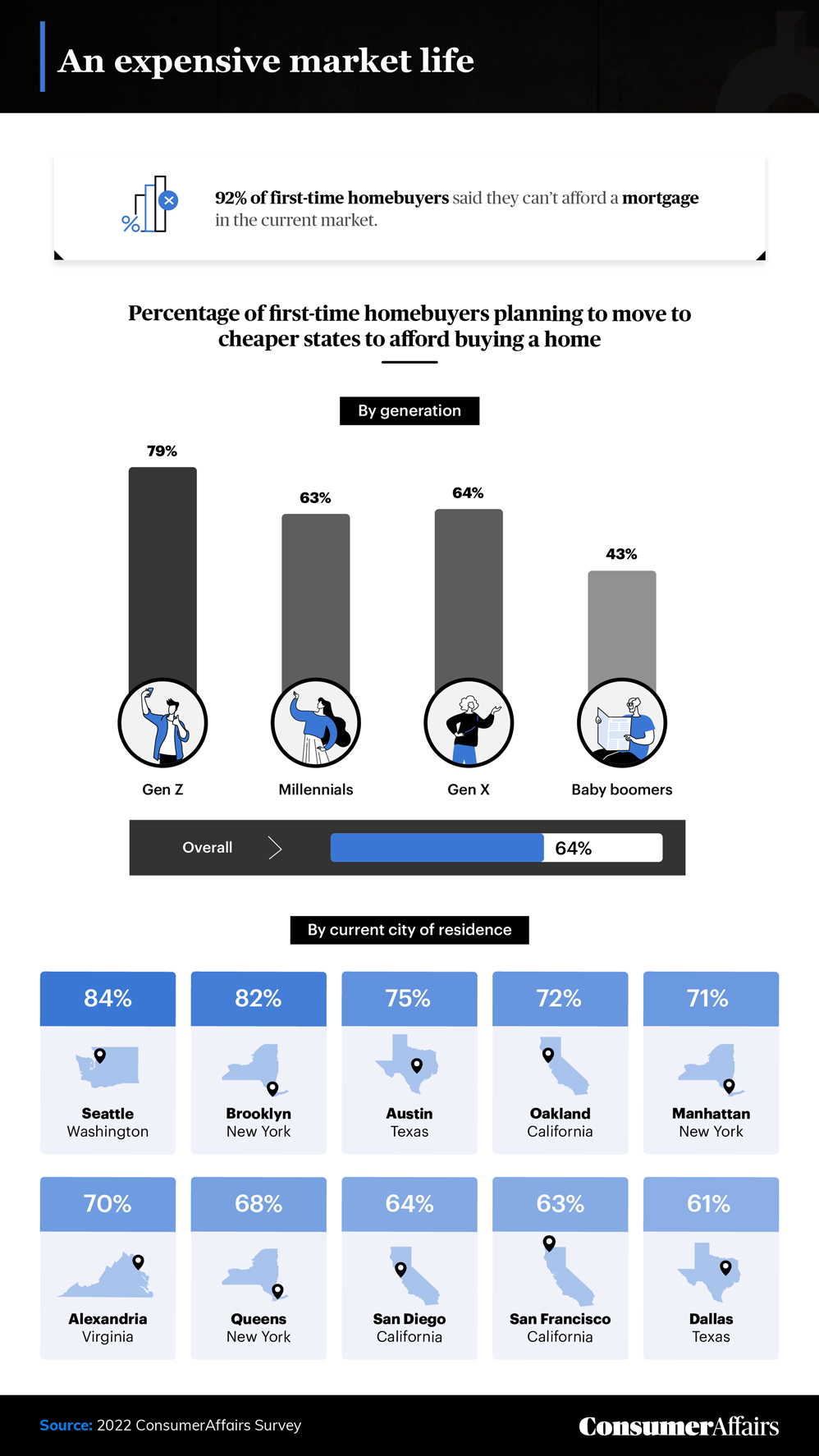 Nearly all prospective homebuyers said they couldn't afford a mortgage (92%), and it's not necessarily due to low income: One in five of this segment was making more than $80,000 a year. So, it's no surprise that more than half of respondents said they'd relocate to a cheaper state for their first big property purchase (64%).
The youngest generation was most likely to consider relocating, with 79% of Gen Z respondents planning to move to a cheaper state to afford a home. Gen X was next in line at 64%, while millennials — America's fastest-growing homebuyer segment — were among the least likely (just slightly lower, at 63%). The oldest group, baby boomers, were least likely of all to want to make the move.
Interest in investment homes
Vacation and travel rentals have skyrocketed in recent years, and it's impacted the housing market. The next part of our study examines how many potential buyers are looking to capitalize on that trend.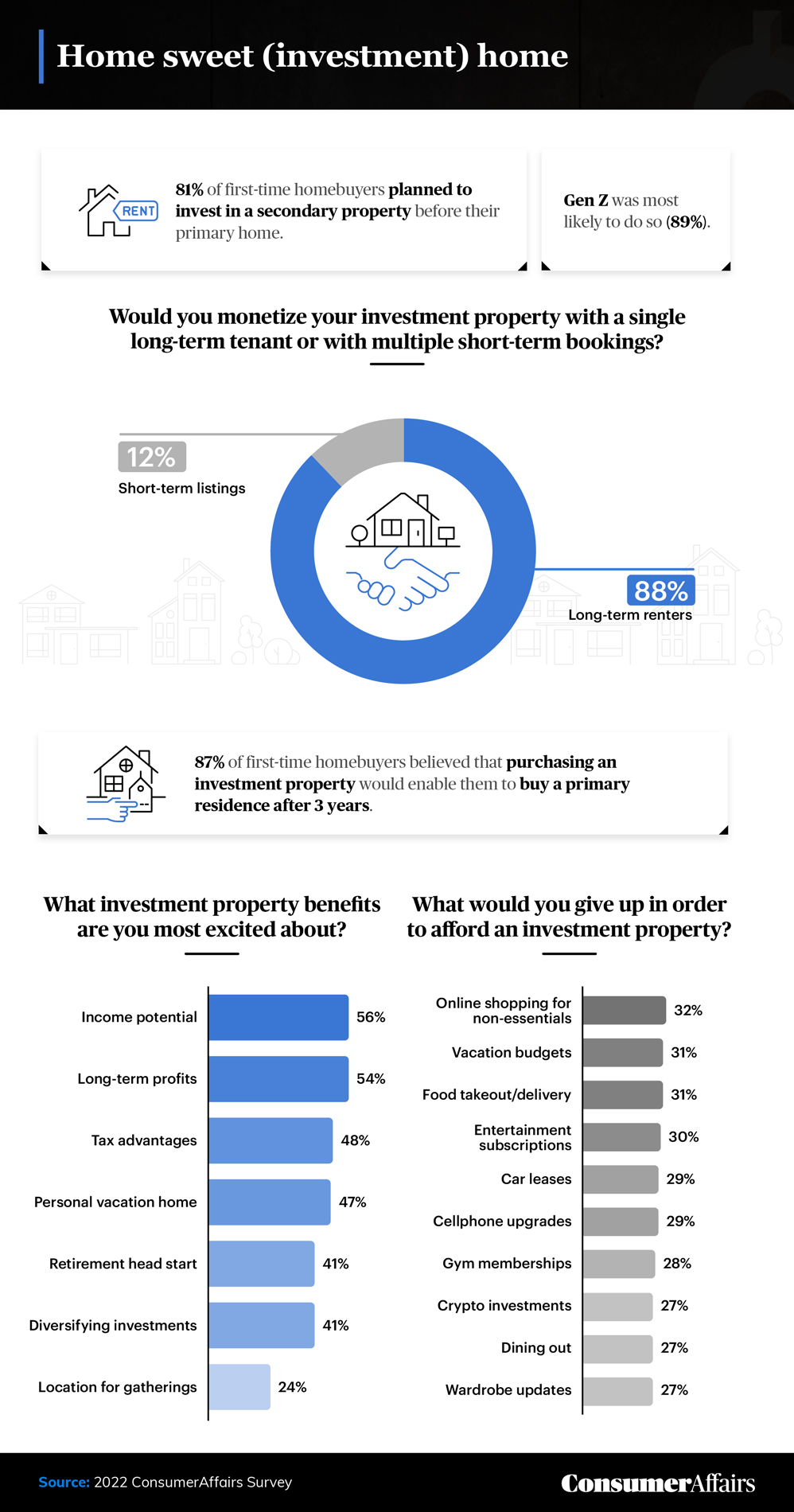 We found that 81% of first-time homebuyers planned to invest in a secondary property before buying a primary home. Gen Z was most likely to do so (89%). Although vacation rentals have been all the rage lately, most people said they'd prefer to rent their secondary property to a long-term tenant (88%) instead of posting short-term listings (12%).
Why are so many people buying a second home first? It seems they want to use the profits from the first investment to help pay for a primary residence, with 87% of first-time homebuyers saying they believe purchasing an investment property would enable them to buy a primary residence after three years. More than half also pointed to income potential as the biggest motivating factor in investing in their first property.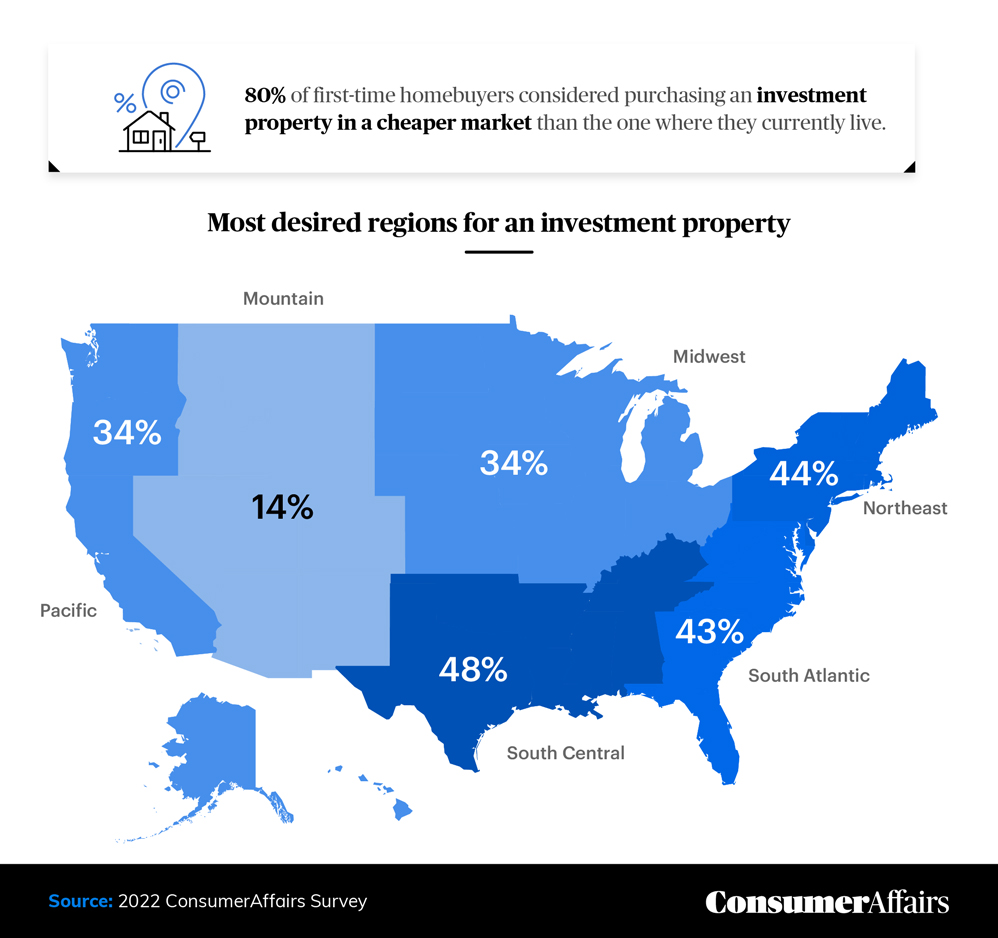 The vast majority of first-time homebuyers have considered a cheaper investment market than the one where they currently live (80%). As to which U.S. housing markets are the most enticing, most said they're looking to South Central states. Perhaps the prospect of being a snowbird draws people to the South, where it stays relatively warm all winter. Or maybe they're buying their retirement home for later while they rent in the meantime — not a bad idea if you can cover your living expenses by renting out another property.
Homeownership out of reach
How long do today's first-time buyers need to wait to finally get their first home? In the next part of our study, we illustrate what the financial landscape looks like for people waiting to buy their first piece of real estate. Spoiler alert: It's less than promising.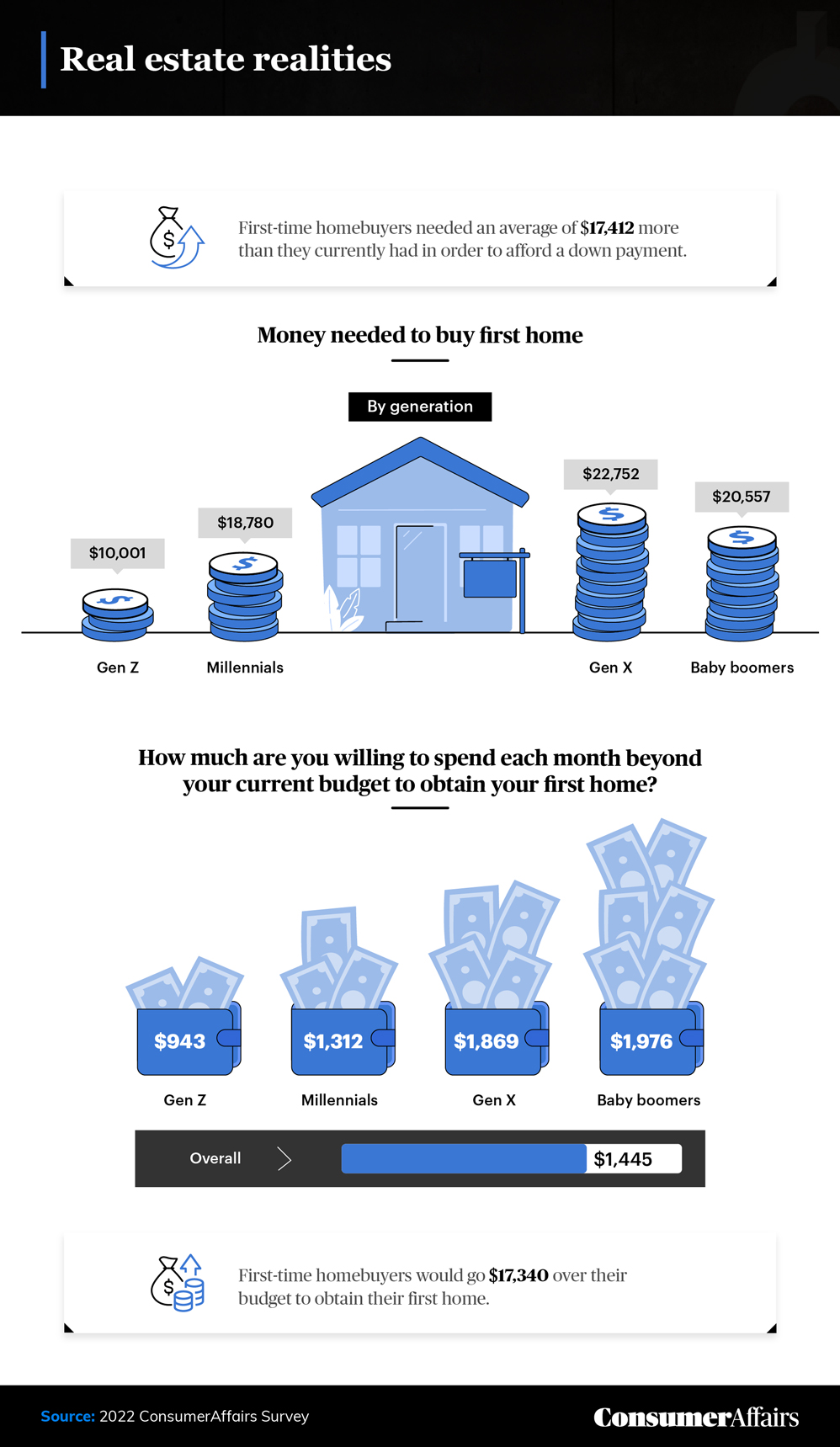 Being prepared to take on a mortgage is tough these days. But the initial investment is hard enough: First-time homebuyers needed an average of $17,412 more than they currently had to afford a down payment. Gen Z seem the most prepared, needing just over $10,000. On the other hand, Gen X and baby boomers said they needed to save over $20,000. Do they know the odds are against them?
With homeownership looking so far off, people are willing to push the boundaries quite a bit to get there sooner. Many were willing to spend more than their monthly budget to afford a mortgage — an average of almost $1,500 a month. But baby boomers would spend the most of any generation: nearly $2,000 a month beyond their current budget.
Having seconds first
With so many priced out of today's housing market, people are looking for alternative ways to fulfill their dreams of homeownership. Moving to cheaper states and renting out properties to generate more income have become commonplace, especially for young people. But the oldest generations appear to have the longest road to buying a first home, and they're willing to stretch their budgets the most in order to manage it.
With all the benefits of purchasing an investment property you don't plan to live in, renting out a home while you rent one yourself looks to be an increasingly viable option for many Americans.
Methodology
We surveyed 1,001 Americans in the market for their first home. Among them, 54% were men, and 46% were women. The generational breakdown was as follows:
Generation Z: 26%
Millennials: 36%
Generation X: 22%
Baby boomers: 16%
For short, open-ended questions, outliers were removed. To help ensure that all respondents took our survey seriously, they were required to identify and correctly answer an attention-check question. Margin of error: plus or minus 3% with a 95% confidence interval.
About ConsumerAffairs
ConsumerAffairs is committed to keeping you informed about how to best use your finances. We're here for life's biggest purchases, providing reviews and resources to help you make the best decisions.
Fair use statement
Thinking of buying an investment property or know someone who is? Feel free to share our findings with anyone who might benefit, but please only do so for noncommercial purposes, and be sure to link back to this page.
Did you find this article helpful?
|
You're signed up
We'll start sending you the news you need delivered straight to you. We value your privacy. Unsubscribe easily.