The effects of the digital age by generation
Have older generations fully adapted to the digital age?

Written by

Edited by

Key takeaways
91% of Gen Xers and baby boomers have felt overwhelmed by technology.
75% thought technology could be a hindrance in a remote work setting.
76% believed the metaverse could enable them to do things they can no longer do in real life, but it was the technology they were the least excited about (9%).
71% regretted a big purchase they had made online.
Millennials and Gen Zers may take for granted just how intuitively they can adapt to new technology, but older groups — like Gen Xers and baby boomers — may find it takes more effort.
With this divide in mind, the team at ConsumerAffairs spoke to over 1,000 people over age 45 about their ability to adapt to and use new technology. We asked about their emotions when approaching new tech, how tech impacts their ability to work remotely and how their relationships with tech ultimately influence their purchasing behaviors.
Whether you're quick to adapt or tend to experience tech-related frustrations frequently, keep reading to get a peek into how the older demographic feels about our constantly modernizing world.
Tech overwhelm and age discrimination
Our study begins with a look into the qualitative and emotional reactions of people age 45 and older when dealing with new technology. We asked about their sense of overwhelm and which tech developments specifically triggered this feeling.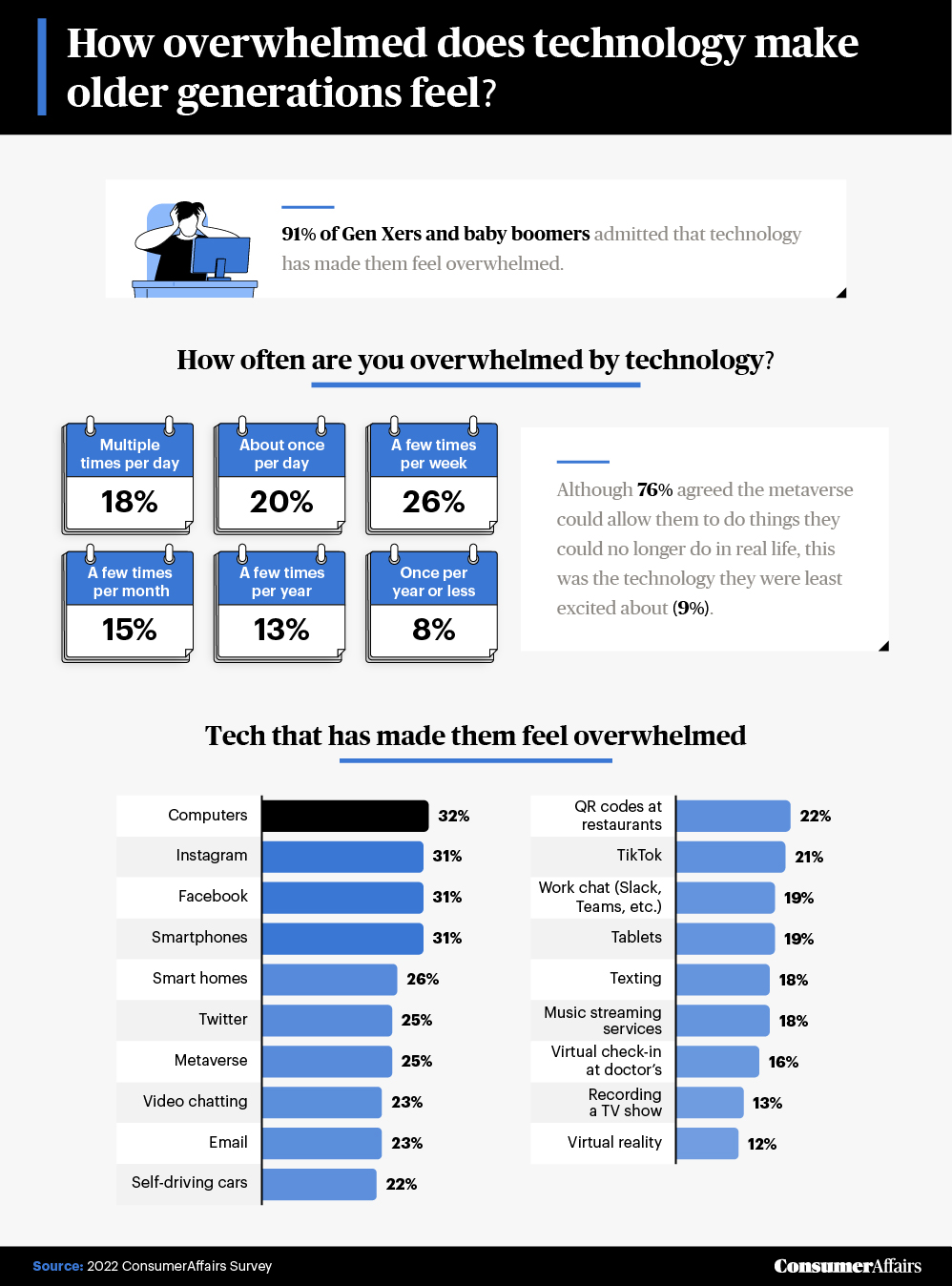 Over one-third of Gen Xers and baby boomers said they experienced tech-induced overwhelm daily (38%). Another 26% felt it at least a few times every week. Typically, it's computers, social media and smartphones that cause the most frustration and confusion. When asked about specific forms of technology, only 13% of respondents were interested in video chatting, and just 9% were excited about the metaverse.
According to Moore's Law, computers double their capabilities every two years, causing numerous changes for users to adapt to. Perhaps that's why computers were the most overwhelming form of technology, according to Gen X and baby boomers. They were followed by Instagram and Facebook — social media platforms are known for frequent updates, making it harder for older Americans to socialize with the rest of the digital world.
When the feeling of overwhelm is constant, it can cause cognitive issues like stress and the inability to think logically. Due to consistent technology overwhelm, older Americans are likely to face more of an uphill battle than others when it comes to these issues. Even just having to use QR codes at restaurants induced overwhelm for 22% of those we surveyed, with baby boomers 10% more likely than Gen Xers to feel this way.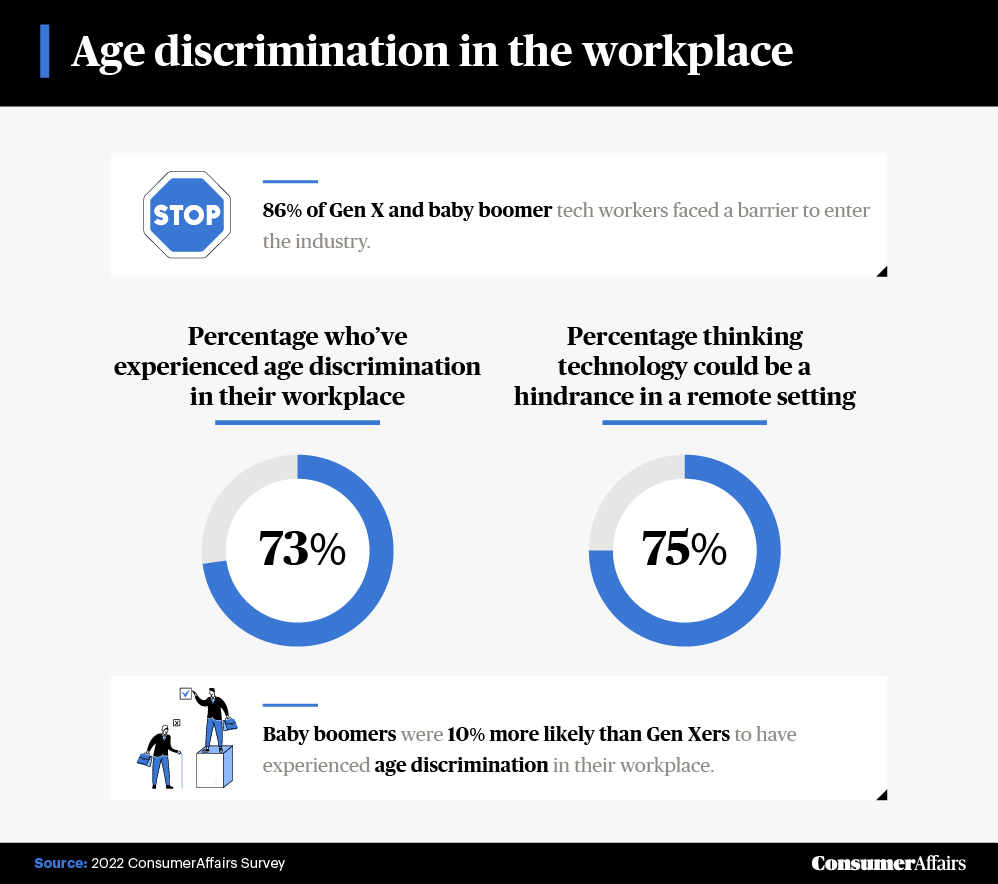 Workplace discrimination against older Americans is very real. Although the Age Discrimination in Employment Act (ADEA) was implemented to prevent this type of prejudice, a staggering 73% of respondents said they had experienced age discrimination in their workplace. To make matters worse, another 75% thought technological challenges could hinder their ability to work remotely.
There is a silver lining, though: Nearly half agreed that these challenges positively impacted their productivity.
How older Americans use technology
Older generations weren't entirely void of technological education and advancement. For this part of our research, we gave respondents a chance to share what they had accomplished, technologically speaking, and how they're currently accessing online entertainment like TV and music.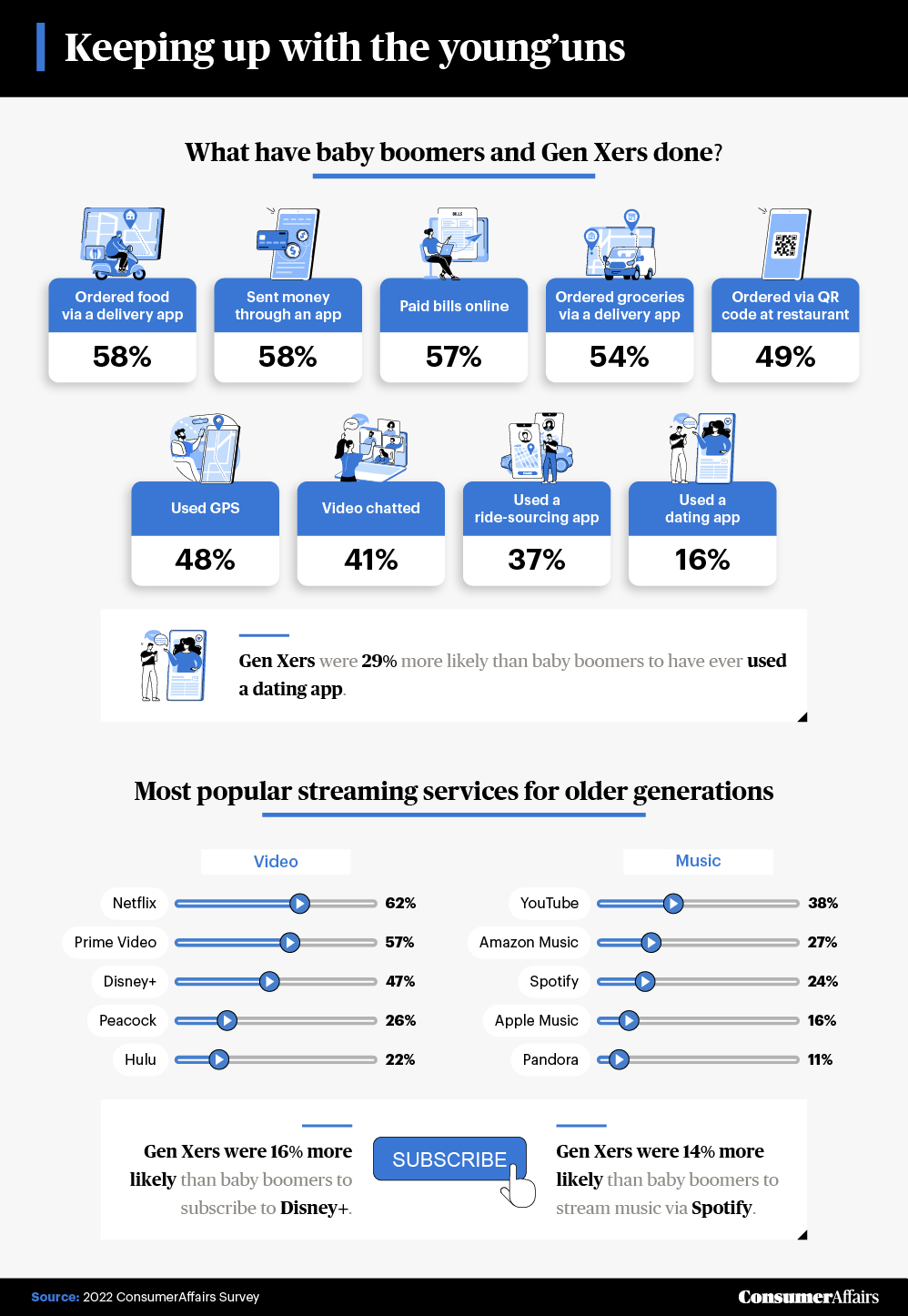 Over half of the respondents had used at least some online essentials, like bill pay or grocery ordering. Although they weren't very likely to have used a dating app, the majority had used an app to either send money or order take-out food. Food delivery has become a survival essential during the pandemic, especially for older adults at increased risk for severe health consequences if they contract COVID-19.
Both Gen X and baby boomer respondents were capable of entertaining themselves online through video and music content. They claimed to mostly watch Netflix (62%) — although Gen Xers were 16% more likely than baby boomers to subscribe to Disney+. This may be because Gen Xers are more likely to have younger children living at home.
As for music, older generations most often used YouTube (38%). Although Spotify is currently the No. 1 music streaming service in the U.S., less than a quarter of our respondents had used it. Those who had were 29% more likely to be men than women.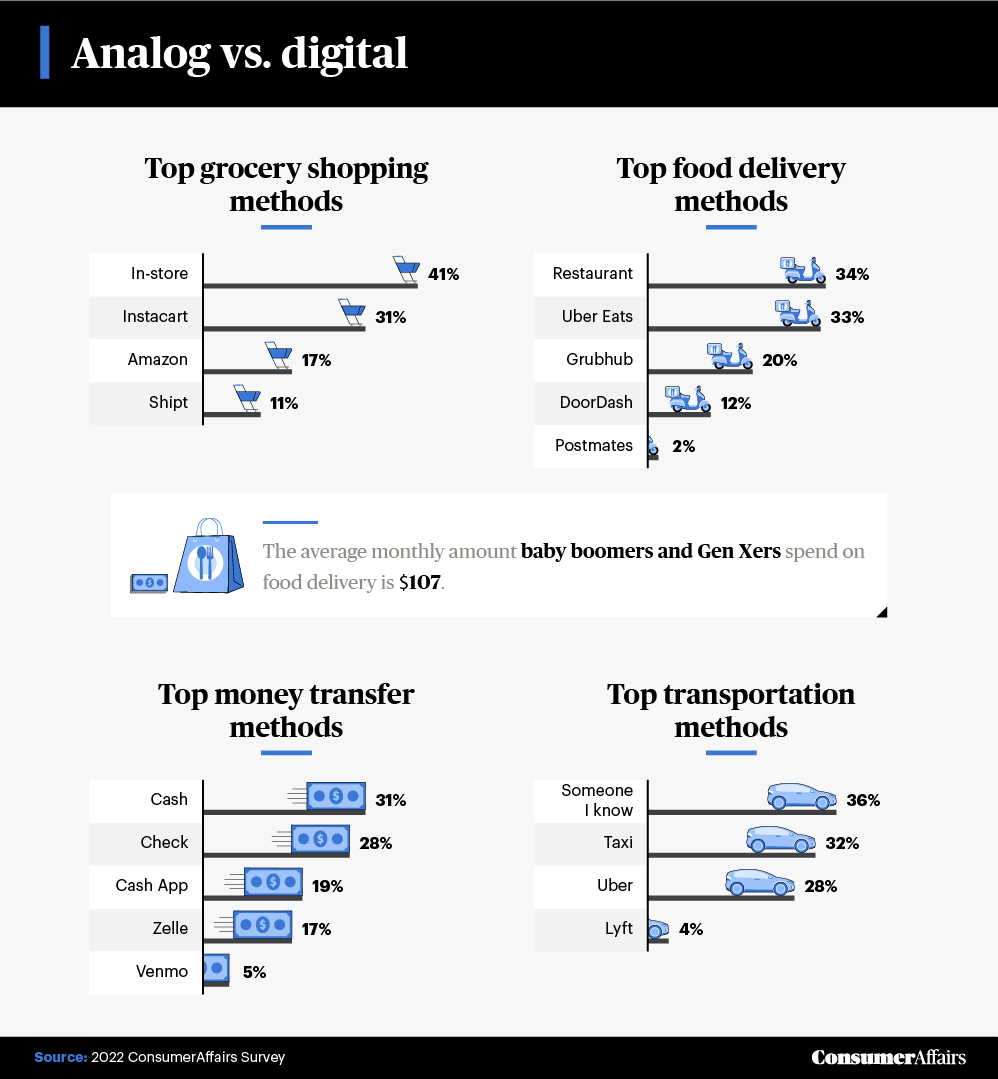 Despite the reported overwhelm, only 41% of respondents chose in-person shopping as their favorite way to buy groceries. This shouldn't be too surprising, considering how many people switched to buying their food online during the pandemic. But the most popular grocery ordering service is still far more popular among younger people: While only 31% of our respondents preferred to shop for groceries using Instacart, 60% of millennials plan to continue using it.
According to our respondents, the older generations prefer to transfer money in tangible ways rather than digitally. Baby boomers were more likely to write a check, while Gen Xers were more likely to use cash. When they did use an app to transfer money, baby boomers were equally likely to use Cash App and Zelle (17%). However, Gen X clearly preferred Cash App (they were 24% more likely to use the app over Zelle).
When they needed a ride, older Americans more often relied on a friend (36%) or got a taxi (32%) instead of calling an Uber (28%). Although the "analog" way may be more comfortable for older generations, these respondents still reported a sense of confidence when they used newer digital methods.
Traditional methods may also save money on take-out; respondents overall preferred ordering directly from a restaurant instead of with an app, and their average monthly food delivery cost was only $107.
Older Americans shopping online
Despite overwhelming barriers to technology, Gen Xers and baby boomers have forged ahead and made many of their purchases online. In this last part of our study, we asked respondents to share their biggest online purchases and the ones they regretted the most.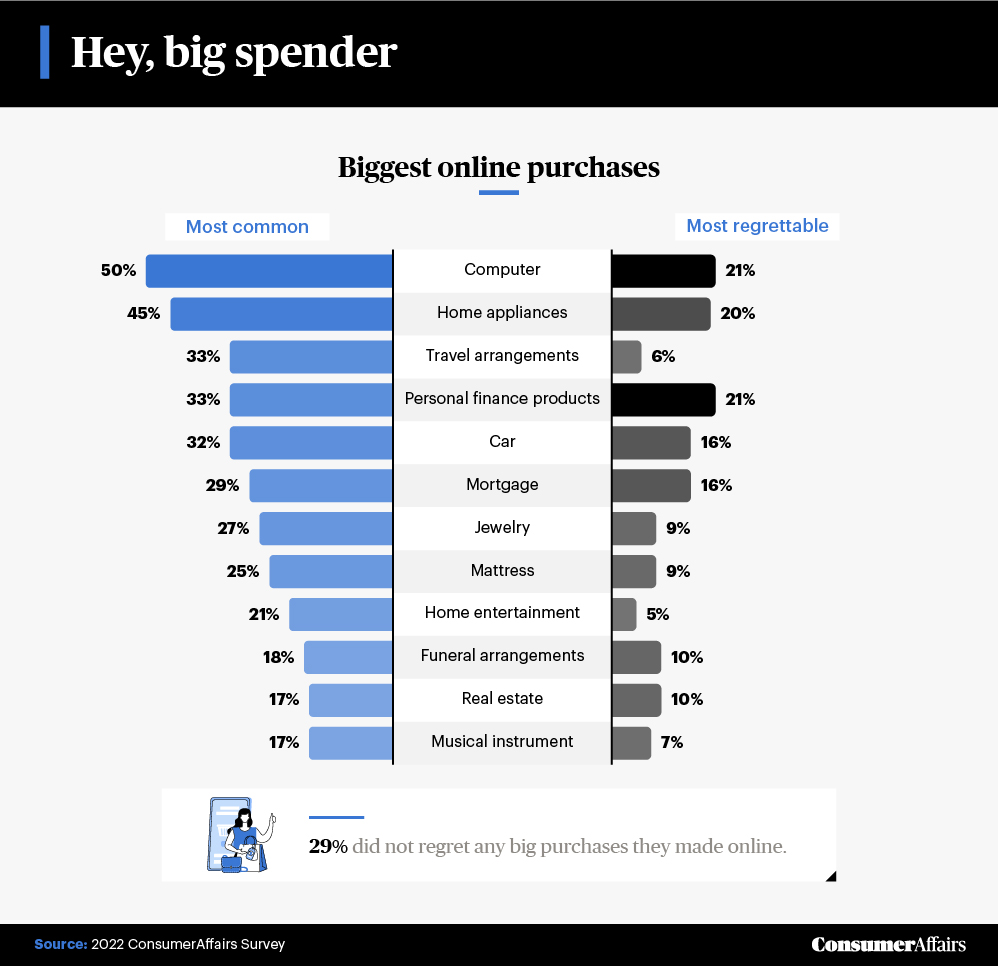 Our results showed that a few large online purchases led to regret. Half of respondents reported buying their computers online — our study revealed that computers were the most overwhelming of any tech device, so perhaps that's why over 21% regretted these purchases. Gen Xers were 15% more likely than baby boomers to buy a computer online, while baby boomers were 13% more likely to buy a mattress online.
But not all big online purchases were regrettable. Travel arrangements, which one-third of respondents had paid for online, rarely caused buyers' remorse. We also found that women were significantly more likely than men to make online travel purchases; men made more personal finance purchases (like mortgages). These were much more likely to lead to regret than travel purchases (16% versus 6%, respectively).
Staying modern
Gen Xers and baby boomers ultimately demonstrate incredible resiliency and hope regarding new technology, according to our study. Despite disturbing reports of discrimination and overwhelm due to technology, they still reported high motivation when it comes to tenchnological adaptation. Our respondents were also adaptable to modern entertainment, like Netflix and YouTube.
Still, it's clear that tech advances can create challenges for older Americans. Let this research be a reminder to add an extra layer of kindness and understanding when interacting with older adults dealing with new tech.
Methodology
ConsumerAffairs surveyed 1,006 Gen Xers and baby boomers. Baby boomers accounted for 49% of respondents, and 51% were Gen Xers. In terms of gender, 53% were men, and 47% were women. When it came to job industry, 42% self-reported working within technology.
This sample size contained a margin of error of +/-3% with a 95% confidence level. All respondents were required to identify and correctly answer a decoyed attention-check question to help ensure accurate data.
About ConsumerAffairs
Whether you want to purchase a home, book those well-deserved travel plans or arrange for senior care, ConsumerAffairs wants to make your big purchases easier. We offer knowledge from experts in the field as well as customer reviews to help you make smarter choices.
Fair use statement
Everyone deserves the same access to technological benefits, regardless of age. You're welcome to share this research if you think someone you know would benefit from our study. Just be sure your purposes are noncommercial and that you link back to this page.
Did you find this article helpful?
|
You're signed up
We'll start sending you the news you need delivered straight to you. We value your privacy. Unsubscribe easily.