Waiting on a housing market crash?
75% of Americans plan to buy a home if the market crashes — and Gen Zers are ready

Written by

Edited by

Key takeaways
78% of Americans think we'll soon face a housing market crash; Gen Z is most likely to want one.
Nearly half of respondents believe 2023 is the year the housing market will crash.
3 in 4 respondents said they have plans to buy a home if the market crashes. On average, they have $29,504 saved.
82% of homeowners fear a housing market crash would leave them owing more on their home than it's worth.
When will the housing bubble burst?
U.S. housing prices surged over the past two years as demand for homes rose steeply amid an extremely low supply. As a result, many homebuyers found themselves paying far more than the asking price to secure a contract. Some experts claim a recession would cool down the housing market, but what would that mean for the market's future and potential homebuyers?
For this study, we surveyed 1,000 people about their views on a possible housing market crash. Are prospective homeowners waiting for the bubble to burst before entering the market, and are they ready for when it does? On the other end of the spectrum, how are recent homebuyers preparing for a crash?
Market crash vs. correction
With experts predicting a housing market cooldown, prospective homebuyers face a difficult decision: buy now or wait it out. Let's first look at people's housing hopes and fears and what their plans are.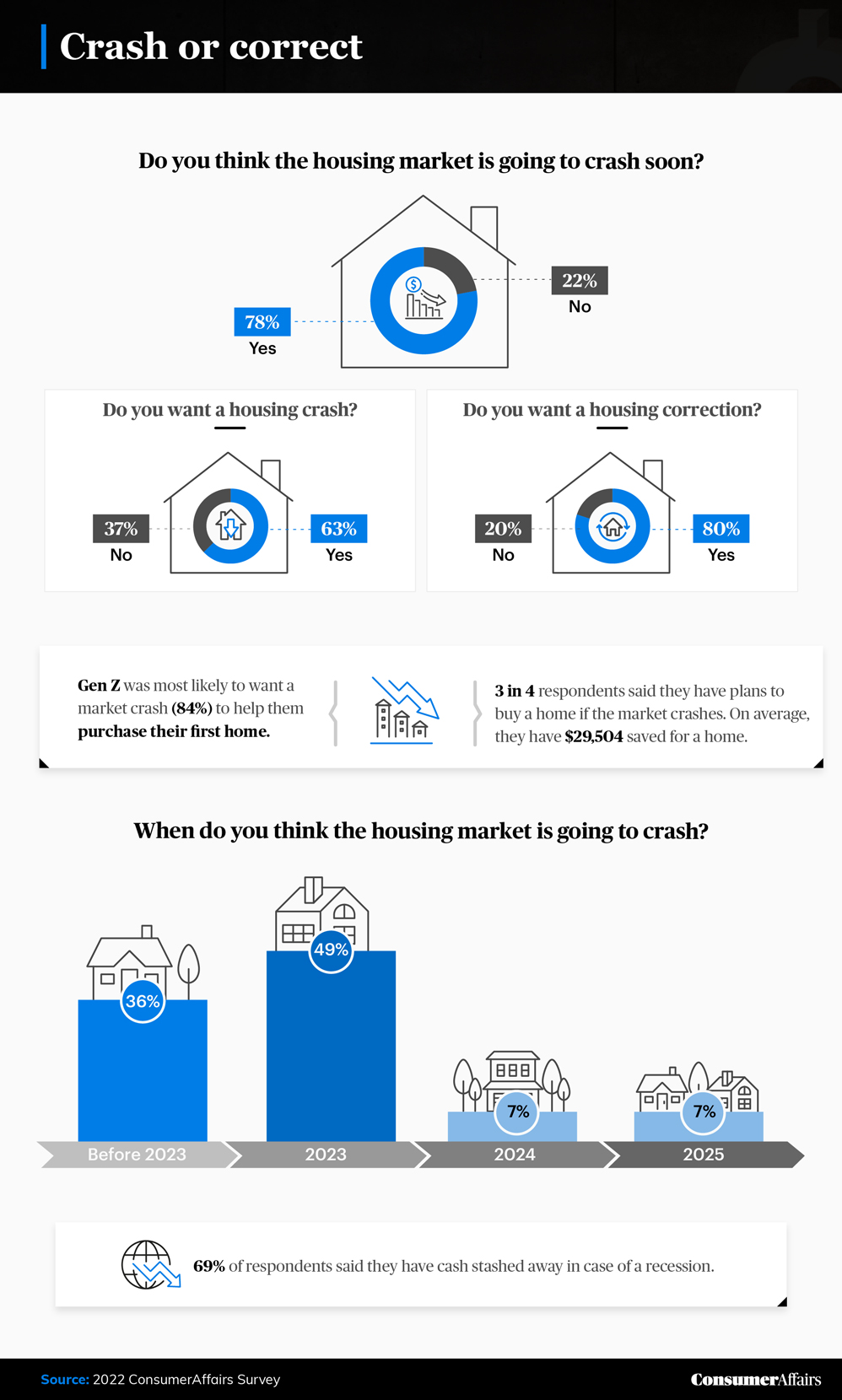 Homebuyers are in agreement with the experts — a market crash is coming. More than half of baby boomers believe 2023 will bring a housing crisis. But many buyers are hoping for less of a crash and more of a correction.
A housing crash is a sudden and steep decline in home values, often leading to economic ruin for many homeowners. A housing correction, on the other hand, is a slow and steady return of elevated home values back down to balanced levels.
The gradual nature of a market correction saves homeowners from financial distress while reopening the door of homeownership to more buyers. This could be why 27% were more likely to prefer a housing correction over a housing crash overall.
Gen Z was the generation most likely to want a housing crash (84%) or correction (86%) so they could buy a home, but can they afford it either way? Despite their hopes for a cooler market, Gen Zers have the least saved for a home: $15,601, on average. Their smaller savings might be due to their age (they've had less time to save) or the drastic rent increases many have faced in the U.S. recently. Still, today, homeownership seems like the most affordable option.
If a crash were to happen, where do people think it would hit first? Let's take a look at what our respondents said.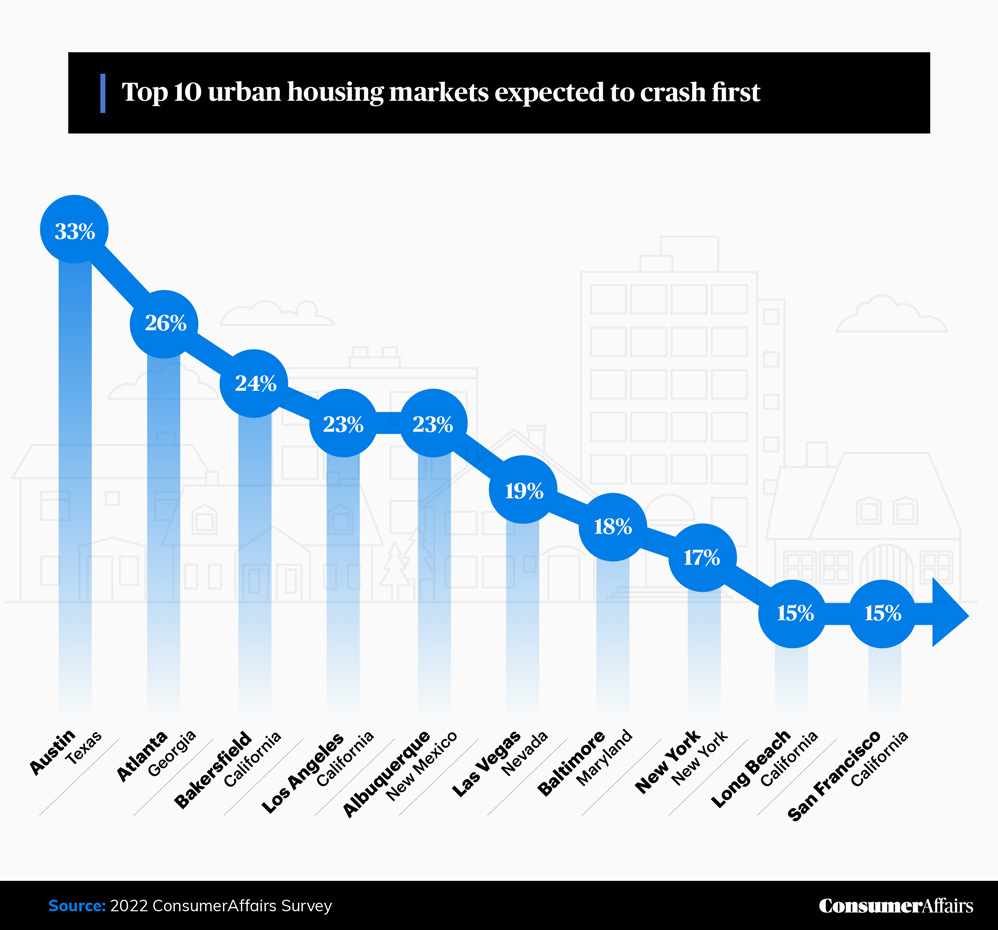 City dwellers have been eager to upgrade their housing over the last few years as many have moved to working from home in cramped spaces. Government stimulus payments and low interest rates during the pandemic made it possible for many to relocate; however, a historically low market supply led to bidding wars and inflated home prices.
With interest rates rising, respondents believe metropolitan areas will be affected first if the market cools down. They ranked the top 50 most populated cities in order of which markets they thought would crash first.
Austin, Texas, appears at risk — 33% of respondents singled this city out as the most precarious market. The other cities spanned the country, with Atlanta, Georgia, ranking second at 26%; New York City ranking eighth at 17%; and two California cities, Long Beach and San Francisco (both at 15%), rounding out the list.
Can we afford to keep our homes?
Potential homebuyers aren't the only ones keeping an eye on the housing market; homeowners are just as concerned about a possible recession. Next, we asked respondents if they would need to sell their homes in the event of a recession and what their next steps would be if that happened.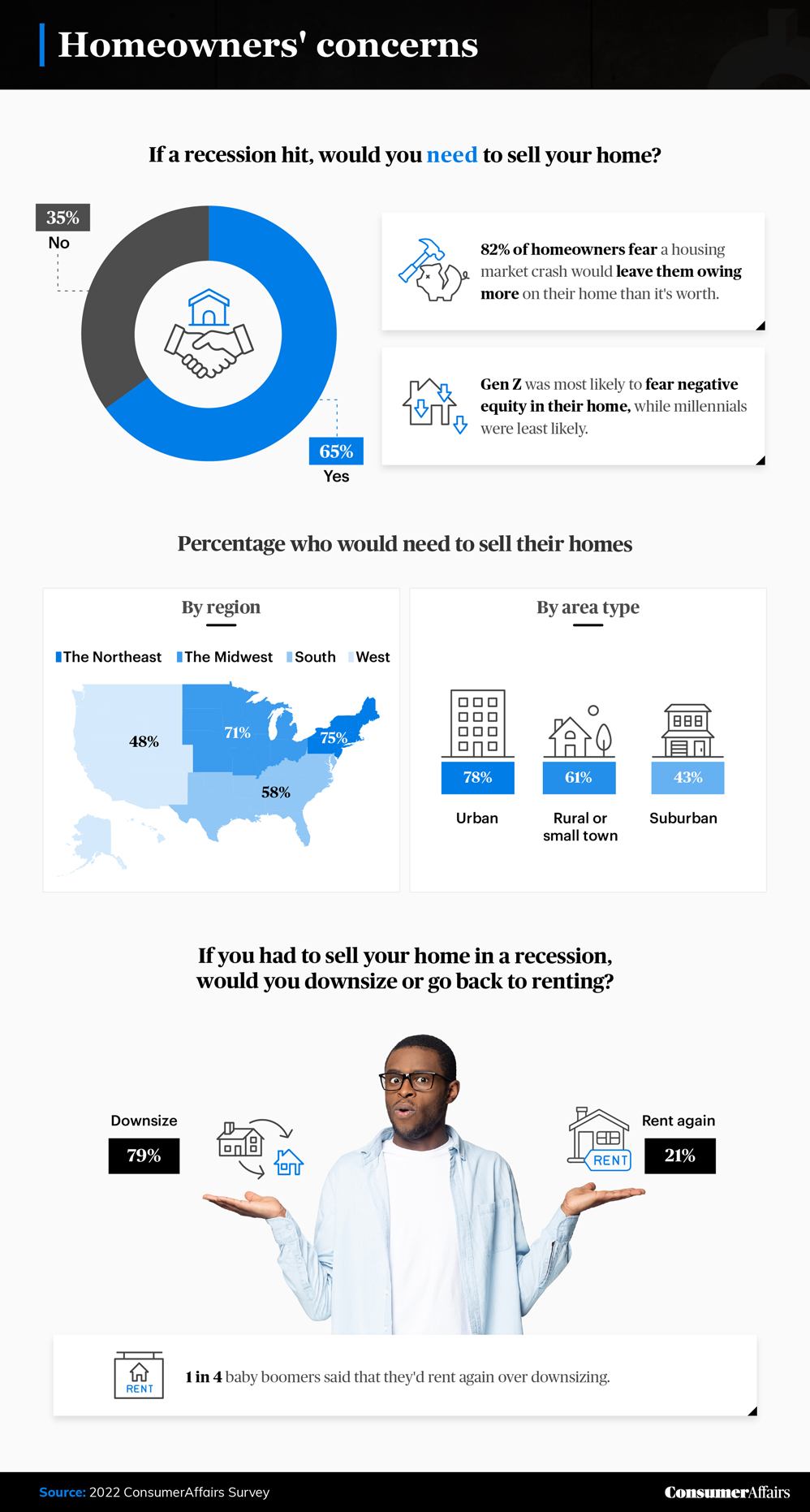 If the country goes into a recession, many who purchased a home in the last two years may want to sell: Nearly two-thirds surveyed said they would need to sell their home if a recession hit. This scenario was equally likely among Gen Zers and baby boomers, with both generations most likely to say they'd have to sell. Overall, 82% believed a market crash would at least leave them owing more on their mortgage than their home is worth.
Luckily, a market cooling would also open the door to prospective homeowners, including those who might have to sell their recently purchased homes. And while only 4% of homeowners thought they would be able to upsize during a housing crash, 79% said they'd be able to downsize rather than rent. That's good news for millennials, who were most likely to favor downsizing over renting.
Paying rent while saving for a mortgage
As for renters, the possibility of a housing crash leaves them much to ponder. Are they eager or even ready to buy a home?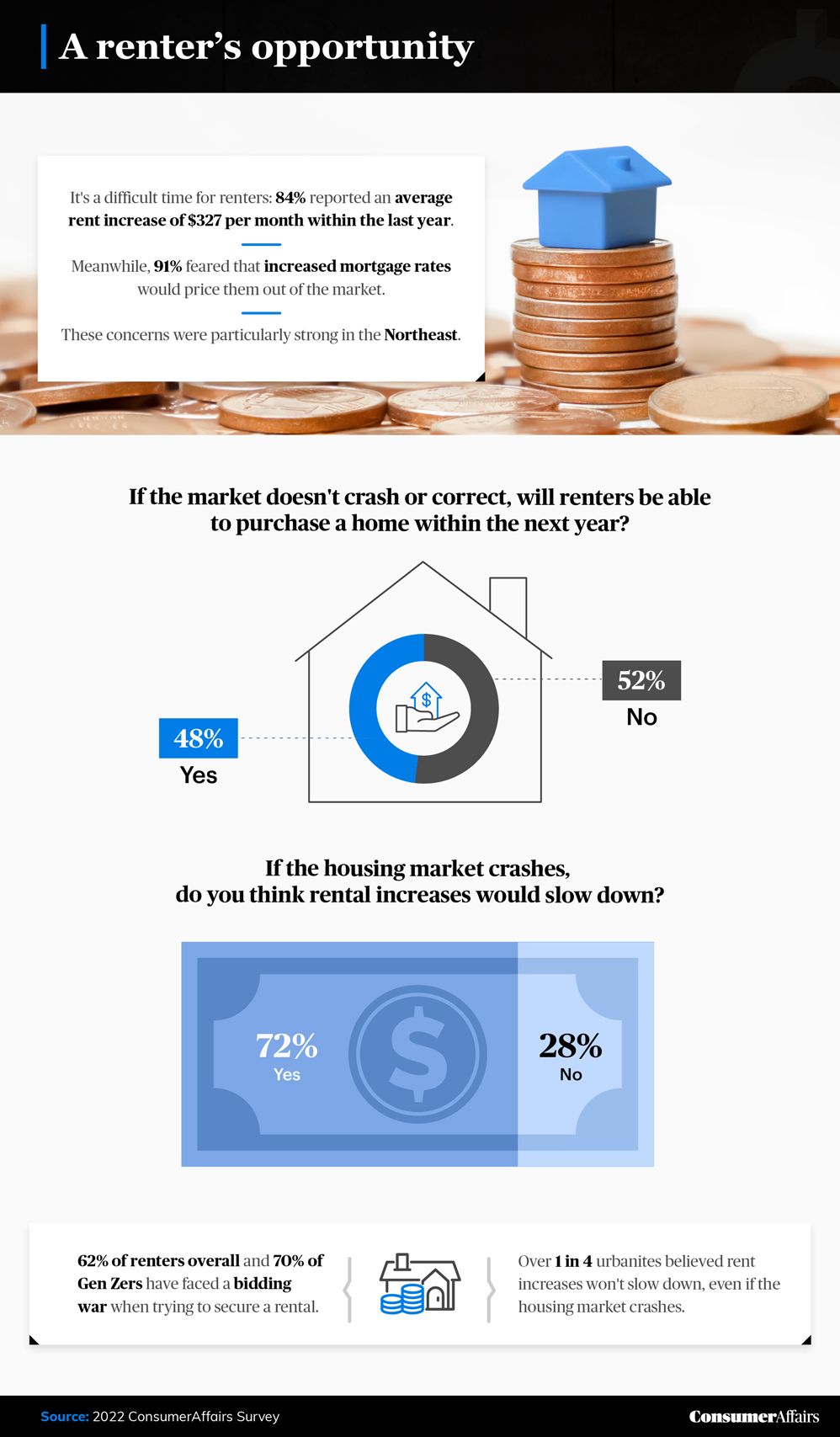 The housing surge affected renters almost as much as homebuyers. Rent has skyrocketed across the county, particularly in urban areas, with many renters (84%) paying an average rent increase of $327 per month within the last year. Should the housing market crash, most renters — particularly Gen Xers — expect it would cause rent increases to slow.
In the meantime, renters are focused on paying bills and saving up for homeownership. If the market doesn't crash or correct, 48% of renters think they won't be able to purchase a home within the next two years. With one-third of renters currently priced out of buying, it's easy to feel discouraged. But on the bright side, 71% thought they'd at least be able to purchase a home in the next five years.
Slow and steady will save the market
The housing market surge has left many homebuyers and new homeowners in a state of uncertainty. With recession on the horizon and a possible market crash around the corner, potential buyers are weighing their options. Meanwhile, recent homeowners hope a recession doesn't force them to resell at a loss, and renters struggle to save for a mortgage amid steep rent increases. Everyone seems stuck in an impossible situation. So, what's next?
Hopefully the housing market will correct but not crash. If home prices return to normal at a steady rate, renters and prospective buyers will be priced back into the market and have a shot at homeownership.
With a slow correction, homeowners — even those who may have overpaid for their new home — could hold on to their investment and avoid a steep financial loss. Even continuing renters may see their situation improve with a slowing of rent increases. Everything depends on whether the market can cool slowly enough to save itself from another catastrophic crash.
Methodology
ConsumerAffairs surveyed 1,003 individuals to explore perceptions about a potential housing crisis. Of these respondents, 502 were homeowners that had purchased their home within the last two years, and 501 were renters.
About ConsumerAffairs
ConsumerAffairs conducts research, creates comprehensive buying guides and collects reviews to help consumers make smarter buying decisions.
Fair use statement
Did you find this article interesting? You can share these findings for noncommercial purposes, but please provide a link to this page.
Did you find this article helpful?
|
You're signed up
We'll start sending you the news you need delivered straight to you. We value your privacy. Unsubscribe easily.