Learning from financial hindsight
Study reveals the most regretted financial decisions in America (Survey)



Written by

Edited by

Key takeaways
More than 1 in 5 Americans said they always or often regret their financial decisions.
Credit card debt was the biggest long-term financial regret, followed closely by skimping on emergency savings.
Cars were the most regretted large purchase, costing the average purchaser an estimated $33,000 over the past two years.
Fifty-one percent of those who bought a home in the past two years regretted it.
More than 1 in 4 Americans felt major regret about not negotiating their salary more often.
In our society, money makes the world go round — but we all handle our finances differently. Some of us are big spenders and risk-takers; others are cautious scrimpers and savers. Many Americans fall somewhere between these two extremes, but no matter our spending habits, we've likely all felt the sting of financial remorse at some point.
Whether we've gone into debt after a large purchase or failed to save for a rainy day, hindsight can make us rethink choices we've made in the past — and avoid mistakes in the future. We recently surveyed 1,074 adults from a range of generations and educational backgrounds to discover how most Americans view their financial decisions in retrospect. Read on to see what we found and how you might learn from others.
How Americans feel about major financial decisions
People face all kinds of financial remorse in America today, but we were curious to know how often they feel this way and why. Here's a look at how Americans tend to feel about spending, as well as what's at the root of their biggest long-term money regrets.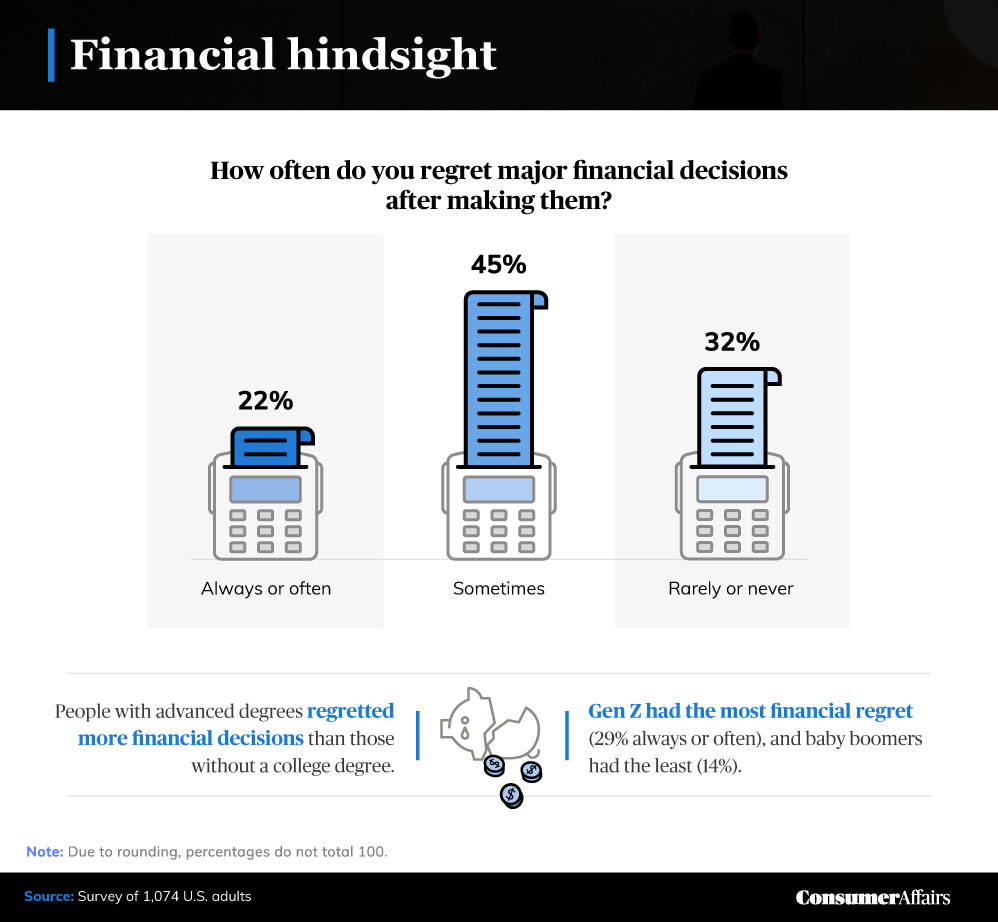 Sixty-seven percent of Americans reported "sometimes," "often" or "always" feeling regretful after a major financial decision. Surprisingly, those with advanced educational degrees were more likely to harbor feelings of regret than those without degrees. Twenty-eight percent of highly educated Americans felt regret "often" or "always," compared with 21% of those with a bachelor's degree and 22% of those with no college degree.
Younger Americans, particularly Gen Zers, were also more likely to regret financial decisions. Older and wealthier Americans were less prone to regrets, as were those who scored higher on the CFPB Financial Well-Being Scale.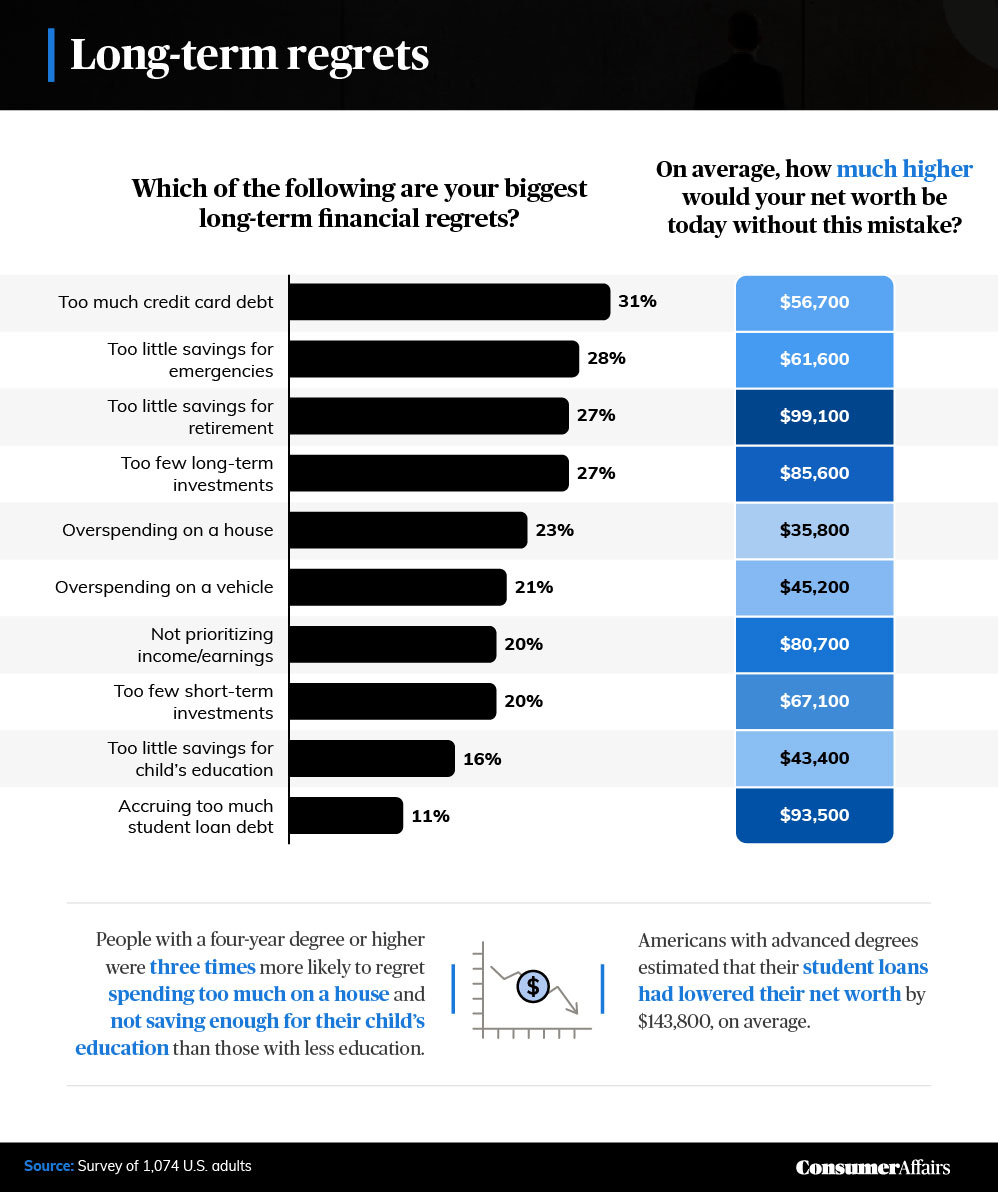 Americans were most upset that they held too much credit card debt or hadn't saved enough for emergencies and retirement. More than a quarter of Americans also regretted not having more long-term investments that could have paid out regular dividends or helped their finances grow in the long run.
Once again, education made a significant difference in our respondents' level of regret. College graduates with a bachelor's degree or higher were three times more likely to regret overspending on a house. Many with advanced degrees also believed that if they hadn't taken out so much in student loans, they would have an average of $143,800 more in the bank today.
Student loan debt weighs heavily on many Americans, especially as the pandemic-driven pause on interest comes to an end. What's more is that many feel the major debt isn't justified — a financial study by the Harris Poll for CNBC reported that 52% of older millennials with student debt believed their college loans weren't worth it.
Compounding this problem is our finding that highly educated Americans were more likely to regret not saving enough for their children's education. This could be because they're still paying off their own.
Regret in the time of COVID-19
High demand and low supply has led to ongoing product shortages and price hikes in the U.S. and around the world. Has the pandemic exacerbated Americans' feelings of buyer's remorse?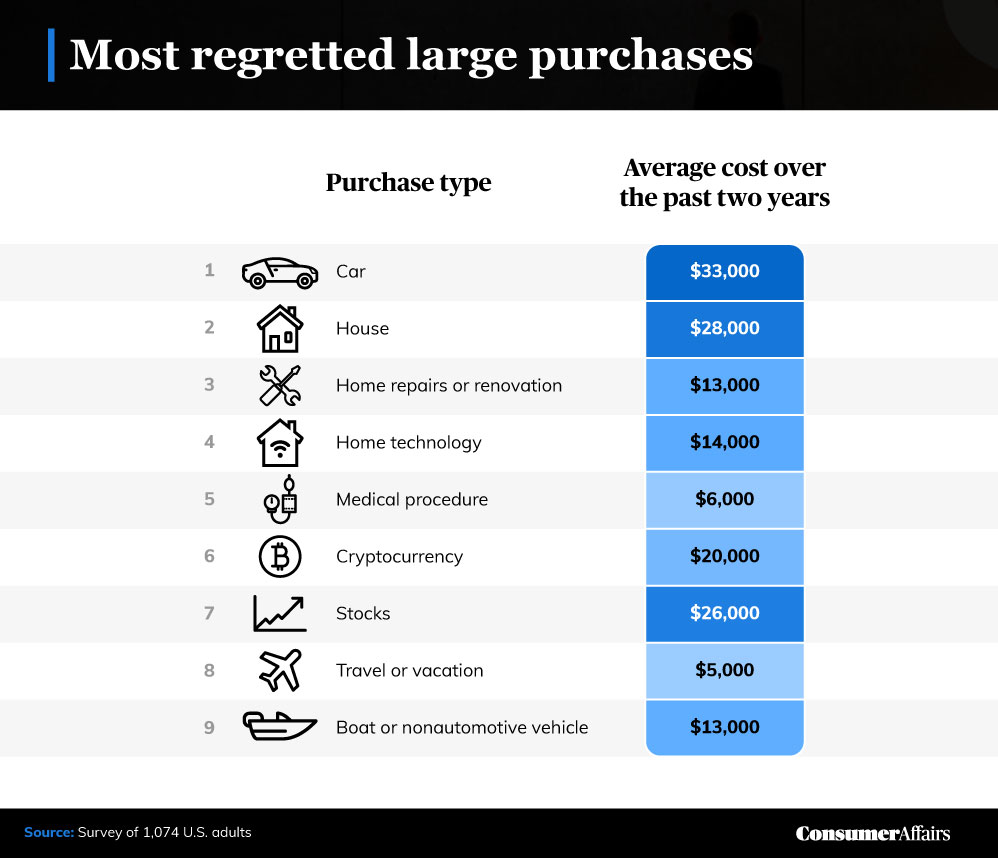 According to our results, the major purchases that caused most Americans regret were cars, with respondents reporting an average total automobile cost of $33,000 over the past two years. The next most regrettable purchases were houses, followed by home repairs, renovations and home tech.
You don't have to be buying or selling a home to know how wild the real estate market has been throughout the pandemic. Only 32% of Americans we surveyed who'd bought a home in the past two years were glad they'd done so, while 51% reported buyer's remorse.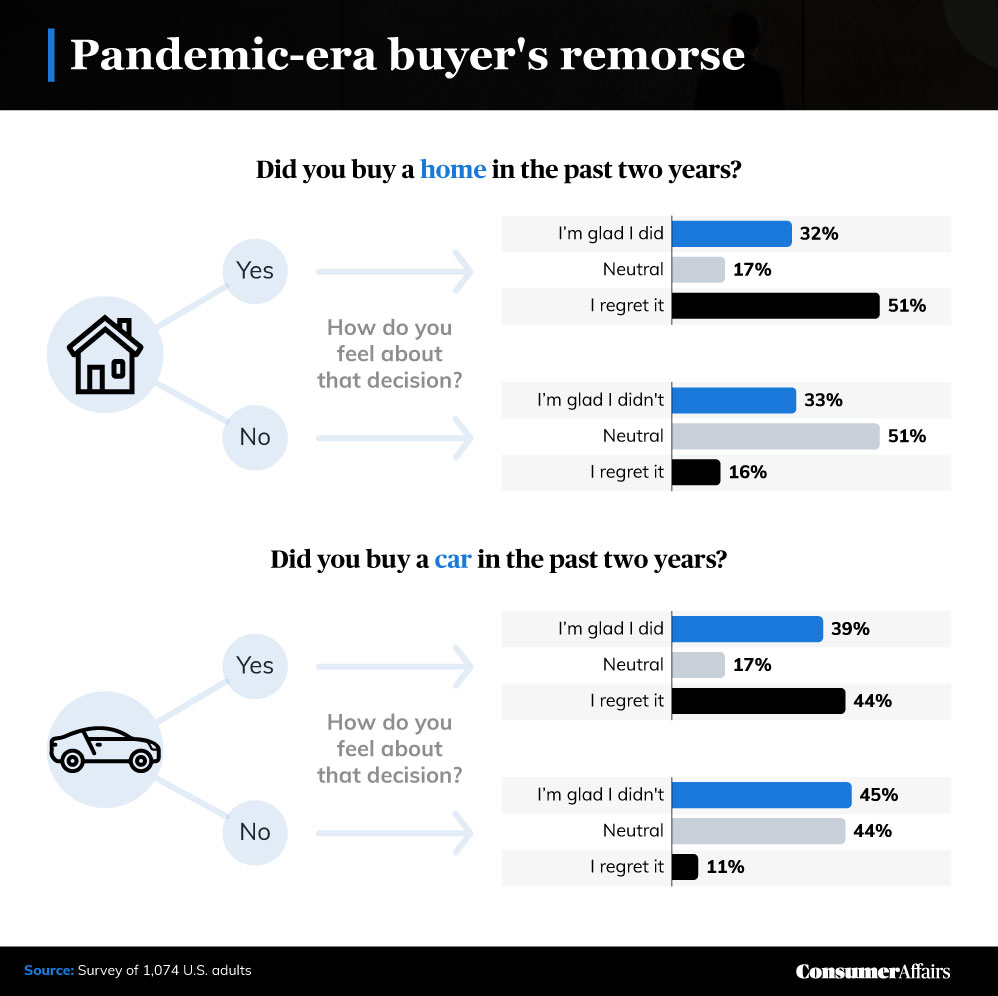 When it comes to cars, 39% of those who'd bought one in the past two years were happy about it, while 44% regretted the purchase. The good news is there's still high demand for vehicles due to the ongoing shortage, so those with regrets may be able to sell their car or trade it in for something more affordable. If you regret your pandemic-era car purchase, you can also try talking to your dealership or considering car loan refinancing to lower your monthly payment.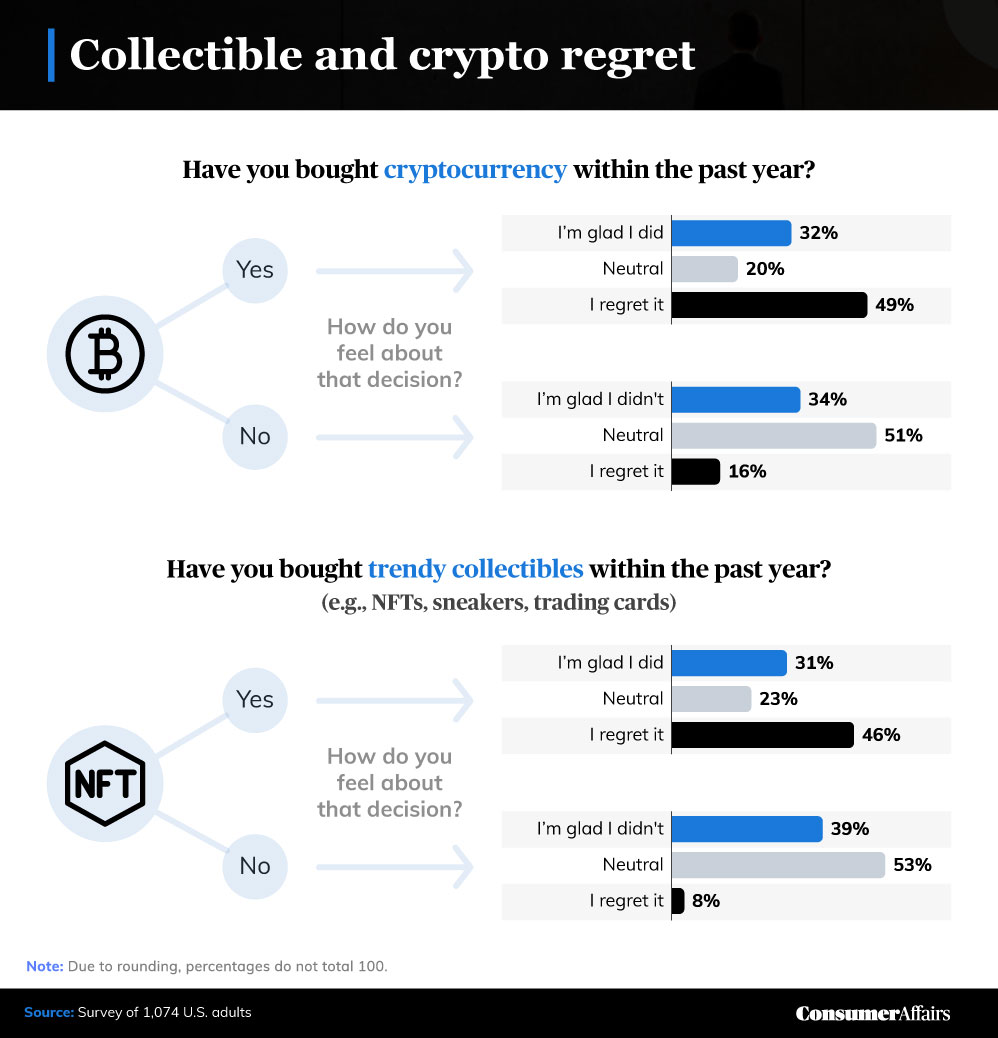 Cryptocurrency and unique collectibles became hot investment opportunities during the COVID-19 pandemic. But, as we know, what goes up must come down, and what's hot one week can be cold the next. Survey respondents who bought into crypto found themselves sharply divided, with 49% saying they regretted buying and 32% saying they were glad they did.
Save and invest before you need the money
With so many things you can save for, how do you know which to prioritize? It's a tricky question that depends a lot on your individual situation. Here's a view of what some Americans wished they'd put their money into sooner.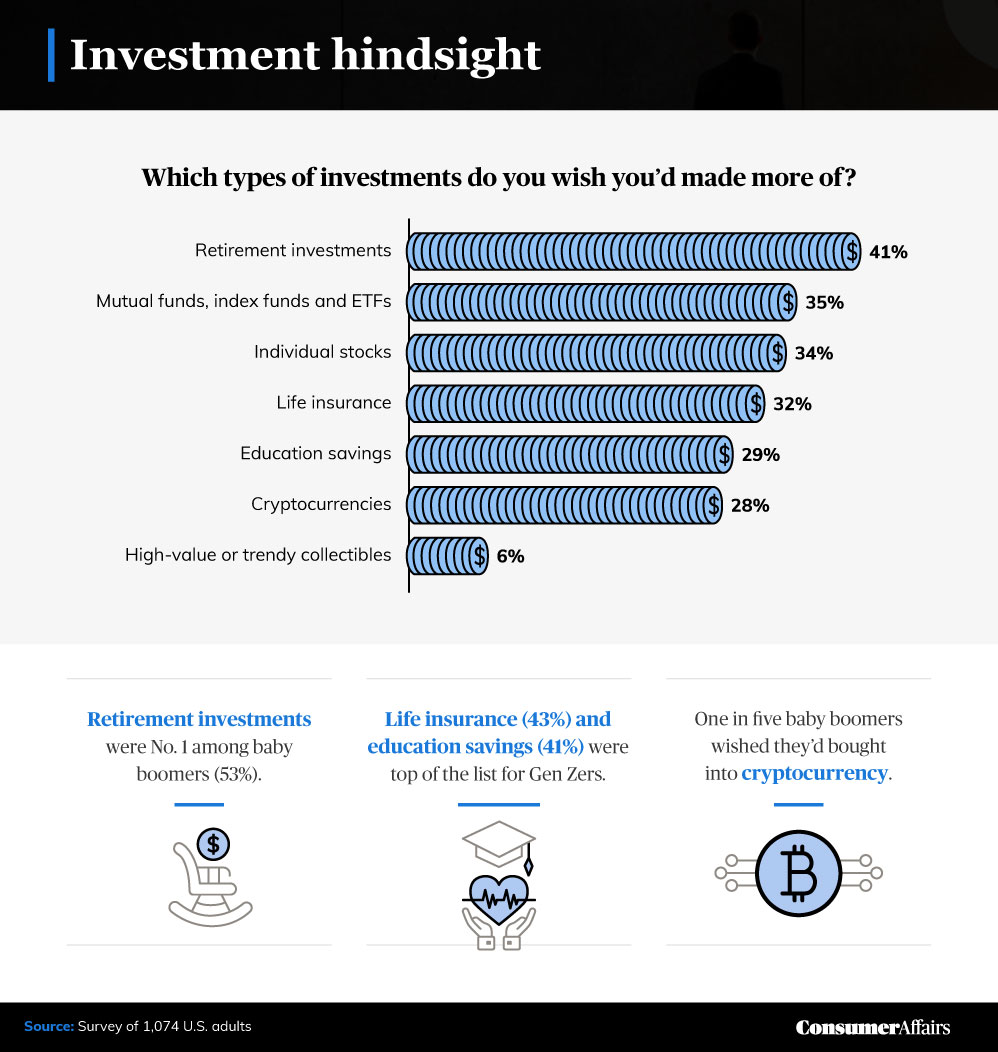 When it comes to savings and investments, a little can go a long way if you begin early and stay consistent. This was the lesson from our our oldest respondents: 53% of baby boomers wished they had more retirement investments in 2022. Perhaps surprisingly, a fifth of this generation also wished they'd invested in cryptocurrency.
Gen Zers were most regretful about not investing more in life insurance and education savings, but as the youngest generation surveyed, they have more time to get where they want to be. Talking to a financial advisor is a great way to learn how to improve your financial well-being and how to plan for the future.
Negotiate for better pay today
Underpaid workers often feel undervalued and unappreciated and may even struggle to make ends meet. On the other hand, getting paid what you deserve can boost morale and productivity — as well as your savings account.
More than 6 in 10 Americans felt "moderately" to "extremely" upset about failing to negotiate a raise more often in their career. And, on average, men were more regretful about missing out on salary negotiations than women: Only 36% of men felt "not at all" or "slightly" regretful, compared with 42% of women.
People with advanced degrees were once again more likely to feel a higher level of regret: 33% of highly educated Americans were "very" or "extremely" regretful about not negotiating raises, compared with 27% of those with bachelor's degrees and 22% of those with no degree.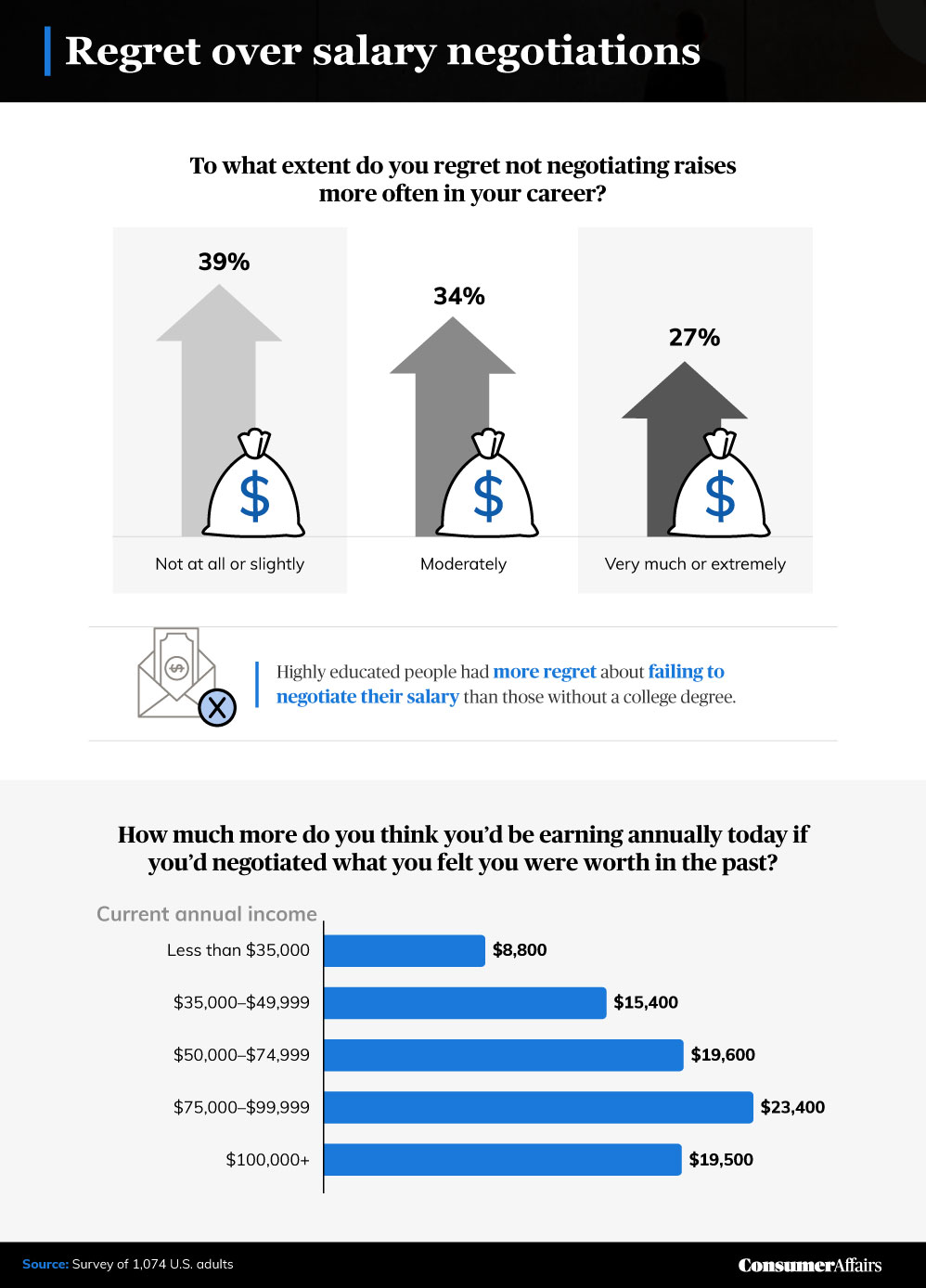 When asked to estimate how much higher their earnings would be if they'd negotiated, most estimated they'd be earning a minimum of roughly 25% more.
Millennials had more regret than other generations about not negotiating raises. On average and across all income brackets, millennials estimated that proper negotiations would have raised their salary by $18,900.
Asking for more money from an employer can seem tricky — you don't want to offend, but you also know what is and isn't worth your time. It's important to your financial and mental well-being to feel you're earning a fair wage for your efforts. So, if your duties are beginning to outweigh your earnings or if it's been some time since your company has bumped up pay, now might be the right moment to sit down for a chat with your boss to ask for a raise.
Learn from others' financial hindsight
It's no secret that life is expensive — and if you haven't already faced major financial decisions, you likely will in time. What you take away from our research depends on where you are in your life and what regrets you have. It's important to avoid unnecessary debt and, if you can, start saving and investing as soon as possible. Creating a financial safety net ensures the best chance of having enough money when you need it most.
Methodology and limitations
This study's data came from a survey of 1,074 adults in the United States. Demographic group sizes relevant to this analysis were as follows:
Gender
571 men
490 women
10 nonbinary
Three undisclosed
Generation
122 Gen Zers
535 millennials
283 Gen Xers
129 baby boomers
Five from older generations
Education
252 with an associate's degree or no college degree
605 with a bachelor's degree
217 with an advanced degree (master's, doctorate, professional, etc.)
Annual income
231 below $35,000
197 from $35,000 to $49,999
270 from $50,000 to $74,999
190 from $75,000 to $99,999
186 at $100,000 or more
In some cases, questions and answers have been rephrased or paraphrased for clarity or brevity. To help ensure accurate data, all survey respondents were required to identify and correctly answer an attention-check question. These data rely on self-reporting.
Fair use statement
Should you wish to share our insights into American financial regret, please feel free to do so for any noncommercial purpose. We just ask that you link back to this page to provide credit for our work.
Did you find this article helpful?
|
You're signed up
We'll start sending you the news you need delivered straight to you. We value your privacy. Unsubscribe easily.