Senior financial scams
How fraudsters target older adults in 2021

Written by

Edited by

Reports of financial crimes against the elderly are on the rise:
Older people are swindled out of more than $3 billion each year.
More than 3.5 million older adults are victims of financial exploitation each year.
Seniors targeted by fraudsters suffer an average loss of $34,200.
People of any age group can be targeted by scammers. However, those over the age of 60 are often more vulnerable, and victims over 80 report even higher financial losses.
Financial loss by age group
Losses from fraud aren't uniform across age groups, and older people tend to lose more money due to fraud than younger people. In 2019:
People ages 20 to 59 had lower median losses than older people.
Those who were 70 to 79 suffered a median loss of $600.
For adults over 80, the median loss is $1,600.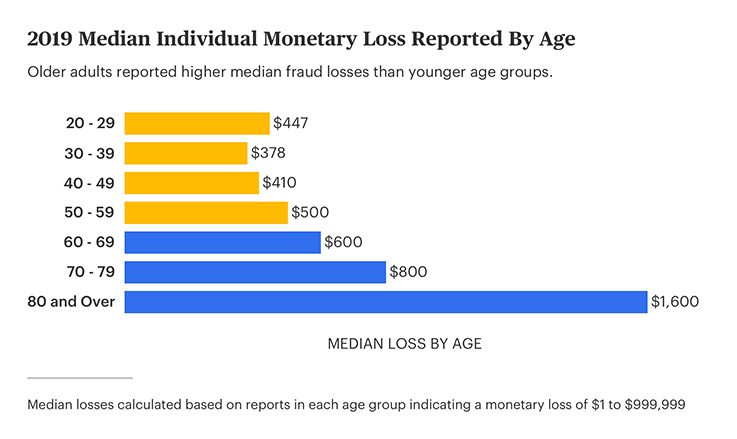 Top financial scams targeting seniors
According to the Federal Trade Commission (FTC), the types of fraud older Americans are most likely to fall victim to are:
The Federal Trade Commission also keeps records of how these scams are carried out:
Scam phone calls: 16,000 cases reported a loss, with a median cost of $1,500.
Online theft: 10,000 cases reported a loss, with a median cost of $395.
Consumer-initiated contact: 6,000 cases reported a loss, with a median cost of $300.
Email scams: 4,000 cases reported a loss, with a median cost of $500.
Mail fraud: 1,000 cases reported a loss, with a median cost of $1,800.
Based on this data, phone calls appear to be the medium of choice for scammers. The Federal Communications Commission (FCC) estimates there are nearly 2.4 billion robocalls made each month. Robocalls often use spoofed area codes to appear like they are calling from the victim's local area or with the caller ID of a government agency. Typically, an automated message will then inform the victim that they owe money or need to take immediate action on an issue.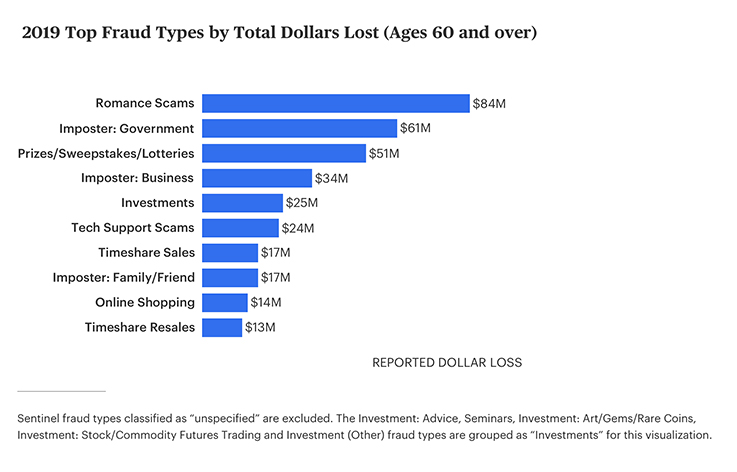 1. Online shopping scams
Although online shopping is the most widely reported type of fraud among older Americans, people over the age of 60 report fewer dollars lost here than with many other types of fraud. Still, people over 60 reportedly lost at least $14 million from online shopping scams last year.
While the internet has become many people's primary means of shopping, it's also become home to scammers posing as online retail stores. Sometimes these websites will appear legitimate, and the domain name may even be a slight modification of a well-known brand. Consumers are often lured into these sites by their low prices, but the products they advertise are drastically different from what's received — if the buyer gets anything at all.
It can be hard to identify these scams, though. Try reading reviews about the company on third-party websites, and be wary if an online merchant asks you to pay in an unconventional way, like with a money order or wire transfer.
2. Computer tech support scams
Tech support scammers tell victims their computers have problems or viruses that they can help resolve. They then make money by asking victims to pay for services that aren't needed. In 2019, tech support scammers stole $24 million from victims over 60.
Sometimes, these scammers call people directly, warning about "computer problems," but the most common way tech support scammers connect with victims is online. On certain websites, pop-up warnings may appear, warning users of a virus or security issue on their computers. Though the message sounds urgent and may use official-looking logos, it's just a way to trick the user into making contact and sending money.
Often, tech scammers claim they are from a well-known company like Microsoft or Apple. However, most major tech companies say they do not contact customers about these issues. When these pop-ups appear, simply close out the tab and ignore the warning.
Scammers may also ask for remote access to your computer. While legitimate computer care companies may do this to resolve technical issues, you shouldn't grant remote access if you haven't vetted whoever's on the other end.
3. Imposter scams
Imposter scams can take many forms — fraudsters may pose as officials from government agencies, banks, friends or family members to trick people into revealing bank account numbers, passwords and other personal data.
Family imposter scams
In family imposter scams, fraudsters pose as a loved one either by creating an online profile that looks like them or hacking personal emails or social media accounts. They will often claim an emergency has left them in desperate need of money and request an immediate transfer of funds.
If a family member is asking you to send them money online, it's important to vet the person you're talking to and ask them questions only your loved one would know. It's also important to avoid sending money immediately. Scammers bank on your fear and anxiety, but if you take a moment to call your relative directly, you can confirm if they really need your help.
Government imposter scams
Of those who report government imposter scams, only 6% say they lost money, according to the FTC. People over the age of 80 suffered a median loss of $2,700 in these types of scams, though.
Seniors are often targeted because they usually have good credit.
Social Security Administration imposter scams
Social Security imposters may tell victims that their SSN has been linked to criminal activity and/or suspended. The scammer will claim they can reactivate the number once the victim confirms their SSN. Other Social Security scams may tell victims their benefits are eligible for an increase and request that they confirm their name, date of birth and SSN. Both of these approaches are ploys to gain access to personal information that can be used to access private accounts and personal finances.
Actual representatives from the Social Security Administration won't ask for your SSN over the phone, nor will they initiate contact if you haven't recently been in touch with them. Warnings of arrest, the suspension of your Social Security number or the loss of benefits are also signs that the notice is a scam.
Internal Revenue Service imposter scams
Another one of the most prominent government scams is IRS impersonation. This type of scam usually involves calling victims directly and telling them they owe taxes that, if not paid, could lead to their arrest or other legal action. The scammer's goal is to intimidate victims into immediately sending the requested money or providing personal information, like bank account or Social Security numbers.
The Department of the Treasury recommends immediately hanging up if you receive a phone call matching these characteristics. If there's an issue with your taxes, the IRS will typically send a notice in the mail first. The IRS also will never ask for personal financial information like PINs, passwords or credit card numbers.
The Treasury Inspector General for Tax Administration (TIGTA) reported that the states with the most losses due to IRS scams are:
California: Over $10 million lost
New York: Over $4 million lost
Texas: Over $4 million lost
Illinois: Over $3 million lost
Florida: Over $2 million lost
TIGTA has been working to thwart the efforts of these scammers by sending cease-and-desist messages, asking telephone companies to shut down the numbers committing these crimes, publishing telephone numbers associated with this fraud and educating the public on identifying these scams.
4. Romance scams
In 2020, total reported losses to romance scams hit a high of $304 million, making them the leading cause of fraudulent financial loss across all age groups. Romance scams have been increasing significantly in recent years, thanks to the growing popularity of online dating. Since 2016, the reported number of romance scams has nearly tripled. Though older people are the least vulnerable age group to romance scams, people ages 70+ had the highest median loss from this type of fraud, at $9,475.
Typically, a romance scammer will create a fake profile on dating sites or social media, then reach out to vulnerable people and develop a relationship through chatting or texting. Scammers generally make excuses for why they can't meet in person. COVID-19 facilitated these excuses for scammers; the FTC cited that some scammers said they were unable to meet due to a COVID-19 test.
At some point, romance scammers ask their victims for money. Gift cards are becoming a more common medium to receive funds, with reports of gift card requests increasing by 70% last year. The FTC also warns that, in some cases, scammers may send money to victims first and then ask for it back, usually suggesting the scammer is harboring stolen funds.
To avoid losing money to romance scams, people should never send money to someone they haven't met in person. Additionally, a reverse image search of the pictures on a suspicious profile can identify if their photos are stock photography or of someone else.
5. Sweepstakes scams
In 2020, the FTC received over 116,000 reports about sweepstakes- and lottery-based scams. Victims of all ages lost a total of at least $166 million, with a median loss of $1,000. According to the Better Business Bureau (BBB), this type of scam usually targets older people, though.
Sweepstakes fraudsters often make contact through mail, phone calls, email or social media. Social media now accounts for one-third of reported lottery scams, according to the BBB. In the typical pattern of a sweepstakes fraud, the victim is congratulated on winning a massive amount of money. In order to receive it, though, they must pay a processing fee or tax. The amount the scammer asks for will vary, but if someone pays it, they will usually call asking for more money in order to deliver the prize to them.
True sweepstakes generally state "no purchase necessary," and winners should never be asked to send money to claim their prize. Legitimate lotteries like Mega Millions or Powerball sell tickets, but they will never charge participants money to receive their prizes.
6. Other types of financial scams
Timeshare sale and resale scams, investment scams and health insurance scams commonly are prevalent among people over 60. Timeshare sale and resale scams conned over $30 million total from people over the age of 60 in 2019. People in this age group also reported $25 million in total losses from investment scams.
In other scams, criminals may appear in person and claim they can repair any issue in the victim's house. These scammers will ask for advance payment but either never return or steal victims' identities.
Fraudsters are always finding new methods to trick people into giving them money. Whether or not the method is listed here, it's important to be skeptical of anyone who is asking for advance or immediate payment, especially via gift card or wire transfer. When in doubt, don't send any of the requested money, and talk to someone you trust about the potential scammer who contacted you.
For more, find out what consumers need to know about identity theft, how to find the best identity theft protection services and how to find the best credit monitoring services.
Preventing and responding to financial crimes against the elderly
If you've been contacted by a fraudster, whether or not you've lost money, it's helpful to file a complaint. Groups that respond to these crimes include the Better Business Bureau, the Federal Trade Commission and the FBI's Internet Crime Complaint Center.
If you've lost money to a scam, it's possible to contact your bank or credit/debit card company and ask them to void the payment. However, it's harder to recover the funds with scams that utilize gift cards or wire transfers.
If you were a victim of a scam, other individuals or groups might try to con you again, so don't send money to anyone else calling with a similar suspicious story. You should continue to report these fraud attempts to the appropriate authorities, too.
You can also add your phone number to the National Do Not Call Registry. This list was created in 2003 to respond to a growing number of direct-sales companies clogging up people's phone lines. Robocallers often ignore whether or not you're on this list, but it can still be a good first step for reducing these types of calls.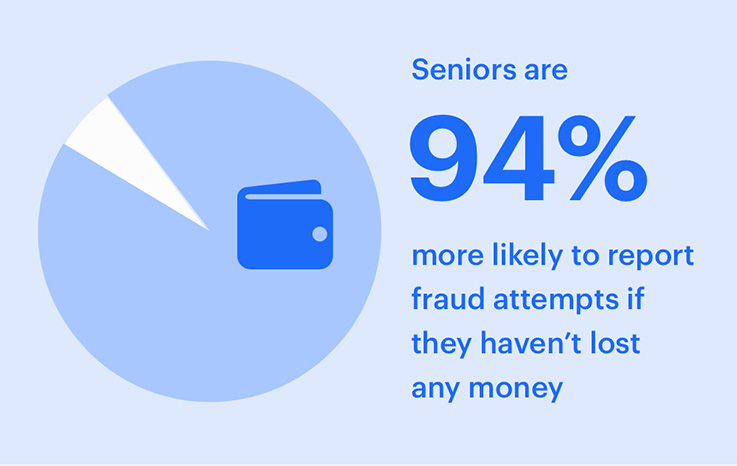 About senior financial scam statistics
It's hard to understand how widespread fraud is because the data is often underreported, especially among the senior population. One study in New York State suggested that for every 44 fraud cases, only one is reported, and data from the Federal Trade Commission suggests seniors are 94% more likely to report fraud attempts if they haven't lost any money. This hesitancy to report can be due to shame and older people not wanting to alert family members about an inability to manage their finances.
Across all age groups, the Federal Trade Commission documented 4,720,743 incidents in 2020 alone. Since 2010, the total number of fraud, identity theft and similar reports has increased by 221%. This doesn't necessarily mean that more scams are happening, though — it could suggest that more victims are reporting fraud than in previous years.
Additionally, only about half of scams reported to the FTC include age information. Among consumers who included their age, there were 318,850 reported cases victimizing people over 60, according to the most recent report at the time of publishing.
Bottom line
Seniors are especially vulnerable to financial scams because most of them are on a fixed income, according to recent elderly poverty statistics. For more info on how to navigate life after retirement, explore our elder care planning resources.
Article sources

ConsumerAffairs writers primarily rely on government data, industry experts and original research from other reputable publications to inform their work. To learn more about the content on our site, visit our FAQ page.
Did you find this article helpful?
|
You're signed up
We'll start sending you the news you need delivered straight to you. We value your privacy. Unsubscribe easily.