Understanding BNPL
Exploring people's use of buy now, pay later options



Written by

Edited by

Key takeaways
8 out of 10 Americans using BNPL services have done so for the first time in the last year.
Those who haven't used BNPL services are most likely to buy electronics as their first purchase.
86% of BNPL users say they've been charged a late fee.
The concept is simple: Consumers take a good or service home immediately and worry about paying for it later — sometimes much later and often in small installments. Yes, this can get you into serious financial trouble if you're not careful, but it can also help secure items you need but are currently unable to afford.
As buy now, pay later options pop up in more and more stores, it's time we take a look at how this type of financing is impacting the lives of Americans. What impact is it having on our collective financial well-being, and which generations are getting the most use out of it? We conducted a survey of 1,000 Americans to answer these questions. Keep reading to see what we uncovered and what buying now and paying later could mean for you.
Aggregate use of buy now, pay later
To begin the study, our researchers first asked respondents about their preferred usage of buy now, pay later (referred to as BNPL). They shared their favorite apps, frequency of use and overall sentiments regarding the payment option. We also compared responses by generation.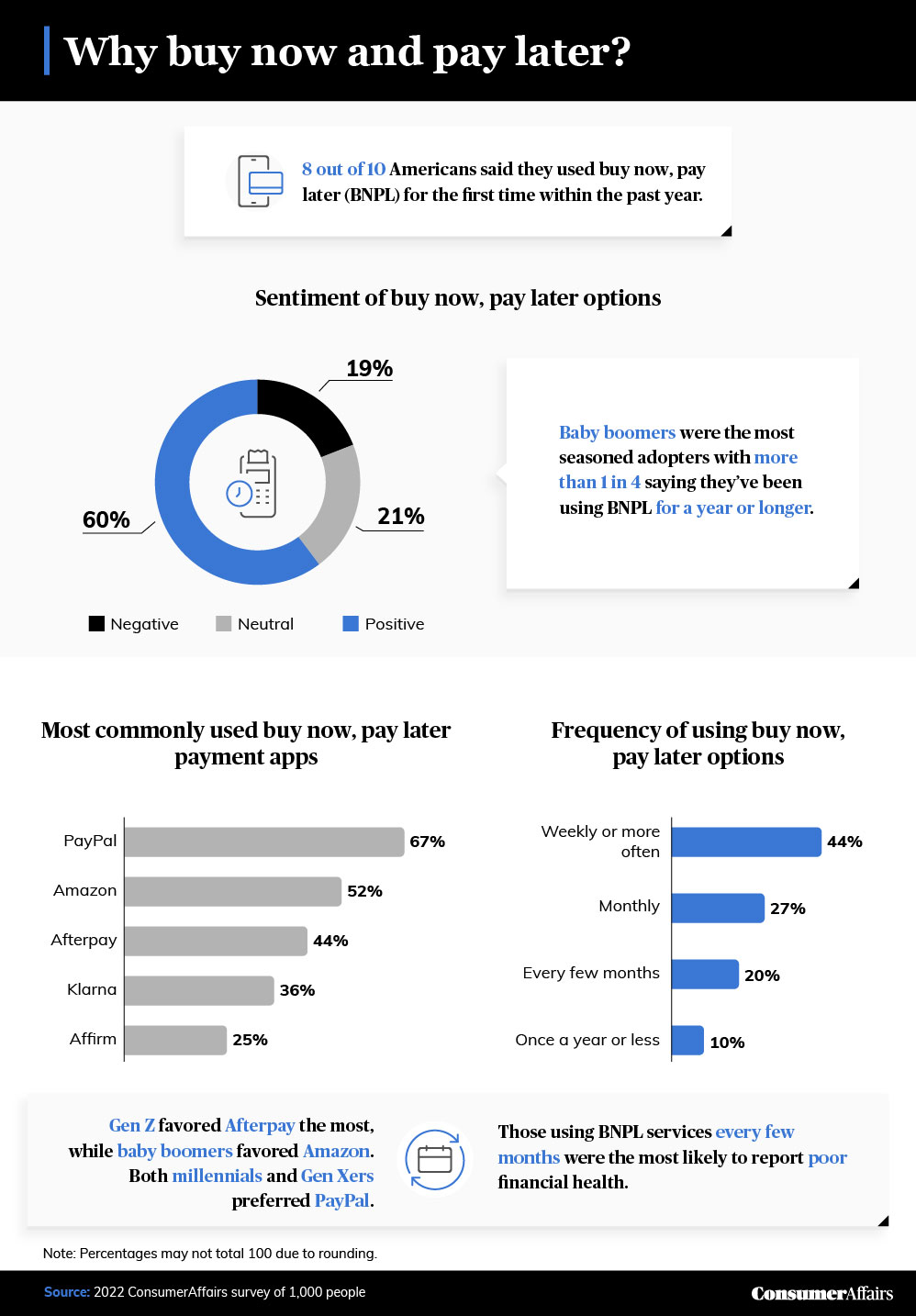 It's no wonder BNPL is raking in hundreds of billions of dollars and expected to pull in even more; 80% of those surveyed had used it for the first time within the last year alone. People also habitualized paying later with gusto: 44% used BNPL weekly or more frequently. Only 10% said they employed the payment option once a year or less.
Despite BNPL being a relatively new offering, baby boomers were enthusiastic adopters from the beginning. Unlike millennials or Gen Zers, one in 4 of those between 57 and 75 years old had already been using BNPL for a year or longer.
Interestingly, those using BNPL the most frequently didn't have the poorest financial health, on average. It was actually those who used BNPL sporadically — just every few months — that had the worst situations. Perhaps holding on to cash for longer is financially advantageous in this particular economy of high inflation and market-dip buying opportunities.
What people are buying now and paying for later
This next piece of research digs into the specifics behind BNPL. Respondents shared what they're purchasing, how much they're spending and what types of late fees they owe. Once again, responses were further compared by generation.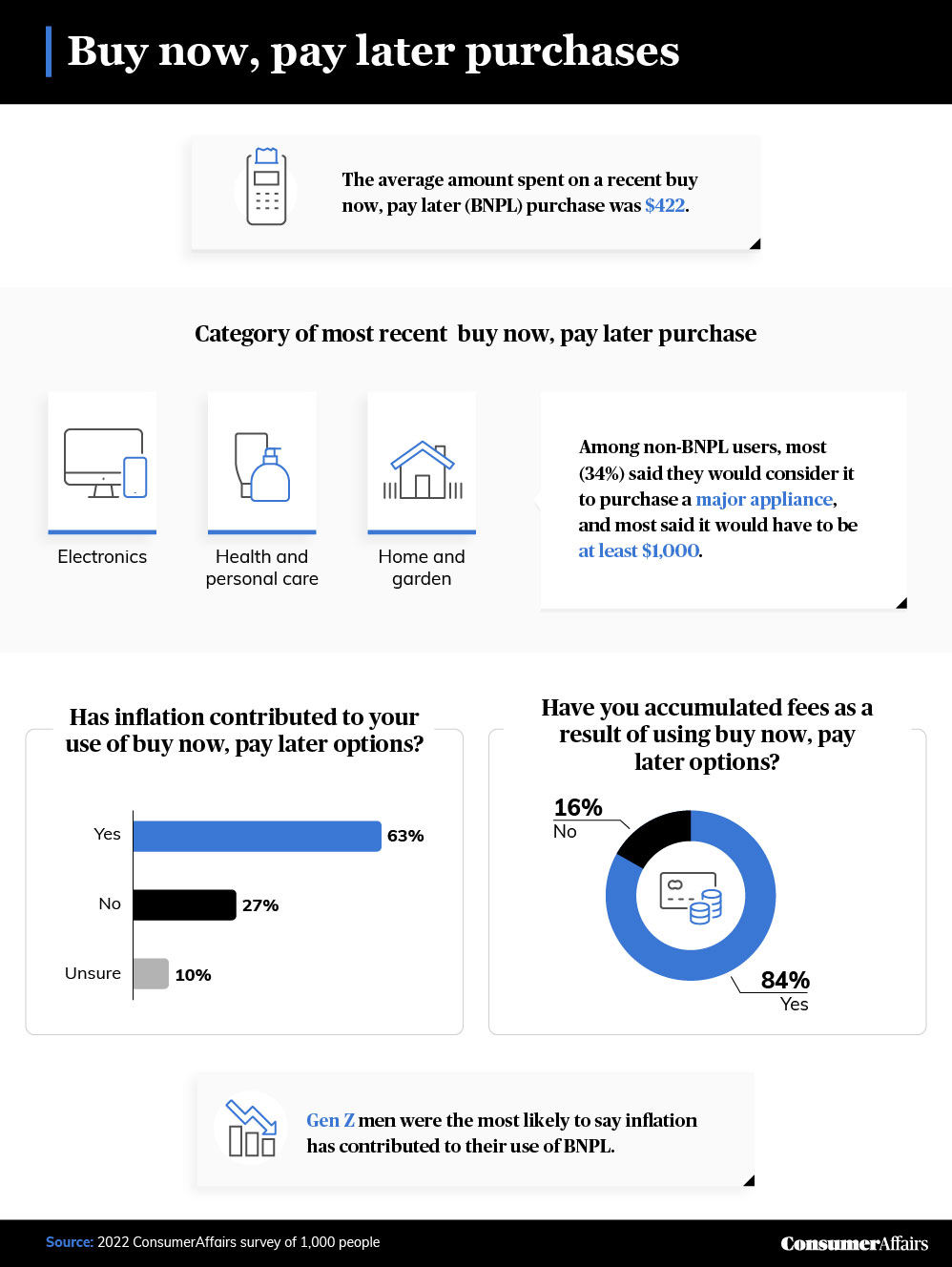 Gen Z respondents were the most likely to agree with the statement that inflation has directly contributed to their use of BNPL — and well over half of respondents of all ages agreed. With deferred payments, increasing inflation can lower the amount you ultimately owe. Then there's the fact that wages have not kept up with inflation — more than 1 in 10 respondents said they wouldn't have made a specific purchase without BNPL.
It might be concerning to see Gen Z adapting to this phenomenon the most. It's reminiscent of the circumstances around the CARD Act of 2010, when college students were preyed upon by credit card companies offering swag, gifts and other inducements on college campuses. Since then, there's been a steep drop in the number of young adults signing up for credit cards. Instead, it appears they're opting for BNPL, which mirrors the concept of a credit card.
Currently, Gen Z is racking up the most in late fees, with an average of $483 during their tenure using BNPL.
Future estimations of BNPL
The study wraps up with a look at future approximations of BNPL. Respondents were asked to share what they feel are the pros and cons of the service and which types of products and services they'd like to see BNPL options for.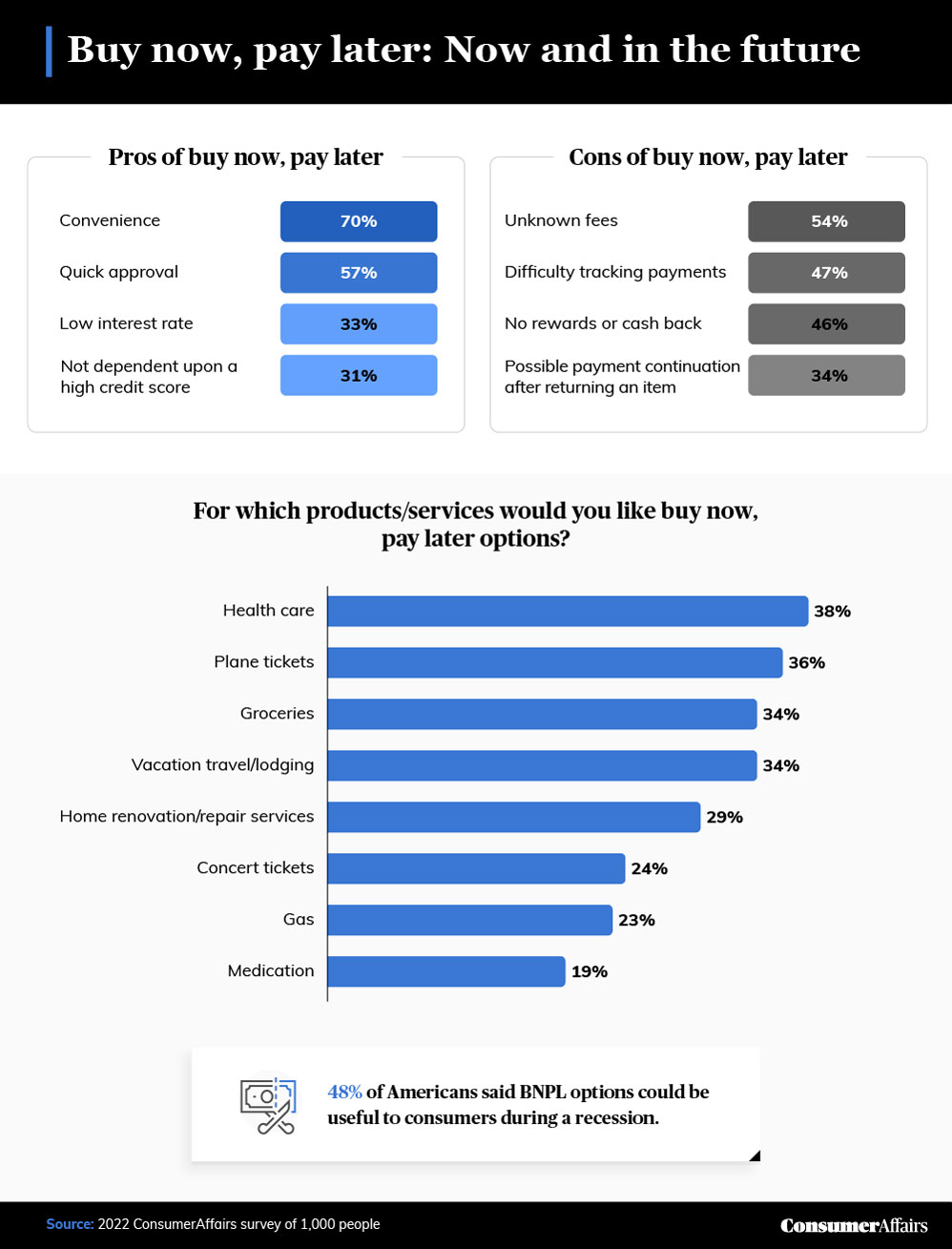 BNPL ultimately offered more upsides than downsides, according to respondents. They liked the option for its convenience (70%) and low interest rates (33%) — and also because it doesn't require a high credit score (31%). The perceived downsides were unknown fees (54%), difficult payment tracking (47%) and a lack of rewards or cash-back incentives (46%).
Most respondents wanted BNPL options to extend even further. Nearly half (48%) said the option is particularly helpful during a recession, and more than a third wanted the payment plans to be extended to health care.
With consistent proof that more money actually can lead to more happiness (or at least a life with less stress), this study suggests that having the actual money on hand might not be as important as having access to it through financing options. People who rated their financial health, mental health and quality of life as good or amazing in this study reported higher median fees, on average, suggesting the later (higher) payments could ultimately be worth it.
Using buy now, pay later to your advantage
BNPL offers a trove of possibilities for your financial well-being — if used correctly. Respondents who took advantage of the option with regularity were actually more likely to be happier and financially healthier, even if they were paying higher fees. Particularly during a recession, this option provides access to items people need the most. Of course, those who benefited most probably didn't do much frivolous spending.
Methodology and limitations
We surveyed 1,000 Americans about their experience or lack thereof with buy now, pay later services. 700 respondents were buy now, pay later users, and 300 had never used these services. Among our respondents, 21% were Generation Z, 32% were millennials, 27% were Generation X and 20% were baby boomers.
To help ensure accurate data, all respondents were required to identify and correctly answer a decoyed attention-check question. These data rely on self-reporting.
Fair use statement
Have you ever used buy now, pay later? And did this research influence your opinion on the subject? Feel free to use this data to contribute to your own conversations, but if you share the information, be sure to link back to this page and that your purposes are noncommercial in nature.
Did you find this article helpful?
|
You're signed up
We'll start sending you the news you need delivered straight to you. We value your privacy. Unsubscribe easily.