Financial plans amid the Great Resignation
A majority of job-hoppers found a better job, better pay — and even a better lifestyle



Written by

Edited by

Key takeaways
60% of people who left their job came out ahead financially, and only 6% ended up in a worse position.
The top three financial preparations for leaving a job were setting aside savings for monthly expenses, creating a monthly budget and reducing nonessential spending.
Among people who want to quit their job but can't, 59% said more savings would allow them to take the leap.
A majority of respondents saw increased job satisfaction, pay, work-life balance, benefits and career growth after leaving their job.
Millions of Americans are parting ways with their employers — and they're doing it on their own terms.
Many workers are seeing others enjoy better jobs in a competitive labor market and finding new ways to make money. But how idealistic — or realistic — are the perks of these millions of drastic decisions? Are these job-hoppers really financially prepared to take the leap?
After speaking to 1,000 respondents who left their jobs in search of something better, ConsumerAffairs has answers. Whether you're looking to leave a job or wondering how to retain employees in these turbulent times, read on to see what we learned.
How ready are employees to leave their jobs?
The study kicks off with a look into how financially prepared the average employee was prior to quitting their job. This helped us determine just how big their leaps of faith really were.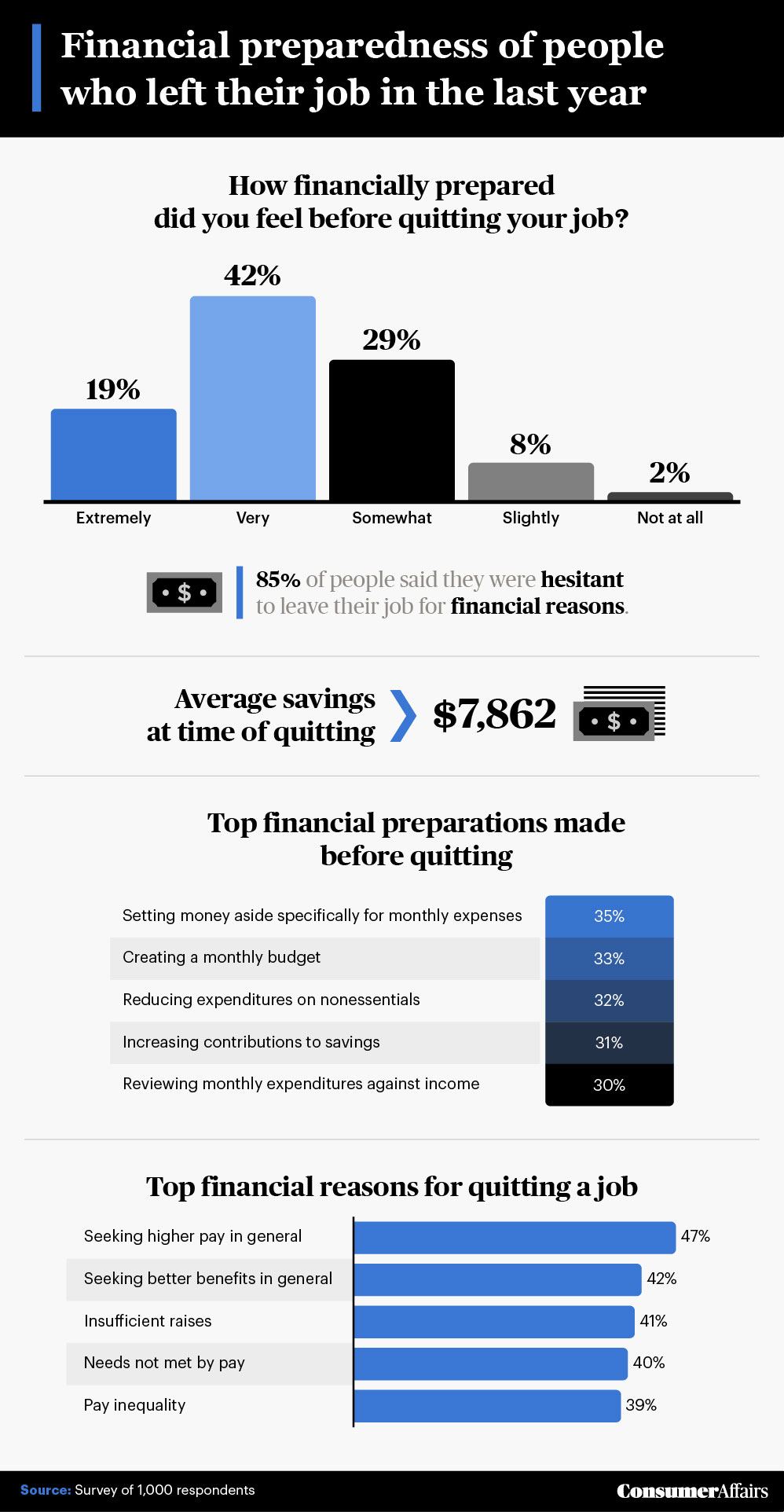 While most people felt very or even extremely prepared financially to leave their position, 44% of respondents admitted to having little more than $1,000 when they quit. They were often motivated to make a change in search of better pay (47%) and better benefits (42%), and many reported that their needs weren't being met by their former employers (40%).
The search for better pay right now could be a way of coping with the rising cost of living in the U.S. The primary regret related to leaving a job was not having taken advantage of health care benefits to the fullest before exiting — understandable, as half of Americans carried some sort of medical debt in 2021.
Many said they left with a better sense of financial security, however. Often, the decision was months in the making, with the average respondent spending between two and three months making financial preparations before leaving (and managing to save nearly $8,000 before walking out the door). Typically, getting ready involved setting money aside for future monthly expenses (35%), creating a new monthly budget (33%) and/or reducing expenditures on nonessentials (32%).
The question is, then, did this pay off in the end for those who left?
The results of taking the plunge
The next part of our research sought to find out how happy, overall, jop-hoppers felt upon leaving their most recent jobs. To help answer this question, we had employees report how much better or worse off they've felt since resigning from their jobs.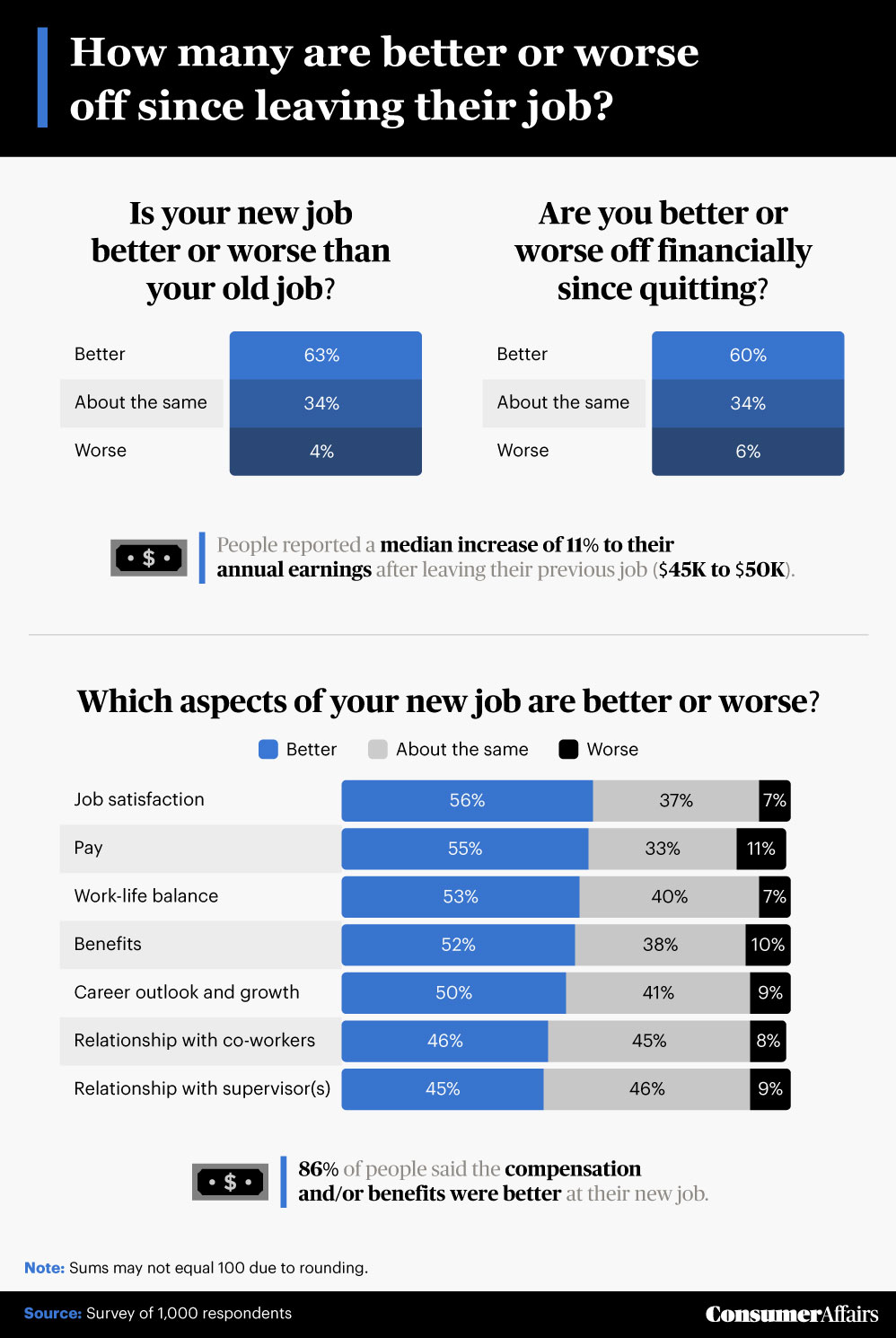 What we learned: People who left seemed better off, both financially and career-wise. Sixty-three percent called their new jobs better, and 60% said their financial situations had improved.
On average, employees reported an 11% increase in their annual earnings after leaving their previous employer, and 86% said this was due to better compensation at their new place of employment. Many companies are currently boosting salaries to fill open positions, which could explain these pay increases.
We also asked employees to cite specific improvements in their new roles. The No. 1 mention: job satisfaction. Though many people left their jobs specifically for better pay, a common pleasant surprise was this newfound satisfaction — 56% noticed an improvement in this area. Fifty-five percent reported pay improvements, while 53% said they'd found a better work-life balance.
Financial adjustments among job-hoppers
Though more than half of our respondents reported pay increases in their new roles, we wanted to double-check the financial effects of recent job shifts (for those who left their jobs within the past year).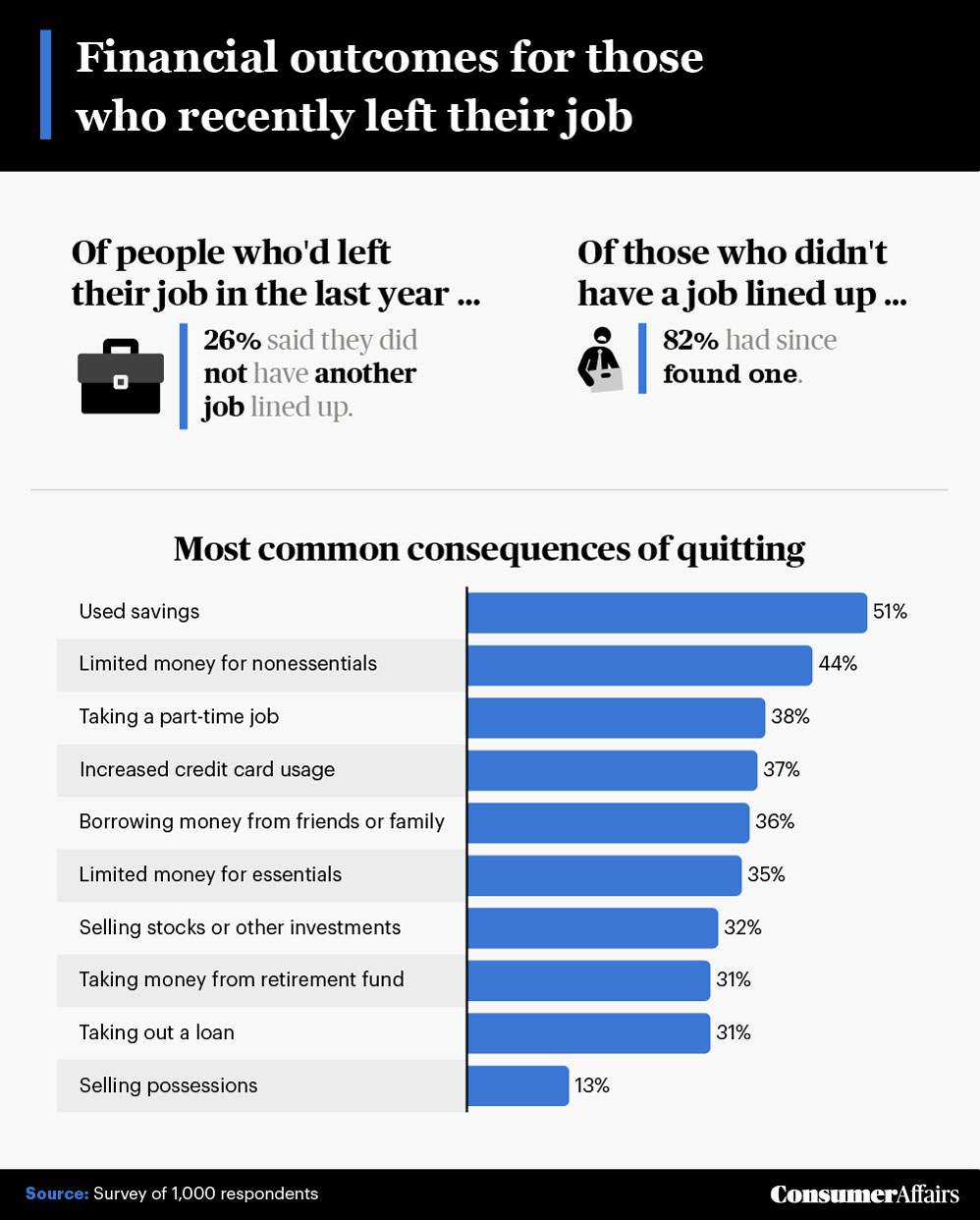 What we learned: More than a quarter of employees took a complete leap of faith and left their roles without another job lined up. With half of all companies in the U.S. currently understaffed, however, this may not have been the great risk it once was —82% of this group had since found work.
In the interim, however, life wasn't exactly a walk in the park, with many reporting strained finances between jobs. More than half said they had to dig into their savings, while 44% had to reduce their monthly expenditures. (In recent years, the average American's savings account balance has been about $3,500, which can disappear quickly during times of no income.)
More than a third had to increase their credit card usage or borrow money from friends or family, and 35% had to reduce spending on essentials like food and housing. More than 1 in 10 job-hoppers had to go as far as selling their possessions.
Leaving a position can be intimidating for these reasons, but considering the job satisfaction respondents reported after making a change, it seems the plunge can be worth it.
What about those who decided to stay?
Our study wraps up with interesting insights from another group of respondents: those who decided to stay in their roles in spite of an explicit desire to leave. We asked about their top reasons for staying as well as the specific financial changes necessary for them to leave their jobs.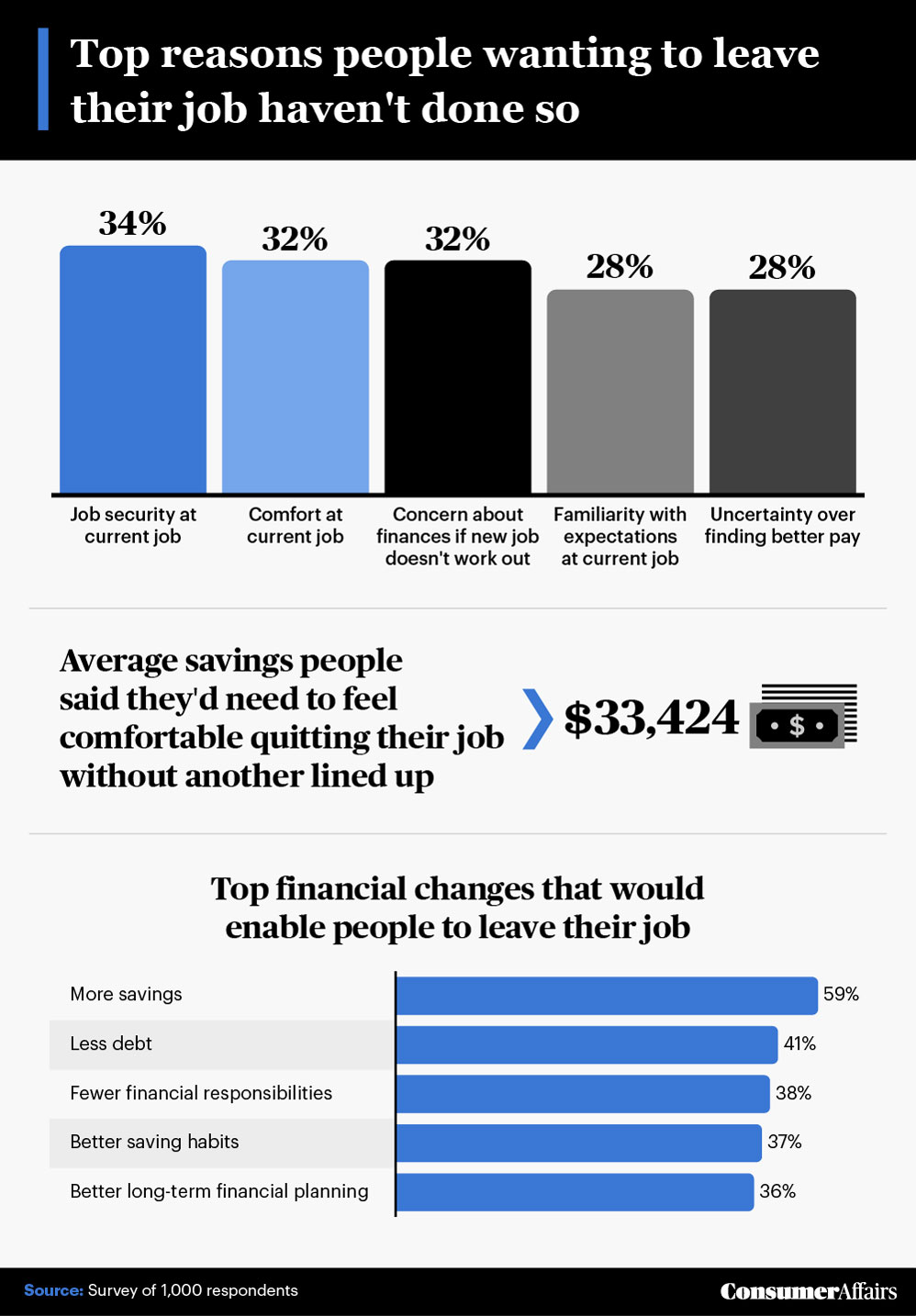 Roughly a third of people who wanted to leave their jobs but who hadn't actually done so said they simply felt comfortable where they were or enjoyed their current job security. Still, despite this comfort, they were adamant about their desires to leave their roles. Interestingly, on average, these respondents claimed they would need an average of $33,424 — more than half the average American salary — in their savings in order to actually leave.
Many Americans are dealing with a mountain of debt, so it's no wonder 85% said finances were part of the reason they hadn't yet left — and 51% said finances were the biggest issue holding them back. Some (41%) wanted to work on lowering their debt, 38% wanted fewer financial responsibilities, and 37% hoped to develop better saving habits before leaving.
Feeling ready (in every sense of the word)
Even with millions of employees leaving their jobs and entering a historically phenomenal hiring market, the prospect of quitting can still be scary. While most respondents did find work after leaving, the interim period brought on financial hardship for many. There often was light at the end of the tunnel, however, with the vast majority of those who left reporting markedly improved jobs, work-life balance and overall finances.
Methodology and limitations
For this analysis, we surveyed 1,000 employees using the Amazon Mechanical Turk platform. Of our respondents, 561 were men, 429 were women, six were nonbinary and four preferred not to identify their gender. They ranged in age from 19 to 84 years old, with an average age of 37. Among this group, 602 had left their jobs and 398 stated that they wanted to leave.
In some cases, questions and answers were rephrased for clarity. To help ensure accurate responses, all respondents were required to identify and answer a decoyed attention-check question.
These results rely on self-reported data. Potential issues with self-reported data include but are not limited to selective memory, telescoping, exaggeration and other attribution errors.
Fair use statement
Part of an effective plan is research. If you or your audience would benefit from this knowledge, you're welcome to share this article. Just be sure your purposes are noncommercial and that you link back to this page.
Did you find this article helpful?
|
You're signed up
We'll start sending you the news you need delivered straight to you. We value your privacy. Unsubscribe easily.