Oklahoma Natural Gas
Tulsa, OK
Consumer Complaints and Reviews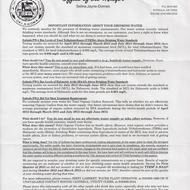 My hot water tank is the only thing on gas. I am on disability, raising my 14 year old son. The bills were from $90 to $120, from March to July, when they should have been at their lowest. I had ONG come out on 23rd of July. He said I had a leak of 9 cubic feet a hour, so gas was cut. He said someone would be out in two days to fix. August 1st and 2nd, they sent some contractors to move meter up to house. They didn't flag, so when they dug, they hit the water line and sewer line. They tried to patch it. I had no water pressure. I had to get the water co. involved.
Eventually, they did get back out here around the 18th of August. I demanded to have my water tested because I got sick drinking it. Had to buy bottled water the whole month. ONG still charged me $80 for the month of July and August. I just received letter from the City of Eufaula that our water has contaminants. Now isn't that funny!

I have been a customer with ONG Oklahoma Natural Gas who is now owned by One Oak for 27 years. My husband has been on disability since 1996, and I was on a medical leave of absence from 7-15-2008 to 8-20-2009 due to a severe hit and run accident with a semi that severely crushed my foot and ankle. I had informed all the utility companies of my change in income and the fact the semi never stopped so I received no money from the perpetrator. My Gas was turned off without notice on Aug 31. 2009 despite the fact the corporation commission showed my husband had a disability certificate which required ONG to send a second cut off notice which they didn't.
I had just returned to work and had not received a pay check yet but I also had pneumonia and was bedfast at the time of the cut off. I am 60 and my husband is 64. I have asthma also which is aggravated by cold air. My husband contacted ONG as soon as we were aware we did not have hot water and found the cut off notice on the front door. He explained I had just returned to work and could not pay the bill for 4 more days. They told him they were now going to charge us $300.00 over the amount of the bill for a deposit before they would turn on our gas. I explained we could not pay such an amount but the customer service person said that they would have someone that could help us call us.
That person called and only gave my husband the names of agencies that can assist with cut off. ONG did nothing.
I already had the names of agencies and Mr. Husband said they told him there was no guarantee they would have the funds to help anyone.
I contacted One Oak and Bill W. with the corporation Commission. He told me Oklahoma Corporation Commission rules say ONG can only charge 1/6 of your yearly bill as a deposit. He gave me the website for all corporation commission rules. I wrote him and sent my yearly total and ONG is charging 75 dollars more for a deposit than is allowed. He forwarded the letter to Ms. W., who then basically sent back a copy of their tariff which in effect allowed them to request a waiver to Oklahoma Corporation Commission Rules. Bill W. with the corporation commission then said well because of the tariff and waiver they do not have to follow the regulations.
The purpose of having the Corporation Commission has to do with ONG being a monopoly and the Corporation Commission is supposed to help protect consumers, which they are not doing.
I explained I have paid ONG my full bill which is sometimes $2600 in a year and have never left ONG hanging by leaving my home without paying the bills. I may need extra time, since I work for the schools as support personnel and do not get paid when school is not in session. He told me ONG wanted "Good Customers" ones that always pay their utility bill exactly on time every month.
He did seem concerned ONG did not send the second notice. Ms. W. then said ONG a year or so ago decided to require every person in Oklahoma should have to have a new letter from there doctor and basically decided the certificate on file for all ONG customers that were disabled was no good. We never got any notice about that.
ONG is attempting to ensure the elderly and disabiled do not have heat in the winter by cutting of their utility in the summer then demanding a outrageous deposit over what the rules require. They also never informed us per regulations on the cut off notice were have a right to asked to be put on a speacial notice if someone is disabled and needs extra time to pay a bill. I was told ONG was not required to follows those rules either. Why have a corporation commission if all it does is rubber stamp ONG wrongdoing.
I was told ONG would allow us to pay out the deposit. I was told yesterday. I have already paid $200.00 to have the gas turned on and I have paid a bill of $117.00 now ONG. The bill I owed at the time of cut off was only $139.00. Their book-keeping makes no sense. When I asked Wednesday for an extension to pay the $300.0 deposit they said I would have to pay $200.00 by 12-2-09 and then they would let me pay $150.00 monthly for 2 months on top of my monthly bill to prevent another cutoff.
In 2001 ONG gas bills were over $400.00 monthly. That is over half of my husbands income from SS just for one utility bill. If it gets very cold I will have severe asthma attacks. I have had pneumonia almost every year for the last 6 years. I have chronic bronchitis and a work restriction of not being able to walk for more than 2 hrs a day.
When I was off work my whole disability check went to pay for my group insurance with the schools. I basically had no income. The L-heap program only pays a one time payment toward your heating or electric bill of $89.00 and ONG can still disconnect your services in the winter as long as the temperature is above 33 for 2 days.
That happens a lot in Oklahoma.
ONG is the worst Monopoly in the state of Oklahoma and they have the corporation commission to back them up. Why should they be asking for $300 deposits from people who are on fixed incomes and disability knowing that will create a huge hardship? We have lived at this address for 15 years and the previous one for 13 years and always paid ONG. They say the do not care about that, only whether you pay exactly on time every month!
Oklahoma Natural Gas Company Profile
Company Name:

Oklahoma Natural Gas

Website:

http://www.oklahomanaturalgas.com/