Walt Disney World Resort
Orlando, FL
Consumer Complaints and Reviews

My family visited Disney the last week of June, we went to the park on June 27th for my granddaughter's birthday. Spending over 700 dollars for park passes to only take the Ferris down to the park. Once there it started raining so all activities was canceled. Which means that my granddaughter didn't get to see any characters. The only thing we did was buy some overpriced hot dogs. Once we complained we were told that we could come back to the park the next day, but it rained the next day. So can you say that we wasted around 5 thousand dollars.

It's our first time here and I came with 2 different family from Illinois. We all separated in the park to do things. Wanna go too. Unfortunately my father in law's (disabled) scooter died before we can meet up in the parking lot. They manage to go to guest parking station. We ask for help several times how to get there. It's a big area but all they tell us is exit then reenter. We are going in circle for 4 hours. My father in law is highly diabetic and need his insulin. My husband is so worried that we have to call 911 to get a cop to show us to get to him. Park is already close and this is already 2 am. Then after we found him the manager of the park revoke my husband ticket for any reenter because he is so upset at the employees of the park. I did apologized to the employee he was yelling at. I know it's not his fault but I am more upset with the park regulation of finding help. Now all of us (9 people) are too upset to go back. Waste of extra day passes and time.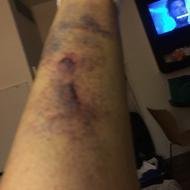 This was our first trip. We didn't have a vacation last year because my husband was diagnosed with cancer then passed away. I felt I needed to give the kids and grandkids a decent vacation this year. We decided on Disney world. The kids were so excited. My son is special needs so we didn't tell him till we got there. The first day we went to Magic Kingdom. My daughter and her kids were going to walk to the entrance since she had a stroller but my son and I were going to ride the tram as he has trouble walking. I had just barely got him on and was starting to get on myself when the driver just takes off. We were all yelling stop, but it took my oldest granddaughter running in from of the tram to stop the driver.
In the meantime I get thrown to the asphalt taking the hide off both knees and elbows in addition to hitting my head and causing a large knot and headaches. Even though I refused to go to the hospital when the paramedics came because I didn't want to ruin the kids' vacation it was ruined after all. All Disney offered to do was comp me a wheelchair and 3 fast passes which I could have done on my phone. I had bought tickets for 4 parks. Could only make it to 2 because of the injuries. This happened 2 weeks ago and I still wake up every morning thinking about it. It was the worst vacation ever. All that money spent and all day to drive there and back to spend most of the time in the hotel.

Came to Disney World with my sister, son, and young daughter. Was told at ticket counter that my sister was eligible to buy two Florida tickets and 2 out of state tickets so we did. Then next line they took fingerprints of my son and daughter with tickets from Florida. Then we used the tickets for 2 days.
On the 3rd day of use for Florida tickets my Son 27yo and daughter 13yo I dropped them off at park. They let my daughter in and took my son to guest services to advise him that he could not use the Florida ticket because it only belong to my sister the Florida resident. Something that we were not told; my son he called me and told me that Disney World left my daughter loose in the park by herself while they interrogated my Son about his ticket and threaten to expel him from park because his first priority was to find his little sister in the park and Disney World's first priority was to get a extra $117.00 from him all while my little girl was left alone in the park. Shame on you Disney. You should have first have taken the time to find my daughter rather than seek out money. Long time customer but never again even being as Big as you are.

After visiting Walt Disney 5 times previous from 1995-2008 we decided to take our 2 grandson age 2 and 6 to Disney. After paying almost £1.000 for entry tickets we found ourselves paying for parking for 10 days additional £200 20 dollars a day. Really??? We went in June. Very rainy some days. Rained off in theme park. Asked for refund for parking. Staff very rude.
Water 3 dollars small bottle of water. Take your own. Honestly the cost of everything expensive. The lack of drying facility if stuck in a shower of rain. No drying station. Nobody putting down wet area sides. Frankly dangerous. Few people slipping. Lack of customer relations with cast members. No smiley faces or gestures. Lack of visible characters around park area. We enjoyed all the parks but found best buys for the kids at rainforest cafe animal kingdom! Come on Disney make more of a effort with your Once in a lifetime promise.
How do I know I can trust these reviews about Walt Disney?
826,885 reviews on ConsumerAffairs are verified.
We require contact information to ensure our reviewers are real.
We use intelligent software that helps us maintain the integrity of reviews.
Our moderators read all reviews to verify quality and helpfulness.
For more information about reviews on ConsumerAffairs.com please visit our FAQ.

I have visited Disney properties in Disney World many, many times. I come multiple times a year for soccer tournaments and cheer competitions. Upon my last visit, I had two incidents back to back. You would think that it would leave a bad taste in my mouth or negative thoughts about my visit or the parks. No! Exactly the opposite! I have often griped about ticket prices and being nickle and dimed at the parks. Not anymore!
My last two experiences were nothing but Fantastic despite the particular events. First of all, my friend and I were at ESPN for a major cheer event. It had been a long hot day and lines for beverages and food were less than desirable after a long day. We ordered our food and waited for the delivery. Upon arrival, we were missing a pizza. We had a long conversation with the Mercedes, our food delivery person. She was very thorough in investigating the order. We discovered that the cashier did not put the second pizza on the order. By now the line was double what it was and the wait to get the food was even worse.
Mercedes got us another pizza right away. (I never once mentioned that the food was a necessity for my Type One Diabetic child. I didn't want to make it an issue, but knew she was trending low and would not be able to wait in the line to order or to wait on the food to arrive.) This situation could have turned ugly. Mercedes was nothing but gracious and went above and beyond her duties.
The second incident happened the next day in the Animal Kingdom. We were dropping off a group of cheerleaders to enjoy the park. Upon driving into the park, the man directing traffic to drop off told me that smoke was coming from my front end. I didn't see it and thought nothing of it. We drove up to let the girls out and plumes of smoke started coming from the front end of the car. The rest of us got out, for fear of the car catching on fire. Not two seconds later, Kevin, the same guy that originally told me my car was smoking was driving up. He had me pop the hood and started investigating.
Meanwhile, I was on the phone with AAA. In the time I tried to speak with AAA and figure out a tow truck and drop off at a repair shop, Kevin told me what he thought the problem was and had another park person over to set up cones and direct traffic around my car. Yessy was the other park employee that was very helpful. Kevin and Yessy both went above and beyond! They provided water, updated us on the Magic Kingdom repair shop and towing. Phenomenal service. It could have been a very stressful time. I was due to drive back to Charlotte, NC the next morning and would not have been able to if I had gone with AAA.
Lastly, Robert at the Car Care Shop on MK property was also FANTASTIC! He was to the point and told me his recommendations for getting back on the road safely and other recommendations for repairs that needed to be done once back in Charlotte. I wasn't gauged and the service is speedy and had my car repaired in little over two hours. Disney ROCKS!! Your customer service is Superior. Whatever training you do with your employees shows. Please share this with the top at Disney Corp.

We had a wonderful experience at DisneyWorld in June 2017. This review is not about that overall experience but a review of the show titled, Finding Nemo, the Musical. Throughout Disney Parks in Orlando Florida one hears the stirring music that has accompanied Disney Films for the past 40 or 50 years. There is the music at the Festival of the Lion King, Under the Sea adventure, Frozen Sing Along, the 18 minutes of music for the new fireworks display at Magic Kingdom. Thomas Newman's musical score for Nemo the Musical, simply does not measure up the quality one hears throughout the park at these other venues and what one expects from the Disney Brand. And, in my opinion, it misses the mark by a "Great Distance."

I first visited Disney World in 1978. We stayed far from it, went late in the morning and left before dark so nothing really stood out. I took my own child in 1993 for 3 days and we had so much fun! Still stayed off property and drove in, but made many more memories. In 2012 I took my grandkids for a week and we stayed at a value resort, opted for the dining plan, and visited each park using fast passes each day. It was spectacular. In 2016, I took my grandkids back for 10 days and again stayed in a Disney hotel, purchased the dining plan, and this time opted for park hopper and photo pass. I could not have been more pleased! I thought I could not outdo the prior trip but this one was awesome! I still smile just thinking of the fun we had. We loved every second of every day! Yes, it was always super crowded and yes, everything there is probably overpriced, but where can you go that it's not? Honestly, it was the most magical time of our lives!
That being said, I did do quite a bit of planning ahead of time and booked all dinner reservations, fast passes, etc well in advance. I used the Disney app the entire time we were there for ride times, fast passes, weather, etc. We park hopped and some days did 3 parks in a day! The bus transportation is great. Sometimes we had to wait about 15 minutes, but it beat driving, parking, paying, walking! I would go back every chance I could if I could afford it. Well worth every penny spent and I started saving for our next trip the minute we got home last summer. There is just something so incredibly magical about the entire experience that I do not understand how anyone cannot just love Disney!

Our family went to Disney World from 5/21-5/27. This vacation was sort of spur of the moment but also tried to do as much planning as possible. I knew that the current Disney is not the one from my childhood, so I made sure to do my best in researching and planning our days as possible. This Disney trip was centered around our soon to be 5 year old (we have an 18 month old who made this trip quite trying).
Our room was pleasantly located but there was a questionable white powdery substance near the bathroom door that remained our entire visit. I don't know if we slept in the same sheets, which to me doesn't bother me, but it seemed like they changed daily. We also opted to include the Disney dining option as part of vacation package. No one ever stated or informed us that our infant would be eating free until our last day at the parks. We had been under the impression that only the adults and the older child would receive meals from the dining plan. I wish this would have been made clear from the beginning and would have saved us much agitation during meals. Also during a few of our meals the service started out wonderfully and then took 15 to 30 minutes to get our check/meal taken care of after we had clearly been done for a while. So this being said I am not sure if service would have been better had we not been on the dining plan.
The best character dining experience by far was Chef Mickey's at the Contemporary. Crystal Palace was fair, but the atmosphere was relaxed and much appreciated after having to deal with a tyrannical toddler, the costumes however were looking a little dingy and in dire need of a dry cleaning (this was beyond disappointing because this is Disney and you expect more).
Character lines and fast passes... Gone are the days of my youth and being able to run up to characters. Lines, lines, and more lines is what you will face if you don't use your fast passes wisely. You can use fast passes for character lines but that is just lame. Let's be honest. Also, it is cruel to make children who want to run, explore, and ride rides stay in a line to meet their favorite characters, but I guess it is just "fair" this way and you can also take advantage of the Memory Maker this way.
Disney does need to work on the fast pass lines versus the standby lines. We decided to do the late night magic hours. We did not have a fast pass (and the majority of the rides "inconveniently" were not functioning, which we were unaware of) and decided to do the jungle boat ride. 90 minutes of wrangling a toddler while trying to give our oldest a taste of MK they both passed out and missed the ride. My toddler before passing out gave me the most hateful look and started pulling my hair to let me know of her dismay.
Overall it was not a horrible trip but it was definitely missing out on some of that good old "Disney magic". I plan on making some adjustments for our next trip as this was our first family vacation period and a huge learning curve. I do feel that now Disney is more about marketing versus customer service which is what it used to be about. Disney was immaculate and with an unbeatable reputation for customer satisfaction, I feel they're slipping with a focus on marketing, timeshares, and waiting lines. I hope our next visit is better, but then I do also plan allowing for resort days.

Do not bring kids under the height of 48 inches. Nothing about Disney is for all the family to enjoy. No child swap... No areas for your kids to play and be free... Kid is either in a stroller or your arms... 3 rides max for toddlers... Congested... More restaurants and shops than rides for kids... Just call it a mall. 4 hrs. max with children. It's boring... No improvements. Universal Studios at least have all kid areas with splash zones and ball factories. Area to have kids walk around... And child swap is amazing. Child swap rooms have T.V., changing tables, water fountains. Much more comfortable... Disney is a miserable experience with young children.

The lines were 4 hours long. Our legs and feet were swollen. We was sweating. Water parks were close down and they want give refunds. They want let us trade in a water park for a theme park. Me and my family had to stay home and do nothing. We paid $800 and only got to ride 3 rides and the water parks were closed. They should have it where only a certain amount of people can come in.

My experience was great! I've been there 3 times and going back for a 4th in a little over a month. I went last year and it was wonderful! Yes, you may have to wait in line, but that is what fast passes are for! If you do not wish to get fast passes, you can just as easily wait in line. It is a clean place and definitely a "must do". I highly recommend Disney World because, as you probably know, it is known as "the happiest place in the world!" If you do not get the best service, it is obviously because of the large crowds, but it is not Disney's fault. That should not be a factor of why you aren't going. Disney is one of my favorite places to go, and I would fight recommend it to anybody!

I am surprised the reviews from May 2017 were so negative. Wife and I were there in early May and had no problems at all with long lines. The longest we waited was 75 min for Toy Story on average 15-30 min non-fast pass and with fast pass less than 5 min. We stayed on site and had no trouble with buses. Will agree food prices are high, plan on spending ~$15-$25/person for lunch. Carry a water bottle and refill at restrooms will save the $3.00 Disney over charges. You can bring snacks and drinks into the park and rent a locker. Have been to DW many times. May seems to have the lightest crowds from my experience. For the volume of people, I found the restrooms clean as well as restaurants and outdoor food areas.

Went on a day pass. Way too expensive and no time to enjoy rides due to the hour plus wait time and the fast pass schedule totally ridiculous. Disney needs some smart individuals to reassess how to manage the fast passes for one day trips. Totally wasted money, not happy. Not how it used to be. Won't waste money here again. Mickey Mouse should be accessible in many spots not just in one spot with over an hour wait. Place is going downhill with ridiculous management skills. Not the happiest place on earth anymore. Figure out a better way to make people happy, not that hard.

I took my family to Disney World. It was their first time, this was my 4th time. The rooms we had were dirty. We had rooms 6502&6503 from May 27-June 1. We seen roaches in our rooms and the door fell off the furnace\air and it was so dirty. It look like it had not been ever cleaned. I told them about the bugs and all they said, "Well this is Fla." Our bands did not work on the doors for our rooms on three different times. One time I had to go back 2 times and she said I put ex.magic dust well. I had to go back and tell them the magic dust didn't work.
When I made my reservation I ask, "Please don't put us in the very back because I have very bad knees." Well guess what? We were in the very last one. My daughter and great-granddaughters don't want to go back. My one granddaughter had an emergency in the family (Ashley **) and could not make it. I ask if we could get a refund on her band and any on the room they said no. I save for a year for them to go because I loved Disney World but I was very hurt from this trip. We went to Animal Kingdom and they said my 2 great grand daughters ages 5&7 could not go in because they were showing some of their stomach. So I had to go to one of the shops and buy them shirts so they could get in. After in I seen all kind of adults showing their middles. I could go on about a lot more but I know you don't want to hear it but I just thought you should know how myself and family was treated.

My family of four came here for our first vacation in a very long time... Saved for this vacation for over a year... 2nd time here, last time was 2005. First thing I would like to say is yes it is extremely costly... water bottles $3, Powerade $4... a simple lunch like a hot dog & bag of Lays chips (not even fries) is $9 not including soda which is $3 more… times x family of four = $$$$. Should it be more cost effective for families? Absolutely but I knew this beforehand and expected nothing less, same deal as if you were going to Great Adventure or other trips. Yes long waits for everything, fast pass did not seem so great either especially for Magic Kingdom where you may have a fast pass for one area like Frontier land and then have another one all the way opposite side of park. Exhausting is not the word along with crowds, lines etc.
What I am extremely disappointed about is #1 incident we drove in, and when arriving to Epcot a nasty employee working in parking lot directing people was screaming, shaking her head and went off on my poor husband for pulling in wrong space. Mind you it was very crowded and he just pulled into a space right next to vehicle in front of us. He honestly didn't know she had other plans for us... I let her know when we passed her in parking lot on our way in. She did not have to embarrass us like that. It was uncalled for to act in that manner. We had no problem pulling out and parking in correct area. It was a little rushed and confusing. She ignored me and had no response at all. Just turned her head, no apologies, nothing... Am I expecting pixie dust thrown on us?? No but it's Disney World. Yes I want to feel "the magic" or at least be treated well for the $2,000 bucks or more we are spending...
#2 incident was in the same park Epcot on the Soaring Ride. My 9-year old son has autism so although he did fantastic he was skeptical when we all got on, so I was explaining to him what's gonna happen next. Now let me say he was not by any means freaking out, etc... he was nervously say for lack of better words "whining" about going up in the air, nothing more. In the meantime my 17-year old's seatbelt was too tight and he called over the employee working right inside the ride to help him, so she sees my 9-year old and I having a conversation about the ride and she comes in our face and says if he starts crying he can't go on. First of all if he actually was crying I would have taken him off the ride. I explained to her he is special needs and he is fine. She bends down and starts telling my son to calm down or he has to get off... mind you he was calm down after I explained it. He said, "Ok. Mommy just hold my hand."
I told her to get out of my child's face!!! My husband was 2 seats next to me and was trying to get out and see what was going on but we were locked in our seats at that point. I immediately got off the ride and asked for a manager when we got out. I wish I wrote his name down. He was so understanding and apologized left and right. I described the employee and he assured me he would address her. He also gave us 3 extra fast passes which was unnecessary but very nice. My goal was to let her know that was unacceptable. My son cannot be addressed like everyone else. It was disheartening looking at his face while she was threatening him to get off. He did not even truly understand her... this is my child. I cannot tell you how I felt.
My husband wanted to leave the park immediately but we did spend lots of money for the parks and didn't want to ruin the rest of the day however shortly after my son said he wanted to go home he said he didn't feel good, which means he felt uncomfortable in this environment so we grabbed a bite to eat and left. A total waste all because of this employee. If you do not have a child with special needs like mine, you have no idea how trying the smallest incident can be devastating... Between the employee in the parking lot and this... not good.
#3rd incident was in Magic Kingdom. My son wanted to go on the Barnstormer ride. Meanwhile my husband & older son went to the restrooms. I realized I was still holding my kids popcorn and drink. They didn't get back from restroom yet and there was right outside of ride some sort of booth. I asked the employee since the line was moving very quickly if I can please leave it on the ledge or near here for 5 minutes and she said, "Um no..." I said, "Miss please just a few minutes until my husband and son appear back so I can take my son on ride." She said, "You'll have to eat it or throw it out. I can't hold or let you put anything here..." Really WOW!!! Unbelievable!! So I threw it out. My son was now crying because the popcorn was his, and he couldn't because of his nature Mommy is going to buy you another one... I actually had to just take us out of line until I found my husband to buy more popcorn for him.
These employees must be trained on how to treat people... people and children with disabilities. They may look "normal" but you have no idea how these mishaps have affected our trip... Sooo dissatisfied and disappointed. Was hoping this trip was a "Magical" experience but it was far from it. I don't ever see us saving $$ all year again after this!!

My wife is badly handicap and uses an electric scooter that we own. We had trouble with our battery and the scooter would not run near England Fish and Chips at EPCOT. I am 86 years old and handicapped as well. We asked a Disney employee if we could use the electric outlet for a few minutes to make it to the boat and she asked if it was a Disney rental. I said it was not, that we own it. Sorry could not help us. I had to push her all the way to the boat to get to our car parked at Boardwalk where we were guests.

My name is Milton. I buy annual passes for my family 5/28/17. Disney is not the same company that was before. They only care about the money. I spoke with 3 manager in Hollywood studios about a problem with my annual tickets all they can said to me is, "We are sorry." He is number of the company that collect the money for the annual passes. That company is close and cant collect my money that's why my kids can't play in Hollywood studios. Never offer me other solutions about this matter.
We pay $570 down on 5/28/2017. That company supposed to collect $253 on 5/29/2017 and because they never collect and they are close we can't have fun in Disney today. I live 1 hour away from Walt Disney world. The total of our annual passes is $3600 in change. Back when I was a child, Disney have a lot of pride about taking care they customer no matter what. Maybe the president of Walt Disney world now, don't care about people no more, only about that money they can make from people.

Waited my whole life to be able to finally go and take my family to Disney in Florida. Everyone was so excited but once we arrived the place was so crowded that we didn't get to ride any of the rides, and everything was priced so high even for a bottle of water. Lines were long so had to stay in line for over 2 hours just to get a ride. So I think we rode 3 rides that day. It was so hot and crowded that we got pushed, stepped on, and this is not the Disney I wanted to experience. Thought it would be a lot more enjoyable for the money we spent on tickets, food, and lodging. Needless to say won't be going back anytime soon... It would be a good idea to have people purchase tickets for a daily use instead of all on the same day such as like 1000 people on Monday and another group on Tuesday and so on. That might make it a little more enjoyable. When you get pushed, stepped on and very hot and upset it is not a good time.

Disney is not worth the cost. Very little value for the money to stay on property. Buses to park did not run every 15 min as stated, fast passes were over scheduled and could not even be used, rides had issues with longer wait times due to malfunctions. This was not fun.

It's basically a shopping mall, with food courts. Less rides and lot of stores, food is expensive and clean drinking water is scarce. Bottled water costs around 3$. It's overrated. Probably, this was my first and last visit.

I live in Florida so I bought the 3 Day Pass for my children/grandbabies. I have always visited The Magic Kingdom and I myself with my husband (he's deceased now) would become children along with our own kids! These last 2 visits I have encountered nothing but "Rides being delayed constantly", restaurants that are dirty and high priced! I must say that our experience at the Cosmic Ray's Starlight Cafe was perfect. The food was hot and delicious, salad bar was clean and plenty of toppings. BUT we spent most of our time waiting on line to get on the rides and then waiting on the ride for it to continue! I am so disappointed with my Magic Kingdom. It was the best place in the world to enjoy your family on vacation. I spent plenty money yesterday and was very disappointed at the change in my MAGIC KINGDOM. I hope you guys find it in your heart to compensate me to make me believe again that this is the MAGIC KINGDOM that was...

My suggestion to everyone visiting this shop (Plume et Palette) in Epcot is that go in, get your free samples and walk straight out. This place is a rip off!!! Not that it's a luxury shop selling the best products, they ripped me off by selling a $35 Givenchy men's fragrance for $94. That is cheating. I don't know how can someone sell something for almost thrice the price and I fell for it thinking it's a luxury product.
I checked the price online and noticed it was being sold for $30-$40 everywhere online. I went back to the store on the same day to make a return but they said they could not refund it since the bottle was personalized and had my initials on it (which costs less than a $1). I was so disappointed at being ripped off like this. Spoiled my mood for the rest of the day at Epcot. I felt cheated and could do nothing about it. It did not even seem like they cared about my complaint that I was charged almost thrice the price. I walked out so upset that I paid $94 for a third grade below-average non luxury product that costs $35. DO NOT BUY ANYTHING from this store. Rest of Epcot was amazing but this store was a party spoiler and rip off. Stay away from Plume et Palette!!!

I stumbled across this thread on line and read with fascination. If there is one thing I can tell ANYONE is that if you arrive at WDW without a plan you will plan to fail. It is that simple. I spend A LOT of time before a vacation researching it via the internet. Best park days, best ride order, what to fast pass, what time to show up, etc. As a result on the BUSIEST week of the year in April I waited no more than 10 minutes IN ANY LINE AT ANY PARK. This time we stayed at POR and while it was nice I was disappointed to be placed in the Alligator Bayou section of the park due to distance from lobby. However it was super close to the bus depot.
Had a few sluggish crowded buses and ended up taking UBER twice that week to a park. Other than that, awesome trip. But boy do I prepare ahead of time. It was my daughter's 20th trip, she is 18 and we live on the East Coast, and we had another magical time but you must, must, must put the time in planning before you leave.

I have had a Walt Disney World Reservation for the past 2 weeks. I have been highly anticipating the announcement of this year's free dining plan. This morning it was announced. My excitement soon turned to shock and disbelief when I couldn't add the plan to my online reservation. The user traffic was so high that I kept getting an error that said to try back later. I called over 50 times trying to get a travel agent but all circuits were busy. I finally got through and was placed on hold for over 1 hour. (I am not exaggerating!) When I finally got to a travel agent I was told that the free dining offers for the value and moderate resorts, during my reservation dates, were no longer available. I guess there were limited spots available and even though I had pre-booked, they were gone! What LOUSY customer service, Disney!!! I think that all customers who have pre-booked should get first priority for your offers.

Costly & horrible experience. We visited in January 2017 & wanted a family boat ride to celebrate family reunion. Also recall memories of the prior family visits & make new ones. Unfortunately the weather wasn't cooperating the day we visited the Contemporary. It was windy and no pontoon rentals were allowed. We clearly understood Disney's policy & concern they had for safety reasons. BUT our son & fiance were only there for the day and wanted to tour the park resorts from a boat. They rented the smaller 2 seat boat & the rest of the family chose to stay on land & watch.
The cost of the boat was not cheap. They left the dock wearing the required life vests, observed the required speed exiting the dock area. No sooner had they gotten under way then they were constantly pursued by Disney employees on Disney patrol boats. The Disney boats would speed racing up to them & then either circle them or back off. This happened for the whole 1 hour they rented the boat. What was to be a pleasant, relaxed boat ride became a very frightening experience.
We were very distressed to hear of their experience. They both are very responsible 30 year olds. It is a shame their boat rental was ruined by Disney's over zealous employees. I was not going to write a review but hope by doing this others will think twice before renting a boat. Unfortunately this experience has left a bad lasting impression on all of us as it is suppose to be "The Happiest Place On Earth Where Memories are Made".

We spent a couple of years planning the holiday of a lifetime to Orlando, but sadly due to nobody's fault my son fell & broke his arm 4 days before our trip. It luckily never caused too many problems. But after spending 5 days at Universal, Disney did not stand up to its fantastic set up... All the staff at Universal were kind, caring & very helpful, there were many characters to be found in the streets around every corner. Parades in the streets and you can get free cups of ice water at every restaurant or stall that is in and around the Park area.
Their version of fast pass worked very well making the main queue a lot less, their queuing system was fab, videos in covered air blown areas... unlike Disney's massive queue's in the sun and only 3 fast passes a day... made that system really suck! We had a fast pass card which was as much use as ice. Food stalls in Disney sold rubbish selections of very overpriced food. Shops all overpriced. All selling much the same in every store. $25 - $35 for a t-shirt! No Disney pet stuff to be found. Rubbish!
Universal had themed stores for the individual areas and smaller mixed shop at end. Excellently run... Who wants to stand in a queue for an hour to meet a character. Universal had small queues of people who happened upon it. Disney had too many strollers parked in the way. Why people bring babies and small children who don't seem to be caring beats me as they won't remember anything. Best for age 7/8 up... Areas too busy spoiling the feel. Rides rubbish. As a mother of 4 children we won't be rushing back there. But will definitely go back to Universal. My family hated Disney World, thankfully we don't Universal & Kennedy Space Center of our holiday would have been a complete waste of a lot of money!

Disney World is not what is use to be, don't waste your time or money. It's grossly overrated nowadays. My husband and I have vacationed at Disney before enjoying ourselves thoroughly. We have always found the staff to be courteous and helpful. When we decided to take a spring break vacation the first place that came to our minds was Disney World. We have stayed at different Disney properties but our favorite is Fort Wilderness campground.
On February 19, 2017 I made the reservation and was only able to get the nights of April 2 through April 7, 2017. I told the reservation specialist I would like the night of April 1st. She informed me it was booked but cancellations occur all the time and it would be no problem to add on. She also mentioned that I should look on the website daily or call the reservation line. Knowing how popular the campground is I started looking online numerous times a day. Closer towards our pending vacation I started calling the reservationline with no luck. It wasn't until last Wednesday when I called the reservation line was I informed that it was industry standard to release rooms/sites in blocks and I should have been looking differently. I was also told cancellations happen up to the last day.
I then questioned what the campground policy was regarding walk in customers and early departures. I didn't receive a clear answer and I asked to speak with the campground manager. The reservation specialist transferred me to guest services, I again asked to speak with a campground manager and was transferred back to reservations. All I wanted was a answer to 2 simple questions which I never received.
My husband and I decided to still drive down arriving on Saturday April 1, 2017. On Saturday morning at 8:42 I called the reservation line to check for an available campsite, I was told there were none but Pop Century and Art of Animation had rooms available and to check back after 1:00 pm for campsite cancellations. After discussing it with my husband we decided to reserve a hotel room for the night. I then called back at 9:42 am (that call was 1 hour and 22 minutes) to reserve a hotel room. I was told that a campsite became available, I said I don't care what has to happen I want that campsite. The reservation specialist was trying different things to get it attached to our reservation. When she finally figured out what needed to be done the campsite was gone.
Needless to say I was beyond upset. I asked to speak with a manager, I was transferred to Niles. The first question I asked him was if he was a manager. His reply was, "We all are like managers and knows the system better than most." I explained what happen and asked to be compensated in some way. His response was he give us a percentage off a room not a free room. I was fine with that and asked what rooms were available after a couple of minutes. He said there were no rooms left for tonight. I was speechless and asked the question "There is not one room available at any Disney property." He said only at the deluxe resorts and he wasn't going to offer me that. My first thought was what are we not good enough for a deluxe resort. (As I'm writing this I'm still in disbelief. I honestly don't remember being so humiliated).
I then told Niles about the 2 resorts that had availability when I first made the call. His response was Art of Animation was overbooked and Pop Century was at zero. After the shock had worn off I asked if we could get a full refund, without hesitation he said yes. I was then thinking not only are we not good enough for a deluxe resorts they don't want any of our money. I then told Niles I would talk to my husband and call back. As soon as I hung up I got on Disney's website to check for available rooms sure enough Art of Animation was available. My husband immediately called reservations from his phone and booked the room at Art of Animation. After he was finished he called Niles back at 12:08. Niles response was room availability can change at any minute and gave my husband a $75.00 credit towards the room.
As the saying goes if you have a good experience you tell 1 person if you have a bad experience you tell 5 people. My husband and I were still very upset with situation on Saturday night, we went to guest services at Disney Springs they referred us to you. When we checked into the campground on Sunday we spoke to the manager on duty. She also referred us to you.
I did receive a response as we were leaving after receiving a couple of emails from different departments stating that they were forwarding my email to the appropriate department. When I receive the call the reservations specialist first question was, "How was your vacation?" My response was "Wonderful." She asked when she could book our next stay at Disneyworld. I asked her if she received my email. She said yes and when would we like to come back. I again asked if she read my email. Her response was, "You said you had a wonderful time." "Yes I did have a wonderful vacation spending time with my husband just not at Disneyworld." After talking with her I was more frustrated. I called Guest Relations and spoke with Betty. She was understating of our frustration but could only offer us a discount towards a future stay. As other reviews stated they only want your money and really don't care about your experience.
Our second day at Wilderness Campground the temperatures reached the high 80's and the forecast was going into the 90's. My husband and I decided to see if we could change to a resort with air conditioning. We went to guest relations at the campground office and spoke to Chad asking if we could possibly change to a hotel room. He called Port Orleans and they agreed to the change. I asked Chad what the price difference would be a couple of times. His response was "usually they just transfer the reservation and accept what we have paid". I should have known better we were charged over $500.00 more. The parks were overcrowded and honestly we only spent about 3 hours at Magic Kingdom and Animal Kingdom because of the crowds. On another note I was surprised how dirty The Art of Animation hallways to guests rooms were. The carpet looked like it had never been cleaned.

My husband and I purchased two three day passes for ourselves and two for our adult grandchildren. The cost was around $1000 as they do not reside in Florida. We arrived at the park around noon time. It was very crowded as usual but the lines moved very slowly for some reason. The line for Buzz Lightyear sign said the wait would be 45 minutes. The standby line took over 90 minutes! We never would have waited that long for a two minute ride. The fast pass line was moving extremely fast.
I do not think it is fair that those of us without the ability to fast pass should be penalized. We pay the same money as the rest. I also want to complain about the cleanliness of the restaurant in which we had lunch. It was filthy and for the price of the sandwiches and drink $32 it was not quality. The roll was hard and the chicken rubbery and the fries were cold. We spent a lot of money for the park and did not leave until 9:30 pm but only had time to ride four rides. This is not the first time this has happened to us. We were considering purchasing yearly passes but have changed our minds. We are very disappointed and would appreciate being refunded at least a portion of our purchase. Thank you!

We have not even been on this vacation yet and Disney is showing us that the guests really are not that important. I booked online. I paid a deposit online and even used rewards points. I needed to change the dates. You cannot do that online. I was on hold for over twenty minutes. There is no excuse for that. I finally hung up... went online and decided to cancel and rebook with the new dates. SO now I have two deposits on my credit card and have no idea when or if I will get my rewards points back. There is no excuse for that long a wait. Disney is making billions of dollars. They can afford to add extra people. And the prices for the rooms have gone up and up and up. Seriously... the deluxe hotels are over 500.00 a night. And you get nothing for that money... no free breakfast... etc.

ConsumerAffairs Research Team
The ConsumerAffairs Research Team believes everyone deserves to make smart decisions. We aim to provide readers with the most up-to-date information available about today's consumer products and services.
Walt Disney World has welcomed guests to its amusement parks and hotels for 45 years. Today, the four theme parks, two water parks and 25 hotels attract more tourists each year than any other vacation resort in the world.
Variety: From tea with princesses to thrilling roller coasters, the four Disney amusement parks offer different activities for all types of travelers. Outside of the parks, guests can enjoy a visit to the spa, a day of golf or Disney Springs, a complex that stays open later than the amusement parks and offers shopping, live entertainment and world-class dining.
Personalized and convenient: Technology helps guests plan their vacation. The My Disney Experience website and app allows guests to coordinate itineraries and manage reservations. MagicBands, a wearable technology, serve as hotel room keys, park tickets, and a form of payment in the parks. MagicBands also keep track of guests' FastPass reservations, which lets them skip lines by reserving specific times to visit rides, attractions and character interactions.
Resort options: Disney's 25 onsite resorts offer options to accommodate any budget. While the value resorts have a lower price, they provide the same services as all the other resorts, and all five properties in this category receive high ratings from guests. All of the deluxe hotels are among the five percent of the 28,000 AAA reviewed hotels to receive a Four Diamond rating.
Free transportation: All resorts offer free transportation to and from all Disney attractions. Different hotels provide different types of transportation, including buses, boats and the monorail, but all drop guests off just steps from the parks' entrances. Free transportation is also available to and from Orlando International Airport on Disney's Magical Express Service, which even picks up guests' bags at baggage claim and delivers them directly to guests' rooms.
Children's activity centers: Four centers located on the Disney property offer secure and supervised activities for children between three and 12 years old. During the day, children can play games, watch Disney movies and complete craft projects, and in the evening, children enjoy science projects, cooking classes and visits from Captain Hook. These options allow parents to have a night out while kids have fun and make new friends.
Best for Disneyworld is best for all age groups. It caters to children and their families, young adults and couples.
Walt Disney World Resort Company Profile
Company Name:

Walt Disney

Website:

http://www.disneystore.com/