Consumer Complaints and Reviews

I took a hopping flight from Bangkok to Hyderabad (with a stop in between at Singapore). I was told while booking the tickets that I would have to pay a meager 1200 INR in order to retrieve my check-in luggage of 20 kg. Instead, I was made to pay (3077 THB) roughly 5800 INR on the last day. The flight was half an hour late. Basic amenity like water was also not provided and a 150-200 ml water bottle was priced at 4$ (200 INR). For a flight lasting 4.5 hours, providing free water is a basic necessity when the ticket prices are moderately high. Far from being low-cost, it is a high-cost, ill-maintained airline. I wish I could give them .1 Star. Worst ever airline, kindly never board it.

Tigerair is the worst low-cost airline I've ever travelled with. Awful customer service. In Australia, you can only check 7kg cabin luggage for free. Excess baggage is heavily fined. Moreover, the staff is very unfriendly. The worst was, though, that they destroyed my checked-in 22 kg suitcase. They gladly took the money and labelled it as "heavy" but the handling agents took no notice of it. Three big cracks and bumps to a resistant suitcase. Really useless now. I immediately went to Tigerair's desk but they REFUSED TO TAKE MY CLAIM as they said no item inside the bag had been damaged. They told me to file my complaint online. I was travelling across Australia and did not have the resources to do it - of course Tigerair's staff knew about the 3 days you have to file the complain.
Two weeks later, I did. It's been an endless list of emails coming and going and they refuse to assume their responsibilities and compensate me for the damage.
To all passengers: Take pictures, record them, everything that it takes because they are not an honest company. And of course, you can claim for the damaged caused to your suitcase, don't believe them!

I am very disappointed that my flight has been cancelled from Cairns to Melbourne on 24th November 2016. Tiger rescheduled my flight to the next day 25th November 2016. Rang and asked due to Tiger cancelling my flight, "Are they going to pay for the night's accommodation," to be told, "It doesn't work like that." Happy for me to be stranded in Cairns overnight with no accommodation. Have Tiger insurance so rang them to check if I was covered for a night's accommodation on my policy?
You guessed. To my surprise only if they was a strike or I was high jacked would I be covered. Yet I was told as a benefit to my policy it covered me for cancellations on the flight. Catch: Exclusions. Only if a strike happened! MMM policy worth nothing and customer service of Tigerair worth nothing!!! I will never go Tiger again. This airline should be shut down for it allowing to cancel flights with no concerned for its passengers. Class action is needed for this airline to get its act together. No other airline in Australia treats its customers with such contempt.

No wonder why you have so many people complaining. I think it's time that people bring legal action against TigerAir. They are irresponsible. I only booked the flight because there was no other flight going to Taiwan and I now know why. All airlines had cancelled/rescheduled to Typhoon, but not ** Tigerair. Booked a flight to Taiwan, went to the airport in the morning and it turned out the flight was delayed for 3+ hours. My flight was scheduled for 8.30AM. When asked for the reason, no reason was given. I also complained that I did not receive an sms or email. No sorry, no apologies. So that's the first joke.
Next, the flight was meant to depart at roughly 11.30AM. Then they decide to delay it for another 3 hours. WTF? As I then talked to an associate in Taiwan, it turns out there was a Typhoon! Pointed this out to the airline and all they said is "The pilot judge whether they can fly or not". I have never heard such ** before. I decided to unload myself and my luggage and went to the counter to complain. The management is full of ** either and just doesn't care about their customers. Asked for a refund and until today I did not receive one. Filed a chargeback with my credit card company and reported them as fraud. If I had to describe Tigerair it would be: most dishonest, non-customer oriented airline on the planet.

I and my friends book the flight from Taipei to fukuoka on 4th, Oct, 2016. However, they are so irresponsible that they informed us with a short notice of changing the departure time to 5th, Oct, 2016, which is our work day without any reasonable explanation. So basically, we are prone to cancelling the whole trip due to their irresponsibility. I feel so messed up with this airline company and this is the first and also the last time I have ever purchased from this firm unless they give me a feasible solution. This case has proved that cheap price always mean irresponsibility and trust issue. Don't risk wasting your money in this airline company.
How do I know I can trust these reviews about Tiger Airways?
636,825 reviews on ConsumerAffairs are verified.
We require contact information to ensure our reviewers are real.
We use intelligent software that helps us maintain the integrity of reviews.
Our moderators read all reviews to verify quality and helpfulness.
For more information about reviews on ConsumerAffairs.com please visit our FAQ.

My flight from Sydney to Coolangatta was cancelled because of 'weather conditions', even though Jetstar and (parent company) Virgin continued their flights. When (after a long queue) I asked when I could continue the journey I was told "2 days later". I quickly booked with Virgin Airlines via their website ($199 + GST) to get home that night because of work commitments the following morning. I got home at 2am the following day. When I approached Tiger for a refund I was told I was only eligible for a 'credit' for a future flight. Sorry not good enough. I won't entertain ever flying Tiger Airways again, and will dissuade anyone who is considering flying Tiger Airways for the rest of my life.

Having booked my return ticket from Singapore to Bangalore for my travel in September 2016, after having made my online payment, I was shocked to see a different date showing up there for my return flight. On calling the call centre at +65 31576434, the guy at the other end kept me waiting forever and finally said that I would have to pay SGD70 + $10 for the change in fare. And then, he said he would ask his supervisor if they can waive some fee. I hung up lest I yell at the chap. When I called the same number 10 min later and after going through the ordeal of explaining to her the situation, she says the fare change was now SGD29.50.
A similar thing happened to me about a year ago and customers booking online need to be vigilant. I finally ended up paying the extra because if I cancelled, I would lose the SGD 620 that I had already paid. Quite sickening you guys are Tiger Airways. I am 100% sure that the date of booking on my ticket was not what I chose because it wasn't even showing on my laptop. Exactly the same that happened earlier. Now I know for sure that they are cheating customers like this. If anybody have ideas of how we could track this and record such incidents, kindly share. I am not letting this happen to a 1000 other unsuspecting people.

Totally my misunderstood my time of departure date from Gold Coast on 19th June. Was going through with the Tiger Airlines girl. She quoted, "Under circumstances we can change your flight but I will have speak with a supervisor." Supervisor came to the front desk so here my take on what happen next. The supervisor had very little customers concerns for us. Totally did not want to help in anyway. Started quoted things off the computer. When I said, "Can I have a look," supervisor say, "I cannot show you that." I don't know why. Anyway enough of the goggle goof as it gets you nowhere but my satisfaction will be to tell as many as I can in which started outside waiting for our friends to come and pick us up by tell a couple of my ordeal and no help and their reply we would not fly Tiger had a very bad experience but had to go as the drive came to pick them up and wished I could have heard their story. I would have added here.
Anyway what us silly unfortunate people who make a mistake you will pay as usual like overweight luggage. But you can weigh 20 stone and another person can be 10 stone. That's ok. Make sense? Don't think so. So for my own satisfaction I went back, used my point with Qantas and booked a next day flight and totally avoided Tiger and will continue to do and once at my work station on Tuesday I will email all and where I work there is many a people who travel, just to say support my feeling in not supporting Tiger due to their very poor understanding of compassion and totally need to upgrade their customers service attitude.
We as consumers have to stand up and form a site so we can unite and as a group we can make a change because numbers work. So some really techno person needs to create a blog and I for one will get behind you with effort to help build it and to make sure it floats well. This needs to be done it could be call... They Need to Be Held To Account For Their Action. Think seriously. Is there anything like this out there? NO. Come. Let's get it together. Facebook started small.

I've used Tiger for a few times when I've flown to Cebu for the past 4 years. Not sure if they were bought out by another Airline that flies the same route (Manila-Cebu). Their fares are not that expensive. The planes are not new. I can tell by the looks of the seats and floor. Their staff is friendly and respectful. Since their airport terminal in Manila is not as congested as the main airport, all the flights were on time and the number of passengers is not as enormous. Queues are shorter and the time spent in checking-in is short too. So far, I've not had any bad experience with them. I'll fly Tiger again.

My domestic flight Hobart-Melbourne was at 19h40... I tried several times to do the check-in online on my way to the airport and it always gives me a error at last step. Arrived at 18h55 in the airport and nobody at the Tigerair desk. I went to the gate and even 40min before the flight departure they didn't let me enter in the airplane - and it is the last flight of the day and have many seats empty. They argued that have some document they must sent 45 minutes before the flight... But all other cia have the limit of 30min. It was the last time I bought a ticket with this company. They really don't care with their clients.

Never flown with Tiger Air before but the flights were cheap and around the time I was planning to head home. Upon arrival at check-in multiple customers were being forced to pay a hefty fee for excessive baggage. My bag was 9.1 so I asked if I could take some stuff out. Because my flight was two hours it is considered a "long haul" and I would have to pay an additional $49 to take my bag on-board. I managed to shuffle some things around and get it down to 7. Overall the staff were rude and offered no direction. They have no consideration for language barriers or customers requiring assistance.

I am a travel service provider from Chennai, India. We used to send passengers to many countries and hence we use several airlines in our daily life. Alas we had a very bad day on 22nd April where due to some unavoidable circumstances we went to book 5 tickets for our clients who are visiting Kuala Lumpur via Singapore. The ticket cost was fixed at too high and still we needed the tickets for the same day, and hence we bought it. After paying for the ticket we received a confirmation but not PNR. In the meantime we received a call from the airlines agency saying that there is no seat there in the flight and hence we cannot travel in the night flight (10:50 flight).
It was a shocker and I was arguing with the agent how come they book tickets when they know that their flight does not have seats. But they did not give answer at all. In the meantime he say, "Let me check the system," and come and put the phone on hold for another 15 minutes, and took the phone and said, "If you pay 7800 we can offer you seat for the guest." How come now they found seats for my guest? Is a great surprise even now to me. I paid the amount and immediately received the PNR. What's happening? Can anyone suggest me how to sue the company for cheating like this?

My partner and I booked flights with TigerAir to fly from Brisbane to Sydney on the Thursday afternoon before the long Easter weekend. Three hours before the flight they advised that the flight was cancelled due to engine problems. We called immediately to find out what solutions they were going to offer us and they advised that they had no solutions and would refund our tickets in a month! Not only did we have no flight to Sydney at the beginning of the Easter weekend, but we had to pay an extra $300 to buy flights to Sydney for that evening as well as we're 3 hours late arriving at our destination due to having to find another service.
I've complained to Tigerair about their service and the fact that they did nothing to help their customers at the start of a very busy weekend, but they don't care and won't offer any compensation for the new flights I had to buy. If you're thinking about flying with Tigerair, don't! It's not worth the savings as ultimately you'll be either delayed, as I have been several times, or have no flight and have to find an alternative solution from your own pocket.

This bears reference to the captained subject, our booking with Tiger Airways caused a damage of TBT 15,460/- under booking reference ** dated: 04/03/2015. We are frequent Asian traveler and one of my friend's suggestion I booked a flight from Phuket to Singapore with Tigerair. We reached the check in counter at 12 pm. The lady at the counter mentioned we cannot fly with Tigerair as we have no Singapore visa. We explained her we are on transit and flying to Doha (QATAR) from Singapore as we do every time. After half an hour of argument, the lady at the counter did not allowed us to check in.
Please note we always travel by SilkAir/AirAsia and transit never require any visa. In spite of explaining, we were offloaded. The connecting flight to Doha was on time and ignoring Tiger Airways we reached SilkAir office, as booking was already closed we were asked to pay excess amount of TBT 15,460/- to reopen the booking and load us. Due to Tiger Airways staff lack of knowledge and incorrect information, we had to pay high price for the ticket.
We reached Singapore and updated the immigration office about the behavior of Tiger Airways and as per his information the transit do not require visa. We had to reach Terminal 3 at Singapore for transit and no visa is needed as we do not pass the immigration. We would take it forward with Singapore tourism and file a complaints against Tiger Airways company. Due to lack of knowledge, information and training to staff, the customers had to bear the damages. This should not be repeated to any other passengers and should not affect the Asian tourism. We need Tiger Airways to bear the damages caused to us due to company negligence.

Booked tickets (Macau-Singapore) for my sister-in-law who ended up not being able to fly owing to Tiger changing the flight schedule. Was advised that the airline could not issue a refund in cash but could provide a voucher but it had to be in my sister-in-law's name for use at another time. Was advised that when I made a new booking I should make it in my sister-in-law's name and then immediately call them to change the name on the booking and that it would only cost $75. Lo and behold, booked a set of flights for the family (Singapore-Bangkok) and attempted to make the name change within 10 minutes of the booking... "We are sorry sir, it will cost you $300 to change the booking, we don't care what you were told before."
I jumped on their website and could book an adjacent seat on the airline for $150 making their $300 offer doubly a joke. They refused to honour the $75 (and the $150) and we ended up having to book the extra seat at $150 online outside of their customer service who still wanted to charge $300. We could have avoided the whole ordeal and flew with a better airline and it wouldn't have cost us anymore in the end. Very disappointed with Tiger and their refusal (overseas call centre) to have the common decency to honour the bond between a customer and a business. If their business was based in Australia or USA rather than Singapore they would have been sued out of existence by now.

I'll never ever travel with your company anymore. I had worst experience ever. Staff members are unprofessional. They don't know what to do. Your company is got bad reputation and all people I spoken today. Every single one had bad feedback. You never going to see my money anymore and at least 30 people aren't going to travel with you. Even the local of Cairns have bad feedback for your horrible company. You think the new uniforms are making you look better. You need to improve your customer service.
26
However I just want to see you lose your business. You don't deserve to be here. And your staff member specially Melissa and the supervisor of today that was covering her name badge. Unprofessional people. Sure you gain 85 dollars extra from me. But you lost thousands with this horrible service. Goodbye. Never ever anymore. I spread the voice and social network. We will destroy your business.
I and 3 more people got at Cairns airport at 5 pm flight it was 17:55. Didn't none of the girls wanted to print the boarding card. They claim the flight was close. We were there even earlier that boarding time. The staff members were unable to open and close a flight before the boarding time. Useless company - they deserve to be out of service. The supervisor - horrible girl. I don't know who put her in charge but she is making the company lose customer because her horrible attitude. My experience in customer service in international airport I never refuse a passenger before the boarding time. They not communicate with the staff members in charge of the flight. They can't open and close a flight. They can't make a booking fast enough. They can't support customers that's why are getting complaints.

I was 1.8 kgs overweight combined for two people and was charged $43. It is disgusting given that their tickets cost $59 one way. The old saying is true "You pay less you pay twice." Never ever flying with Tigerair again. A real scumbags of the airline industry!

I have purchased Tiger airways ticket and their staff resist to allow my wife (pregnant) and kid to board the flight stating reason she is late by 5 mins and gates are closed. They have offloaded her luggage which could have taken them 10mins during that time. I could have felt happy had they allowed her to board the flight instead of putting effort to offload the luggage and escort her back. I really felt very unhappy..

I purchased tickets from Osaka to Taipei, used skypicker cost me £200.00 for one way. I notice that you only have 7kg handbag with you and your extra luggage will pay separate on counter, which misguided customers. We do not need to check-in online in advance. On 23rd morning I read again the e-ticket and understand need adding a luggage, you need to do online in advance, which I was trying many times to add a luggage online however its online system not working for me. Then I go to Osaka KIX to contacts Tigerair but the Japanese staff opened at 8:30pm and my check-in time are 23:00pm, it run out times also the Japanese staff can not speak good English and hopelessness.
Then cost me to pay 62800.00 yen for my luggage which more than my tickets' costs. Ok on airplane seats are narrow, stewardess told us due by air current they can't service hot meals are cancelled. If you want drinks can, pay again. Due Next day flying from Taipei to Chiangmai Mai, unfortunately still use Tigerair and same problem for luggage. I spend 3 hours to deal with Skypicker to adding a luggage and requires to pay it online. I told Skypicker online system not work. I'm unable to pay my luggage fees. That means if I not submit on time, I will have to pay a lot same as in Osaka airport which not my fault.
Finally took long time to resolve this problem and I have to pay 43 Euro. Ending a day total costs me more than £600.00. Don't you think Tigerair cheap? That's very bad experience in first time meet. I thought Tigerair maybe only the first time and will be my last time can be me to used their airline in my life and I would share this bad experience to anyone trying to buy cheaper airline. First to check their condition and you will found actually they're not cheap! And cheating! Wasting your times.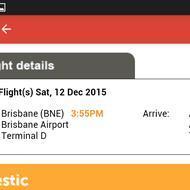 I booked my flight from Brisbane to Adelaide to go spend time with family. I have no one in this town. It was my last $160 dollars. Tried to check in online as did 10 other people but was not working. Trains were not running. A bus was to cater for the train. Nothing was working or running on time. I was 2 min. late. There was already 3 people arguing with the boarding ticket man. There ended up 10 other people there as myself that ended up told they can't help us. I have nowhere to stay. I'm on the streets like a homeless person. I'm going to contact the papers and make a open public complaint. This is highway robbery and inhumane. I think I should get my money back or a new flight date. This is the worst day ever and worst airline. I will not recommended it to anyone.

I had booked a flight for my family of 4 to fly from Sydney to Cairns on TigerAir. We had no problem on the flight up but on the way back (with the same luggage) we were told that my carry-on had to be checked in. We were then told that we were overweight and had to pay an additional $600.00 AUD ($454.00 US)! That was $25.00 AUD per kilo. The girl at the check-in counter just stood there "stone-faced" and said that was their policy. We weren't even allowed to re-arrange our luggage. We had no choice but to pay. The plane was only partially filled so there was no weight problem. I tried to dispute it with Tiger Air and my credit card when we got home but was told we received the service. I have never heard of an airline having such a ridiculous baggage policy. Wish I knew what our Australian friends knew before I booked on TigerAir!!!

I am a regular traveler by Jetstar and Qantas. They all have domestic travel check-in closure 30 mins before the domestic flight departure. When I reported around 40 mins before departure, I was told that Tiger have a uniquely special 45 min time out and I was forced to take another flight at additional cost. Why do they make an unconventional check-in timing different from other carriers just to trick gullible travelers. I am sure many travelers would have come across such situations and ended up giving out extra money for getting tricked with cheap carrier. This is my last booking with Tiger. Never again. It worth to spend $50 with regular carrier to be in a better situation. Tiger airlines, Never again...

Flew domestic from Cairns to Melbourne. Arrived at the airport 40 mins before. Went in to line up at the gate anyway as we arrived on time for boarding 30 mins before. They don't start letting people in until 20 mins before. Got up to the counter and the flight attendant WOULD NOT let us in as we haven't checked in 15 mins before flight. Online check in wouldn't let us as well 10 mins before flight, ended up missing the flight. Paid the same amount as a return ticket ($350) for a one way ticket with another airline. Their missed ticket flat rate of $75+fees is not worth it for the absolute WORST customer service. Flight attendant was unhelpful and unsympathetic. Lesson learned: never flying Tiger air ever again.

Flying from Sydney to Cairns Australia. When booking the flight I paid for one checked bag both ways. When arriving at the airport I was told I had two checked bags one-way. The airport staff was friendly but could not make any changes.

Today (5 Sept 2015) was the worst travel experience with Tiger Air. Me and my friends went to Singapore from Jakarta with flight number TR2275 at 09:45 am. The take off wasn't smooth, the pilot was uncommunicative to tell the weather situation (I forget his name) and about half an hour before we landed at Sin, the plane experienced very bad turbulences due to crashing the thick clouds, and it's last about 3 times (almost 2 minutes). There was no safety belt sign alert or instruction too. So while I was watching film with my iPad, the plane was shaking quite hard (1st), then again (2nd) and everybody started to worry and the worst turbulence came (3rd - 5 sec). We're just like floating inside the plane (I really thought I was gonna die). My condition was like, my iPad flown and then like being thrown back to the ground.
Me and my 2 friends freaked out, then we cried and prayed. And I heard a lady sat behind me was crying and screaming. After that terrible conditions, there was apparently NO apology from the pilot or even the crew! We're so disappointed and shocked. At last, talk about the landing, the landing was so harsh and bumpy. We're so unsatisfy with Tiger Air safety & service. We're never ever gonna take Tiger Airways anymore. Thank you.

My flight was from Gold Coast to Sydney return. On the day I was going to fly (2.00pm) flight, early that morning I received a text message to say my flight was delayed 2.5 hours. I got on the phone to Tiger to see if I could get an earlier flight as I had a function to attend. I waited 20 minutes got through. Was told I could get a 10am free change, which was great. While it was being processed the phone line went dead! Called back and waited another 25 minutes.
Finally spoke to another girl and she advised after I explained the whole situation again that she would change it. Time was running out but I would make it just. She put me on hold then while waiting the phone was disconnected again!! Not my fault either!!! I called back a third time and it was now just over an hour until departure. I would have made it. I waited another 15 minutes and a man answered. I went through the whole story and he looked up the flight. He came back to me and said "sorry there are no seats". I was furious!!! Got the late/delayed flight and was extremely annoyed.
My return flight was 8.10am out of Sydney. 20 minutes before the flight was due to take off. There was an announcement that the flight was cancelled!!! Told to go all the way back to Tiger check in to change our flight. I got to the counter and whilst the ground staff have a lot to deal with. One of the girls was really rude to everyone which made people even more angry. We got there to be told at 8.00am in the morning that there are NO FLIGHTS UNTIL MONDAY! Are you serious??? They were offering refunds that will be credited in the next 7 days! I did not personally have money for another flight so had to get it booked and paid for me $318 one way. I had to return today as I am starting a major client contract tomorrow and have no accommodation either. I will never fly Tiger again and I will be seeking compensation from them!

When we guys were flying from Singapore to Kalibo, Tiger Airways people stopped us when we guys were entering in the departure gate to weigh our luggage, after requesting the guy (Ealakuan **) to take money, prepare the receipt faster and let us go but he spend 20 minutes in explaining and arguing on the excess luggage. By the time we reach the gate they didn't allow us to enter. Worst thing is after paying so much all the Tiger Airways staff said that they don't belong to Tiger Airways and no one was there to listen the complaint. After requesting for 3 hours they didn't do anything for us. Worst airlines and no staff want to listen our problems, they were fine if we complaint for them on website. Will never fly from Tiger Airways.

Have flown with Tiger Air twice from Adelaide to Brisbane. First experience was fine so decided to choose them again except the second time when I checked in the lady told me that I wasn't allowed to sit in the seat which I had paid extra for due to "weight distribution" and I thought it was strange because I'm sure 50kg wasn't going to make a huge difference, especially since I had paid to sit there but I didn't argue. I was given a seat towards the back of the plane and before take off the woman behind me was offered a seat closer to the front in row 7 (the seat I had paid for but wasn't allowed to sit in). Not exactly fair. They're claiming weight distribution is an issue but taking your money and letting other people sit there anyway. Lack of care from the staff and won't be flying with them again. Might be saving money but definitely get what you pay for.

I booked a round trip between Sydney and Perth. My flight leaving Perth on the way back was canceled when I arrived. No one would tell us what was going on. Finally we were told due to weather conditions our flight had been canceled and due to school holidays there was no available flight to get us back on. We would receive only our money back for that flight in 4-6 weeks. And that was it. I was recommended to get online to look for the 'cheapest' flights I could get, but was told they were expensive... Thanks.
That night I spent over $100 in taxis. My flight back was 2 days later with another airline which has now roughly cost me the same amount as my round trip. I called the Tiger Air customer service line. I was put on hold then finally a lady came on the line explaining that they have a very large volume of calls and took my information and someone should be contacting me sometime that day. She asked what it was regarding. I explained and her reply was "Well what do you want me to do about it..." I never received a call. Not impressed and wouldn't recommend!

Last weekend I flew from Sydney to Brisbane. Another man and I had both been allocated the same seat. It was fortunate for me that he had had a fight with his wife earlier in the day and she stayed home, so I was able to have her seat. There was some humour in that scenario. My baggage weighed 6.4 kilo. On the return flight, my baggage weighed a mysteriously high 10.4k, although the contents were identical to the first flight. I had to pay $53 excess even though I questioned the huge 4 kilo alleged increase. I say "alleged" because there were numerous passengers being made to pay extra, and in our conversations, all were alarmed because, like me, they'd weighed their luggage before leaving home.
On the flight I told the lady next to me about this, and she told me that she too had been told her luggage weighed 10.4k even though she knew it was under the maximum 7kg. However, she had the presence of mind to argue that she had purchased her tickets back in April BEFORE the new weight restriction came in, and so the ground staff let her off. I too bought my tickets in March or April. Oh, and I was shocked to see another passenger "sent off to the side of the queue" to pay for additional baggage. His luggage weighed 7.1K. Point 1! Unbelievable.
Tiger Airways Company Profile
Company Name:

Tiger Airways

Website:

www.tigerair.com