Consumer Complaints and Reviews

We have cruised 9 times. We have done Carnival, Royal Caribbean, Disney, and Norwegian. I must say last year we did the breakaway to Florida and Nassau. It was great. WELL on Oct 9th we boarded the Breakaway again in New York, only to be told we would not be leaving that day and not going to Bermuda. I totally understand they had to keep us safe but we should have had the opportunity to book another cruise at another time. We went to the same places as last year, which were a mess because they were hit by the hurricane a couple days before. The water at Cocoa beach was absolutely gross and Nassau was a mess. I understand it's not their fault but very frustrating.... THEY GAVE US A $200.00 onboard credit per cabin which I feel they could of done more. Some cruise lines got 1/2 money back towards another cruise and we got $200.00!!! From one of the biggest ships out there...
We have another cruise planned for June but on The Carnival Sunshine, maybe if they would of gave us more incentives to book again, we would of considered Norwegian again. I would of booked another one to Bermuda right on the ship... But $200.00 kind of left us rethinking about Norwegian. We have cruised a total of 3 times with your cruise line. We know it was the weather but they waited till we were on board and made announcement later the afternoon, and the decision to go to two places hit by the hurricane was absolutely no fun... The crew was great, but please consider a bit more than $200.00 on board credit. Please feel free to contact us on email or ** or **. I hope to hear from you. The people I spoke to about our experience were totally surprised that's all we got from the cruise line... Please see if there is anything else you can offer passengers. Thank you for your time.

Just came back from the Breakaway cruise October 16 2016. As we all know we couldn't sail to Bermuda for the hurricane. While we understand safety first as we were told by NCL I guess they should add: NCL own pocket first. We called a few hours before headed to ship. We were told all is on schedule. LIES. Schedule was changed as soon as all passenger were on board. What a gimmick. And to top we spent an overnight in nyc so instead of 3 nights overnight in Bermuda we just fly to deserted ports. And the NCL didn't act like Carnival 3 weeks ago with a non-refundable 200 dollars charity so we gave back to NCL. They couldn't afford a discount on next cruise so could keep all passenger happy because that will touch stock/holder bottom line correct?
And after I had an issue which I reported to the FB manager instead to tell his employees to say sorry to me he offer me a lunch to Margaritaville restaurant. I didn't ask for freebies which I think he thought. I didn't need his charity. I can buy my own lunch. I needed an apology from the 2 employees which never came. Mr FB manager you need more training.

We are supposed to sail Bermuda from Oct 9th 2016 to Oct 16th 2016. First, while its competitors (e.g.Carnival and Disney cruise) know days ahead that they are not able to make to Bermuda due to Hurricane impact and offer their customer full refund for those who decided not to sail, why this cruise line did not tell the customers until everyone is on board about 3pm in the afternoon? It seems like they just want to trick you to get on the boat.
When you talk you their customers about the option to cancel the trip due to this weather reason, they do not even care... No credit back, no refund. Nothing... And if you decided to leave the boat, we still have to pay more than couple of thousand of dollars. What a "great" company who only cares about customer money. We left the boat after 4 hours experience with Norwegian, and we know we will never be their customer again. This is our first and last experience with Norwegian. Do not be Norwegian's next victim.

Returned today from my cruise on the Breakaway out of NYC to Bermuda. Would not sail again on this ship. I've sailed on many other cruise lines. This cruise was by far the worst I've been on. Food service was quite variable from good to mediocre to terrible. The worst was at the Manhattan Club on the last night. On this cruise the staff was in general inconsistent with poor to excellent. There seems to be a morale problem on this ship. The stateroom Attendant Dennis ** was a shining star. Bartenders were efficient and responsive. The hotel staff was terrible, doing little to assist and being generally moody and lacking customer service skills.
I've experience much better in Royal Caribbean, Disney and Carnival. Entertainment was good but mostly not 5 star. The best was Howl at the Moon and Fat Cats. The Spa which you pay additional for was too crowded on day 1. The experience is not worth the extra money for the entire week. Should have paid on daily basis! Maybe might be worth it if you pay as you go. I had the beverage package which helped me save money. Overall some services are up to par others not. The low was the hotel front desk. They need to be retrained. I'll spend my money elsewhere on my next cruise vacation. Stay away.

I have traveled on Norwegian before as well as many other cruise ships. My husband and I decided to choose Norwegian for our anniversary cruise. As many may know Florida is being affected by Hurricane Matthew this weekend. Our ships is supposed to be sailing off Friday out of Florida. Being proactive I called Norwegian today asking to reschedule or have a credit on our account (not a refund) since a category 4 hurricane will be coming that day. I was told the ship can handle it and I'll be leaving as scheduled. I asked how we will be going to the Bahamas as that is where the hurricane is and is destroying land. They told me the captain will come up with a different route. I explained I will be unable to get to the port and am not comfortable getting on the water with a category 4 hurricane where the ship will be. They responded this is my problem and a change cannot be made.
Meanwhile all flights have been cancelled so if I didn't live in Florida I wonder how I would get there. I asked to speak to a supervisor and then was hung up on twice. After calling back numerous times I got a very rude gentleman who told me I was not hung up on but my service was bad. He gave me an attitude and said to hold for a supervisor. After holding for 20 minutes the supervisor told me the same thing the gentlemen did, that it was my problem and my loss of $700 dollars.
I will never book with this crappy company again!!! It used to be my favorite and I will never sail with them again. The customer service is beyond horrible and they do not care about the safety of their passengers. All they care about is getting their money. I guess sailing in a category 4 hurricane is normal for them and the comfort or enjoyment of the passengers doesn't matter. I am disputing the charge and refuse to deal with this company ever again! Save yourself the money and hassle and book with Royal Caribbean.
How do I know I can trust these reviews about Norwegian Cruise Lines?
610,392 reviews on ConsumerAffairs are verified.
We require contact information to ensure our reviewers are real.
We use intelligent software that helps us maintain the integrity of reviews.
Our moderators read all reviews to verify quality and helpfulness.
For more information about reviews on ConsumerAffairs.com please visit our FAQ.

I just got off a 7 day from NYC. I am at the airport. Have been on 30 plus cruises mostly NCL. Have been a huge NCL fan until now. No more. Good bye. The trip was miserable. The service. The entertainment. The food. Examples: The "ports" are terrible. Halifax, St. John's and Portland are old broken down washed up ports that have zero to offer. Went to dinner in dining room 1 time. That was enough. The waiter could hardly speak English. Sat there for 2 hours without refill on bread or water. Food arrived cold- and they brought the wrong dish (i.e. language barrier). Left before dessert or would miss the show.
Cabin steward tried to charge us $23 for beer from mini bar. We don't drink. Went to guest services to have removed. Very rude- he may have made a "mistake". No lady you don't understand - it's an impossibility. We don't drink. Came back to cabin to use iPad. Broken. I mean cracked. Someone dropped it. Back to guest services. Oh boy!!! The lady asks me "Did you see him drop it?" After counting to 10 I politely asked for the supervisor. I could go on and on. Forewarned is forearmed. Don't go on NCL.

I haven't even sailed yet and my experience with Norwegian Cruise lines has been awful! I booked in the Haven which is supposed to be their luxury experience on the ships. However, I can never get thru to customer service. When I do they are rude and very unhelpful. I spent over 5 hours on the phone with them today getting bounced around. One "supervisor" gave me a bogus number and said she would send out an email. She never did of course... I regret spending almost $10,000 to cruise with them. Not attentive or caring about any requests. Never again will they get my money... They took away the excitement and anticipation. Never remedied. I am super bummed! They will never get another dollar from me.

I am booked with this company - unfortunately - for a 10 days trip in December this year. Had I know that THEIR RATING IS 1 (ONE) STAR IN CONSUMERAFFAIRS, I would have been more careful in my selection of cruise line before giving them my money in full, and not gotten my whole large family to pay for theirs as well. I travel frequently, but only once before with NCL. Their service barely makes the so so mark, but, it was the only one leaving from Miami in the dates the whole family was available, so, we selected it. This cruise line is the worst at customer service. Their dishonesty is blatant. Their reps are apparently trained into deceiving and misleading clients. After paying this January the deposit for an almost $6,000 balcony cabin, my balance was $4,985 with due date September 20, 2016.
An unexpected accident/assault in California, affected a close member of my family on September 16, 2016. I called the cruise line and ask them to accept an immediate partial payment of $4,000 with the request for the $985 balance to be extended for couple weeks as to free some resources for airplane tickets and extra hospital bills. They did not accept it, nor did they offer any other options other than a week due date extension. Comes today, September 27. Curious, I went online to check pricing on their NCL site: To my surprise, I found an alternative cabin, with ocean view window - instead of a balcony- in the 8th floor next to the rest of the family, for $3,321.77 with port taxes, etc. - plenty for the $4,000 I had offered them a week before - I proceeded to book it and while filling my credit card information, my husband suggested I call to check if the original deposit could be applied towards the new booking.
Bottom line: They kept me 56 minutes on the line, making my booked room expire, I have the screenshot pictures, only to let me know in minute 45, that they have 3 calls centers with NO access to the cabins offered in the Internet. They only found me a porthole window in the middle of nowhere in a 5th floor for over $400 more. "Take it or leave it. Your recent booked cabin is now gone. Nothing else with ocean window is available under $4,600."
Mortified, after paying in full, I called again and asked for a supervisor: Why I was kept in ignorance for 45 minutes on the line until my booking expired before being told they do not manage those bookings? Why I was not offered the possibility to downgrade the week before to fit my available balance - without losing my deposit - which at that time, would not have been a penalty? "Oh, sorry, you should specifically need to ask for it. We are instructed to not let you know you can do a downgrade as an option UNLESS you specifically request for it." And this is coming from two supervisors. The mocking tone, the lack of concern for my reaction, the utterly disconnect from the meaning of good customer service. That can only exist by corporate mandate. Unexplainable otherwise.
In addition, you also learn HIDDEN facts afterwards, some even only when you do receive your booking documents: That their "free promotions" are only applicable to the first 2 guests, all others pay extra. Their "room extra daily fee" of $13.50 PER PERSON, PER DAY, only applies to the first 2 guests, that their "free upgrade dining" again, is only good for the first 2 passengers and only for 4 meals out of 20. Deceiving. Unscrupulous. PRINCESS, HOLLAND and several others deserve all your business NCL. They know how to earn it.

My daughter and I took an Alaskan Cruise on Norwegian Cruise line, The Sun, with a elderly friend. The 3 of us spent over $6000.00 for this cruise. I had promised my daughter this cruise since she graduated high school 10 years ago. On day 1 our phone didn't work and our balcony door wouldn't open and close properly, neither of these were fixed. On day two we spent numerous hours trying to get our credit attached to our room, they kept taking it off and saying we were cash only. Then the ship smelled like bowel so strong you couldn't escape it. On day 3 they started painting the ship with what smelled like epoxy paint. The smell was so strong, I couldn't breathe and it came over our balcony into our room. It gave my daughter and I a very bad headache, I was having breathing issues, we both were light headed and nauseated.
Half the walking deck was closed off so you had no use of it due to the smell and only being able to walk halfway around. This went on for 4 days, we made numerous complaints only to be told they heard us and wrote it down (basically too bad, go away). One morning we were awakened by a horrible drilling sound and found out they were repairing doors. Then if all of this wasn't bad enough, by day 3 we were all sick. I have asthma and feel that the paint smell caused part of this illness.
The day after returning home I went to the doctor with a 103 fever and had to miss a week's worth of work. After a month I am still coughing and feel very tired from this nightmare cruise. To add insult to injury I filed a complaint and asked for a refund since my relaxing cruise was a nightmare trapped on ship that is falling apart and we were unable to use the ship after paying over $6000.00 for it. We received a response that they will give us $150.00 in cruise credits. I spend over $6000.00 for a nightmare cruise and they want to give me the equivalent of a drink package. Do they think I will cruise with them again. I wouldn't step foot on another one of their ships if they gave it to me for free.
There should be a class action lawsuit against these crooks who take you out to sea on a ship that is falling apart, put your health and your safety at risk. I would be very careful with this cruise line especially "The Sun", this ship should be taken off the seas if you have to do major maintenance daily while you have a ship full of trapped passengers.

What is going on at NCL? I applied for a refund of service charges. I followed the requirements for applying for said refund. The email was acknowledged automatically - stating that the refund would be processed within 15 working days - that was on August 2nd. 8 requests later I still only have another email saying the same service level commitment. I spent 76 minutes waiting on the phone - to be told that my refund was pulled to the top of the pile and would be processed in 3 days - that was 8 days ago? What is going on - are they going to the wall? Or so tight they don't want to part with money? The reason for the refund was service in the first place - it was poor onboard. However it is even worse on land! I won't give up NCL - I want what you said I was entitled to. Come on pay up.

Their staff doesn't know how to behave and they are very rude. They also charge huge amounts when you are in the ship. Daily they charge $13.50 per person as service fee and for two photos they charge $40. Even if you don't use their mini bar in the cabin, they charge $50 every day. They are daylight robbers. The flush was not working, suddenly we smell smokes on the way, and they apologize etc, not a safe ship. Please don't select Norwegian for your cruise, the worst in the world.

I purchased a cruise by the Baltic Sea for 10 days from August 08th to 18th, however the Captain decided not to stop in Stockholm on August 16, due to a bad meteorological conditions, remaining at sea the all day and arriving to Copenhague on August 17th. I respect the decision for security matters, but others cruiser like Zuiderdam from Holland Line cruise, arrived to Stockholm on the same day that we should arrive where the weather was fine. I really appreciate a refund for the missing day in Sweden for 2000 USD.

I was previously an avid NCL fan. Every cruise I have been on has been with NCL, I had 3 cruises booked this summer. However, this will be my last. I booked the cruise in conjunction with my sister from the UK who would be celebrating her honeymoon on the cruise. We booked rooms next to each other in DEC and had the beverage and dining package as part of a promo. In AUG I called to try and upgrade both mine and my sister's room to a large balcony (this would be a surprise for my sister). They upgraded both mine and my sister's room (I had her reservation number etc). On August 17th I called to try and get an aft balcony upgrade and noticed my promo (drink and dining package) had been removed from my room but my sister's were still there!
Since then I have been on the phone for about 6 hours mostly on hold, my room is now in a large balcony room but I have only 3 days of the dining package opposed to 7. And my sisters is back on the room she originally booked. I'm currently on hold again trying to get hers changed back to large balcony to which I'm being told I cannot do as im in the US (even though I have changed her room twice!!!). It seems I am being told different things by different people, nobody really knows what is going on, and nobody really cares! I am fed up of being on hold and when I have requested to speak to manager I was put on hold for over an hour and 20 minutes and then cut off! I will update when I finally get some answers.

I am writing this review in an effort to save other families from a bad experience. We first cruised with NCL in 2015. We found dirty underwear in our room, couldn't use the games when we wanted to, etc. We did complain and it took us three months for them to come back and offer us an "onboard credit". I explained that I wanted the credit off my next ticket IF I chose to sail again. So, now, we have booked a cruise for September 2016. Already, they are changing the rules on us. We were allowed to take a case of water on board with us last time and now, a few weeks before our cruise, we are told that we are no longer allowed to carry the water on board with us. That being said, we can purchase it onboard for $100 a case.
This is a $400 additional fee that we were not planning on and our tickets were booked 7 months before the new rules were issued. When I asked for an exception I was told it was a safety issue. I told our consultant we appreciated the safety measures, but why couldn't water be sold/given away for a better, more affordable price as it is a necessity of life. She said nothing and customer service offers nothing.....I hope that other people truly consider using this cruise line in the future. They truly don't care about their customers and don't respond to customer service inquiries.

I am writing this review out of sheer dissatisfaction and disguise with Norwegian Cruise Line. I am an advent cruiser having enjoyed almost 2 dozen different itineraries. My last cruise was on NCL on June 19, 2016, along with 24 other family members, and we received horrible service while on board.
Due to the horrible service I received on board (i.e. dinner lasting 3hrs due to service delay, etc., I opted to not pay gratuity. As per NCL new policy, you are unable to adjust gratuity onboard any longer. You must receive a Gratuity Return Request form from the ship and then email this form to corporate offices. Although onboard cruise staff cannot assist with gratuity, you must retrieve the form from this staff in order to have it process AFTER DISEMBARKING from the ship. This information is not listed in the Contract, Rules and Regulations for cruise passengers.
After disembarking on June 26, 2016 and submitting my form on July 5, 2016, I still have not received my gratuity reimbursement. I contacted NCL office, beginning 7/15/16 and last on 7/29/16, and have been told my gratuity has been processed and will be returned within 15 days from the submission date. Each call required a hold time of a minimum of 45 mins -1hr and office hours are 8 am-5 pm. It is now 8/16/16 (32 business days later) and, after having been on hold for 1 & 1/2 hours, I am told the gratuity will be reimbursed tomorrow. When asked to speak with a supervisor, as this is the same information repeatedly provided to me, I will be transferred to a voicemail system and need to await a call back. NCL cruise line failed to provide appropriate notification of gratuity reimbursement and falsely reports timeframes for reimbursement of such fees.

During the land tour part of our vacation, at Denali we were informed by our fellow passengers that they had received an email from Norwegian advising them that our trip to Skagway had been cancelled due to a water infiltration problem on Norwegian Sun and we were now to visit Sitka. We did not receive an email telling us a change of itinerary. We were only informed of the change when we checked in at the port terminal before embarking Norwegian Sun. Our onboard account was credited with the full refund of our 'White Pass Scenic Railway' trip.
This refund should not have been credited to that account as any credit was not refundable if it was not used. That was totally unfair as this was our money spent in good faith for a trip that we wished to do. Norwegian Cruise seem to encourage their guests to purchase trips beforehand knowing that if a trip is cancelled they will still receive the money because they do not refund to the credit/debit card meaning that we have to spend it onboard whether or not we wish to - that is a sneaky and a very bad policy!
Norwegian Sun should have made sure the maintenance of the ship was in order before and after the different types of routes it takes. Guests should not be made to suffer their problems on their time and have their vacation spoiled! We had no choice but to visit Sitka which, if it had been on the itinerary, we would not have chosen to visit as we were looking forward very much to our trip to Skagway.
Then to top it all, our departure from Sitka to Juneau was delayed as the ship encountered an issue with the anchor's winch that required a replacement of the motor. While these repairs were routine for the crew, they required approximately 5 hours to complete the task and therefore delayed our departure from Sitka. As a result of this delay, we were not able to arrive in Juneau as per the revised schedule. Our new arrival time as 12 noon and our port stay was extended until 8 pm. Because of this change, we did not sail by the Sawyer Glacier (again something else we were looking forward to and disappointed that we couldn't do). $100 onboard credit per stateroom does not compensate for the fact that we did not visit Skagway and did not sail by the Sawyer Glacier.
The food in the dining rooms and buffet was mediocre! The '4 meal specialty dining package' left a lot to be desired. There was nothing 'special' about any of the restaurants' foods. It was a complete waste of money at Le Bistro, Cagneys, Teppanyaki and La Cucina. At La Cucina our lasagnas were salty and even though we told the server she did not offer us a replacement. Also the coffee was dreadful! As soon as we disembarked Norwegian Sun it was chaotic. In the terminal for the buses there was no representative who could give us the correct instructions as to where to go.
When we did find a representative they gave us the incorrect information and we nearly followed a line of people (who had arrived on the Disney Cruise Ship) to their buses! Eventually we did join a Norwegian Cruise Line queue and had to wait in line for over an hour waiting for buses to take us to Vancouver Airport. We were told that no buses had been ordered and obviously passengers were extremely tired and worried they would miss their flights!
It seems to me that as soon we we disembarked, Norwegian Cruise could not be bothered with us anymore - they had received their money and they didn't care - we didn't mean anything to them!! Norwegian Cruise Line should compensate their guests in monetary terms for taking a ruined cruise, the upset and disappointment they incurred whilst onboard ship - it certainly was not an enjoyable time!

Never, never again will we take a cruise with Norwegian. An email four days before we say that an entire day of only THREE days in Alaska has been cut off, and an extra day in Seattle added on the end of the Cruise. We are from Seattle and we could care less. We saved for this and waited for months. No sympathy from customer support. $100 on-ship credit is a complete joke. Never, ever again - we are telling everyone to AVOID.

Anyone planning a cruise on Norwegian anytime soon may want to reconsider. I wouldn't refer anyone to them... Norwegian Cruise Line is a rip off. My family booked a trip last August to Alaska, leaving this Saturday. We received an email today stating that they canceled one day in Alaska for "scheduled maintenance" and now we get to spend the day docked in Seattle for 2 days. We spent a small fortune and they offer us $100. What an insult. I have cruised with Royal Caribbean International 4 times and Disney 2 times in the past 3 years and had an amazing experience every time and paid 1/2 what I am paying for this. I will never again cruise with Norwegian.
If you are considering booking through them look elsewhere. What was supposed to be a once in a lifetime trip with children and elderly aunt & uncle has turned into a disappointment before it even begins. Customer service was horrible and they refuse to do anything else. We even tried to cancel and they won't let us do that either. Their business practices are shady at best. Go check out Royal Caribbean International or Disney Cruise Line. I promise you won't be disappointed. (Now I know why they have their reviews turned off.)

My family and I just returned from Bermuda on July 31st aboard the Breakaway. This was my first and last time I would use Norwegian Cruise Lines. They have been a hard to deal with from the booking until the cruise itself. Food and service was horrible. The staff had a hard time communicating in English which led to extremely frustrating situations. Most complaints to management were brushed off and questioned as if I were at fault. You try to have a special family vacation once a year and to have it ruined like this is heartbreaking. I could have used the money for a different type of vacation but unfortunately they have my money and I have nothing.

We booked 3 rooms for our family reunion and my elderly parents stayed in a room. And on the 5th day morning my mom was blowing dry hair and after she put up the dryer the fire alarm went off without any reason and no one paged their room extension neither did anyone showed up to the room. So my dad (who sold and worked with fire alarm system for 20+ years) dis-alarm while he waited for someone to come so the noise would not went on and on to disturb other neighbors. Finally after 10 mins later someone finally showed up the room and asked him for an incident report so my brother in law helped my dad to write an report since my senior dad doesn't speak English.
First, this was just a false alarm. The crews showed up after 10 mins, what if it's real, my parents would burned and died inside the room. Secondly, even it's a false alarm it's the cruises ship line's job to be standby and put out the fire so how could the captain got unreasonable. Third, don't tell me there's a small flyer that access to everyone on the boat that they can read about "do not touch the alarm which will be consider of security breach and you could get kick off the boat if you touch it even it's false alarm". How many people on the boat aware of the accessibility of the document? Lastly, why the captain didn't investigate the issue which could be defected alarm system in the room and put all the blames on my dad? Without further investigation, he ordered my dad off boat.
They kicked my non-English speaker dad off the boat in a British Virgin Island w/o even concerning of his safety. Good thing my sister and brother-in-law was with him, so they decided to pack up and leave the boat with my elder parents. And after that they went through whole lot of trouble to get back to the United States. As for me and my husband and kids were separated from rest of the party and stayed on boat till last day. But you have no idea how worry I was and woke up in the middle of nights and concerning of their safety. What if something happen to anyone of them… will Norwegian hold the responsibility of their safety?
Norwegian need to seriously rethink and change any unreasonable policies to ensure safety of the each individual passenger such as looking into the detail of the incident and rather an individual is really attempting to cause trouble or just an innocent accident and be more reasonable. And if you do need to get anyone off boat then at least we check in the boat in US territory then you need to drop off people in the same territory. The cruise line should inform everyone during the safety drill of a list of itemized actions what does passenger do will be breach issues which could cause you to be kick off so everyone knows what not to do. Just like our case, if it's real fire they expected us to stay in room get burned since no one care or attempt to contact the room after 10 mins the alarm went off.
There are many negative of Norwegian such as they promised you a bottle of red wine and chocolate coated strawberry when you book w/ their agent is lies and when you requested to be placed in the middle of ship to minimize ocean sickness and they claim they did which was a lie as well. You will think all the food are free like most of other cruise when you go to their complimentary restaurant, no surf and turf and few items are with cost. Too may people on the boat so you can watch shows or participate with activities because they all booked. Too less amenities for everyone on the boat. Nasty room and smelly toilets... hope anyone will rethink before you book with Norwegian.

I paid $3400.00 dollars for this grand trip. Have 6 other cruises with another company. This ESCAPE Ship has so many hidden fees. Whatever you booked, EVERYTHING IS 18% for just about every purchase on the ship. I have never had so many hidden charges. The free drink package is not free. Every swipe of the card will cost the big 18% even if the server is a complete **. So get ready have an extra $1300 to $1500 dollars extra added to your sail and sign card at the end of the trip. That along pissed me off so badly. The mindset of Norwegian is basically "** you, we got your money. Now leave." Next, the cruise design is the poorest. People will argue and fight for pool chairs on the pool deck. There are only 2 pools and not much room for people or chairs. The buffet was so full of people, most of the time, that you will have some push and shove people to run to a table.
Next, If you see the Tortola cave swim (walk through rocks that collapsed on themselves and have to crawl and climb, slide and twist and walk in some smelly water), I would avoid it unless you like swimming is sewer water. It's disgusting. We Sat waiting to get back to the ship. I knew it was a waste to complain but we went. Explained it to the Norwegian prick and he basically told me that he went on the tour 2 weeks ago and the cave just has a bad smell. The island people are dumping raw sewage in or using it as a toilet. I know the smell. So I stopped myself and quit complaining. I looked at the Norwegian employee (from South Africa) and said, "you swam in the water?" He said "Yes, it is just the smell from ocean water." I was tickled pink and glad to know he swam in **. I was happy when he told me that. You will never rip me off again. Your credit card take warning when Norwegian sail back at morning.

They sent me an email announcing that, if we booked a cruise with them, we could get one of 4 things free (we wanted the free wi-fi) and gave prices for each cabin type (we wanted interior). It very clearly showed a price of $699 and the green sticker with it, confirming the '4 free options' but when I called the help desk the 'helper' said that would be $899 if I wanted to get the free wi-fi. I said then the wi-fi is $200 and she was extremely rude, I surmise maybe because she gets this kind of confusion from callers all the time due to the website or maybe she was just having a bad day but I was shocked having always found when contacting cruise help desks that they have such charming people on the other end.
I asked to make a complaint about the website and spoke with a supervisor who had to talk me through the pages on the website to be able to find, in extremely small print, that the '4 free' was not for some prices of cabins. I have never cruised with NCL but I would not cruise with them even if their cruises were cheaper. I do not have any faith in a company that treats their customers with such disdain.

I took the Greek Isles cruise on July 1, 2016 on the Jade. First night aboard I had to sleep on the hide-a-bed, which was unknown at the time that a 3 or 4 occupant cabin consisted of (2) single beds and a hide-a-bed. The housekeeper gave me a pillow that smelled like vomit and pee spotted sheets to sleep on and did not give the extension that lengthens out the bed. I went down to deck 7 and complained about which the man blew me off.
The next morning I took the smelly stained pillow down and threw it on the customer service desk and raised my voice for all to hear, that time I was listened to. They changed the person that cleaned the room at my request. The original housekeeper was hostile when I passed him in the hallway, so I assumed he had been reprimanded.
People were not made to clean their hands upon entry of the buffet/dining and allowed to touch the utensils. My mother got sick with pneumonia, her dream vacation turned to hell. Freestyle cruising should have restrictions in the dining rooms. It was disgusting to see unattractive bodies in swimwear and sit on oily chairs while eating.
The food was like a hospital, bland and boring, same items served every night. And don't cut your finger, it's $1.00 per cheap band aid that doesn't stick. The overall employees I encountered for the exception of 2 were polite. I've been on other cruises and this was the worst. I should have stayed with my normal cruise line of preference instead of chasing a deal.

This vacation was for my son graduation present from college. First off, they should have a boat just for Asians, mean nasty people. This made me second guess my better judgment. I'm not at all to discriminate ANY race but this trip they were BAD. I did hear on my trip that NCL is making a shop specifically just for them, can't come soon enough. Hidden fees were so terrible such as the 18% gratuities that I had to.pay for other people that don't pay. I don't feel I should have been charged this and should have been able to pick what I want to use not set fee 18%. Also $13.50 per person for your room to be cleaned everyday regardless, another hidden fee. And not told you can dispute this and pay what you feel.
I feel this was highway robbery on all the hidden fees on top of what our tickets cost. The drinks are in such.a small cup, charge a ridiculous amount. These NCL people should be ashamed of themselves. First of all, you on an island close to the equator, hot as hell. Don't they know people faint, could pass out no matter whether it was alcoholic or not. They should just be ashamed that they serve such a small glass, two gulps it's all over. And NO soda free. You have ice tea not sweeten lemonade but not all the time and strawberry, kiwi, orange, mango and you had to walk a mile to get the FREE in another small as cup. Upgrade your cups NCL, stop charging 18% gratuities. Let people decide what they choose to tip and stop with hidden fees.
This trip cost me and my family a ton of money for nonsense overpaying highway robbery. Second cruise SUCKED and never again. Now I'm in dispute with NCL for room cleaning everyday, $13.50. Do that times seven people which was in our party and seven days it's like $661 plus shore excursions $50. Each time you get a credit each stop. We went to 3 different places so I should have gotten $150. Untrue, check with your travel agent. Are you kidding me, so only $100 credit per each estate room? I had two so I'm out another $100 the list goes on. Terrible, terrible.
I would recommend to read between the lines. Read reviews, get multiple travel agents to get you different pricing. Very unhappy for a trip that was supposed to be a happy moment to remember not to be pissed the second day back from my week vacation. And there could have been more time on our private island Great Strip Kay and the Bahamas if you could go at night with your family. My kids went to Atlantis which was almost $200 for not even a full day. Crazy money, these people should be ashamed for charging that.
In Atlantis, my kids had from 9am till 5pm before the boat was leaving to go home. But the boat NCL made such good time but good enough time to soak everyone dry before our departure. There was times you could see the boat going slower for them to make there's money. Ridiculous, where you could have spent a few more hours on private island and the Bahamas. So very sad. PEOPLE NEED TO READ THIS.

Having looked forward for many months to the Baltic Capitals cruise with Norwegian Cruise Line on their vessel Norwegian Star, disappointment soon set in on arrival at the port in Copenhagen on 4th July when we found that the ship was nowhere to be seen. We were instructed to pass over our luggage (which eventually arrived some twelve hours later at our cabin) but could only discover that there had been some kind of technical problem causing the ships late arrival. We were herded onto buses and then dumped into the centre of Copenhagen but had no more information offered (so we had to seek out staff for guidance which was, to say the least, limited) and certainly nobody acted proactively by offering guest assistance.
We were eventually returned to the port early evening after much difficulty in achieving space on one of the fleet of buses, only to find that we were required to stand in a queue. Again, no advice, assistance or even a drink were offered while we waited for more than two hours trying to board the ship alongside several hundred of our fellow guests. Of especial interest was the fact that no officer bothered to make an appearance and these same individuals failed at any stage in the following nine days of the cruise to offer even the slightest word of apology.
Five days after boarding, the Hotel Director (Rade **) sent a note to each valued guest advising that a credit of $20 per person would be credited to onboard accounts as a gesture of goodwill. Frankly, this did not compensate for the delays, the inconvenience and, more importantly, the high costs of acquiring refreshment in the rather expensive city centre of Copenhagen. NCL have refused to pay any more so my party and I will be refusing to pay to cruise with them ever again and will discourage others from doing so too!
Service on the ship was patchy, to say the least. People were regularly ignored around the vessel (notably in O'Sheehan's were many guests were apparently wearing their Harry Potter-style invisibility cloaks) with many staff appearing surly and disinterested. Conversely, people like Rowena (most found serving drinks in Gatsby's), Putu (our fabulously smiley stateroom steward) and Rajesh (who waited on us so well in Versailles) were all brilliant and should perhaps train others in interpersonal skills.
On a positive note, the ship itself was always spotlessly clean and has obviously been well maintained over the period that it has been at sea. That said, it is a vessel which is lacking cosiness with most areas being bright, shiny, noisy and generally uncomfortable. Even the beds in the staterooms were rather too much on the firm side - when we were invited on board, we didn't realise that they were referring to the mattresses!
The weather during our trip was not fantastic and using the outside facilities was not something we fancied most of the time. However, it was disappointing that the pool slides were closed for the entire duration of our cruise and, again, nobody could explain why! Food on the Norwegian Star was consistently good to excellent. Eating in the Market Place was usually a challenge due to the sheer volume of people milling around with plates, cups and glasses but the Versailles and Aqua Restaurants were always opportunities for pleasant dining experiences.
Norwegian Cruise Line certainly know how to charge. All drink prices were high and it is recommended that anyone choosing to travel with them should invest in the Ultimate Beverage Package if the terms are right to avoid a shockingly huge bill at the end of the cruise. Similarly, the shore excursions are silly money and other options ought to be investigated before parting with money to NCL: for example, we undertook our St Petersburg two day tour through SPB Tours whose price was US$285 (just over 200) so much cheaper than via NCL (over 100 each!).
The overall itinerary for the Baltic Capitals cruise was excellent and included Warnemunde, Tallinn, St Petersburg, Helsinki, Stockholm and Copenhagen. If there is anything to criticise about the cruise, it must be that more time in port is needed at certain locations, especially Stockholm. In conclusion, the overall experience of sailing with the Norwegian Cruise Line was not good and this company have had the last of my money.

I'm posting this as we are new to cruising and as a forewarning to others who may be thinking of cruising too... don't make our mistake! My husband thought it would be a lovely idea to book a cruise for us while we were on our European tour. So he headed off to the travel agent and was told he had to pay then and there. First mistake... he was rushed into paying by both our travel agent, and the cruise lines.
He said he didn't want the drinks package, thinking that the drinks package was alcohol, and as we only drink very minimally and mostly soda water or bottled water. What he didn't realise was that Norwegian Cruise Lines charges for water. One of the most basic human needs and they are charging for it, and an exorbitant charge. A twelve pack of one litre bottles is $65.95 + an 18% gratuity charge. Also, you aren't allowed to take your own water bottles onboard.
We weren't told this by the travel agent, and after repeated messages back and forth to the cruise company we have only received 'well you should have checked first before paying' types of replies. Given the fact that one of our fundamental human needs are water, how is Norwegian Cruise Lines being allowed to get away with charging for water? We haven't even boarded the boat, we are both SO unhappy with the interactions so far from both our travel agent and the Norwegian Cruise Lines over in Europe. Even the name Norwegian Cruise Lines led us to believe that we were sailing with a Scandinavian ship. I wish we weren't going.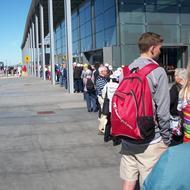 We booked our cruise to Hawaii through Delta Skymiles Cruises in January of 2016. Prior to our flight to SFO (one day ahead of scheduled sailing) we received no indication that the Pride of America was in dry dock to be refurbished. Upon landing SFO, we were contacted by my daughter in Silver Spring MD., that she had received word from NCL that our cruise sailing was delayed by one day. We received no email, voicemail or text from NCL that this was the case. My daughter provided us with an 800 number to call NCL which we did.
We were told that the ship was delayed; NCL would give us a one day refund of cruise cost; NCL would reimburse us for one nights lodging in San Francisco. There would be a 25% reduction on the cost of any future cruise with NCL (later raised to 50%). We arrived pier approximately 1 p.m. and we were told to find a bar or restaurant as boarding would not start until 3 p.m.
Returning to the pier at 3 p.m. we found a line of passengers four abreast and several blocks long waiting to enter terminal. Three hours later, we entered our stateroom. In between time the wait in the terminal was full of misguided statements provided by NCL staff. This ship should never have been permitted to sail. We were not provided the usual training for abandoning ship drills, our luggage was late arriving our stateroom and food during the cruise was terrible. Overall on board ship staff did their best to salvage an otherwise miserable experience.
I am writing this review July 11, 2016 and still have not received our reimbursement of nearly $300 for our extended stay in San Francisco. Many areas of the ship were closed to passengers. Work was not completed prior to sailing and workforce continued working on the ship for the entire 10 days. It was noisy and dusty on many areas of the ship and we were awakened early each morning by work crews who assembled on the deck below our balcony. All in all, a miserable experience. Biggest disappointment is the neglect given to our requests by NCL. Did I mention that our plumbing was not functioning correctly and the internet in cabin that we paid extra for was also lacking.

My husband and I returned from a cruise last Friday. It was on the NCL Dawn sailing from Boston to Bermuda. As we entered our cabin the first day, we found a toilet filled with feces. We called and someone came down to fix it. That was the beginning of what the week was like. The toilet broke every day and many times twice a day. My husband and I are in our 70's and searching around for a bathroom in hour of the day isn't easy. We asked to be moved and they kept saying there were no available cabins. As the days went on, I met many people who had problems and were moved. The only difference between us and them was that they were all younger. Many of the public bathrooms we tried to search out were also broken. The staff we spoke to were extremely rude and really could care less. There were so many problems on this ship that I don't understand how the Boston authorities are allowing this ship to sail from this port.
Please, anyone considering this cruise, DON'T DO IT. Our cabin number was 8558. If you are a senior citizen, it's even worse. They assume you don't have the stamina to argue your rights. They have a policy of no refunds under any conditions. A big sign should be posted on the ship as passengers enter - ENTER AT YOUR OWN RISK.

Went on the Breakaway out of New York sail date of 7/1/16. Ports of call were PR, St Thomas, Tortolla and Bermuda. The boat was very nice and the food was excellent. Taste and Savor we found to be the best of the complimentary restaurants with good service. That being said the cruise director was virtually invisible and not really very involved with the passengers. We've been on numerous cruises and Arman was one of the worst directors we have encountered. I should say never encountered. Where's Waldo!!! His assistant Ashley was great and should be the director instead of him.
Entertainment otherwise was pretty good. The pool area is way too small to accommodate 4000 passengers especially on a cruise with so much time at sea. We couldn't even get near the pool. Elbow to elbow and no chairs. I was a loyal only Norwegian customer but I will now look at some other lines for future trips. Would I go Norwegian again? Yes but will not be my first choice.

Just got off the Dawn, 6/24/16. I was sick for 5 days because of the smell of the varnish that got into the ventilation system. It made me nauseous and headache for 5 DAYS. My toilet (and many others) were not working properly and backed up. Thank god they did fix mine on day number 2. Many fixes still needed, many phones and TVs not working. My sis didn't have a TV or phone for 3 days. My mother got stuck in the elevator twice (my mother is 82 years old and in a wheelchair). I tried to reserve dinner for a party of 7 every night on Saturday (second day). They said they would call me back. They NEVER did.
I went down to book dinner reservations the next day for the rest of the cruise and I couldn't do it. I explained that 2 of us in our party are diabetics and cannot eat at 8:30- 9:00 p.m. They told us to show up at the restaurant and wait, maybe we would get lucky! We complained many times and guest services didn't seem to care too much. My sis and I told them we were booked to go again in Oct. and we are thinking about cancelling the cruise and the woman in guest services shrugged her shoulders. Guest services called me and I couldn't make out the phone number they left to call them back (too much interference on the phone) so I went down there that night (I think they called me at 2 p.m. during the last full day, Thurs).
I found out the Captain wanted me and my husband to have dinner, but we missed it so Ana Maria (guest services manager) wanted to give me a bottle of wine. She started to make out this coupon for complimentary wine and I said I thought you called me because I was down here so much complaining. She said no, my sis and I spent about 30-40 minutes with her, telling her what was happening and my sis had some issues on her bill so Ana Maria said "let's go in my office". On our way walking over to her office another couple stopped her and she took them into her office before us and told us to wait for 2 seconds. We waited 10 minutes and left, not that I wanted it but I never even got the bottle of wine. Later I found a business card on my bed for the number of customer relations.
I found guest services to be very rude. I really wish they took more time to fix the Dawn. There were just too many issues. I'm sure as they fix her it will get better, but I am not Happy. After all, I wait a long time to take a vacation and this was just not worth it for us. I will NEVER be the first ones out after a dry dock again, very expensive lesson learned! I never even saw my cabin Steward, EVER. I never had pool towels replaced in my room. I had to get them myself, EVERYDAY! Soozy the cruise director we only saw on the first day, tons of new staff, the pool chairs were not started to be set up until 7 a.m. We had to wait around. When I found a toilet working there usually wasn't any soap in the dispenser. It was just pretty disappointing.
I really wish I wasn't sick. We could even smell the Varnish by the pool. I couldn't get away from it throughout the whole ship even in my room. The casino has many slots not working. My sis had an issue with a slot machine. It didn't give her a $50 ticket when cashed out. We spent an hour and a half with ** in the casino. They investigated and found out the money was still in the machine. He gave her a $50 slot play credit that she HAD to play in the slots. One night we were in the Venetian for dinner, the people in the next table over from us found a FLY in her salad. I couldn't eat my dinner after that, it was disgusting and I was already SICK from the varnish smell.
This just topped it off for me... When I was at the pool, I had to go back to my room to use the bathroom. There were just too many bathrooms not working, many times dialing "00" and no answer... The shows are all repeats. We went on this cruise to celebrate my mother's and my husband's birthdays. My mother turned 82 and one of us in our party was a first-time cruiser. This was just SO disappointing. We would have been better off spending my money on a big Birthday bash for her at home. I plan on leaving reviews of this cruise so everyone will be aware of what goes on after a dry dock and how rude guest services really are.
This ship was just not ready to sail! I'm really not sure what I will do for my October cruise, I planned on taking my son, daughter in law and 4-year-old granddaughter on their first cruise on Oct 7th. Thank god I have until July 9th to pay it off and decide. I really DO NOT want them to experience anything like this and I DO NOT want to go through this again especially paying to get sick for 5 days! It was VERY disappointing and my reviews will reflect that... I also had a $50 dinner credit that I couldn't use because we couldn't get reservations. I've notified Guest relations and I received an auto reply stating it will take up to 28 days to hear anything from them, but I'm VERY skeptical after reading many reviews about Guest relations not getting back to people.

ConsumerAffairs Research Team
The ConsumerAffairs Research Team believes everyone deserves to make smart decisions. We aim to provide readers with the most up-to-date information available about today's consumer products and services.
Norwegian Cruise Lines has been in business for over 48 years; it developed the concept of freestyle cruising, which means a relaxed dress code, that lets guests enjoy the cruise at unscheduled, individual paces.
Svedka & Inniskillin ice bar: The Svedka & Inniskillin ice bar is a bar set in an arctic chamber; the walls, the bar and everything inside is made from ice.
Waterfront: Norwegian's Waterfront is a quarter-mile deck where guests can walk and enjoy oceanfront views.
Walk the Plank: Thrill seekers can experience walking the Plank, which is a narrow beam traveling 8 feet out over the water.
Great Stirrup Cay: One of Norwegian's unique stops is the company's private island, where guests can explore and play in the shoreline.
Broadway at sea: Norwegian Cruise Lines guests can take in exclusive Broadway shows while on board.
Best for The Norwegian Cruise liner is best for budget-conscious families and adults looking for a relaxed, less formal cruise experience.
Norwegian Cruise Lines Company Profile
Company Name:

Norwegian Cruise Lines

Year Founded:

1966

Address:

7665 Corporate Center Drive

City:

Miami

State/Province:

FL

Postal Code:

33126

Country:

United States

Website:

http://www.ncl.com/