Consumer Complaints and Reviews

Our wrestling club stayed at this hotel this past weekend. We would have left the first night but unfortunately all hotels were booked due to the State Championship wrestling tournament. The pool was broken, the hot tub broken, both saunas broken, pool table are disgusting and no pool sticks with tips, pool table ripped and nasty. One mother went down asked for a plunger and was told they don't have any. There were piles of wood in hallway where kids were running without shoes with rusty nails. Several places were ceiling was falling down. Hall bathrooms were disgusting. Feces on walls and floors. I have lots of pictures. One Dad leaned against railing outside his room and it broke and he almost fell off balcony. 90% of the exit doors were locked because they were broken. They also had one that was shattered and one that had a bullet hole.
We were told by a police officer we should have never had our children in this hotel because it's known for drugs and prostitution. A local restaurant told us to make sure we kept our children close to us in that hotel and never to stay on that side of town. An employee called me a LITTLE BIRCH and when we went to front desk that lady screamed at us. She was very rude! My nephew's TV didn't work or the refrigerator. One room if you ran water in sink it came right back out onto the floor. Another parent had to vacuum her own room. I asked for trash bags for my trash cans so they came in and put the trash bags on top of the trash that was already in the trash can. We had reservation issues for two weeks prior to our stay. AND to top it all off I have been overcharged by $300!!! We had a total of 13 rooms.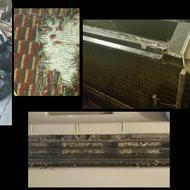 Phone didn't work, Channels on tv barely came in, next door tricks and treats. Over a dozen cars came and went and could hear people having relations and garbage bags stacked outside from night until next day we checked out. Intoxicated addicts outside door most of night, carpet ripped and torn, AC unit not working properly. Was covered in mold, dust food and missing pieces. Microwave had pieces of food inside, Floor was sticky and left black residue on socks, food cleaned out from offered breakfast, and to top it off while we slept plumbing backed up. No we didn't even use it once but it backed up and bubbled to rim and smelled terrible. I'm only leaving 2 stars bc we didn't get killed by the shady characters or end up in an ICU unit from the unsanitary conditions and we didn't find bugs. Which shocked me but my daughter said "daddy it's too dirty even for the buggies."

The pictures on this hotel's website were deceiving. We were very disappointed upon arriving and it got worse once we entered our room. We tried looking at other hotels close by but they were all booked. We were hours from home and stuck here. The hotel was very run down and old looking, not maintained at all. I took several pictures inside our room. We stayed out late just so we would spend the least amount of time possible in our room. We had 3 small children so we didn't want them in a dirty hotel either.

I recently stayed at a Howard Johnson Motel in Hershey, PA with a voucher I won online for $500. I was charged $266.50 per night when the same room on their website is going for $104 per night for the same amount of people. When I checked out of the motel I was charged $200 for smoking in the room. I called the manager right away when I noticed the charge on my debit card. He stated that he smelled smoke in the room and that he had to deep clean the carpet to get rid of the smell. I then told him that no one smoked in the room as I have COPD and that I cannot breathe if anyone near me smokes. At that point he then stated that he saw cigarette ash. Which is it? Anyone of his employees could have smoked in the room as I checked out at 10 am and the charge was put on my bill at 2:26 pm. Also, if he has to deep clean the carpet why is he not also cleaning the drapes, shower curtain?
The coffee that was provided at breakfast was very bitter as the coffee has not been cleaned in a very long time. There also was NO grip handles in the bathtub or non-slip material in the bath. It took me over 20 minutes to get out of the tub because I kept sliding. I mentioned to the manager that we could NOT use the pool as there were many, many bugs in the pool and that the filter was not on nor had it been vacuumed in a very long time. He stated that he had no record of it, when I know I call the front desk on 9/9/2016 at approx. 5:30 pm. I need to have my money back as I am on a very limited income and really need to pay bills.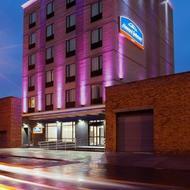 Reserved three nights at Howard Johnson Jamaica Inn Queens NY through Expedia, starting Sept-2-2016. Stayed one night and check out next morning at 9:43 AM due to change in travel plans and "other reasons." Hotel kept the full amount of THREE nights already charged to my VISA, instead of just one night. Their website does not say anywhere that if you check out the rest of the reservation will be kept by the hotel. Only says I would be charged for the first night in case of late cancellation or no-show, so I am disputing the extra charges through Chase, my VISA bank.
The "other reasons": Reception and room had a cigarette smell masked by some kind of freshener. My smoke-free room had the same problem and cigarette burn holes in the bed cover. On check-in I was told the room was too small to add the roll-away bed I had requested, so they charged an additional $120 to "upgrade" to another room with 2 full-size beds (not queen size). Had to park my car in the street 3 blocks away in dark and dirty streets, with lots of garbage bags ransacked by animals, some in front of the hotel. A train yard full with Long Island subway trains was the view from my window.
How do I know I can trust these reviews about Howard Johnson?
763,773 reviews on ConsumerAffairs are verified.
We require contact information to ensure our reviewers are real.
We use intelligent software that helps us maintain the integrity of reviews.
Our moderators read all reviews to verify quality and helpfulness.
For more information about reviews on ConsumerAffairs.com please visit our FAQ.

On the evening of June 23, 2016 I made a reservation for a friend who would be visiting us in July. Our friend would be departing on Saturday, July 23, early in the morning and we lived 2 hours south. The Ben is 80 years old, and his wife Gloria is 56 years old, and I reserved a king size bed beneath the hotel lobby, as these rooms had no stairs and had an easy to maneuver ramp for Ben. The rest of the hotel is 2-3 stories and requires climbing stairs. There is no elevator. When we arrived at the hotel on Friday, July 22, 2016 at 3:00 p.m., the clerk of the hotel said there was no reservation. I gave him the reservation number and he said there was no such thing.
Our family has been patronizing the establishment for many years. We eat dinner at the Indian Buffet on the grounds. But the clerk was unable to help us because the rooms beneath the lobby were booked. I explained why I rental that particular room and he offered a room on the second floor in the building behind the main lobby. I protested and asked for the manager. The manager looked into the computer and found no such reservation and stated that if my credit card had not been billed then they weren't obligated to accommodate us. When I said I would take the room on the 2nd floor, the manager said that he didn't trust the ability of Ben to climb the stairs and was refusing us any accommodation. I responded that Ben was capable of climbing the steps of the hotel, that I reserved the room for ease of movement. He didn't budge.
I was shocked and asked if he was sure he wanted to treat us in this fashion. We left and got a ground level room down the street on Sandy Blvd. at the Quality Inn. It was about $20.00 more than the Howard Johnson, but was a lovely room. I will never go back to the Howard Johnson at 82nd St. and Sandy Blvd. in Portland, Oregon, again. The stance that Howard Johnson took toward us was inexcusable. It is my personal opinion that because Ben and Gloria are people of Color, that the management of the hotel was concerned about frivolous litigation.

I purchased my hotel reservation through Hotwire.com during a road trip from WA to CA. We showed up at the hotel, checked in and went to our room. I have done this several times over the past several years and NEVER had this experience. I noticed right away the walls were really dirty. As I looked around I saw crumbs and debris on the carpet. The toilet wasn't cleaned, the mirror had spots, jelly or some other sticky substance on the table, the phone was filthy! I went to the front desk to complain and asked for fresh sheets and cleaning supplies to clean the room. He gave them to me and apologized saying that housekeeping leaves before he comes in and the person who cleaned this room was not the best. As I started to clean, I realized this room had not been cleaned for a very time, absolutely disgusting. There was also cobwebs in the curtains with a huge spider. I could not believe it.
I decided that for our safety and health we couldn't stay here. I had never been ripped off like this before using Hotwire. We were ripped off the $ for the room and had to go pay at another hotel to sleep in that night. I was not familiar with this brand of hotel. I don't know how they are in business, they should be shut down! I am beyond disappointed with Hotwire. The reason I have used them was to find a room short notice and make sure we get a decent clean room when you aren't familiar with an area. I would strongly urge people to stay away from any Howard Johnson hotel for your health and safety!!! And if you use Hotwire, beware. They have lowered their standards! I wish the photos I took were better, it didn't quite capture everything, but you can see.

I tried to check into my room at 2:35 p.m. The Howard Johnson's Airport Hotel in Portland Oregon on August 10, 2016. The clerk told me check-in time is 3 p.m. I asked if the room was ready and she said yes but it would cost me an extra $25 to check in early. I've never encountered this charge before and I've stayed at many hotels in different states. We waited the 25 minutes to check-in.
That night when my daughter and 4 year old granddaughter returned from a stage show at 11 pm, our key did not work. My daughter went to clerk to have it fixed, still did not work. This time I went down for the correction, still did not work. 3rd time: the clerk said if it doesn't work this time, you'll have to wait for my co-worker to come back to let you into your room. He said they'd been having this problem. 30 minutes later we got into our room with a very exhausted little girl. Desk staff was not friendly and not helpful, especially at night. Will never stay at a HJ again!

Stayed at the Howard Johnson's in Romulus, Michigan-Detroit Airport (7/12/2016). Called hotel for shuttle pickup. Driver drove by us at 40 miles an hour. Called hotel 3 more times for shuttle. He showed up 45 minutes later. When we finally got to our room it was full of mold. Could not even breathe. Room was filthy, stains on towels, sheets, pillow cases, etc. I don't think the carpet had ever been cleaned. Sheets were so worn out you could see through them. We would have left but by now it was 2am and we were not picking up our rental car until morning. There was nowhere else to go. Clerk gave us a different room. It was also horrible. Moral of the story... Never, ever stay at a Howard Johnson's.

This hotel is in Harrisburg PA. It is a disgusting hotel. As soon as you walk in the smell just hits you. The room was filthy. Stuff sticking on the walls and stuff all over the floor. We had to buy new bed sheets and bed bugs spray to even try and stay there. We ended up checking out at 2 a.m. I was throwing up from the smell and filth. Would not recommend this place to anybody.

Howard Johnson on Nevada Avenue in Colorado Springs, Colorado - The staff told me and my wife you can cancel a reservation before 4:00 p.m. I canceled the reservation well before 4:00 and they still charged my credit card even though I did not stay in the room. Their manager is very rude!!! Watch your wallet. This place is clearly out to rip people off. Other reviews state the place is dirty and full of bugs. Stay away from this place!!!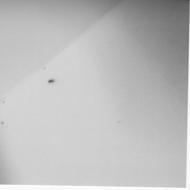 This hotel is infested with roaches and bedbugs. When I called the front desk to change rooms being we returned from the beach at 2:00 am, I was told all they had left was a King room that I could not have since I had 2 double beds. I stayed in the room for 1 hour and I was charged for 2 nights. I would not recommend this hotel to anyone. I will sleep in my car before I ever stay here again. You really do get what you pay for. I am also going to send the infestation pictures to every news station in e (757) area.

I am staying at Howard Johnson motel in Addison, Illinois. So I stayed for 3 nights and ants were crawling around. I had to come back and it's 91 degrees outside. The 1 room ac didn't work, it was on cold but hot air was coming out... So I went to complain, with hesitation I got a replacement. I asked for my old room back, I was told that room isn't available. 2 room. Room was hot. I turned on the ac. It started to blow cold air really good for 5 minutes then shuts off the cold air and just fan works but no cold air. Went to complain more. Hesitate than before and maintenance came to check it. Said it's OK. I said, "No it's not the cold air isn't coming out." So with about 10 minutes argument I got replacement. 3 room. Same story as what happened in room 2 but with more arguments so I said, "Either I get my old room back or am leaving and tell my boss I left because ac don't work." So much arguments and got my room back...

Worst hotel to stay at - infested with roaches and fleas, hotel staff and management provided horrible service. Contacted them several times with no response in regards to overcharge on my credit card. Was hung up on by front desk when I was told several times Sophie the manager would be in to help me in 30 minutes. Then was told leave my number - she will call me back and never did. I then called again and was told by guest services that she is his manager. She gets there when she gets there and again hung up on me. I have stayed at several hotels resorts in the past and never experienced anything like this. I am beyond disappointed.

On April 1st, my wife, kids and I were driving through I-95 SC. It was late so I called several hotels, they were all full. Finally Howard Johnson said they had a room for us. I made the reservation. So we went to the hotel and I was told there was no reservation for me. I was told to call another HJ hotel at Beaufort SC (approx. 30 min from where we were) to check if they had our reservation - they told me there was no reservation for us. I called HJ and complained about it and asked them to cancel my reservation. Well, when I received my CC statement I noticed that they charged me for the night. I told my CC Company that I was disputing the charge on the grounds mentioned above.
Well, HJ submitted a letter to my CC Company fabricating the following information: 1. That I had directly made the reservation online. 2. They submitted an "online log" supposedly to show that I did an online reservation. A total fabrication because I did accessed the net to make the reservation. 3. That I was a no show at the Beaufort hotel (mindful, this was not even the place I had made the reservation); the same place/HJ hotel that told me that there was no reservation under my name. Be extremely careful with Howard Johnson - they are not to be trusted.

On 4/20/2016 I have went online to reserve a room. It was so late at night I guess that it made it for the following night. When I went in to get my room the man at the front desk told me that I did it for the wrong day but he would give me a room but it was not what I needed. He told me that I would not be charged for the night I was not going to use and he would cancel it. Not only did I still get charged twice for a room I didn't want but I was deceived into thinking that I would not get charged. Booking says the hotel should have cancelled it and the man at the front desk said that booking had too. Who is responsible to cancel it when I said I didn't want it? Who lied to me? I want a refund please. I made this reservation because my daughter went through heart surgery and I didn't have that money to spare. Charging 120 dollars for a room is awful. Legal thieves.

I've been living at Howard Johnson hotel in Mesa AZ since November of 2015. I started working in December 2015. I was working from Monday through Sunday from the time I woke up it seemed like till I went to bed. I was working house keeping which I loved doing. I love the boss Dora. She was the best. I tended to meet my guest every need and want no matter what it was. I made sure they were happy and satisfied. Since ANOTHER HOUSE KEEPER WASN'T WASHING THE LINEN I LET THE OWNERS KNOW AND I WAS BEING IGNORED UNTIL DORA SEEN IT HERSELF AND FIRED THE OTHER HOUSEKEEPER. I have been fired. Howard Johnson in Mesa AZ has lost a lot of guest. I have been kicked out of my room but more like my home to where I'm now homeless and broke.
I had no one to help me take my stuff off property SO I asked if I could put my stuff in storage in the back with another guest stuff and they said yes. Well on 4/27/15 my stuff was taken out of storage and no one notified me that my stuff was removed and people were taking what they wanted. Well now I'm going beyond corporate now because Mr. ** does treat good people like like**. And the people who steal from him and do drugs or do bad things to his property he treats good. Well ** is wrong and so is his son, Liz and a few other people. SO PLS DON'T RENT AT HOWARD JOHNSON IN MESA NOR RAMADA ON DOBSON AND THE 60 IN MESA AZ.

I checked in on 3/12/16, checked out 3/13/16 so I know housekeeping went in remade the bed which at this time I forgot my jewelry box under mattress - called back to see if it was turned in by housekeeping. I was told no - in the meantime I was told I would be contacted by hotel Manager. As of this day I have not been contacted by a manager so I called again... so bottom line don't leave anything of value. It won't be returned to you. Housekeeping not honest - wonder if they do background check! On these people... please return my jewelry!!!

Before I arrived at the hotel, I received a call from a woman claiming she worked for Howard Johnson and the room I reserved was not available but they had another room which was not smoking which I had reserved for and I asked if we could get a discount. She... stated NO. I ask why not if the room I reserve was for smoking... So I let that go. When I arrived the lady in the front asked if I knew about the room change. I told her yes, then she asked if the lady I spoke with earlier had told me they would charge me $40 extra... I told her no! I then noticed she wrote no discount in caps on my reservation but failed to say anything about $40 extra. I was so upset.
When I got inside of the room it smelled bad and it was a mess - dirty and gross! The room I had rented before was nicer and smelled better than the non smoking... I had rented the room for two nights and the next day when I returned from shopping I noticed things moved from my bags. The housekeeping must of went through my things. I will Never stay here again! I will also be calling corporate office to make an official complaint!!

Sheets had feces on them and blood on bathroom wall. I told night manager and they did nothing... gave me new sheets. I then told morning person at desk and no apology or anything. I would never recommend this place to anyone!!!

I reserved a room with a credit card... two notes it had to be a smoking room, we would guarantee arrival after 6 pm. Upon being there no smoking room not available. First room was right on the highway and the noise through closed windows was overwhelming, second room was right next to an equipment room and the vibration and noise was not going to let anyone sleep. Third room was dirty and I gave up. The hotel was totally unsatisfactory. I cannot recommend it to anyone.

We weren't in our room no more than 20 minutes when my husband notice a bed bug going up my shirt. I walked to him, he grab it and put it in a cup to show the clerk. Once she came she agreed it was definitely a bed bug!!! However at this time it had already bitten me!!! She offered to give us, another room which had no blinds up, (we used a towel, until my husband asked for the blind from the room we just left. The shower was horrible, the water never went down, until my friend fixed, because room care took hours!!! She only offered to give us half of our money back from this awful experience. I asked for a full refund only to get 40$ back off of a 208$ stay!!! I'll never NEVER EVER STAY AT ANY HOWARD JOHNSON MOTEL AGAIN. BED BUGS and a STOPPED UP BATHTUB IS A NO FOR ME AND MY FAMILY...

Upon our arrival a bad musty smell from the carpets hit us. We stayed the night and spent the day after getting ready for a family reunion. When we got back to our room at 4:15 pm, our room was not done. We panicked as we had a function to attend. When we at least asked for fresh towels, the maid was impatient and wanted to drop the pile of towels in my arms right in the hallway. I refused and asked her to please deliver it to my room.
I asked to talk to the manager and ask him why our room did not get done. He accused me of putting the do not disturb sign which we did not! Then I told him that he needed to take this business seriously if he wanted customers to come back. He just laughed in my face and left without even a little apology. I think he was rude and ignorant. To make things even worse, two maids were talking to each other in another language that was not French or English while giving me the dirty look. It was pretty obvious they were talking about me. Very unprofessional!

Rude employees. I harassed by employee to leave property, refused to give me the 800 number, she actually told me there was no such thing. Discrimination against minorities and people with disabilities. I will never come to a Howard Johnson ever!! And I will tell friends and family to do the same. I've never been treated this way. We stayed a week!!

Used Howard Johnson Airport Parking from 9/1/15 - 9/11/15, went to Sacramento CA. Took the shuttle from the hotel to the airport. The driver requested the keys in case he had to move the car. Upon returning to my car on 9/11/15 I noticed my dashboard had been changed. I had my outside temp set to view, however rather then my temp showing, it was set to show me mileage and oil usage.
I let it go. On Saturday October 17th opening up my mail there was a parking ticket unpaid, the date of the ticket was 9/8/15 5:54pm in downtown Cleveland, Ohio. After getting the ticket in the mail, I looked through my car and also found a SOUL cd, that was not mine. I immediately called Howard Johnson's asked for the corporate office. The female employee said the internet was down and she did not have that number. I asked for the manager, she said the manager was not in, hold on. Once she returned to the phone, I asked what time the manager would arrive, she said "I'm the manager", her name was Ashley. I explained what I was calling about. Her reply was "Who did you give the keys to, they don't ask for keys". I replied, "Oh really, because your driver asked for our keys".
She then said she will get a hold of the GM and I should get a call between 10:00am - 11:00am. By 2:30pm still no call, my husband called again, she said she would call us by 4:00pm that day. No call. 7:00pm I received a voicemail from her saying her GM will either call me Sunday morning or afternoon... Still no call. My husband called again on Monday October 19th, Ashley said to send a copy of the ticket and that the GM would be calling me that morning. Still no call... Here is the problem besides no call. Howard Johnson employee took my car unauthorized, drove it who knows where, doing who knows what. I believe it's illegal to take a car? And Howard Johnson's does not seem to care. This is not the end.

This was the worst place I have ever stayed! Smoke detector was not plugged into wall - it was sitting by tv. Smelled like mold. Outlets didn't have covers. Lamp shades were missing. Employees were rude and degrading to me. Asked for towels, finally got them the next day. I would not ever stay there again.

Location: 12100 West 44th Avenue Wheatridge, CO 80002. This is the worst experience I have ever had in any hotel. We had two separate bookings here - one we actually stayed for and the other where we left without ever checking in. The first booking, the one where we actually stayed, was pretty bad. The rooms are microscopic and so stuffed full of assorted furniture that it's hard to move around. The bathroom sink is out in the room and the bathroom itself is tiny. Bed was rock hard. Internet was sporadic at best. Very dirty overall. Located next to an "adult" store and across the street from a truck stop. Guy at the counter insisted we pay a (previously undisclosed) $50 "deposit" but we didn't have cash on us. Initially said we couldn't have the room until we paid (even though the room itself was already paid for), but finally gave us keys when we said we'd pay the next morning (we did, and we did get it back upon check-out).
Upon check-out was told I didn't "declare" my "pet". Told woman at the counter he was my service dog and she just sort of grunted but made no further issue of it. Our second booking, the one where we did not stay, involved someone who I assume was the manager telling me that "paperwork" was required for my service dog, otherwise I'd be charged a "pet fee". Suggested that I just got my dog's vest online and that he wasn't really a service dog. The irony there is that the only "paperwork" you'll ever see, outside of perhaps something from your doctor, is entirely from online scam sites (a lot of people don't know this, but there is NO governmental agency that issues "certificates" or "paperwork" for service animals). I pulled up the ADA page on service animals on my phone, but he didn't care (even though it says right there in plain English that businesses cannot ask for "paperwork" or anything else saying the dog is a service animal).
Insisted he was correct; we were later told by the desk person that they "called Wyndham" (their parent company) and "verified" that was their policy. Called Hotwire, who normally don't issue refunds, but after explaining the situation were happy to work with me. Canceled and left. Hotel had called the police by that point (I hadn't done anything other than be angry - but I am not and would not be threatening), they pulled up as we were walking out of the building and back to my car - did not approach us but watched us until we actually drove out of the parking lot. Apparently this is not the first time this has happened (see Yelp). Scummy, scammy, shady hotel that I can't believe hasn't been run out of business. DO NOT STAY HERE!

We stayed at the Howard Johnsons in San Antonio TX near Six Flags. It was terrible!!! We walked in and the smoke detector was covered with a towel, the wall had a wadded up paper towel stuffed in a hole in the wall. The tub dripped, the toilet kept running, the carpet was not vacuumed, the wall looked like someone had smeared poop on it. The tv looked like it was about to fall off the wall. Toilet paper was about empty with no extra. Please do not stay here ever!!! Gross. Got money back and will never stay again!

Whenever I go a hotel/motel I always do the mirror finger check (to see if it's a two-way mirror)... just for fun, not really expecting to find a real two-way mirror. Not so much this time... BINGO!!! The main mirror that looks right at the bed DID NOT pass the finger check (Google it)!!! Not sure who to contact about that find. I covered it up with a blanket. Triple checked all mirrors in the room... the others passed!! Front desk service was bare minimum at best. Breakfast was sad and I'm pretty sure not up to health code standards. The cream cheese for the palm-sized bagel was ONE BLOCK (not individual serving packages) to be shared by the ENTIRE HOTEL!! Waffle mix smelled old and stale. No eggs or breakfast meat.

Stayed at the HOJO in Kissimmee Florida to go to Disney World. We had to change rooms 3 times. The first one the AC didn't work. Second one had a recent electrical fire and you could see the burn streaks on the wall. The third room had mold surrounding the tub and shower. Stains on all the linens and carpet. The room reeked of mold and filth. The AC vents had a ton of dust surrounding the area. There was no phone in the rooms. No bible, no alarm clock and the tv remote was a different brand than the tv and it didn't work. We had new safe in our room either. It was filthy. Plus online said they offered a free full breakfast. NOPE, they discontinued that. All in all it was the worst hotel we have ever stayed at. Never again will Howard Johnson ever get a dime of my money. We couldn't even use the pool because it had green slime floating on top of the water. Disgusting.
Howard Johnson Company Profile
Company Name:

Howard Johnson

Website:

http://www.hojo.com/