Consumer Complaints and Reviews

Purchased a ticket from Greyhound for my son to go from San Marcos Tx to Beaumont Tx. Depart from San Marcos at 6:25 am on 1-7-17 arrive at Beaumont Tx 2:50 pm 1-7-17. Bus showed up at 7:30 am went to Austin to do transfer bus leaving Austin for Beaumont left before the trip from San Marcos to Austin. He was advised the next bus wouldn't leave for Beaumont till 6:50 pm. He would be in bus station for nearly 10 hrs. I called the Austin Terminal spoke with someone that said they had a bus leaving at 11:00 am for Beaumont they would put him on this one. OK. My son called me at 2:50 that he was in Houston now he had a 3 hr layover. Communication with Greyhound SUCKS. The bus leaving from Houston to Beaumont left at 6:50 supposedly putting him in Beaumont at 8:30 pm. We made the phone calls to family that the time had changed for his pickup.
At 8:30 pm we called him to check on him to find out the status of his well-being only to find out he's still on the bus and not sure where he's at. He notices a sign out the window that he's in Louisiana. He immediately tells the bus driver he's supposed to go to Beaumont. She tells him she doesn't stop in Beaumont. She's on her way to Mobile Alabama. She exits IH 10 gets on the feeder road to let him off the bus. It's 28 degrees outside at 9:00 pm he has to walk back to a gas station that's nearly a mile away carrying his luggage. Family rushed to Louisiana to pick him up. Greyhound you are a bunch of inconsiderate bastards.

I just want to thank all four drivers taking me home safely from Coos Bay to San Bernardino (January 5 and 6 2017) especially through the snow on interstate 5. You all were very polite and cautious and I truly appreciate your service. It was the first time riding.

Avoid Greyhound at all costs. Second time I used them I thought I might need to change my ticket and was unsure about my schedule. Thank goodness buying a ticket was so easy and throughout on their website. They even had a more expensive ticket called flex fare which was fully refundable or exchangeable. Wonderful I thought and purchased the ticket.
Lo and behold my schedule changed. I went online thinking they had this great system where I had first purchased my ticket. It seems the only thing I could do online is just that purchase the ticket. It said I could exchange my ticket at the counter! Wow! That's not convenient. So I decide heck I will just get a refund. So I call Greyhound to find out there are two ways to get a refund. Go to the station yet again! MAIL THE TICKET. Why was it so easy to buy online, but they cannot refund online or even over the phone. So heck, I go to the station to refund the online purchased ticket. The station in a city of 1 million has never heard of greyhound refunding tickets and told me he didn't think I could. Wonderful.
I find my only solution is to drive 150 miles to a more knowledgeable station (this is a $56 ticket) or mail it in. I of course mail the ticket in. I call in a week later to see the status. The automated machine tells me it takes a week for the ticket to get in their system. Again pathetic. Then I find out 10 days later it is not yet in their system so I decide to talk to an operator. He says "yeah it's not there yet, but I'll make a note you called." "Oh great! You'll make a note." Then finishes the call by saying once it's in the system a refund normally takes 5 to 6 weeks to process. WOW!
Never again will I use Greyhound and I will definitely tell everyone I know not to use them. Purchased a premium ticket for the purpose of it allowing me to change or refund it. $56 dollars and the only way to refund the ticket is to mail it in and wait 6 weeks for a refund. Bare in mind I still haven't received the refund. First time I used them so were recently paroled inmates.

I was originally going to give greyhound 3 stars but by the end of the day I decided to give them only 2. Personally I believe they deserve the worst score but they did try to work with me and it didn't take long to get someone over the phone. With greyhound you get what you pay for and here's where the problem lies. If anything happens it's on you. Though your reference number can tell Customer service reps what you buy it's pointless if you don't have it on you, point blank. THEY WILL NOT LET YOU ON THE BUS WITHOUT ONE NOR WILL THEY PRINT YOU ANOTHER ONE OUT. So if you're not familiar with how greyhound works then you will inevitably have some problems.
My biggest issue without a doubt comes from their customer services reps if you can even call them that as I feel they are nothing more than cashiers as they resolve no issues and only tell you who to call. On-top of that I had an incident with one of these customer service reps who threatened to ban me from the greyhound station all because I said something that hurt her feelings. I wasn't harassing her. I wasn't threatening her and I wasn't even singling any person. That's not how customer service works. You resolve problems not create them and I essentially work in customer service so I would know.

We arrived at 8 pm for a 9:15 bus to Ohio and a planned a connection bus to Jersey at 10:30. At baggage check-in a rude, short, stocky ** woman named Carleeta barked at us "The line won't open until 8:30!" When we lined up she Terrorized my daughter because she didn't have her two tickets printed on separate sheets of paper. She told us sit and wait until she could come out from the counter. Time went by and the bus was leaving at 9:15. I as her mother became upset and asked her to please print the ticket as she said she would and she yelled that we should have been more prepared. She Caused major anxiety to everyone waiting in line for the buses. I became upset since she was making my young daughter miss the trip.
After begging the security woman who seemed intimidated to talk to Carleeta she Finally printed a ticket so she could make the bus. My daughter went to the bus and I confronted the woman then. I asked for her first and last name so I could address the issue with her Greyhound superiors. As soon as I did that she yelled "ok she's getting pulled off the bus now." She went back and pulled my daughter off the bus to terrorize some more for punishment to me for asking her name.
Now my daughter is sitting in the Depot with hopes to catch another bus. She was forced to take another bus later. To whoever manages the Detroit Greyhound bus station on Howard street. If you let the woman who was working the counter (she was filling in for someone) at 9:00 pm on January 1st 2017 work there without some sort of repercussion for her hostile actions against the innocent customers it's not right. My daughter didn't deserve that terrible experience.
How do I know I can trust these reviews about Greyhound?
667,311 reviews on ConsumerAffairs are verified.
We require contact information to ensure our reviewers are real.
We use intelligent software that helps us maintain the integrity of reviews.
Our moderators read all reviews to verify quality and helpfulness.
For more information about reviews on ConsumerAffairs.com please visit our FAQ.

On the bus 86059 now from Seattle to Spokane on 12/30/16 with a holiday spirit to visit family. Around 1 pm at the bus stop, I tried to buy a sandwich for lunch. Just gave the cashier $20 bill to buy sandwich. I saw The driver drove off. I ran out and got on the bus. I begged him allowing me one minute to pick up my $20. He refused. I had to forget my lunch even though it was 1 pm. I did not even take 5 minutes to buy the sandwich. At the beginning of the trip he yelled at the passengers threatening to throw them off because the passengers were talking when he tried to announce something. Not a greeting, not a thank you. Not a one minute wait for me to pick up my $20 even though the passengers had no complaint for me to pick up the money. Why a terrible experience during the new year!

My trip from California to Oregon was my first and last trip ever with Greyhound. Seven and half hours to my destination the bus start having problems. The bus driver quickly pulls to the side of the freeway, puts on hazard lights, turns off the bus and waits five minutes then turns the bus back on and shortly afterwards exits
the freeway. We were told that the bus was having mechanical difficulties and another bus would be there in two hours but no bus come until five hours later.
My arrival time was 12:30 PM but I arrived at 6:15PM. That's time I can't never get back with my family and to make matters worst I filed a complaint and was told that they apologize for the whole situation however the only compensation I could receive was $40, WOW!!! May this review help someone from having a very unpleasant experience.

My complaint on the 23rd of December. My sons tried to ride the 1:40 p.m. bus to Knoxville. With us being evicted and homeless they been sleeping in cars. I purchased tickets so that I could spend the Christmas holiday with my son. I just started working so that I can make the money to send for them. My daughter paid Uber driver to take them to Greyhound. They rush and sleeping with the only clothes they had. The bus driver stop them and told them they could not ride the bus like that and made fun of them in front of other passengers.
When the boys got upset because of this the clerk at the Memphis Greyhound call the police on them and the officer pick them up and put them in front of the mall. No one willing to listen to the two ** boys. All of my money spend I wasn't able to see my boys. When I call to make a complaint they only willing to pay me not even half of the money I loss on this trip. I still cannot find my youngest son. They rip people off and everyone I talk to spoke broken English.

I paid online December 6th, for the standard 3-day shipping for two suitcases to be shipped from Jackson Mississippi to Katy, Texas. I was in Jackson at the time but was planning to leave for Katy, Texas, on the 8th of December with 3 suitcases and that's why I was sending the two suitcases ahead of me anticipating that the suitcases will arrive almost at the same time or a day after I arrive. Sadly this never happened... 3 days turned to ten and then on December 20th... my contact in Katy gets a call that my suitcases had arrived. The suitcases had been dropped off at a different location (so stupid). I am safely back in my home country minus the luggage I was hoping to travel with. At this point, I don't even think half of what was in those suitcases is even there... that's how poorly I think of Greyhound business ethics. Customer service wasn't any help at all. They would keep me on the phone just to end up telling me I will receive a call when the suitcases arrive.
The tracking option is useless. I could not track it... not with the way bill number nor the receipt number. I have been reading several reviews from people who have used this bus service and have to say I agree with almost everyone... most of the Greyhound employees are rude and not helpful at all. The buses are old and dirty. I come from Tanzania, East Africa and our buses are much much better. To cut a long review short Greyhound... I don't really know how you have survived so many years with the kind of ** service you provide. I for one will never ever use your services again the next time I come visiting. Might as well just pay the $ 400 for a united airline flight instead of suffering with your lousy service. When my suitcases finally make it here I will check to see if nothing has been stolen (wishful thinking!!!) and then write a really nasty review.

En route to Phoenix, Arizona from Los Angeles at approximately 2:30 a.m., bonehead driver decided to pull over at 1st designated stop area at a closed McDonald's and announce to all passengers that 15 minutes was allowed to purchase food. Approximately 1/8 mile away was a food gas station and 2 other fast food restaurants that were open. Due to rough terrain and bushes, no one was able to purchase any food! Bonehead driver lacked common sense and thought less of passengers' needs.

I was very uncomfortable on my Greyhound bus trip because I had no assistance with luggage to load it on the bus. It was very cold on the bus because of the air condition system. So I didn't have the right clothes on and it was getting cold on the bus. I ask the bus driver several times to turn down the temperature but he just paid me no attention and kept on driving the bus...

Travel over the holidays is never a comfortable thing. I took a chance in order to see my ailing parents knowing it could be the last time. I booked a round trip ticket $219. Late pick-up in Victorville, 2.5 hour delay in LA making a 5 hour trip by car a 12.5 hour trip by bus. A few days with family and my sister drops me off at the Fresno station for my return trip. The woman at the counter on 12/27/16 was rude and refused my boarding because I had separated my itinerary from my tickets. I had no issue on my trip north but south this proved to be an issue. I had a digital copy but this person would not even look at it. Long story short, I hitchhiked 30 miles from Fresno at 12 noon to Selma and been here since 10:49 pm. I'm cold and have had little luck with rides. Thanks Greyhound. You just lost a customer for life. 240 miles left to go with no help from you???

Greyhound overbooked our bus. Their solution: wait at the bus station from 12 am from 8:30 am when the next bus will arrive. We wanted an accommodation for the night but all we got was, "Sorry, all we can do is to change your ticket. There is no manager at this time. You have to wait until 5 am". I called their customer service but their system kept giving me different numbers to call an reasonable compensation or rerouting in situations of overbooking or and get the message that they are closed. Went on their online chat, got a message that there is no one.
How come they can leave employees without any manager overnight to make a decision in case of emergencies and leave rude people who don't apparently understand your situation and don't come with any solution? Please remind your employees that they are Greyhound representatives and not complain in front of a customer that they can't wait to leave and start asking what time it is. I got this from Greyhound website, "Reasonable compensation or rerouting in situations of overbooking" which is if we refund you, you are not traveling anymore and I will stuck in the state where I don't leave and came to just take a connection - very smart.

I will never ride Greyhound again and it is a shame that they have all these negative reviews. My daughter and I got stranded at Foxwoods Resorts. We bought round trip tickets and when it was time to go home we were told there was no room on the bus. We had to pay for another ticket to another bus company to get home. I was so pissed off. The next day I went to South Station in Boston, where I brought the tickets to request a refund... Of course they did not want to refund me but by the time I started getting loud they gave me my money back. I will never ever ride Greyhound again.

My wife came to San Diego, CA for our wedding. This was July 23, 2016. Greyhound lost all her luggage. She filled out the paperwork for baggage claim to get reimbursed. Here it is December and Greyhound staff and employees has been playing this game with passing the problem to one bus station to the next Forgetting that greyhound is a company with policy. So greyhound is responsible for my luggage no matter where it was lost at. I spoke with Greyhound employees about my reimbursement and was gave the run arounds. Greyhound doesn't have the professional conduct to reach out to those who spend money on their service and treated with no respect.

The bus stop for the bus isn't even where it's supposed to be and is labeled wrong for Junction City, KS. The bus didn't show up, and I had tried nine different numbers and no one picked up, a driver in another car had to tell us what was going on because he was finally able to get someone to answer. I had to pay for a $234 Uber fare to get to Kansas City, MO. When I got to to the station, the bus hadn't even left at 8:25 am like it was supposed to or 1:10 pm. It took off finally around 2 pm. The workers at the Greyhound in KC were rude and the ones in St. Louis are even worse. The woman cussed people out for trying to have their questions answered and said it was a first come, first serve basis and we later found out it went by boarding number as per an employee who had been there for five years.
The employees in St. Louis are rude and don't know how to do their jobs, they shut down the ticket counter when people were looking for help and refused customer service. They raised their voices at concerned people and didn't care. Don't ever book with Greyhound, they'll screw you out of money you would be better off using for a plane ticket. The customer service is crap and the bus schedules aren't put out. How they made it 100 years, I don't know, but this is the first and last time I will ever make the mistake of taking a Greyhound anywhere.

So this crappy company decided to issue me a ticket that stated it would pick me up at the bus station in front of my College! The specific place on the ticket said it was the right location and the bus would leave at 6:45 pm. I arrive there 25 minutes early in -17 degree weather only to be left stranded. At 7:30 I called the VT Greyhound station and the manager tells me "The drivers usually skip that stop and goes straight to the airport" as if that is a normal thing to say to a customer who has paid money to ride with this company. He hangs up after the bus driver, who was in the airport station with him, says he refuses to wait five minutes for me to arrive there because he's already running late. They left me stranded in below zero weather and then told me that even though it wasn't my fault my ticket was nonrefundable! This is my first and last time using Greyhound!!!

I booked a ticket from Bismarck North Dakota to Detroit. When I went to the terminal to get on the bus, the terminal didn't even open and it just had a paper saying "No buses due to blizzard". I tried calling the station for hours the next morning and I couldn't get a hold of anyone. I called Greyhound and they said there is nothing they can do. Now I have a non-refundable 167.50 ticket for a bus that never came. :)

I am writing to inform you of the completely inappropriate behavior of one of your bus drivers. I was not able to obtain his name, but I believe he will be easily identifiable from the following information. On the evening of Tuesday, December 13th at 10 pm, I was riding from Las Vegas to Salt Lake City with my children. This was my second time using your bus services through MTM transportation. We only use these service due to my daughters disability, and her need to be plugged into outlets.
My partner joined me and my three children, the oldest is 14, to help us load quickly. The bus station staff made sure that we were first to start loading. As we were loading, the bus driver, unaware of my daughter started to harass my partner. He proceeded to tell my partner how he was running late and that we had too many items (we carry what my daughter needs oxygen tanks, suction machine, concentrator, feeding machine, ventilator pulse oxs, double stroller and all supplies to use those equipment). He humiliated us, and embarrassed us for a situation we cannot help because our daughter is disabled and requires many pieces of equipment.
My partner explained to him that the baby was disabled and that we were trying to put the items that would be needed for the 8-hour drive. The driver continued to tell my partner that we were making him late, we have too much stuff, he would kick him off the bus, and to hurry up. My partner became very agitated and the driver kept harassing him, then I step off the bus to retrieve more equipment. The driver continued his rant in front of the audience of bus riders, I repeated the fact that my daughter was disabled and the plea fell on deaf ears as the bus driver told my partner to leave. He then called security to have him removed as my son and I finished bringing items onboard the bus. As I went out to kiss my partner goodbye, security was escorting him out of the station.
I do not know this bus driver's name, but he had gray hair and wore glasses. He also seemed like he was of Asian descent. I sincerely hope that you consider this behavior unacceptable, and that you will take appropriate steps to reprimand this driver. This is a violation to the American Disabilities Act. I would appreciate follow-up information from you so that I can be certain you take this information seriously. Please email me ** at your earliest convenience. I await word from you.

My google search did not line up with the ticket link to busbud. The check out did not say the day, just the departure and arrival. After purchasing I saw the bus was departing at 2 am after Christmas. I tried contacting busbud immediately but they do not have humans in customer service. They did not email until the morning after saying I had to contact Greyhound directly. All I wanted was a refund on my add. I called 3 times, spoke to 7 different people, everyone had the same script. Greyhound is a god awful company. Their policies don't give leeway to anyone. Unless you have to, do not purchase a ticket until the day of. They're criminals.

Greyhound overbooked our bus by 40 people. Their solution: wait at 2AM til the bus from 7AM will arrive. We wanted a refund, but before they could do this they had to call the Greyhound service desk at the union station to verify what happened. After being two hours on the phone they still didn't pick up. Went back to the station where they told us it was not their responsibility to pick up the phone. After it was verified we still didn't get our refund. Now we have to write a letter to the headquarters in Dallas. It takes them 6/8 weeks to decide if we get our refund back. I will never try to travel with Greyhound again! They are rude, don't understand your situation and don't come with any solution. Because of them I wasn't able to show up at my job interview for my dream job in NY.

Why in the world would Greyhound include an $18 fee to purchase tickets for someone else to travel? Just stupid and another way to bilk customers out of another $18. They know the majority of people traveling on a bus do not have the money to travel on an airplane so they naturally assume someone else is buying their ticket so hey let's just make more money by tacking on another $18. Smart but I will never use them again. I will be using them this time but I will transfer the money directly into my relative's account so they can purchase at the terminal there to get around the gift fee! In today's business society consumers have a choice and are much smarter. The only thing you have over your competition is honesty and customer service. So that being said... NEVER AGAIN. GREYHOUND YOU HAVE LOST MY BUSINESS FOREVER!!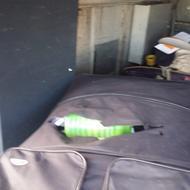 Upon arriving in Law Cruces, N.M., from Mt. Laurel, N.J., back in July 2016, Greyhound bus driver noticed a cut/slit in my bag. The attached pics were taken by me, prior to the driver, taking bag from under bus. Filed a "Lost"/"Pilferage" claim on/about 7/13/16. Since then, it's been one put off, after another with these people (Greyhound). Several months following, as well as phone calls. I finally got a "claim" number. Then. Told my claim hadn't been acted upon because, the claim should have been for "Pilferage", not "Lost" luggage, although "Pilferage" was/is indicated, on my initial claim form (7/13/16).
Here it is, more than 5 months later. Told to resubmit another claim form, at my departure terminal (Mt. Laurel, N.J.), & indicate "Pilferage"!!! Done so on 12/9/16. Resent email to them (Greyhound), with the attached pics. Their system is garbage. Their Customer Service people are useless (it seems). My loss, due to the Pilferage, is well over $1000.00. Presently seeking info/assistance in filing a "small claim court" action. With not only recovering some, if not all the Loss worth but, also possible "punitive damages", for their system seemingly set up to dissuade pursuit of any loss claims & or to make it as difficult as possible! Anyone with knowledge of Law Office's, handling such matters. Please post! Thank You all for reading, commenting.

I had to cancel my vacation due to an illness in my family. I mailed in my tickets as requested. I called 7 days later to see if tickets had been RECEIVED. Agent stated takes 6 weeks, for refund... Why, if I have to pay upfront, does it take 6 weeks for my refund? Thank you.

My daughter left Ft. Lauderdale to get to Melbourne on Thanksgiving Day. They stopped for a half hour food break in Ft. Pierce. It left her there before the half hour was up and we had to go get her which was 75-100 miles away from Melbourne. We've left numerous message about the luggage that was left on the bus and no one knows where it was sent to - if it went to the Orlando station that NEVER answers the phone, or back to Ft. Lauderdale that NEVER answers their phone. Totally stupid run company. It's the most unprofessional company I've ever dealt with. No one knows what the hell they're doing. Ugh!!!

I purchased a bus ticket on the 9th Oct 2016 and also 19 Oct 2016. I was traveling to and from Rocky Mount, NC because of a very ill relative. She passed away on 25 Oct 2016 due to her illness. On 1 November 2016 I mailed my tickets back to Greyhound. On 26 Nov 2016 I faxed her obituary and death certificate as requested by the refund department. This was on 26 Nov 2016. I called on 27 Nov 2016 to make sure the received the fax they had. I was told I would receive my refund on 6 Dec 2016. I called on 5 Dec 2016 to check on the status, I was told I have to wait another six weeks. This is unacceptable. I faxed the documents they requested in a timely manner. I expect my refund. Never will I travel Greyhound again. Too many other bus services available.

I have been a Greyhound traveler for over a decade now and in the past have been relatively satisfied with my experiences. In the past year or year-and-a-half, prices have soared. I'm paying about 80-85% of what I used to pay for my ex and I to travel together, just for me now. Furthermore, I'm quite irritated that Greyhound recently sent me an email for a bunch of deals that turned out not to be relevant to me... For American customers only. FYI Greyhound, floating deals in front of your customers that turn out not to apply to them doesn't make them happier customers. I have now cut off any promotional deals from Greyhound for this reason because the company is too incompetent to send the right deals to the right customers... And do Canadians ever get deals like that, because I sure haven't seen any. VIA is looking more and more attractive all the time, Greyhound. Pull up your socks. An unhappy customer.

I purchased a ticket for my grandson to come from Wy to Az. He went to the station and they were closed so he could not pick up a ticket. I called customer service and then made a conference call with my grandson. The driver got on the phone and talked with customer service and agreed to let him on the bus. At the next stop he would go in and get the printed ticket for the trip. When all was said and done and the call ended, my grandson called back and said the driver would not allow him on the bus and left. I have now call 3 times to get this situation resolved and have been on the phone for well over an hour trying to do so.
I have asked for the ticket to be changed. 1st they said to call back at 9:00 to get that done. I called and then they tried to charge me an additional $25 for the change. Then they said for him to go to the station and they would issue the new ticket but he would have to pay $20. When trying to explain that he did not have the money to pay, they said it would have to be in cash. So in turn, they refunded the original ticket, then charged me for another ticket which was $23.00 more. All this because the place was not open at the time listed and the driver lied about letting him on. I would not recommend their services ever.

I took a trip from OKC to NYC in OCT 2016. I had a layover in Pittsburgh for over 9 hours. I ask a clerk why this layover was so long? She said she will put me on another bus. I went from Pittsburgh to Columbus OH. When it was time for me to get on another bus the driver said that they was full and I wasn't suppose to be on that bus. I had to wait 8 hours in Columbus Ohio. When the bus finally came I ask where is my baggage, they say they don't know. I return to OKC 12 hours late and without any baggage. I called Greyhound and explain to them that my baggage was lost on OCT 5 and explain the trouble I went through. Greyhound customer service said they will refund me $60 for the inconvenience. The customer service said I will receive the check within 14-21 days.
It's now NOV 28, 2016 and still haven't received a check. I called about my claim for my baggage that was sent in OCT, they have no idea of when the claim will be process. They say Greyhound headquarters is located in TEXAS. I have called Greyhound numerous times and I have spoken to anyone with a TEXAS accent. Each time I call Greyhound (10-15) the person I speak to sound like they're from a call center in INDIA. I ask "where are you located," they say TEXAS. I don't believe that they Greyhound customer service is located in Texas. Have anyone else notice that?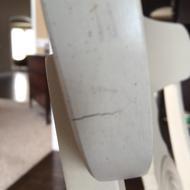 Purchased a ticket to Tucson, Az from Huntsville, Tx. As I was getting on the Bus, I witnessed a passenger asking the Bus driver about her luggage, he responded by saying, he didn't know. The lady began to cry; the Bus driver then left the lady standing at the Station with no knowledge of what happened to her luggage that was once on the Bus. I got on board to the next route and Station, which was downtown Houston, Tx., purchased my ticket, my luggage was tagged to my destination, Tucson, Az., and placed on the Bus. The last transfer was in Big Springs, Tx. My luggage was still on the Bus but did not get transfer on the Bus going to Tucson, Az. I saw my luggage, and mentioned to the Bus driver that I did have luggage tagged to Tucson, my destination; he replied that it would be placed on the Bus.
We arrived in Tucson, Az. and that's when I discovered that my luggage was lost and not on the Bus. And so did another passenger, on his way to Riverside, California. There was a passenger on the Bus saying that he noticed as we transferred buses, the luggage guy carrying two luggage inside the Terminal asking, who did they belong to. That information did not help the Bus driver come up with any other comments than, "I don't know..." I reported it at the Tucson Station, where I was and they said that it would be on the next following buses that was scheduled to arrive, if not that I would have to file a claim after 48hours. I filed that claim on the 20th of November; they told me that they would contact me, they never have.
When I attempt to call them, there no answer, I get put on hold and also get hung up on. Yet and still, nobody knows nothing. All of my clothes and other personal and valuables was in my luggage. I have only one set of clothes and shoes to wear throughout the time that I have been here. Now it is time for me to go back home in the same clothes that I came here with... There has been no courtesy from "Greyhound Bus Services", no one knows anything. Where is my reimbursement for the valuables that Greyhound is responsible for? Where is the courtesy of such a major Travel Agency? What am I to do? How should I get back home? What an experience to have on Thanksgiving...
Greyhound Company Profile
Company Name:

Greyhound

Website:

https://www.greyhound.com/