The Florida Express Bus
Kissimmee, FL
Consumer Complaints and Reviews

My adult son and I purchased tickets online from Florida Express Bus Company for US$31 each to take us from Fort Lauderdale to Orlando on 26 November 2016, Thanksgiving weekend following our cruise. We, together with an English couple and their baby who also had purchase tickets online, arrived two hours early and waited until one hour after the departure time of 1110 am. The bus never arrived. Called the company to be told that the schedule had been changed. No refund under any circumstances policy. It cost is more than $300 to hire a car and drive four hours plus to Orlando. Given the bad reviews I now see, why is this company still in business? They reflect badly on the entire US travel industry with their disreputable and dishonest practices.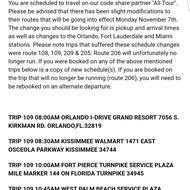 Failure to inform of supposed changed schedule. My mom and I were left stranded in Miami the day before Thanksgiving. All other buses were fully booked and I had to fork out $650 for 2 airline tickets to Orlando. We are from South Africa and I feel that your company should be held liable for this mix up. $650 is a lot of money... This company is Fraudulent. Do not use them. They take your money and send you some fake confirmation. When your business doesn't arrive and you call the number no one seems to know anything about your reservation. Straight up fraud!!!

I purchased a round trip ticket online to Port Canaveral from Bradenton, FL. Printed my boarding pass and confirmation. I followed all instructions. After taking a $35.00 taxi ride to the pick up location, I waited for an hour with my luggage in a McDonald's parking lot in the Florida heat. When the shuttle was over 15 minutes late, I called the dispatcher. He's claimed he never got the reservation from the Florida Express Bus company and would not be sending shuttle. He did not offer any alternatives. I tried to call the company, but no one answered the phone. It was Memorial Day, so I had no alternative but to call a cab and spend $350.00 plus tip in cab fare to get to the cruise port in time to board my ship.
I called the company from Dominica to confirm my return reservation and was told it had been cancelled. The dispatcher refused to honor my reservation because I was angry with him on the phone for leaving me stranded without the transportation I reserved to get to the cruise port. The representative I spoke with refused to give me her full name or the address of the company, saying my fare had been refunded - I checked my credit card statement and it has not been refunded. I had to pay for shipboard Internet and international phone service to arrange alternative transportation back to Bradenton from Port Canaveral. Given my situation and limited options available while traveling internationally, I will have to pay another $350.00 plus tip to get back to Bradenton.
The company did not apologize, offer assistance or honor their agreement. They treated me as if it was my fault that they failed to provide the services that I paid for and they agreed to provide. Because they left me stranded on a holiday and in another country, they cost me over $800.00 in additional travel expenses that could have been avoided if they had notified me that they were unwilling to provide the transportation when I made the reservation 16 days before my travel date.
In addition, had I not called them from Dominica to confirm my return trip, I would be stranded at Port Canaveral with no transportation when I return from my cruise. When I called to confirm my return trip and the indicated they had cancelled it, the representative I spoke with refused to give me her full name or the physical address of the company. She told me it was against company policy to provide their address and would only provide their Internet address. Do not use this company. They are unreliable, untrustworthy and do not care if they leave people stranded with no way to get to their destination.

Had a reservation for 3 for round trip Fort Myers FL to Port of Miami. Cruise line cancelled the cruise and FEB absolutely refuses to refund or to change reservation to the new cruise dates. Trip insurance does not cover this kind of loss, so I'm out $355. This "business" is nothing but a scam, a front for a ripoff operation. Witness the fact that you cannot contact anyone but a "dispatcher" who disclaims any responsibility for anything. Please, please, if you are considering using this phony service, LISTEN to me and the others on this page who have been similarly ripped off. STAY AWAY!

I wish I had checked these reviews before I booked a trip with this outfit. I live in Fort Myers and had booked a cruise out of Port Canaveral, which is 260 miles away. I found that this company ran a shuttle service between Venice and Port Canaveral, and Venice is about 60 miles north of me. I made arrangements to park my car in a lot there, and I bought a round trip ticket.
The ride to the port was uneventful. It was a van and he was about a half hour late, but there were only 2 other riders and he made up the time on the road. I had no reason to think the return ride would be any different. The following week, on April 16, 2016, I called the dispatcher while still on the ship, as instructed. He said he had been trying to call me (a lie). There was a mechanical problem with the bus, and even if he had a vehicle, he couldn't find a driver. I said, "Well you'd better figure something out, and I'll call again when I clear customs and get outside." I did that, and nothing had changed. He still gave me the line that he couldn't locate a vehicle or a driver.
I said, "Well, you're a transportation company. Don't you have plans to cover problems like this?" He said that he doesn't work for the company, he works for a dispatching service that the company hires. I started trying to call the company, and could only reach voice mail. I left messages. I also tried emailing them, and contacting them through their Facebook page. To this day they have not returned any of my calls and messages. At one point I was arguing with the dispatcher about my situation and he said, "I don't want to be involved with this anymore. I have been trying to help you." (Yes, he actually said that.) "You should just consider this trip cancelled." And then he hung up on me. He wouldn't answer any more calls from me.
I wound up having to catch a shuttle to a car rental place. I rented a car for $88 and drove to Venice, which took 4 hours. I returned the rental car at their office, which was closed, so I had to call a cab to get to where my car was parked, then drive the 60 miles home. I am so angry about this situation that I don't know what to do next. My brother thinks I should contact a lawyer. They had no problem stranding me, a woman traveling alone, and another woman at that same port, 260 miles from home. What if I couldn't drive? What if I had health problems, or a handicap? What if I didn't have a credit card to rent a car, or they refused to rent to me for some other reason? Doing things like this should not be taken lightly. If any of you pursued your incident further, please state what you did, and what happened. Trust me, I will be smarter next time.
How do I know I can trust these reviews about The Florida Express Bus?
693,837 reviews on ConsumerAffairs are verified.
We require contact information to ensure our reviewers are real.
We use intelligent software that helps us maintain the integrity of reviews.
Our moderators read all reviews to verify quality and helpfulness.
For more information about reviews on ConsumerAffairs.com please visit our FAQ.

I had a prepaid round trip ticket from Vero Beach to Port Everglades. I was picked up for the trip to Port Everglades on time. However I was left stranded at Port Everglades for my return to Vero Beach. They had sent an e-mail but I was on a ship and had no access to email. I strongly suggest that NO ONE ever use this company. We still await a refund.

Pick-up from Sarasota was 1 hour late with no telephone call to explain, travel time to Orlando Airport took nearly 3.5 hours so we missed our flight, had to stay overnight in hotel and take flight to UK 24 hours later. From Orlando to Sarasota, pick-up was nearly 1 hour early and travel time was 2 hours. The driver on the return trip seemed to be lost, no excuses were made. Despite several phone calls and emails no refund or compensation has yet been offered. Next step is to complain to the Florida Tourist Board. DO NOT USE THIS SERVICE AS THIS COMPANY IS COMPLETELY UNRELIABLE.

I had a great experience with Florida Express shuttle bus, everything went smoothly, and I would not hesitate to use this service in the future! I am so very happy to have found this service!

I waited with my brother in law 2 1/2 hours. No show - was told driver was there. He was not. Got a call from the airport driver asking me where I was - I was at Denny's. Pick up time was 3 pm - was picked up at 5:30 pm. Waited at McDonald's on March 6 for 5:45 pick up - was called at 9:30 then hung up on me up on.

Pick-up scheduled in Naples going to Port Everglades. We were there earlier than advised by company. Waited 1 hour before calling dispatch and being told the van would be there in 15-20 minutes. Never came and dispatch did not answer again. They left 3 people with no way to get where they needed to be for flights and cruise. How does a company continue scheduling when they do this and who regulates this type of service???

We booked a round trip from Sarasota to Ft. Lauderdale. We were left stranded in Sarasota with no pick up. They claimed their driver was there and he was not and we showed up 15 minutes prior to the timed pick up. Luckily, we found another service and were told this was typical of this company. On the way back we made sure to call dispatch and we were told if we were not there by 11:45AM (our designated time) they would not wait and would leave. We were stuck in customs and got out at 11:42AM and I ran to the shuttle, which I saw shutting doors and the driving going to leave without us. He had no idea how many people were supposed to be in the shuttle. My mother had no time to go to the bathroom and we were crammed into a van that was too small for the amount of people. There was no enough seat belts for everyone and luggage crammed up to the ceiling. We finally made a stop after 1.5 hours and were not allowed a bathroom break. My poor mother was in a panic along with some other passengers. It was the worst service ever! And very dangerous! And they refuse to refund my money or even respond to my emails and calls. Buyer beware!!!

I had booked a shuttle from Naples to Orlando to visit my daughter and her family while they were in Disney. The night before my trip I received a call that the shuttle was cancelled. They claimed they sent me an email the day before, but I never received anything from them. The other shuttles were booked so I was just out of luck. I wish I had read the reviews before this happened to me. They are not a reputable company.

They claim to be a "broker" - they use "vendors." We paid for a service we never received and they don't return messages. There is no one to speak with. No customer service. They have an "F" rating with the BBB. Stay away from this company.

Made reservation thru company website for my daughter. This was a link from TrailWays. Pick up in Hollywood with a destination of Bradenton which is a 4+ hr trip. Right after paying I rec'd my confirmation. While reviewing, I realized that a third party VAN would be picking her up. First off, for a lengthy trip like that I was expecting a bus. However, I did read on their website that they could substitute a van. I was completely unaware that they sub out their vehicles. There is NO WAY to verify who you are actually getting. Unfortunately, if was only after my confirmation that I did some checking on this company and I immediately tried to cancel the reservation.
Based on those review and in checking with the BBB (this company rec'd an "F" rating) I tried calling the dispatch number on my confirmation. I was told they do not handle this, need to email corporate office. I did email and rec'd a reply within 1hr from Zulma ** - Reservations Mgr. Because I agreed to their terms and conditions I was not entitled to a refund. However, their terms don't say that they sub out their vehicles. The reviews I read were horrendous. Vehicle pickups not happening, leaving passengers stranded with no alternative transportation, overcrowding in vans, unsafe vehicles and operators etc... Buyer beware.. I got screwed along with hundreds of other riders... Luckily I only lost $60.00 as they REFUSED to refund my cc. However, so many others were actually left stranded and were blatantly told it was not FEB's problem. STAY AWAY!!!!

Worst service ever. I arrived 20 minutes early as instructed for a trip from Naples to FLL. They arrived 25 minutes late and then told me probably would get me to the airport 30 mins before my flight was scheduled to take off. On cruise day. I planned to arrive 1.5 hrs early had they lived up to their agreement. My daughter was scheduled to have my first grandchild the next morning. If I missed my flight I would miss that so I decided to just drive. When I asked for a refund, I was told it was "poor planning" on my part and they refused to refund my money. The only poor planning I did was making the mistake of calling them. Use Elite Transportation. I've used them twice since then. Excellent service, on time and less money than this joke of a company

Stay away from this company! Total bait and switch. Made a reservation and as soon as it was paid and confirmed, receive a call that the pick-up time moved up two hours to 3:45 which I could not make. Furthermore, the company refused to refund the ticket as it says they reserve the right to change the pick-up time at its discretion. Bear in mind, the reservation was made at 2:00 p.m. and the call changing the time came at 2:30. Very convenient waiting until after the reservation was made changing the time. DO NOT USE THIS COMPANY, TOTAL SCAM ARTISTS!!!!!!!!!!!!!!!!!!!!!!!!

I don't know what happened to this company because at one time, they were decent. That is definitely no longer the case. On a trip from Ft. Myers, FL to Port Everglades, we were picked up in a van pulling a trailer for luggage. Pick up was over 1/2 hour late and the driver could not communicate in English. We stopped in Naples after about 25 minutes and sat at a Petro station while the driver tried to figure out how to use the credit card. He received help from yet another FL Express driver that showed up with more people in another van. Word started traveling around that another van had broken down and more people were being jammed into the vans that were running.
Indeed that was the case and they packed us in like sardines and then the trusty driver gassed up the vehicle while the motor was running. Our driver stopped at the Everglades rest stop off I-75 and waited for all the other van drivers to show up. How many stops does one need especially with packed vans? After all this messing around, we wound up at the Ft. Lauderdale airport and had to board a different van and our luggage had to be tossed into another trailer for the 10-minute trip to Port Everglades. We did get to our destination - very late and rather annoyed. Not to judge by one trip, we decided to keep the return for the following week and give them a chance at redemption. They do not give you a pick up location at Port Everglades. You get dispatcher information in the form of a phone number and are told to call them if you can't locate their "greeter."
We had over 1/2 hour to locate said greeter and had no luck. We asked 8 different employees at the dock, including port authority, RCCL and other van/bus drivers where we should go for pick up. Four did not know, two told us the FEB would stop at the drop off point for buses and vans and two told us to go to another area where the airport and hotel shuttles made pick ups. The dispatcher did not answer any calls or return any messages that were left before the scheduled pick up time. We had no idea which place we should wait so we started walking between the possible locations. On one of my trips to check location number two at the airports and limo location, I spotted the FL Express van, but it was just pulling away and bolted out the exit.
We spent the next half hour trying to get someone to answer a phone in the dispatcher's locale. Eventually, there was a warm body to converse with, but she was zero help. She claimed they sent an email the preceding day with pick up info. That was either a tall tale or the email went to my spam folder and was deleted. She also claimed they tried to call me and there was no record of any calls from them on my cell phone. She also claimed they "looked all over for us" which was grossly inaccurate. The upshot was that they left us at Port Everglades and couldn't have cared less.
We hired a private transport to the tune of $240 plus tip, but at least we got home. I forgot to mention that travel by Conestoga wagon is probably more comfy than these obviously ill-maintained vans and my guess is that it would be a cleaner experience as well. Since we waited a long time at the "pick up" location for our private transport, we chatted with the port authority employees when they weren't working. I asked one of them if he noticed the FE van make the stop and he indicated he did. I then asked him if they were looking for anyone and he didn't even hesitate to think about it and replied, "No." He said they were in and out quickly. So much for the dispatcher's tales!
I have never written a review for anything like this, but if it saves someone some grief, it will have been time well spent. Save yourself a lot of grief and find another transport service. I'd walk to FLL before I'd climb aboard a Florida Express Bus.

My family purchased bus tickets from Port Everglades Cruise Terminal to Tampa, FL on 12/2/12, at 2:30 PM. However, we were never picked up until about 6:00 PM. When I inquired as to why the bus was late, we were given "the runaround". We quickly found out from the other passengers that the bus was late by three hours picking them up. We also found out, that on that same bus route, an elderly couple (heading to Bradenton) who were picked up at the airport was driven back and fourth to Miami four times that same afternoon.

It's the worst customer service ever. Their customer service line answer sporadically, with occasional hang ups? There are no refunds or exchange or even stand by if you do not catch this bus. The customer service is a pain to deal with. If you can't make it for the bus, you lose your ticket, but if they change their time, it is okay. The timing changes depending on their desire; it does not matter what time you got your ticket for. Use them as a last resort. Greyhound is still way much better, and only pay when you catch the bus. As for any reasons if you do not catch the specific bus, they do not even bother to accommodate you on the next bus even if they have space available. I have never encountered a company that treats customers this way. Avoid them if you can. They could spoil your day.

I am a travel agent in Miami and have been booking transfers with The Florida Express Bus for nearly two years now. Most of my clients come from Latin America and it's no surprise that they have drivers and customer service representatives who are bilingual. What really impressed me was when we had a family traveling from South Africa, the customer service representative that dealt with my clients spoke fluent Afrikaans! My clients could not sing their praises enough. I have booked nearly 100 passengers on The Florida Express Bus and as a Travel Agent for AAA, I have to say - they've got my vote of confidence!

I called because I wanted to ask a question regarding the drop off address. The individual I spoke with said the address is what is stated on the website. I then asked if that was the airport and the response was, "does it say airport"? It went downhill from there. This is an arrogant, rude and obnoxious individual who should not be licensed to provide this service. I assume it must be the owner who clearly does not care about his business and as such, he probably does not care about the vans and buses they use which surely must be filthy and unsafe. Stay far, far away. Apparently the price changes from what is advertised to what you finally pay as well.
The Florida Express Bus Company Profile
Company Name:

The Florida Express Bus

Website:

http://www.thefloridaexpressbus.com/